Herring Caviar Extract Organic MCT Choline / EPA / DHA (Dr Mercola)
180 Capsules
Small, easy to swallow capsules with no fishy aftertaste, Ancient Purity presents a Premium Herring Caviar Extract with the addition of Organic Medium Chain Triglyceride (MCT Oil). This smart combination promotes the herring caviar's phospholipid content for enhanced bioavailability. It is also a natural source of Choline (brain, heart, cells, metabolism and nervous system). A naturally stable and resistant to oxidation supplement because of its high phospholipid levels. Providing a significant source of Omega-3 in phospholipid form for effective delivery across cell membranes, Caviar Oil has the perfect DHA and EPA ratio of 3:1, similar to that in mother's milk.
Ancient Purity presents an ancient food, part of an ancient diet, encapsulated for your convenience. Our ancestors mostly got their Omega-3s from eating sea food. However, with rising levels of mercury, other metals, manmade chemicals like polychlorinated biphenyls (PCBs) and other contaminants in the water, that's becoming an increasingly hazardous option. Herring Caviar Oil Omega-3 Fat is found in both plant and animal sources, but I prefer marine sources because they have higher levels of DHA and EPA. This Herring Caviar Oil provides an excellent option for those who may be allergic to shellfish or desire an alternative source. 2 capsules daily could make all the difference.
Herring is a medium-sized, oily fish that thrives in the clean, frigid seas off the coast of Norway and other northern countries. Herring is an abundant species that remains plentiful when harvested responsibly. Caviar is the roe, or the eggs, of the fish. The Caviar from Herring is an outstanding source of Omega-3 Fats that are stored in the most ideal way – as membrane fats complex with other important nutrients. Spoilage isn't an issue with Herring Caviar Oil because of its high phospholipid content. It comes in a hard capsule instead of a soft gel to seal the air out for freshness and to help prevent leakage. This innovative "Fusion Technology" liquid capsule technology can provide many beneficial advantages over others, reduces oxidation potential by flushing the liquid formulation with nitrogen during the capsule-filling process – creating a "freshness bubble." The herring caviar extract in this Herring Caviar Oil comes from a fishery that has been independently certified to the standards of the Marine Security Council (MSC) for a well-managed and sustainable fishery.
Herring Caviar Oil - Information & Points to Research
Omega 6, 7 and 9 Fatty Acids and many more important Fat Soluble Nutrients.
DHA and EPA ration of 3:1, similar to the perfect ratio of Omega-3 Fats in Mothers' Milk.
Sustainably Sourced, Clean, Traceable, Highly Effective.
Blended with MCT Oil for additional Health Benefits.
Documented High Absorption and Bioavailability Qualities.
Naturally stable and resistant to Oxidation because of its High Phospholipid Levels.
Healthy Inflammatory Response, Cellular and Mitochondrial Health.
DHA & EPA improve Endothelial Function Promoting the Growth of New Blood Vessels.
Caviar Oil... Naturally Supportive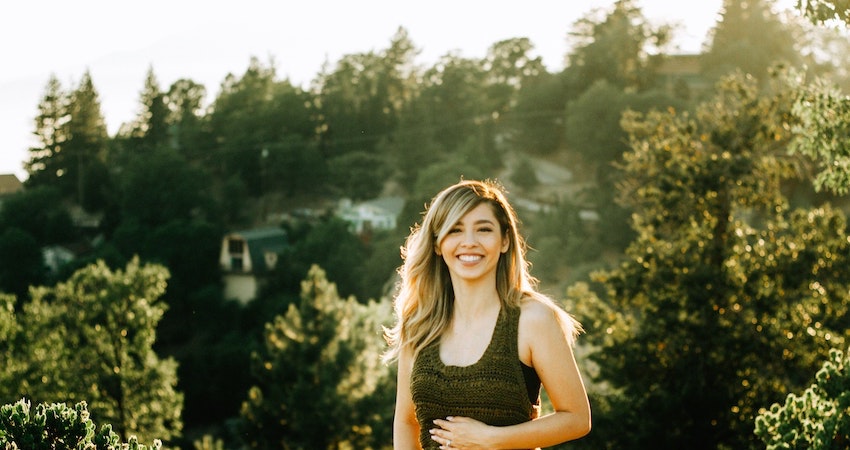 Why we Need Omega-3 Fats DHA and EPA
There are many Omega-3 Fatty Acids but EPA and DHA are by far the most important. Below are just a few of the many potential benefits of having adequate levels of EPA and DHA. Studies show higher Omega-3 levels can especially benefit our heart, colon, bone, joints, brain and immune system. 90% of the fat in our brain is made up of DHA, so DHA is especially important for your brain health and cognition. EPA provides valuable support for your heart and arteries. As a structural part of your cell membrane in all your cells, these Omega-3s offer benefits for you that include:
Heart Health: An Italian study of 11,324 heart attack survivors found that patients supplementing with DHA and EPA helped them maintain optimal cardiovascular health. Blood Vessel Health: DHA and EPA improve endothelial function which helps promote growth of new blood vessels. Brain Health: EPA and DHA support healthy cerebral circulation and help keep the dopamine levels in your brain high, increasing neuronal growth in the frontal cortex of your brain (Involved in your ability to remember names and faces, retain proper motor function and effectively problem-solve). Cellular and Mitochondrial Health: DHA and EPA are important for basic cell division, function of cell receptors and communication within and between cells, and profoundly influence mitochondrial health. Healthy Inflammatory Response: The higher your levels of long-chain Omega-3s EPA and DHA in your body, the healthier your inflammatory response and overall well-being. Immune Health: Omega-3 Fats effectively integrate into the cellular membrane of key immune cells helping to maintain their important properties. Research shows DHA and EPA promote a balanced immune response.
Live Healthy, Naturally
Source for DHA and EPA – The Marine Omega-3 Newcomer
Omega-3s are nutrients you get from food (Or Ancient Purity's Herring Caviar Oil supplement) that help build and maintain a healthy body. They are essential to every cell wall's structure. They are also an energy source and help keep your immune system, lungs, heart and blood vessels functioning the way they should. Two crucial ones, DHA and EPA are primarily found in certain marine species. This is why Ancient Purity prefers fish sources as they contain higher levels of DHA and EPA.  ALA (alpha-linolenic acid) which is another Omega-3 Fatty Acid is found in floral sources such as seeds and nuts. Omega-3 Fatty Acids can lower high triglyceride levels. When you have high levels of this blood fat you have also a higher risk for heart and brain health issues. Our Herring Caviar Extract might curb joint conditions and stiffness. Our supplement also seems to boost the effectiveness of anti-inflammatory medications. Some scientists have revealed that cultures consuming foods with high Omega-3 experience less chronic low mood. A diet rich in Omega-3s lowers inflammatory conditions, a key component in long-term inflammatory illness of the airways of the lungs that is characterised by recurring and variable symptoms, easily triggered bronchospasms and reversible airflow obstruction. More research is needed to discover if fish oil supplements help to improve lung function.
Here's what makes Herring Caviar Oil so exceptional: It's a significant source of Omega-3 in the preferred phospholipid form, just like krill but with none of the allergic shellfish potential. It has a DHA and EPA ration of 3:1, similar to the perfect ratio of Omega-3 Fats in mothers' milk. It has documented high absorption and bioavailability qualities. It is blended with Organic Medium Chain Triglyceride (MCT) oil for additional health benefits. MCT Oil is a supplement made from a type of fat known as medium-chain triglycerides. MCT molecules are tinier than those in most of the fats you consume. This makes them easier to digest. You can absorb MCT in your bloodstream rapidly. This turns it into energy you can use. It is a natural source of Choline, an important nutrient for your brain, heart, cells, metabolism and nervous system. It is naturally stable and resistant to oxidation because of its high phospholipid levels. Users report minimal fishy aftertaste or burps. It is 100% natural and non-GMO. Thankfully, we have been able to source an exclusive supply of Herring Caviar Oil – a customised blend of Herring Caviar extract and MCT oil. This blend provides abundant DHA and EPA, along with choline and phospholipids in a highly bioavailable form.
A Clean Marine Source
Herring Caviar Oil's Bioavailable Omega-3 Fats
DHA and EPA can be delivered to the cells via ethyl esters (ethyl alcohol), triglycerides or phospholipids. The ethyl esters delivery method in fish oil supplements is the least desirable because your liver must process the ethyl alcohol, a process that can release harmful free radicals and cause oxidative stress. Unlike fish oils, the Omega-3s in herring caviar (just like with krill) are delivered in the form of phospholipids, or little packages that carry the fatty acids across your cell membranes and the important blood brain barrier to transport these essential fats to your brain. Phospholipid-bound Omega-3 fatty acids have special advantages in how they are absorbed and utilised by your body. Studies show the phospholipids in herring caviar oil effectively:
Incorporate into the cellular membrane to a greater extent than with the triglyceride form of delivery. 
Deliver DHA and EPA directly to your cells, including your brain cells through the blood-brain barrier.
Provide the building blocks for your cell membranes.
Regulate cellular transport by functioning as "gate-keepers."
Help protect your cell membranes from free radical damage.
Make the Omega-3 fats more bioavailable or usable by your body.
Much like with krill oil, the phospholipids in herring roe oil rapidly and effectively deliver the Omega-3 Fats across your blood-brain barrier and cell membranes, directly into your cells. Additionally, the phospholipids help to protect the Omega-3 Fats from oxidation, which can damage these highly perishable fats. The high content of phospholipid-bound EPA and DHA was precisely why we chose herring roe from wild, sustainable Norwegian herring for our product. Although Krill Oil and Herring Caviar Oil have similar amounts of phospholipid content, our Herring Caviar Oil has a broader spectrum of phospholipids and a higher amount of phospholipid-bound omega-3 DHA while Krill Oil has a higher EPA level. Both omega fats are vital for health. DHA is especially important for your brain health and cognition. EPA provides valuable support for your heart and arteries. Keep in mind, not all fish eggs contain high levels of phospholipids. The percentage of phospholipids in a fish egg varies with the fish species, the developmental stage of the egg, water temperature and life-history features of the adult fish. Herring caviar is rich in beneficial cellular membrane lipids and has reduced levels of storage fats.
Dr Mercola a trusted source for Caviar Oil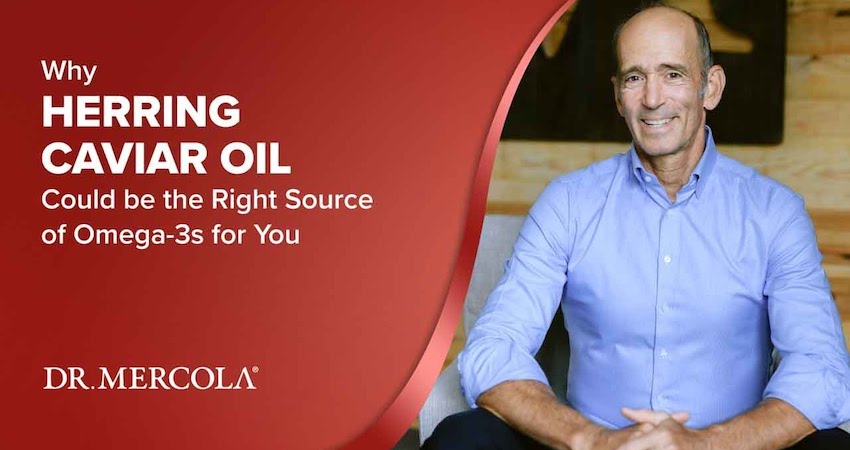 From Norwegian Spring-Spawning Herring Rich in DHA and EPA
The herring caviar extract for this Herring Caviar Oil comes to us from Norway and is part of the world's largest biomass. Norwegian spring-spawning herring is a type of Atlantic herring, a cold water fish that serves as major nutritional sources of EPA and DHA. Caught along the Norwegian coastline, the fishing takes place during the spawning season in February every year. When the fishing boats arrive at the local fisheries with their harvest, the herring fillets are separated from the roe. Previously, the roe or eggs were discarded, so by utilising them for their Omega-3-rich oil, the fisheries are able to repurpose one of the most valuable and nutritional parts of the fish. The herring roe is gently extracted to preserve the high quality of the caviar extract. Its oil is carefully isolated from the proteins, avoiding oxygen exposure and the use of extreme heat.
A quality control team is present at the fishery throughout the harvesting season to ensure the quality of the herring roe. All batches of herring caviar extract are carefully examined and tested by our team of experts. Samples are consistently taken throughout the process to examine size, colour and water as well as oil-content. Because fish products that include roe can sometimes contain environmental contaminants, our supplier routinely tests for the following substances:
Dioxins and furans (PCBs, PCDD and PCDFs). 
Benzo(a)pyren, bens(a)anthracene, benzo(b)fluoranthene and chrysene.
PCB 209 congeners.
Lead, mercury, arsenic and cadmium.
Ancient, Natural Solutions...
MSC: Your Guarantee of Quality & Sustainability
Herring, like krill, is an ideal source of Omega-3s which remains plentiful when harvested responsibly. However, words aren't enough – you must look for the Marine Stewardship Council, or MSC certification, for evidence that the seafood was responsibly harvested. We have adopted The Marine Stewardship Council's (MSC) "boat to plate" mentality and adhere to MSC's Chain of Custody standard for our Herring Caviar Oil. With MSC certification, every company that handles the product (from harvesting to encapsulation): Has been independently audited to make sure the MSC eco-label is only used on certified sustainable products.
Stores MSC-certified items separately. 
Keeps effective records of MSC-certified products.
There's a major quality element involved in this "boat to plate" certification. And to me, the traceability of all this is an often overlooked element. Proper traceability: Ensures that the herrings are sourced from a MSC-certified fishery.
Protects buyers (like you) and fisheries from fraudulent labelling.
Avoids risk of fisheries carrying products from illegal, unregulated, and unreported fishing.
The supplier of this Herring Caviar Oil provides 100% traceability of the herring from sea to shelf in a controlled value chain: from harvesting, processing and logistics to final processing, product specs, and internal and external audits.
Caviar Oil for an Active & Healthy Lifestyle
Herring Caviar Oil…Closing Thoughts
Ancient Purity presents Herring Caviar Oil providing Omega-3s with phospholipids and choline as well as Vitamin D and naturally occurring plant sterols delivered in the preferred phospholipid form for optimal bioavailability and absorption. This high-quality blend is made from a phospholipid EPA and DHA herring caviar extract and MCT carrier oil. Choline is water-soluble B vitamin. Along with the other B Vitamins it supports energy, brain function, liver health and metabolism. Phospholipids are lipids creating the most significant component of all cell membranes as well as regulating various activities within the cell. Phospholipids make it possible for molecules such as nutrients and oxygen to enter the cell and help removing toxins from the cell.
For most of us, oily fish isn't always on the menu, making us especially susceptible to Omega 3 deficiency. Mostly at risk are those on low-fat diets, vegans and anyone with nutrient malabsorption issues. Omega 3 Fats are extremely important fatty acids (EFAs). They are needed because the human body cannot produce them but they are essential for good health.  This means that these fatty acids need to come from our diet or from food supplements. Herring Caviar Oil contains the broken down forms of the Omega 3 Fats: DHA and EPA. The caviar from herring extract in this Herring Caviar Oil comes from an environmental-friendly fishery, independently certified to the Marine Security Council's standards for a sustainable and well-managed fishery. Metabolic health conditions have become epidemic in the West due to dramatic imbalances of Omega-3 to Omega-6 ratios. This largely undiscovered sea source of Omega-3s might assist you getting your health back on track! 
Experience Clean Marine Omega 3 rich Caviar Oil - Order Today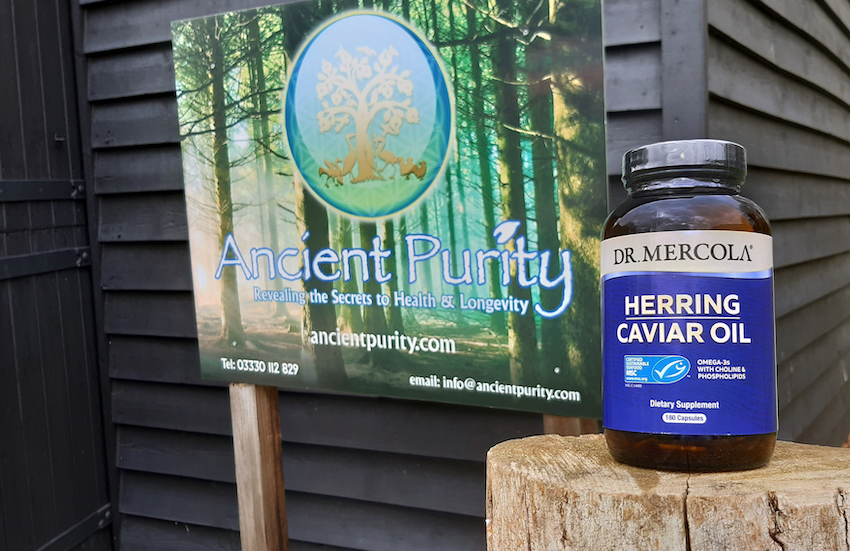 Take 2 capsules daily or as directed by your healthcare practitioner. Do not exceed the recommended daily intake.
Brand: Dr Mercola.
Form: Capsules.
Quantity: 180 capsules.
Container: Glass bottle.
Storage: Keep in a cool dry place, keep out of reach of children.
Estimated shelf life from purchase: 1 - 2 years.
Q - I have heard that some fats may be healthier for me than others. Is this true?
A - As part of a healthy lifestyle, Omega-3s may help you to keep healthy blood pressure, support healthy levels of triglyceride and manage your risk of heart health issues. The omega-3 DHA makes up a large part of the brain and aids to support brain health during every stage of a lifetime. DHA is also a main structural component in your eye's retina and plays a pivotal role in visual development and function throughout life.
Q - Is there a recommended intake for your Herring Caviar Oil Extract?
A - A growing number of health care professionals recommend a daily amount of 2 to 4 capsules. Talk to your health practitioner about what could be the best dose for you.
Nutra Ingredients Asia – Asia's Omega-3 Wave to Success
Medical News Today - Can fish oils and omega-3 oils benefit our health?
Cleveland Clinic - Omega-3 Fatty Acids
Supporting Scientific Research
Rizos EC, Ntzani EE, Bika E, et al. Association between omega-3 fatty acid supplementation and risk of major cardiovascular disease events: a systematic review and meta-analysis. JAMA. 2012;308(10):1024-1033.
Querques G, Souied EH. The role of omega-3 and micronutrients in age-related macular degeneration. Survey of Ophthalmology. 2014;59(5):532-539.
Age-Related Eye Disease Study 2 research group. Lutein + zeaxanthin and omega-3 fatty acids for age-related macular degeneration: the Age-Related Eye Disease Study 2 (AREDS2) randomized clinical trial. JAMA. 2013;309(19):2005-2015.
Miles EA, Calder PC. Influence of marine n-3 polyunsaturated fatty acids on immune function and a systematic review of their effects on clinical outcomes in rheumatoid arthritis. British Journal of Nutrition. 2012;107(Suppl 2):S171-S184.
Orchard TS, Pan X, Cheek F, et al. A systematic review of omega-3 fatty acids and osteoporosis. British Journal of Nutrition. 2012;107(Suppl 2):S253-S260.
Disclaimer:
The products and the claims made about specific products, articles and claims made in the articles and information written on or through this site have not been evaluated by Ancient Purity, the MHRA, the FSA or the United States FDA and are not approved to diagnose, treat, cure or prevent disease. The information provided on this site is for informational purposes only and is not intended as a substitute for advice from your physician or other health care professional or any information contained on or in any product label or packaging. You should not use the information on this site for diagnosis or treatment of any health problem or for prescription of any medication or other treatment. You should consult with a healthcare professional before starting any diet, exercise or supplementation program, before taking any medication, or if you have or suspect you might have a health problem. Providing a product for sale does not imply Ancient Purity recommendation of that product, its suitability or its efficacy. Ancient Purity cannot give medical opinions. No comment or entry in this site or in any communication from Ancient Purity may be taken as such.
Prices and promotions are subject to change without notice. Customers should always carefully check all the details printed on the package before opening the product. Whilst all efforts are made to ensure accuracy of description, specifications and pricing there may be occasions where errors arise. Should such a situation occur the company cannot accept your order. In the event of a mistake you will be contacted with a full explanation and a corrected offer. The information displayed is considered as an invitation to treat not as a confirmed offer for sale. The contract is confirmed upon supply of goods, Prices and promotions are subject to change without notice.
Please read the Terms and Conditions of using this site, by using the site you are accepting the terms and conditions.
All Material on this site © 2014 Ancient Purity Ltd Registered in England & Wales 07801142 VAT Reg 168 335 488