It's about our Hopes, Dreams & Gratitude for the now and year as it unfolds in each moment. We are talking about everyone across the world, at Ancient Purity we are blessed that our goods have crossed borders all over the world. In the beginning we predominantly supplied the UK, Europe and the USA.
Today, we are very happy as we found many new customers in the Far East including Japan, The Philippines, Singapore, Thailand and Indonesia, whilst reaching places we had never before like Greenland, Bolivia, Congo, and Madagascar. In fact all across the African continent we have found people. It shows me that people across the world have so much interest in the ancient medicines of the ancient cultures, as well as interest in utilising nutrients in their food state and Liposomal forms.
I eagerly await our first sale in Papua New Guinea. Since 2003, being an off-grid traveller myself, I have learned once you get past the language, local customs and cultural differences, personalities and characters are similar in every country. You should feel at home on this planet and you should all feel at home at Ancient Purity and please, do Visit Us if you get the chance.
We supply natural health products... because It's a passion influenced by my grandmother Mayella and uncle Richard. Our independent, family and friends operated company is called Ancient Purity because the ancient foods and herbs must be in their purest form to get the best results. Our values for products are that they must be from the ancient world... a historical fruit, herb or plant medicine known and trusted for generations.
If it's a supplement it must be clean, safe and powerfully effective, made up from food - we say food-state. We aim to offer solutions in whole food, liquid or food state supplements as well as progressive supplements like Liposomal form. Let's embrace the future with our roots firmly set in the past. We want the best for you and us! I have an Ancient Purity shelf at home and a bag of products I take on the road.
All of us at Ancient Purity are very capable people with our own specific talents, we're here doing this because we're friends, family and love it. The ancient building we work from, the surrounding trees and lakes, the area, the way it all works and the connections we've built with so many friends/customers. Ancient Purity will be going for millions of years. Hopefully one day this page will be updated for the year 2525 and what an interesting one that'll be. Now let's talk about the year to come.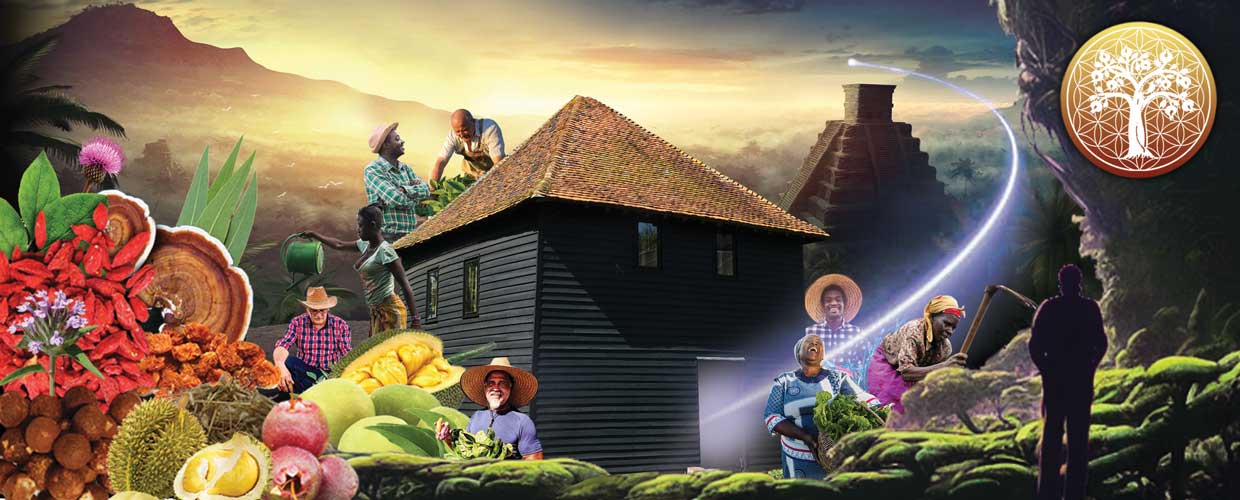 We wish you an amazing 2023... Health, Happiness, Wisdom, Peace & Joy. Recently, we have launched our new Origins Superfood World Map where you can see exactly from which country a product is sourced from. It will also give you a little local history and knowledge of the products. We are one big diverse world and we see this not only as educational but a celebration of multiple cultures. Check out the Origins page here. Our world is steeped with history and knowledge of many ancient methods is lost to a new age of accessibility.
We hope to bring the knowledge of these old healing methods and provide you the one stop source for educational and recipe inspired mixes. Do check out our Recipes section on each page. We intend to grow as a platform for all to visit and learn more about the products we sell and how we all work together in this mosaic tapestry of life. We also have some incredible new coming to life. Of course also as we always say, we'd love to meet you, if not for a Maarr Tea with Bush Apple Syrup at Ancient Purity HQ in Little Braxted UK, you can follow us on Instagram and perhaps you might find that I am exploring in your country and we can meet for some coconut water or a coffee.
GOALS IN 2023
You and everyone else to be healthy, happy and free.
Bring awareness to the origins of the world's Superfoods/Herbs, Medicinal Mushrooms and Plant Medicines.
Growth and expansion in the highest good for all of Ancient Purity.
Introduce our new powerful range of UK made Liposomal Supplements.
All these intentions are our 2023 mission statements and I am enthusiastic to see how this grows over the next year.
I sincerely hope you like them and wish you an amazing 2023!