Pure Greek Wild Organic Oregano Softgels or Essential Oil (Zane Hellas)
30ml / 60 Softgels
Oregano Essential Oil Made by Zane Hellas in Greece. Oregano Oil is one of the most potent and powerful essential oils and has been used for centuries in traditional practices. The primary chemical components of Oregano is carvacrol, a phenol that possesses antioxidant properties when ingested. Zane Hellas offers the most potent and pure Oregano Essential Oil available. Oregano Essential Oil has a fresh, sharp and warm aroma that will leave your mind sharp, concentrated and clearer. Minimum 86% CARVACROL. Less than 2% Thymol. 100% Steam Distilled. No chemicals. Alcohol free. 100% Pharmaceutical & Therapeutical Grade. This ancient perennial plant has been used for more than 2,500 years! There are numerous published scientific reports on the health benefits and effectiveness of Essential Oregano Oil. Mix with Olive Oil for internal use.
Ancient Purity proudly presents this superior Essential Oregano Oil, grown and made in Greece by our good friends at Zane Hellas. Zane Hellas manufactures most-likely the most potent, purest and healthiest Essential Oregano Oil available. Greece's climatic conditions such as plenty of sunshine, the cooling sea breeze, and the organic-matter-rich subsoil are all that make Greek Oregano the best in the world. The main component of Oregano is known as Carvacrol (A phenol that has been shown to stop the development of various types of bacteria) which provides superb antifungal action. Providing a range of health-improving properties, this ancient perennial plant has been used for more than 2,500 years! There are numerous published scientific reports on the health benefits and effectiveness of Essential Oregano Oil.  
Oregano (Origanum vulgare) is an aromatic herb that is probably most known as an ingredient in Italian cuisine. However, Oregano can be concentrated into a pure essential oil as well that is jam-packed with antioxidants and potent substances that contain proven health-improving benefits. It appears to be helpful, both internally and topically. Some of the most significant health benefits include: might reduce cholesterol, might enhance gut health, potent antioxidant, might reduce inflammation, it might help with yeast infections, relieves respiratory conditions, it is a natural antibiotic and it might support a healthy weight. We already mentioned Carvacrol but there are two more important compounds present in the plant, Thymol (A natural antifungal that might promote immune system and fight against toxins) and Rosmarinic acid (A potent antioxidant helping to protect against harm caused by free radicals). Just 1 drop of Oregano oil in a glass of clean water is enough). Scientific research has proven this ancient oil can be helpful with high blood glucose, while a very recent research at Greece's most prestigious Aristotle University of Thessaloniki proved it potent antioxidant function against the oxidation of our blood serum's lipoproteins. This pure oregano oil provides relief for those with respiratory and lung issues. We continue to witness incredible results from this potent Oil.
Oregano Essential Oil - Information & Points to Research
Pure Greek Wild Organic.
The Best Oregano Oil Available.
86% Carvacrol / Less than 2% Thymol.
Steam Distilled without Using Chemicals.
Alcohol-free, 100% Pharmaceutical Grade.
Health Over Candida & Bacterial Infections.
 Support Healthy Respiratory Function.
Supports Respiratory & Seasonal Health.
Health over Colitis / Parasites / Bee Stings / Migraine Headaches, Aches & Pains.
Contains Powerful Antioxidants.
Use 1 to 2 Drops in the Diffuser of Your Choice.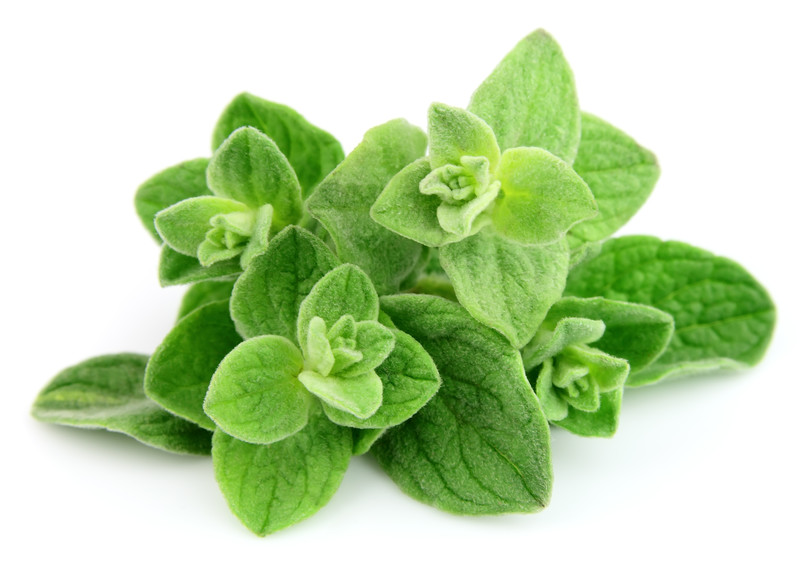 Oregano Essential Oil – Backed up by Science
Natural Antibiotic…Oregano Oil and the Carvacrol present in it may help combat bacteria. The Staphylococcus aureus bacterium is responsible for the most common infections, resulting in ailments such as skin infections and food poisoning. One especial research looked at whether Essential Oregano Oil reduced the infections with Staphylococcus aureus in mice. It was revealed that 43% of the mice given tiny doses of Oregano Essential Oil lived past one month, a survival rate almost as high as the 50% survival rate for mice that were given regular antibiotics. You can read the scientific report on Oregano and Infections here. In addition, studies have shown that Oregano Oil can be useful against several potentially antibiotic-resistant bacteria. You can read the scientific report on Oregano and Antibiotic-Resistant Bacteria here.
Bad Cholesterol… In one study, 48 participants with mildly high cholesterol were given a diet and advice on lifestyle to help reduce their cholesterol levels. Thirty-two patients were also given 25mg of Oregano Essential Oil after each diner. After 12 weeks, those participants given the Oregano Oil experienced reduced LDL (bad) cholesterol levels and higher HDL (good) cholesterol levels, compared with those participants who were only given lifestyle and diet advice. You can read the study on Oregano Oil and Cholesterol here.
Gut Health… Gut symptoms like diarrhoea, discomfort, and bloating are common and often caused by parasites in your gut. One research study administered 600 mg of Oregano Essential Oil to 14 persons with gut symptoms caused by a parasite. After 6 weeks of daily treatment, all participating people experienced a decrease in parasites, and 77% were parasite-free! Here you can read more on Oregano Oil and its effect against Parasites.
The Climatic Conditions of Greece make the Ultimate Oregano
Oregano Essential Oil Gives
Weight Balance… Thanks to Carvacrol being present in Oregano Oil, it may assist weight loss. In one research, mice were given various diets including: a regular diet, high fat food, or high fat foods with Carvacrol. Those mice given Carvacrol alongside their rich fat diet gained drastically less body fat and weight gain than those mice solely given a high fat diet. Furthermore, Carvacrol seemed to reverse the events chain which can lead to fat cell formation of fat cells. Here you can read all about Overweightness and Oregano Oil.
Possible Anti-Inflammatory Properties…Inflammation in the body is linked to a number of adverse health effects. Research has shown that oregano oil may reduce inflammation. One mouse study found that oregano essential oil, along with thyme essential oil, reduced inflammatory markers in those that had artificially induced colitis. Carvacrol, one of the key components in oregano oil, has also been shown to reduce inflammation. One study directly applied different concentrations of Carvacrol to the swollen paws or ears of mice. Carvacrol reduced paw and ear swelling by 35–61% and 33–43%, respectively. Read more on Oregano and its Anti-Inflammatory Properties here.
Respiratory Health… Traditionally people have used Oregano Oil of for respiratory problems. It has become a favoured alternative remedy for flu symptoms and cold. Persons having upper respiratory infections participated in a 2011 research and used a throat spray having Oregano Oil in it as well as peppermint,  diluted eucalyptus and essential rosemary essential oil. They used it 5 times daily for 3 days. Compared to those in the placebo group, those who used the spray had increased symptoms of sore throat, hoarseness, and cough. Just 20 minutes after having using it!
Pure Oregano Essential Oil for Clean Living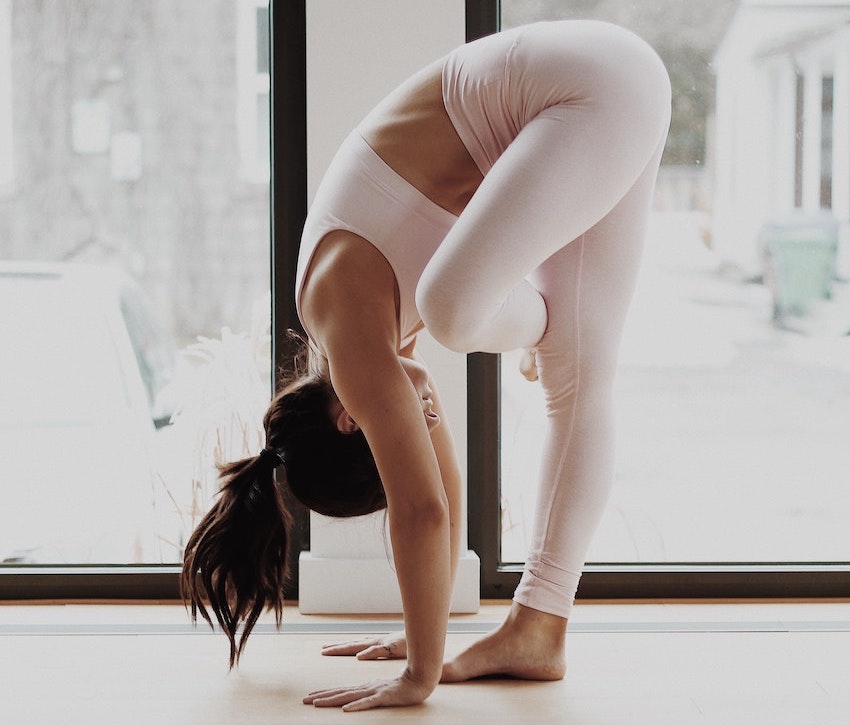 Oregano Essential Oil... A Potent Oil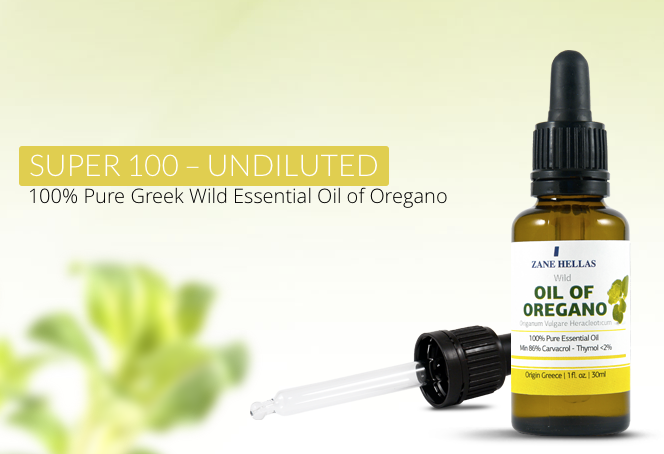 Oregano Oil is a product made from the oregano plant, Origanum vulgare. It contains a higher concentration of the helpful compounds that occur naturally in the plant. 
The Essential Oil is very powerful, very strong... You will need to dilute it. You should always dissolve this Essential Oil of Oregano before using it in Hemp Oil or Extra Virgin Olive Oil, water or juice.
A good ratio is 1:10 (10%) to 2:10 (20%) (10% is a drop of Oregano Oil to nine drops of olive oil).You can use it internally or externally.
Internally dilute the Oregano Oil in olive oil (water, milk, juice) four drops, twice a day. If you use the essential oil externally it should not be forwarded to the open wounds.
If you want to avoid the wrong dose, or just simply prefer the ease of it, you can choose the Oregano Essential Oil Softgels, simply select them when you purchase, they are the same price.
Cautions: Possible skin sensitivity. Keep out of reach of children. If you are pregnant, nursing, or under a doctor's care, consult your physician. Avoid contact with eyes, inner ears, face, and sensitive areas. 
Oregano... Super-Herb of the Mediterranean
Oregano is a woody perennial plant that grows in many parts of the world. It is an aromatic and medicinal plant with healing properties known since ancient times. It takes more than 1000 pounds of wild oregano to produce just one pound of oregano oil! Pretty valuable, don't you think?  Oregano has been a precious commodity for over 2,500 years in folk medicine expanding the globe. There are many published scientific medical studies on the properties and effectiveness of Oregano Oil. The Main feature of Oregano, Carvacrol, has excellent antifungal properties. The Mediterranean is the synonym of Greece and Greece is synonymous to the Mediterranean. Perhaps the best Oregano in the world grows in Greece and it is known worldwide as the Greek Oregano. The climatic conditions of Greece, the sunshine, the sea breeze, and the subsoil rich in the trace are these that make the Greek Oregano the best in the world. From this Oregano, wild from the Greek mountains and organic (non-GMO) the Oregano Oil is produced, and this is the high-quality product, Ancient Purity offers. Obviously, the highest quality of Oregano plants produce the world's best Oregano Essential Oil. You can choose Essential Oil / Softgels or both.
Oreganum Vulgare Heracleoticum-Hitrum is the variety of Oregano. (There are many varieties of Oregano but only the Greek Oregano gives the highest rates of Carvacrol). Carvacrol is the main ingredient of Oregano Oil. The higher the content of Carvacrol in Oregano Oil the more effective it is. If the Oregano Oil is low in Carvacrol then it will not be as effective regardless of the dosage usable. Thymol is another ingredient found in oregano oil. It must be at very low rates in the Oregano Oil because thymol is toxic in high concentrations. The herb is also used to treat respiratory tract disorders, gastrointestinal (GI) disorders, menstrual cramps, and urinary tract disorders. It can be applied topically to help treat a number of skin conditions, such as acne and dandruff. Oregano contains: Fibre, Iron, Manganese, Vitamin E, Calcium, Omega fatty acids, Manganese, and Typtophan. Oregano is also a rich source of Vitamin K, an important vitamin which promotes bone growth, the maintenance of bone density, and the production of blood clotting proteins. In PubMed, which is one of the globes most important scientific databases, more than 800 studies refer to Carvacrol.  This indicates that research is quite supportive of its healing capacity. To give you a sense of what I mean, Carvacrol has been proven to reverse or reduce: Bacterial infections, Fungal Infections and Parasites.
Pure Greek Oregano

Oregano a Culinary Delicacy
A member of the Origanum plant genus and close cousin to fragrant marjoram, Oregano (origanum vulgare) is often listed as one of the most utilised culinary herbs. The herb is easily identified by its oval leaves, purple-like flowers and its lovely fragrance. Native to the Mediterranean, this perennial plant happily grows in the territory's often rocky terrain, and Oregano's name itself comes from the Greek language meaning "Joy of the Mountains." Characteristics…Oregano, which has very recognisable fragrance and has a slightly bitter flavour due to the rich phenolic acids concentration, can vary enormously in potency.  Several strains are uniquely mild or delicate while other strains are rather strong. Common Culinary Uses for Oregano…The herb as well as the Oil is most characteristic of Greek, Mexican, and Italian cuisine, though Oregano does make regular appearances in other world-wide cooking. This healthy herb goes very well with basil, and this herbal duo act as the foundation of numerous Italian foods: pizzas, pastas, pizza, grilled vegetables and various meat dishes. While there is not much history documenting Oregano's worldwide use throughout the last several thousands of  years, the herb commenced to noticeably conquer North American favourites with the start of the pizza boom in the late 1940's and 1950's.
While the herb-loving Italians might be credited with popularising Oregano in the USA, several other regional cuisines throughout the Mediterranean had already been using the plant for hundreds of years as well. Greek cuisine is most-likely the most remarkable example, that most of the time pairs the aromatic leaves of the plant with lemon juice, olive oil and little else. This combination is then utilised in almost every fish or meat dish associated with Greek cooking, from roasted lamb to grilled meats and then some; Oregano fries, a favoured Greek-food transplant usually found in stateside Mediterranean eateries, as well as the always popular Greek salad both need Oregano defining themselves as Greek-food staples. Without the Oregano, they would just be another simple side order. Oregano herb and oil also appears in a wide range of other cuisines including Spanish, Mexican, Portuguese, Turkish and Cuban, all which make use of the leaves to add flavour to simple bean soaps and dishes, or to some meat and vegetable-based entrées. Americanised Tex-Mex cooking uses oregano (Chilli Con Carne just isn't the same without a dash), and this super herb is added regularly to chilli powder mixtures used in cooking.
Ancient Purity's Number 1 Choice in Oregano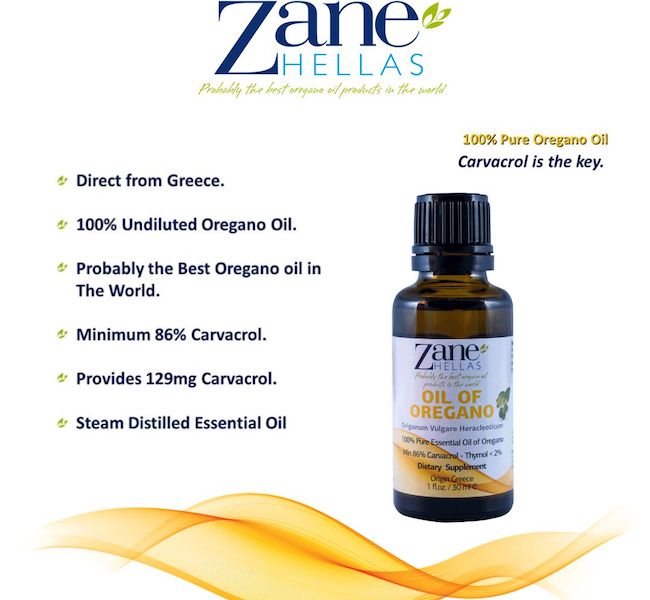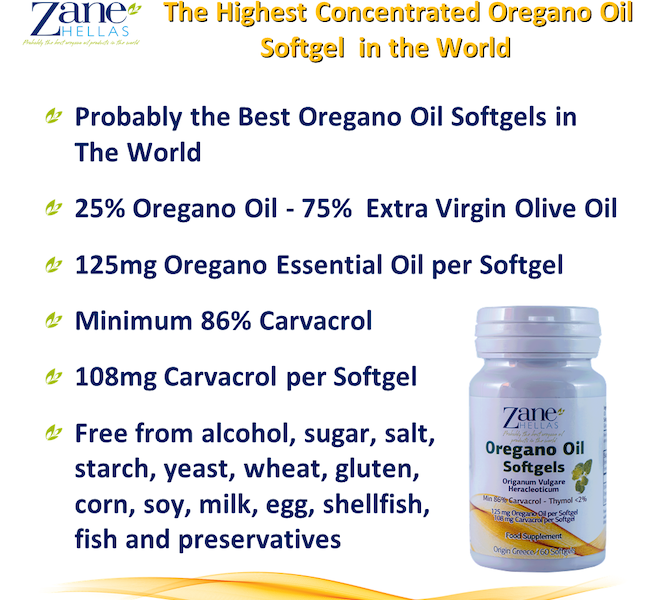 Ancient Purity's Number One Choice
This product was made by our friends in the small town of Kilkis in northern Greece where they grow and harvest the finest quality oregano from their own fields and selected local farmers. The Mediterranean is the synonym of Greece and Greece is synonymous to the Mediterranean. The climatic conditions of Greece, the sunshine, the sea breeze, and the subsoil rich in the trace are all that make the Greek Oregano unique and in our opinion the best in the world.
From this wild and organic (non-GMO) oregano that grows on the Greek mountains, they produce (through steam distillation) the Essential Oil of Oregano that Ancient Purity offer. The FDA characterizes and recognises the oregano oil as GRAS (generally recognised as safe) Not FDA approved for medical treatment. Consult your doctor or pharmacist.
Organically Grown, Clean, Potent Oregano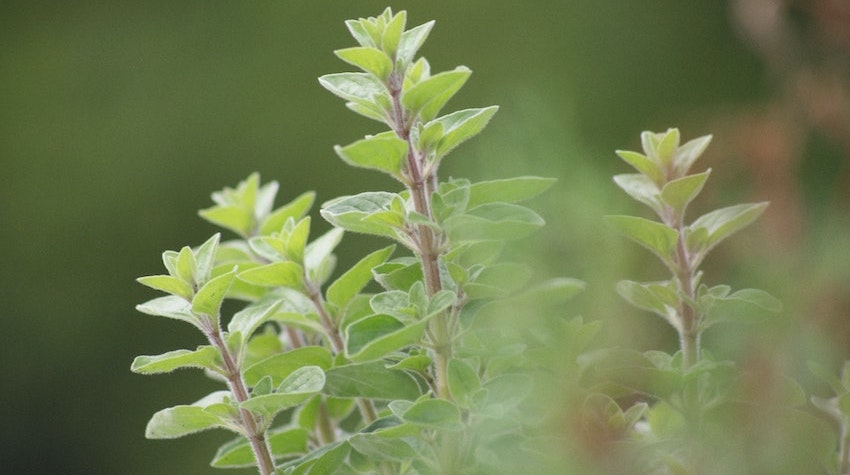 Oregano Essential Oil… Closing Thoughts
This Oregano Oil really is the best there is, we discovered this through lots of sampling of every brand. We wanted to produced our own Oregano products with a farm but no place existed that was the standard of Oregano Essential Oil as Zane Hellas. It is the most powerful, effective and clean one. Most of all we met and became friends with the guys producing this extraordinary oil. We even did a couple of events together. So, we wholeheartedly trust their product and have seen the incredible effort they put in to creating what really is, the best Oregano in the world. I have used this many times myself and have reports from friends and customers saying how effective it is.
Since Oregano was originally cultivated in Greece, the Greeks were the first to study the plant. The Greeks believed that this plant was made by the Goddess Aphrodite.  The Goddess wanted it to be a symbol of joy growing in her garden. It's not surprising that the word "Oregano" comes from the Greek words oros, for "mountain," and ganos, for "joy.''  Joy of the Mountains! Ancient Greeks believed that oregano could also be used as a poison antidote. They used it to treat skin irritations and infections, dropsy, convulsions, and as an antidote for narcotic poisons. Oregano has been used in the treatment of several ailments such as diarrhoea, stomach upset and nausea. Oregano also has some antibacterial and anti-inflammatory properties so you will see it used in the treatment of swelling, stiffness, muscle and joint issues and soreness. The main medical benefits of Oregano Oil have all been covered on this page. Oregano is most often used in Italian cuisine. It is a key ingredient in tomato sauces and on pizza, pizza sauces, vegetable dishes and for adding flavour to grilled meat. Oregano is a great substitute for marjoram or thyme if you don't have these in your spice cabinet.
Experience the Best Oregano Available - Order Today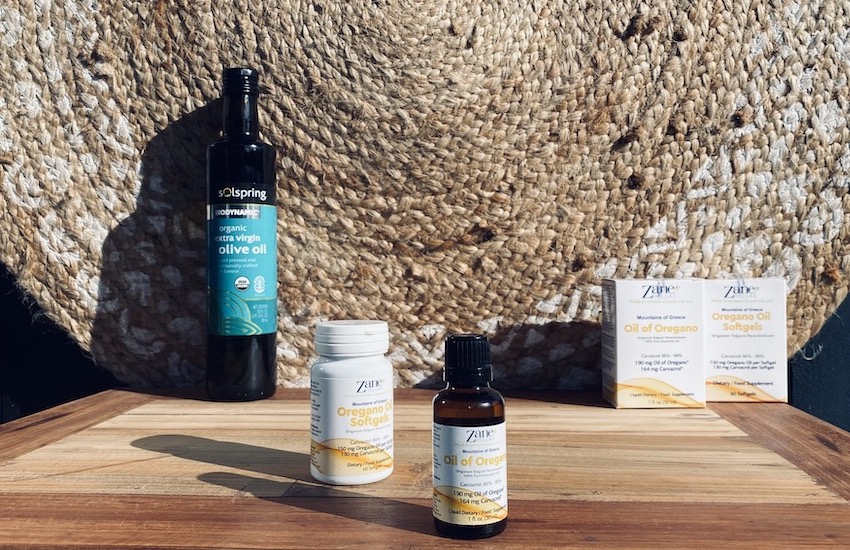 Oregano Essential Oil (Super 100) - 100% Essential Oil of Oregano.
Oregano Softgels

375 mg. Extra Virgin OIive Oil (Olea europaea fruit oil).
125 mg. Essential Oil of Oregano.
(Origanum Vulgare Heracleoticum. 86% Min Carvacrol – 108 mg Carvacrol per serving.)
Other Ingredients: Gelatin (from porcine), Glycerol, Water. Free from alcohol, sugar, salt, starch, yeast, wheat, gluten, corn, soy, milk, egg and shellfish.
You should always dissolve this essential Oil of Oregano before use, it in a Carrier Oil such as Olive Oil or Coconut Oil. A good ratio is 1:10 (10%) to 2:10 (20%) (10% is one drop of oregano oil, and the remaining 90% is 9 drops of Carrier Oil)
You can use it internally or externally. Internally dilute the oregano oil in carrier oil, 4 drops, twice daily. If you use externally should not be forwarded to the open wounds. Always consult your health care practitioner before use. Do not exceed daily recommended intake.
Breaks in use: Broadly speaking, with both the oil and softgels, we'd suggest at least a 7 day break after 20 days of use.
For internal use: A good ratio is 10% to 20%. The best way is to dissolve it is in olive oil. It is very simple, just take a full tea spoon of olive oil and add 4 drops of Oregano Oil to it. Now you drink it. Make sure you drink a glass of water after. You can do this twice daily. Heat sensation is normal. If the mixture is too strong for you, start with 2 drops Oregano Oil and gradually step up to 4 drops. If you do not have olive oil then put 4 drops Oregano Oil in half a glass of water, milk, or juice and drink it. Then drink clean water. Also don't worry as the heat sensation is normal. In a nutshell, Oregano oil is a powerful substance, so we advise to begin with the tiniest possible dose to see how your body reacts. You can slowly increase the amount you take, once you see how your body responds.
For external use: A good ratio is 20% -30% (depends on the use and treatment). Put 10-15 drops Oregano Oil in a full tea spoon of olive oil or another carrier oil (jojoba oil etc) or cream, lotion or body milk and use. Do not apply it on open wounds. Heat sensation is normal. If the mixture is too strong for you then reduce ratio. If the mixture is too weak for you increase the ratio.
Brand: Zane Hellas.
Size: 30ml (1.05 fl. oz.) / softgels.
Origin: Greece.
Container: Glass Bottle / Plastic Tub.
Estimated shelf life from purchase: 2 years.
Storage: Keep it in a closed cabinet, dry, room temperature. Close the cap, keep out of reach of children.
Scientific Articles
US National Library of Medicine- Essential Oils of Oregano: Biological Activity beyond Their Antimicrobial Properties
Alberta Rheumatology - Oil of Oregano
Supporting Scientific Research
Bactericidal Property of Oregano Oil Against Multidrug-Resistant Clinical Isolates. Lu M, Dai T, Murray CK, Wu MX. Front Microbiol. 2018 Oct 5;9:2329.10.3389/fmicb.2018.02329. eCollection 2018.
Investigation of functional and morphological changes in Pseudomonas aeruginosa and Staphylococcus aureus cells induced by Origanum compactum essential oil. Bouhdid S, Abrini J, Zhiri A, Espuny MJ, Manresa A J Appl Microbiol. 2009 May;106(5):1558-68. doi: 10.1111/j.1365-2672.2008.04124.x. Epub 2009 Feb 16.
Prolongevity effects of an oregano and cranberry extract are diet dependent in the Mexican fruit fly (Anastrepha ludens). Zou S, Carey JR, Liedo P, Ingram DK, Yu B, Ghaedian R. J Gerontol A Biol Sci Med Sci. 2010 Jan;65(1):41-50. doi: 10.1093/gerona/glp176. Epub 2009 Nov 11.
Kintzios S.E. 21 Oregano. In: Peter K.V., editor. Handbook of Herbs and Spices. 2nd ed. Woodhead Publishing; Cambridge, UK: 2012. pp. 417–436.
Arslan M., Uremis I., Demirel N. Effects of sage leafhopper feeding on herbage colour, essential oil content and compositions of turkish and Greek oregano. Exp. Agric. 2012;48:428–437. doi: 10.1017/S0014479712000075.
Morshedloo M.R., Craker L.E., Salami A., Nazeri V., Sang H., Maggi F. Effect of prolonged water stress on essential oil content, compositions and gene expression patterns of mono- and sesquiterpene synthesis in two oregano (Origanum vulgare L.) subspecies. Plant Physiol. Biochem. 2017;111:119–128. doi: 10.1016/j.plaphy.2016.11.023.
Disclaimer:
The products and the claims made about specific products, articles and claims made in the articles and information written on or through this site have not been evaluated by Ancient Purity, the MHRA, the FSA or the United States FDA and are not approved to diagnose, treat, cure or prevent disease. The information provided on this site is for informational purposes only and is not intended as a substitute for advice from your physician or other health care professional or any information contained on or in any product label or packaging. You should not use the information on this site for diagnosis or treatment of any health problem or for prescription of any medication or other treatment. You should consult with a healthcare professional before starting any diet, exercise or supplementation program, before taking any medication, or if you have or suspect you might have a health problem. Providing a product for sale does not imply Ancient Purity recommendation of that product, its suitability or its efficacy. Ancient Purity cannot give medical opinions. No comment or entry in this site or in any communication from Ancient Purity may be taken as such.
Prices and promotions are subject to change without notice. Customers should always carefully check all the details printed on the package before opening the product. Whilst all efforts are made to ensure accuracy of description, specifications and pricing there may be occasions where errors arise. Should such a situation occur the company cannot accept your order. In the event of a mistake you will be contacted with a full explanation and a corrected offer. The information displayed is considered as an invitation to treat not as a confirmed offer for sale. The contract is confirmed upon supply of goods, Prices and promotions are subject to change without notice.
Please read the Terms and Conditions of using this site, by using the site you are accepting the terms and conditions.
All Material on this site © 2014 Ancient Purity Ltd Registered in England & Wales 07801142 VAT Reg 168 335 488