Organic Ghee Grass-fed Clarified Butter CLA / Vitamins A, D, E (Healthy Fat)
265g (9.34 oz.) Ghee
Highest Quality....Ghee which is Ethically (The only way Ancient Purity wants it) sourced from pasture raised cattle, free to roam enjoying fresh grass, open air, land and water. This Ghee is Ketogenic supportive and absolutely Free from... hormones, lactose, antibiotics, steroids, sugar, gluten, chemicals and preservatives. It is guaranteed super clean and trusted. Ghee is ancient nutrition vital for modern diets. This might just be the healthier fat to change the way you cook! 
Ancient Purity presents Organic Ghee. This is British Farm produced from cows that are grass fed to organic standards. It is rich in CLA & Vitamins A, D & E. Non GMO. Not bleached, deodorised or hydrogenated. Ghee is free from lactose or casein and is ideal for people moving away from a diet based on dairy. Ghee has a higher smoke point than butter or most vegetable oils and is ideal for frying. Ghee may now be appearing on store shelves with regularity, but it's been available for more than 5,000 years throughout the Indian subcontinent, where it is traditionally made from the sacred cows' milk and used in religious ceremonies. Ghee is also commonly used as a cooking fat, particularly in Punjabi cuisine, the regional cuisine served in most Indian restaurants where it is preferred to oil for its rich nutty flavour.
Ghee is clarified butter. This means that it has been cooked down so dairy solids and the milk fat separate. The foam on top (containing allergens) is skimmed off, leaving just healthy, pure, Golden Milk fat. It is said that some Ghee mixtures can last up to 100 years, Supernatural that may indeed be, this one has a use by date but like coconut oil, Ghee is rich in medium chain fatty acids, which are absorbed directly to the liver (similar to carbs) and burned as energy. This makes it incredible for energy production and your stable weight.
Ghee (Pasture Raised) – Information & Points to Research
Farmed and Produced Organically in the UK.
Unflavoured, Pastured Raised, Clean, Safe.
Perfect for cooking / frying (High heat stable).
Used in Ayurvedic Medicine for centuries.
CLA (Conjugated Linoleic Acid).
Rich in medium chain fatty acids.
Hair and Skin.
Encourages a Healthy Digestive Tract.
Healthy Fat - Contains Vitamin A, D and E.
Shelf stable for 6 months.
Easy to use in hot drinks, cooking or as an ingredient.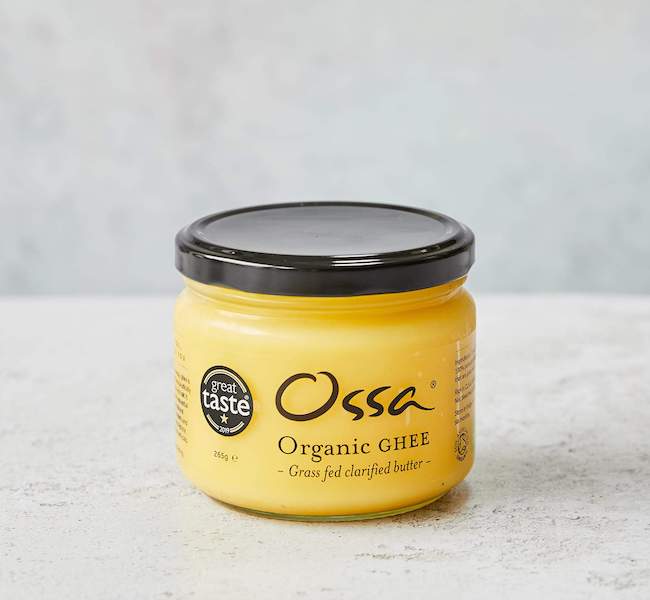 Ghee Gives
Ghee is rich in the vitamins A, D and E along K2 and CLA (Conjugated Linoleic Acid) – CLA is an antioxidant with antiviral properties. Unlike other oils Ghee is rich in butyric acid, a short chain fatty acid found naturally in the body. Beneficial intestinal bacteria convert fibre into butyric acid and then use that for energy and intestinal wall support. A healthy body therefore makes its own form of "Ghee" but you can aid the process greatly by just consuming it. Research shows that people with unhealthy digestive tracts do not produce butyric acid. Research shows that adequate production of butyric acid supports the production of T-cells in the gut, which thus creates a strong immune system.
Studies have shown that Ghee safely increases blood lipids without raising LDL cholesterol. This means that it does more than simply lower total cholesterol. It raises the good kind (HDL) and lowers the bad (LDL). Ghee also stimulates the secretion of gastric acid, thus aiding in the digestive process. Like olive oil and coconut oil, Ghee contains healthy fats that might help you burn fat and lose weight. Ghee is both lactose and casein-free; both of these elements of butter are removed during the clarifying process. Because of this, Ghee can often be enjoyed by those who cannot consume other dairy products. Do be aware that this is not the case for all lactose-intolerant people, and check with your doctor before consuming if you have dairy allergies or sensitivities.
Nutritional Profile
Nutritional Information per 10 grams.
Energy (KJ) 3611.
Energy (Kcal) 878.
Fat 97.6g. 
of which saturates 58.4g.
Carbohydrates - trace.
of which sugars - trace.
Fibre 0g.
Protein 0.1g.
Salt 0g.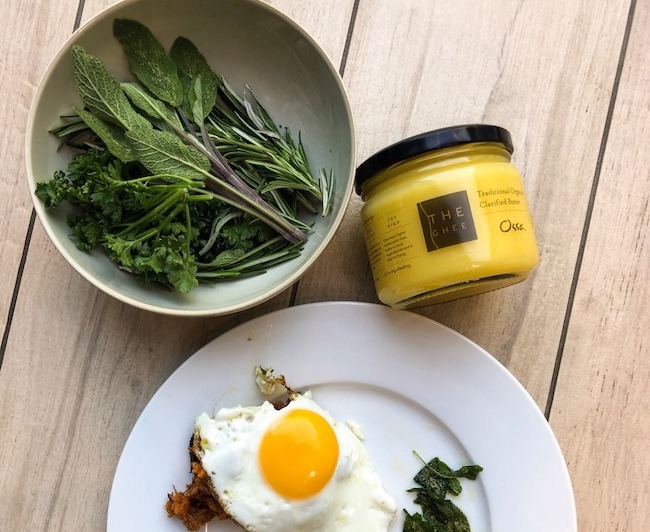 Ghee according to Ayurveda
Ayurveda teaches that Ghee consumption offers a wide range of benefits, including clarity of mind and sound digestion. One of the classical texts of Ayurveda... the Charaka Samhita, says that "the intake of Ghee is prescribed for those whose bodily constitution is dominated by vata and pitta, who is suffering from diseases due to the vitiation of vata and pitta, those desirous of good eye sight, the old, children, the weak, those desirous of longevity, those desirous of strength, good complexion, voice, nourishment, progeny, tenderness of the body, luster, ojas [life-sustaining vitality], memory, intelligence, power of digestion, wisdom, proper functioning of sense organs, and those afflicted with injuries due to burns." Ghee also "augments intellect and enkindles digestive enzymes," according to the text. Below I'll mention 10 reasons why Ghee is the Ultimate Ayurvedic Superfood
Might Support Weight-Loss, Might Help Lower cholesterol, Energy Provider, Supports a Healthy Heart & Blood Sugar, It Might Aid to Boost Digestion, Immunity Enhancer, Promotes Positivity, Doesn't Break Down into Free Radicals, Can be Stored without Refrigeration, Absorbs Nutrients in Spices & Herbs. In western scientific terms, Ghee helps sustain healthy microbes in the gastrointestinal tract to promote effective digestion and elimination. Ghee nourishes all the tissues of the body, including the nervous system, translating into calm energy throughout the day. Those of you with a constitution primarily composed of vata (elements of air and space) and pitta (elements of fire and water) will benefit most from Ghee, as it nourishes the dry, light, rough quality of vata and the hot, light, sharp quality of pitta.
Weight-Loss the Ayurvedic Way…Ghee for weight-loss? Yes! You read it right. Now questions like how to use and how does cow Ghee help in weight-loss brainstorm our minds. Before reaching conclusions let us learn some facts and understand the concept behind cow Ghee and weight-loss:  The general notion goes like this: Fat has to be avoided as a part of the diet, but then there are healthy fats. If you thought fats were bad for your health, it's not true. Healthy fats, like Ghee, are what our body needs for its overall well-being. These good fats absorb nutrients like fat-soluble vitamins (A, D, E and K) which help to regulate the hormones in our body. Bad fats are found in pre-processed and packed foods like pastries, chips, processed meats like sausages, and other junk foods. Clogged arteries, diabetes, weight-gain, acne, hair loss are some side effects of consuming unhealthy fats. According to Ayurveda, the ancient science of India, Ghee can be credited as the storehouse of nutrients. It is also known to improve metabolism in the body, thus speeding up weight-loss.
Organic Superior Ghee - A Cooking Multi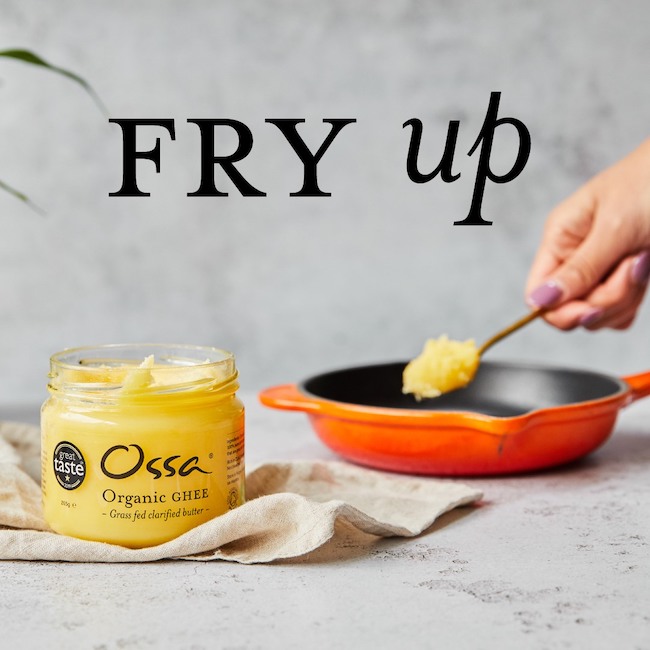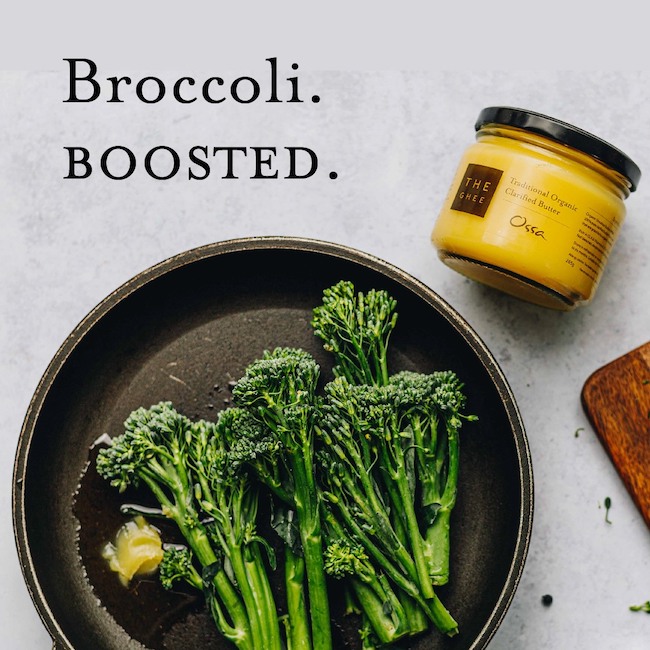 Ways you can use Ghee
Ghee is a kitchen multi, perfect for cooking and sautéing, it is a short-chained fatty acid, it has a high smoke point so doesn't create carcinogenic free radicals when brought to a high heat. This means like Coconut Oil, it's one of the safest oils to cook with but it has more of the classic butter flavours for cooking. Other ideas for Ghee in cooking... Simply spread it on toast sourdough! Add Ghee to your coffee, melt over steamed vegetables, potatoes, or rice.
Sauté your culinary spices in Ghee and add to soups, stews and kitchari (A kitchari cleanse is considered an introduction to the Ayurvedic diet) and if you burn yourself while cooking, put the Ghee on it, with all its other benefits, it has a cooling property that soothes and heals your skin faster. Try swapping Ghee in for olive oil while roasting vegetables, or use it to cook your morning omelette. Try also using Ghee for frying eggs and bread, tart rye crepes, or zucchini fritters. Simply mouth-watering!
Cook with Organic Clarified Butter... Ghee

Grass Fed Ghee… Closing Thoughts
Cow ghee is a carrier of fat-soluble vitamins including A, D, E and K, which our bodies need in very small quantities but can't make for itself. These vitamins perform many essential functions. Similarly, the essential fatty acids, which cannot be synthesised in our body, are also supplied by ghee. Cow Ghee is the pure clarified fat-derived solely from milk or curd or desi butter or from cream to which no colouring matter flavour or preservative gets added. Ghee is an important dairy product that enters inter-state trade too. 
Due to variation in its composition from region to region and season to season and also because it depends on the type of animal and the feed given, the establishment of its purity often involves elaborate analysis, as well as tests for its keeping quality. Grass-fed Ghee has several nutritional benefits over conventional ghee, like enhanced fatty acids profile, increased beta-carotene level, and excellent sensory properties. Ghee or clarified butter is a traditional fat-rich dairy product produced by simmering butterfat. It is excellent for cooking, baking, sauteing, seasoning, or for direct consumption in everyday diet.
"Kaku, the combination of spice and sweetness is excellent. Did you put ghee in the daal when it was boiling?" - Author: Sachin Kundalkar
"In our house, we do everything whole: whole milk and full-fat cheeses. And I use ghee and coconut oil for cooking." -Kourtney Kardashian
Experience Superior Ghee - Order Today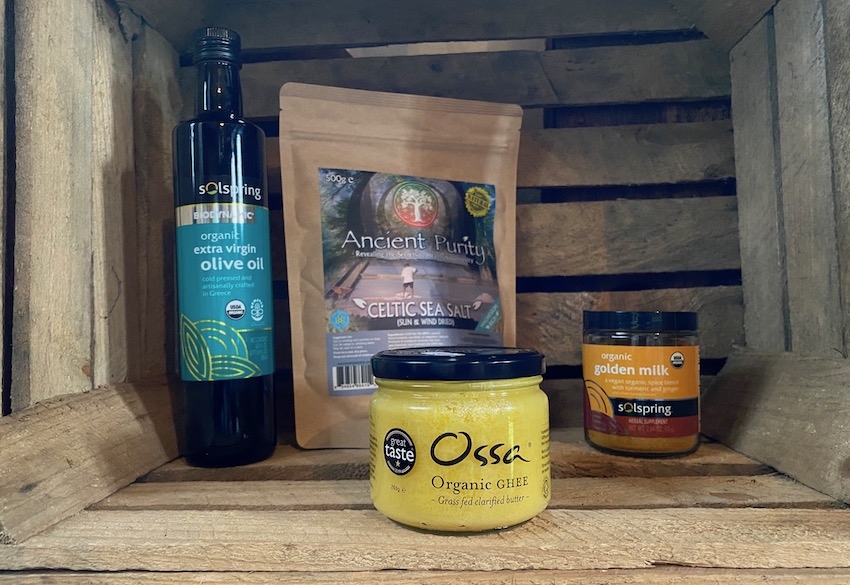 100% organic unsalted Clarified Butter (Milk) (pasteurised and organic, from grass fed cows).
Use 1 teaspoon daily. Traditionally, Ghee has been used as healthy cooking oil, an ingredient in dishes, and in Ayurveda therapies. Ghee is still used in Ayurvedic massage and as a base for herbal ointments to treat burns and rashes.
Can be taken alone, can be added to smoothies.
Brand: Ossa Organic.
Form: Ghee (Butter).
Quantity: 265g (9.34 oz.).
Container: Glass jar.
Storage: Store in fridge or cool pantry.
Estimated shelf life from purchase: 6 months.
Q - What is Ghee and how should I use it?
A - Ghee is mainly used as baking oil, but just like coconut-oil it is a multi-purpose fat.
Q - Is your Ghee made from dairy produced by grass fed cattle?
A - Yes it is. We only use west English organic cows which can graze all summer long in the grasslands. However it is not 100% grass fed since there is insufficient grass available in winter. In winter it is mainly dried grass stored in summer, and differing per farm with sometimes some additional feed.
Q- Is your Ghee Ayurvedic and what is Ayurveda?
A - Our Ghee can be used as a part of an ayurvedic diet. Ayurveda is an ancient Indian medicinal lifestyle. Thousands of years before modern medicine provided scientific evidence for the mind-body connection, the sages of India developed Ayurveda which continues to be one the most sophisticated and powerful mind-body health systems in the world. More than a mere system of treating illness, Ayurveda is a science of life (Ayur = life, Veda = science or knowledge). It offers a body of wisdom designed to help people stay vibrant and healthy while realising their full human potential.
Q- Where can I buy Ghee Easy?
A – You just came to the right place. You can purchase superior Ghee from Ancient Purity at a reasonable price.
Scientific Articles
AYU - The effect of ghee (clarified butter) on serum lipid levels and microsomal lipid peroxidation
Research Gate - Ghee : Its Properties, Importance and Health Benefits
Research Gate - GHEE-AYURVEDA TO MODERN SCIENCE
Health Line - Ghee: Healthier Than Butter?
Supporting Scientific Research
Kumar MV, Sambaiah K, Mangalgi SG, Murthy NA, Lokesh BR. Effect of medicated ghee on serum lipid levels in psoriasis patients. Indian J Dairy & Biosci. 1999;10:20–3.
Hall ED, Yonkers PA, Andrus PK, Cox JW, Anderson DK. Biochemistry and pharmacology of lipid antioxidants in acute brain and spinal cord injury. J Neurotrauma. 1992;9:S425–42.
Kumar MV, Sambaiah K, Lokesh BR. Hypocholesterolemic effect of anhydrous milk fat ghee is mediated by increasing the secretion of biliary lipids. J Nutr Biochem. 2000;11:69–75.
Sundaram V, Hanna AN, Lubow GP, Koneru L, Falko JM, Sharma HM. Inhibition of low-density lipoprotein oxidation by oral herbal mixtures Maharishi Amrit Kalash-4 and Maharishi Amrit Kalash-5 in hyperlipidemic patients. Am J Med Sci.
Prasad V, Dorle AK. Evaluation of ghee based formulation for wound healing activity. J Ethnopharmacol. 2006;107:38–47.
Gupta R, Prakash H. Association of dietary ghee intake with coronary heart disease and risk factor prevalence in rural males. (83).J Indian Med Assoc. 1997;95:67–69.
Disclaimer:
The products and the claims made about specific products, articles and claims made in the articles and information written on or through this site have not been evaluated by Ancient Purity, the MHRA, the FSA or the United States FDA and are not approved to diagnose, treat, cure or prevent disease. The information provided on this site is for informational purposes only and is not intended as a substitute for advice from your physician or other health care professional or any information contained on or in any product label or packaging. You should not use the information on this site for diagnosis or treatment of any health problem or for prescription of any medication or other treatment. You should consult with a healthcare professional before starting any diet, exercise or supplementation program, before taking any medication, or if you have or suspect you might have a health problem. Providing a product for sale does not imply Ancient Purity recommendation of that product, its suitability or its efficacy. Ancient Purity cannot give medical opinions. No comment or entry in this site or in any communication from Ancient Purity may be taken as such.
Prices and promotions are subject to change without notice. Customers should always carefully check all the details printed on the package before opening the product. Whilst all efforts are made to ensure accuracy of description, specifications and pricing there may be occasions where errors arise. Should such a situation occur the company cannot accept your order. In the event of a mistake you will be contacted with a full explanation and a corrected offer. The information displayed is considered as an invitation to treat not as a confirmed offer for sale. The contract is confirmed upon supply of goods, Prices and promotions are subject to change without notice.
Please read the Terms and Conditions of using this site, by using the site you are accepting the terms and conditions.
All Material on this site © 2014 Ancient Purity Ltd Registered in England & Wales 07801142 VAT Reg 168 335 488