Herbs & Oils - Airwaves / Travel Sickness Aromatic Relief Dizziness / Congestion
40g (1.41 oz.) Aromatic Herbs
Inhaling this clearing blend of Aromatic Herbs, Extracts and Oils including Eucalyptus Oil, Borneol, Menthol, Camphor and other herbs will give you a refreshing boost. The small Miron Glass jar is light and easy to keep in your handbag, pocket or bag for travel. This energising mixture of herbs lasts ages, keeping its potency and effect. It helps unblock ears and noses. In addition, it is also a powerful tool against travel and motion sickness, headaches, tiredness and hangover. This Powerful Herbal Crafted Blend will help you feel and experience clear thoughts, clarity, opportunity and balance, this all-natural handy Herbal Inhaler provides real relief from allergies and sinus congestion. There are a lot of little things in this, all natural all effective, perfect light weight to travel with, keep in your car, office, gym or pocket. Actually this smart little jar could be an incredible alternative to smoking, some people have found that getting this out and inhaling deeply gives them that nice break and moment of peace and clarity they had got from smoking. Also the deep menthol feeling if someone had enjoyed menthol cigarettes, is there. These Inhalers are amazing for flying too, the motion and relaxation. This Inhaler will last you ages (the one on my desk is still potent after a year).
Ancient Purity presents a Powerful Herbal Crafted Blend for you to breathe in and feel the experience of clear thoughts, clarity, opportunity and balance, this all-natural handy Herbal Inhaler provides real relief from allergies and sinus congestion. There are a lot of little things in this, all natural all effective, perfect light weight to travel with, keep in your car, office, gym or pocket. Actually this smart little jar could be an incredible alternative to smoking, some people have found that getting this out and inhaling deeply gives them that nice break and moment of peace and clarity they had got from smoking. Also the deep menthol feeling if someone had enjoyed menthol cigarettes, is there. These Inhalers are amazing for flying too, the motion and relaxation.
This Inhaler contains full aroma of natural herbs for refreshment and relaxation. It's actually a really good help getting rid of general illnesses, coughs, runny nose or just feeling run-down. We have these all over the office at Ancient Purity. In fact I have one at my desk, in my car and at my bed side. Like I mentioned above in the smoking part, it's good to just stop for a moment and have a deep inhalation of this, a moment of stillness and awareness. It's all about being in the moment, clear of thoughts and just being. Officially this is a Herbal Inhaler but it can be so much more if you use it like we do. Experience it for yourself and feel the deep benefit of the Aromatic Herbal Blend and the power of now. Before going somewhere, don't forget to put it in your pocket or handbag.
Herbal Inhaler - Information & Points to Research
Ancient, Active Herbal Ingredients.
Powerful Herbal Blend.
100% Natural & Clean Ingredients.
Clear Vertigo, Dizziness & Headaches.
Relief of Travel & Motion Sickness.
Clear Stuffed Nose and Fight Common Colds.
Helps During Flights / Turbulence.
Ideal Handy Travel Size.
Relieves Nausea.
Supports Smoking Cessation.
Instant Clarity (Be in the Moment).
Stored in Miron Glass Jar for Maximum Freshness.
Awaken Senses & Experience Supernatural Scent.
Ideal for Students needing Focus.
Medicinal Herbs from the Ancient Holistic Healing System, Ayurveda.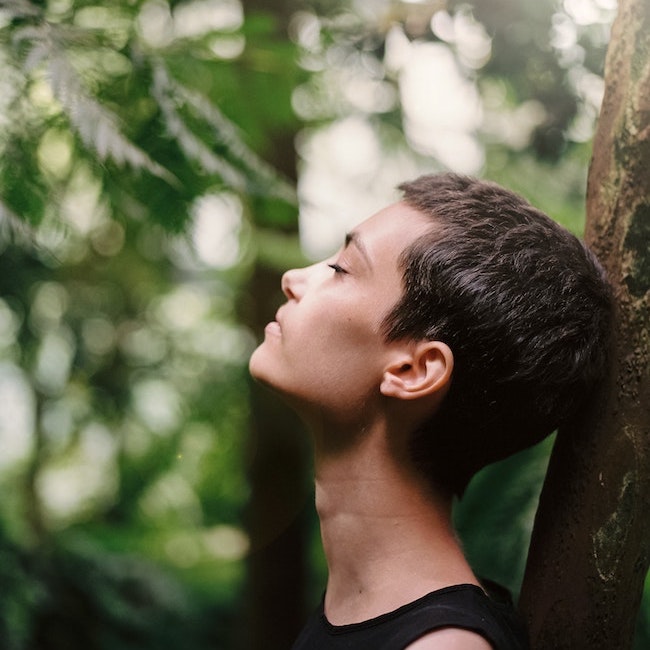 Power Ayurvedic Herbs to Awaken your Senses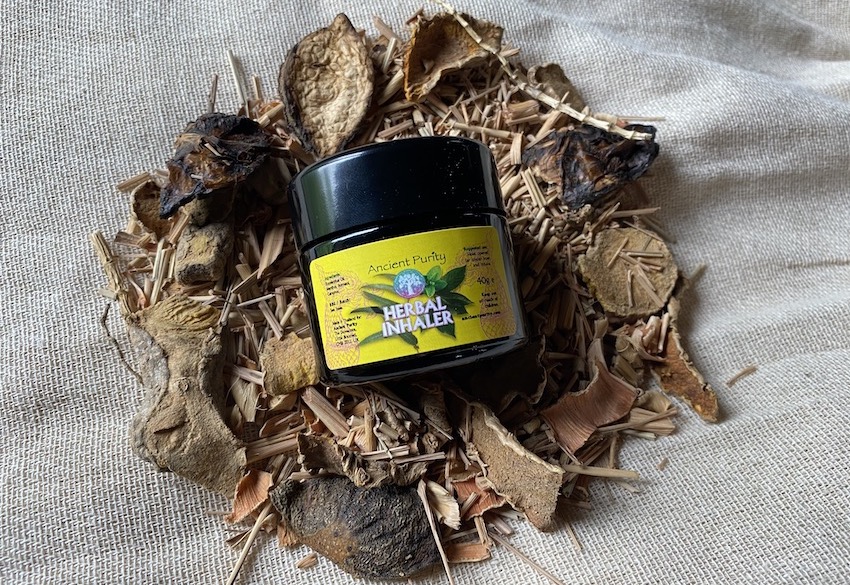 Some of the Ancient Active Ingredients
Borneol… is derived from dryobalanops aromatica which is a member of the teak trees family. Historically, Borneol terpene was harvested by tapping the tree trunk. Then the terpene was cooled and hardened into a clear substance. Borneol can be made synthetically and it is found in nature as well. Ancient Purity's Herbal Inhaler contains the natural Borneol.  Since ancient times, Asian cultures pioneered the use of Borneol and continue to use it today in various holistic treatments. Borneol has captured Western medicine's attention as well. In 1888, Scottish Dr Ralph Stockman conducted the first experiments of Borneol's physiological effects. The list of Borneol uses is extensive. One of Chinese herbal medicine's core elements, Borneol might provide the following health benefits: supports digestion, helps to improve circulation, and ease discomfort brought on by rheumatic conditions. Chinese herbalists also use this ancient substance to relieve respiratory issues, coughs, and colds while recognising its stress-reducing qualities. Borneol might be used as an active ingredient in insect repellents, even protecting against more serious mosquito-borne ailments like the West Nile virus. But while Borneol's fragrance is toxic for insects, on us humans it has a totally different effect. I compare Borneol's sensory experience to strolling through a green forest of minty balsam fir trees making me understand that this refreshing sensation makes Borneol a key ingredient of numerous therapeutic-grade essential oils.
Eucalyptus Oil…Originally native to Australia, today Eucalyptus trees (Eucalyptus globulus) grow all over our planet and are widely used for their wide range of health benefits. Their health-improving power comes from the Eucalyptus Oil that is created from the oval-shaped leaves of the tree. These leaves are dried, crushed and (double) distilled to release the essential oil. The oil extract should be diluted before using it as medicine. I'll mention some of the main Eucalyptus Oil uses. Australia's native aboriginal people used Eucalyptus leaves to speed up wound healing and avoid infection. Respiratory conditions such as long-term inflammatory conditions of the lungs' airways might be relieved by inhaling steam of hot water with added Eucalyptus Oil. Eucalyptus Oil reacts with your mucous membranes, not solely decreasing mucus but assisting softening it so that it can be coughed up. It will clear your chest. (Similar effect is provided by our Herbal Inhaler). Finally, Eucalyptus Oil has been used for hundreds of years to relieve coughing. Today, most over-the-counter cough medicines contain Eucalyptus Oil as one of their main active ingredients.
Natural, Powerful, Aromatic Herbs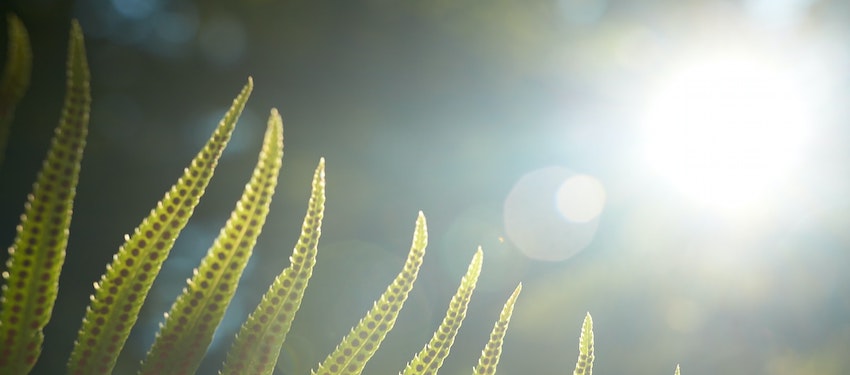 Ancient Active Ingredients... Continued
Menthol…Menthol is an organic substance extracted from the oils of Mentha, a genus of plants in the mint family. Renowned for its health benefits and extremely cooling sensation, Menthol is favoured in toothpastes, cough drops, mouthwashes, cold remedies, body balms, lip balms and more. It is used to combat bacteria or plaque in the mouth, coughing, sore throat, and minor bodily discomforts. Did you know that Menthol has scientifically-proven to boost brain health? Scientists found that participants smelling menthol for 5 minutes before testing had a better memory compared to those who did not. That's why Ancient Purity's Herbal Inhaler could be a great help for students. According to another research, smelling Menthol while driving improved alertness and reduce frustration and exhaustion. Other benefits include: boosts energy, alleviate headaches and combats common cold. 
Camphor…Camphor oil is the oil extracted from the wood of camphor trees (Cinnamomum camphora) and processed by steam distillation. It can be used topically to relieve minor aches, itching and irritation. It is also used to relieve inflammatory conditions and chest congestion. Camphor provides numerous health benefits. Here we'll focus on its health-improving properties provided by the Herbal Inhaler. The Camphor in our jar works as a cough suppressant and decongestant. In the nose, Camphor seems to create a cooling sensation making breathing feel easier. When I have the flu, I like to inhale Camphor's uplifting and refreshing scent before bedtime. This is also one of the reasons why Ancient Purity's Camphor Air Fresheners are so popular. 
Clove…Cloves are the flower buds of the clove tree (Syzygium aromaticum) and most known as an aromatic and sweet and spice, but for thousands of years cloves have been used in traditional medicine as well. The function of Clove in our Herbal Inhaler is to relieve respiratory issues. In Indonesia, the spice is smoked in a type of cigarette known as 'kretek'. 
Clear Senses, Awaken Clarity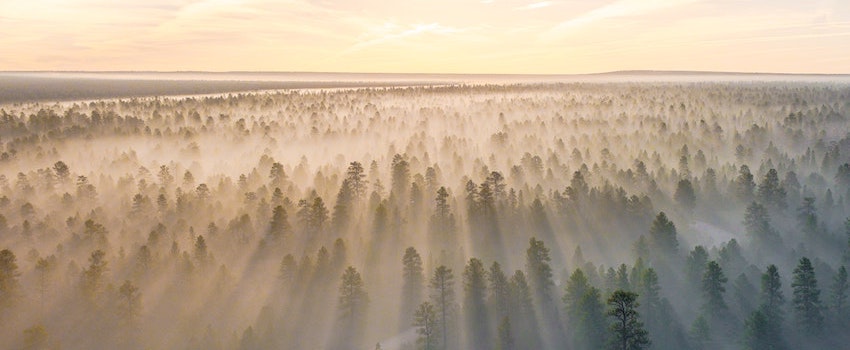 Herbal Inhaler…Closing Thoughts
Herbal Inhalers are very popular throughout Asia because of the natural remedies they offer. It was there where i first discovered them and thought what an amazing natural product. So I am really happy to now have our own, I have one on my desk and i took a big inhalation this morning. Everybody, young and old can use our Herbal Inhaler. Stored in a compact-sized Miron Glass jar, this powerful herbal mixture can be used to relieve nasal congestion, coughing, dizziness, minor headaches, tiredness, travel sickness, common cold, lack of energy and nausea. What I really like about this magical jar that it reduces the discomfort of a hangover by slowly and as long as possible, breathing in the scent. Should you have plans for a pub crawl, make sure to bring your Herbal Inhaler along! In Asia I've seen that older people often fainted due to the extreme heat and immediately somebody did put a Herbal Inhaler below their nostrils which made them wake up again. That's how powerful this little jar can be!    
Because of the all-natural components, our Herbal Inhalers are effective and 100% safe. When inhaled, this inhaler can help you to relax particularly during stressful conditions. Its soothing properties might help unclog your airways and support easier breathing. Some people emailed us telling they use their herbal inhaler keeping them awake as the herbal mixture is known to support alertness when needed. It certainly can energise both your body and mind. The inhaler can also be used getting immediate relief from Shortness of breath and other health issues involving a person's respiratory system. Finally I would like to mention that it can be used to temporarily combat tiredness or weakness. Just take a deep breath, hold the jar below your nostril(s) and gently inhale as long as you can. 
''Herbal medicine's been around for thousands of years! Indeed it has. And then we tested it all, and the stuff that worked became medicine. And the rest of it's just a nice bowl of soup and some pot pourri.'' - Dara O Briain 
Experience a Deep Herbal Clearing - Order Today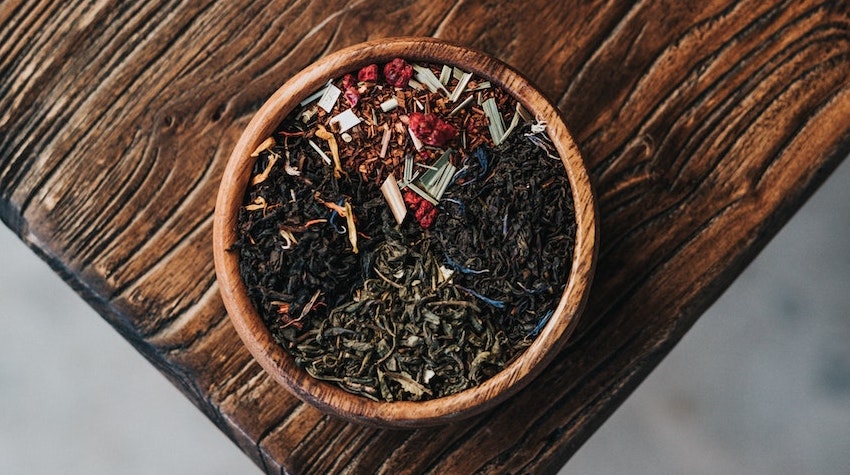 Aromatic Herbal Blend, Extracts & Oils.
Borneol, Menthol, Camphor, Eucalyptus, Clove, Peppermint and other herbs.

 
Hold below nostrils and inhale.
Can close one nostril hold closer and deep inhale in each nostril for stronger effect.
NOTE: Do not remove from jar / Do not consume / If you touch wash hands after as contact with eyes will irritate.
Brand: Ancient Purity.
Size: 40ml.
Container: Miron Glass jar.
Estimated shelf life from purchase: 2 - 4 years.
Storage: Keep out of reach of children.
Q - How long will the scent last?
A – Just make sure to close the jar each time after having used it. We stored the mixture in a Miron Glass jar which means you can use it for 4 to 5 years! 
Q – On your page you mention the main active ingredients but what are the other ingredients?
A – They won't tell us all the ingredients as the exact recipe should remain a secret. I know for sure that there's Peppermint, a tiny amount of Lemongrass and Wintergreen in it as well.
Q – How can the Herbal Inhaler help with a hangover?
A – I'm not sure what it really does but it certainly helps as it chases away the daze. 
Q – Can I take the Herbal Inhaler with me when travelling abroad? No problems with customs, correct?
A – Absolutely! All the ingredients are legal.
Scientific Reports - Eucalyptus oil reduces allergic reactions and suppresses mast cell degranulation by downregulating IgE-FcεRI signalling
Borneol, a novel agent that improves central nervous system drug delivery by enhancing blood–brain barrier permeability
Supporting Scientific Articles
Park TJ, Park YS, Lee TG, et al. (2003). Inhibition of acetylcholine-mediated effects by borneol. Biochem Pharmacol 65:83–90.
Stevens R.V., Gaeta C.A. Camphorae: Chiral intermediates for the total synthesis of steroids. J. Am. Chem. Soc. 1977;99:6105–6106. doi: 10.1021/ja00460a048.
Nandi N. Study of chiral recognition of model peptides and odorants: Carvone and camphor. Curr. Sci. 2005;88:1929–1937.
Jirovetz L, Buchbauer G, Stoilova I, Stoyanova A, Krastanov A, Schmidt E. Chemical composition and antioxidant properties of clove leaf essential oil. J Agric Food Chem. 2006;54(17):6303–6307.
Devi KP, Nisha SA, Sakthivel R, Pandian SK. Eugenol (an essential oil of clove) acts as an antibacterial agent against Salmonella typhi by disrupting the cellular membrane. J Ethnopharmacol. 2010;130(1):107–115.
Elliot WR, Jones D. Vol. 4. Melbourne: Lothian Publishing Company Pty Ltd; 1986. The Encyclopaedia of Australian plants.
Akin M, Aktumsek A, Nostro A. Antibacterial activity and composition of the essential oils of Eucalyptus camaldulensis Dehn and Myrtus communis L. growing in Northern Cyprus. Afr J Biotechnol. 2010;9:531–535.
Disclaimer:
The products and the claims made about specific products, articles and claims made in the articles and information written on or through this site have not been evaluated by Ancient Purity, the MHRA, the FSA or the United States FDA and are not approved to diagnose, treat, cure or prevent disease. The information provided on this site is for informational purposes only and is not intended as a substitute for advice from your physician or other health care professional or any information contained on or in any product label or packaging. You should not use the information on this site for diagnosis or treatment of any health problem or for prescription of any medication or other treatment. You should consult with a healthcare professional before starting any diet, exercise or supplementation program, before taking any medication, or if you have or suspect you might have a health problem. Providing a product for sale does not imply Ancient Purity recommendation of that product, its suitability or its efficacy. Ancient Purity cannot give medical opinions. No comment or entry in this site or in any communication from Ancient Purity may be taken as such.
Prices and promotions are subject to change without notice. Customers should always carefully check all the details printed on the package before opening the product. Whilst all efforts are made to ensure accuracy of description, specifications and pricing there may be occasions where errors arise. Should such a situation occur the company cannot accept your order. In the event of a mistake you will be contacted with a full explanation and a corrected offer. The information displayed is considered as an invitation to treat not as a confirmed offer for sale. The contract is confirmed upon supply of goods, Prices and promotions are subject to change without notice.
Please read the Terms and Conditions of using this site, by using the site you are accepting the terms and conditions.
All Material on this site © 2014 Ancient Purity Ltd Registered in England & Wales 07801142 VAT Reg 168 335 488