Calming / Euphoria / Vitamins C, A, E Sedative - Herbal Tea (USA Origin)
130g (4.58 oz.) Dried Flower
California Poppy (Eschscholzia californica) is a Medicinal Herb / Flower that contains vitamins A, C, E and minerals Magnesium and Calcium. The sedative properties make it beneficial for relieving nervousness, stress, sudden episodes of intense fear that triggers severe physical reactions when there is no real danger or apparent cause, sleeping disorders, high blood pressure, frequent, prolonged and intense crying or fussiness in a healthy infant and bedwetting in children. California Poppy might also be useful for behavioural issues and difficulties with thinking, reasoning, and remembering.
Ancient Purity presents one of America's most beautifully effective Calming and Clearing Flowers which is a Medicinal Herb known as California Poppy (Eschscholzia Californica) that might be good at sharpening cognitive skills such as memory, thinking, articulation, and concentration which makes it a great herb for students and adults alike. California Poppy is a member of the Papaveraceae family. This Poppy is Native to Mexico and the Western United States, however, its original range is wide: southern Washington through into Baja, California, east into the Great Basin and parts of the Sonoran Desert, and west of the mountains and in the Mojave Desert. 
While in some US areas the number of California Poppies has been significantly reduced, they still can be found in abundance in other regions and protected habitats. One of the main reasons for this poppy's success is that it can grow at heights ranging from sea level up to 8,000 feet or 2,500 metres. The beautiful flower has vibrant orange petals which close at sunset as well as during overcast conditions, yet they widely open under the sun. The herb is usually mixed into botanical health-improving formulations, macerated as a tincture, or drunk as California Poppy Tea, presented here. So sit back and take a Big Easy breath and read all about what this unique and cool Herbal Tea could do for you.
Californian Poppy - Information & Points to Research
Promotes feelings of Euphoria.
Overall can Improve your Intellectual Capacity.
Promotes a Calming Nature in an Overactive Mind.
Aids in the Reduction of Jitters due to ADHD.
Promotes Natural Relaxation.
Has been used for Concentration in the Elderly.
Calms Muscle Spasms.
Reduces acute Nerve Pain caused by Spasms.
Helps maintain Healthy Memory Function.
Acts as a Sedative.
May relieve Aches & Pains caused by Low Mood.
Promotes and Regulates Healthy Blood Flow.
Grown and harvested in the USA.
I filled my flask with California Poppy Tea on this trip to Yosemite 2018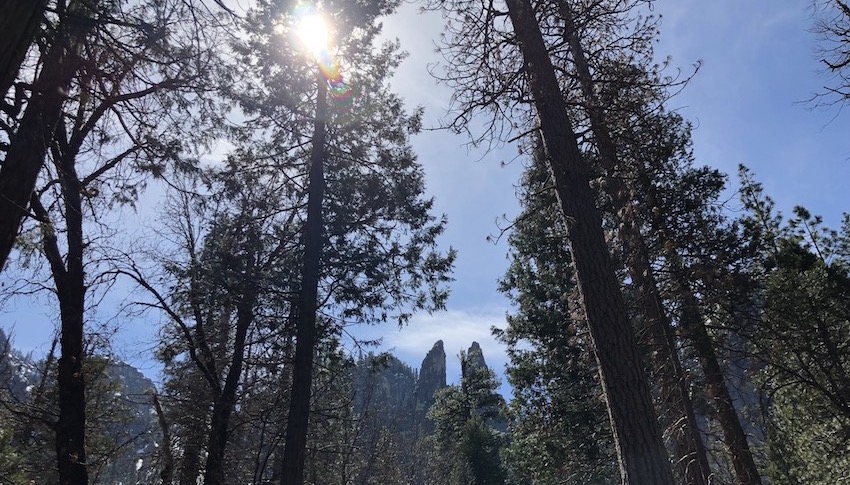 California's Medicinal Flower
California Poppy is renowned as a great natural reliever of bodily discomfort, a safer choice to some synthetic medicines. The Poppy has analgesic and antispasmodic properties, useful in providing relief from acute nerve and muscle related issues. It is also known to help reduce high fever, rapid pulse, and spasmodic coughs. Not surprisingly, the Native American population was the first to explore and take advantage of this plant's health benefits. Several native tribes in the Californian region used the poppy as a sedative, calming agent, decrease nervous agitation, get better sleep, and relieving discomfort associated with toothache and headache.
There are reports of root-based remedies and crushed seeds used both internally and topically for cleansing and discomfort easing purposes. The US's Formulary Version particularly recognises this poppy's value in relation to extreme nervousness and sleeplessness. More recently it has been reported that California Poppy also helps body cells using nutrients more effectively and efficiently. 
Relaxing in Sonora California 2018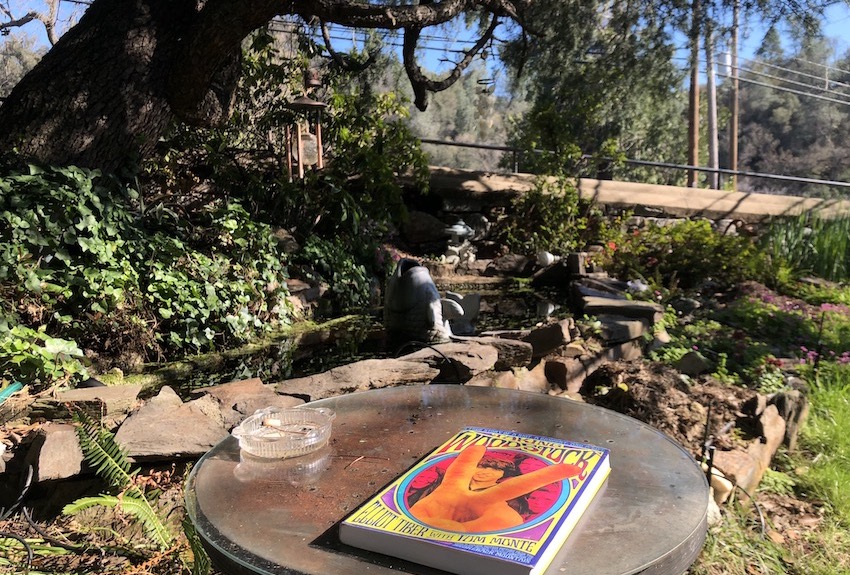 California Poppy... The Relaxing Tea
California Poppy Tea is wonderful to drink before bedtime to help prepare the body for a full and restful night's sleep. California Poppy contains substances that might cause sleepiness and relaxation. OK, now you know Ancient Purity's Dried California Poppy makes an ancient soothing herbal tea. I personally like to add 2 tsp of dried herb to 1 cup of boiling water, let it steep for at least 10 minutes, sweeten with raw honey, sometimes i add lemon but always honey.
My friend Paul finds it helpful in two ways, he told me... first, when I have an uncomfortable tension headache, the kind of headache that comes about when you feel cranky, and can't seem to find any way to get rid of it, due to your head hurting so damned much. I found out that for me this tea de-tangles my brain enough to relieve my severe headache. The other way I like to drink it is when I'm exhausted but still resisting going to sleep for whatever reason.
California Poppy... What it is
California Poppy is the state flower of California. The flower is usually golden orange, hence its common name. As a member of the Papaver somniferum species, this complex plant is considered a sub-opiate because it produces a milder affect than its cousin the red poppy which is the source of opium. Its distinction is found in its ability to normalise psychological functions by influencing the neurotransmitters without depressing the central nervous system. It also contains antimicrobial properties which make it effective for applying to cuts, wounds, and skin ailments. The roots, seeds and leaves are all used for medicinal purposes once the flower reaches full maturity. Developing recent research shows that California Poppy, in combination with hawthorn and magnesium, might be useful in combatting mild-to-moderate mental disorders. Ancient Purity has Magnesium in its comprehensive health supplement collection as well. Other health benefits that California Poppy might provide include: Trouble Sleeping, (Muscle) Aches, Bedwetting, fight Bladder and Liver Issues as well as several other conditions. 
In Medicinal Plants of the Pacific West, Michael Moore says "it's a surprisingly effective herb for use with anxiety" and "when used as a sedative, it promotes relaxation and genial lethargy."  He reports that in higher doses it gives mild analgesic effects. The stem of the flower grows 5 to 20 inches tall, with teal coloured leaves sprouting from its base. The roots, seeds and leaves are all used for medicinal purposes once the flower reaches full maturity. On one of my trips to California I got to see and experience this flower, but at the time wasn't really thinking we'd be stocking it at Ancient Purity, so I was too busy taking photos of the sights and myself to get a good photo of the Poppies. I think my lack of a real photo of this magical plant is a great reason to go back. Anyway, below was in the amazing Lake Tahoe, lots of Pine there... Go read about our Pine Needle Tea next, another totally incredible, powerful, natural Herbal Tea, that actually tastes really good.
Keeping it Green in Lake Tahoe - California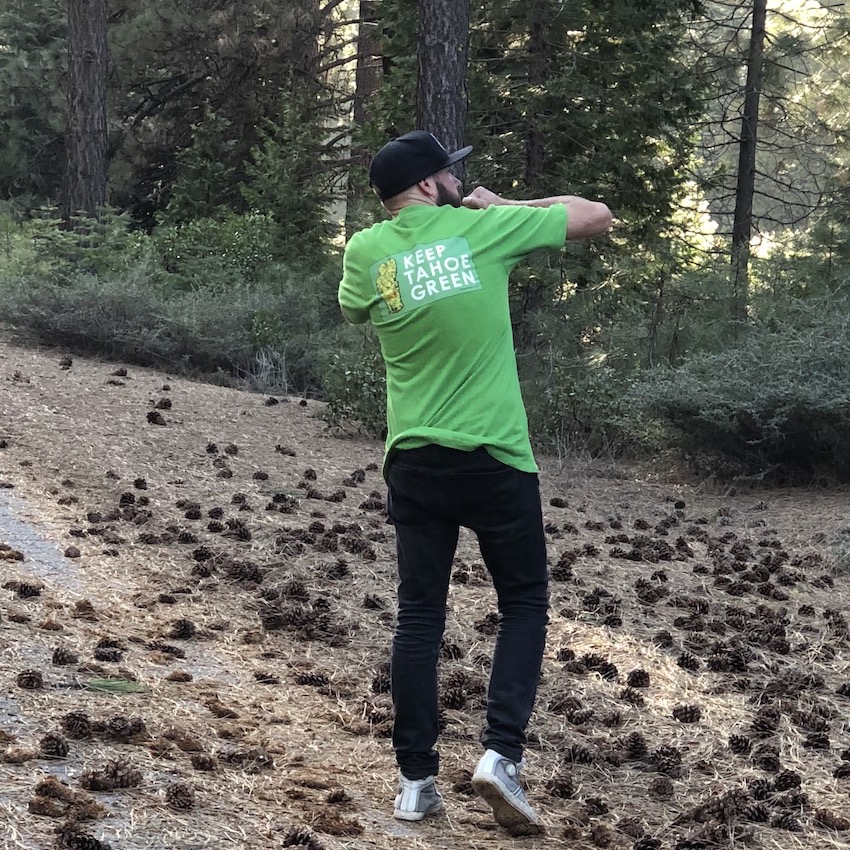 How to really Enjoy California Poppy Tea
You can brew your tea with any of the plant's above-ground parts: flowers, leaves and stems. You can use these parts dried or fresh. I've been using Ancient Purity's dried parts so far. Hey! Would I live in California, I would certainly have tried the fresh ones too! Anyway, they don't grow in the UK so I just stuff my tea basket with dried leaves, pour hot clean water over the herb and let it steep for about 10 minutes. Over the top I put a saucer helping keep the tea hot. Obviously, a long soak ensures a more potent stronger brew. Tyrone, my best friend says: "Best sleep aid I've ever used. I've used many sleep aids, especially many over the counter stuff. None compare to just 3 teaspoons of California Poppy. I typically add it to my tea before bedtime and with a little bit of honey it has a sweet very tolerable taste".
For beginners, add 2 teaspoons of dried herb to 1 cup of boiling water and let steep for at least 10 minutes, sweeten with our extremely rare Organic Forest Honey and/or Lemon if desired, I think i kinda said this above, I'm obviously still too chilled from last nights Cali-Tea. As far as how often you drink the tea, we suggest starting with a cup or two a day and see how relaxing it feels into the Big Sur feelings of California Poppy. The Tea can be mixed with Night-Blooming Cereus, Kava, Lavender, Passionflower, St. John's Wort and Valerian, mix with only one of those at a time. Try your own blends, any great results do message us on email or over at our Instagram, always love to hear from you all.
California Poppy... Relax, Feel Good
California Poppy… Closing Thoughts
Like several other sun-adoring and summer-blooming plants, flowers of the California Poppy open in response to sunlight and close on cloudy periods and after sunset. This specific poppy is native to the USA and Mexico. As the name implies, the plant's origins lie in the state of California. The plant is also the Californian state flower. Its scientific name is Eschscholzia californica. It is assumed that the main active ingredients in California Poppy that provide health benefits feature' Isoquinoline Alkaloids (Protopine, californidine and eschscholtzine) which have sedative effects that aid to calm and ease trouble sleeping; and Flavone Glycosides (such as Rutin) that might tone blood vessels and decrease inflammation. All of the California Poppy that grows above the ground can be used for natural herbal remedy purposes. In addition, its seeds are a popular addition in some culinary dishes and for baked foods.
Despite the lack of scientific evidence (Native Americans and many well-known herbalists all over the world are convinced of the plant's health benefits) California Poppy is included in the following remedies: soothe bodily discomforts and aches, reduce bladder infection symptoms, lower nervousness levels, sleeping disorders, promote relaxation, boost energy levels and decreases bedwetting in kids. 
Experience the Big Chill of California Poppy - Order Today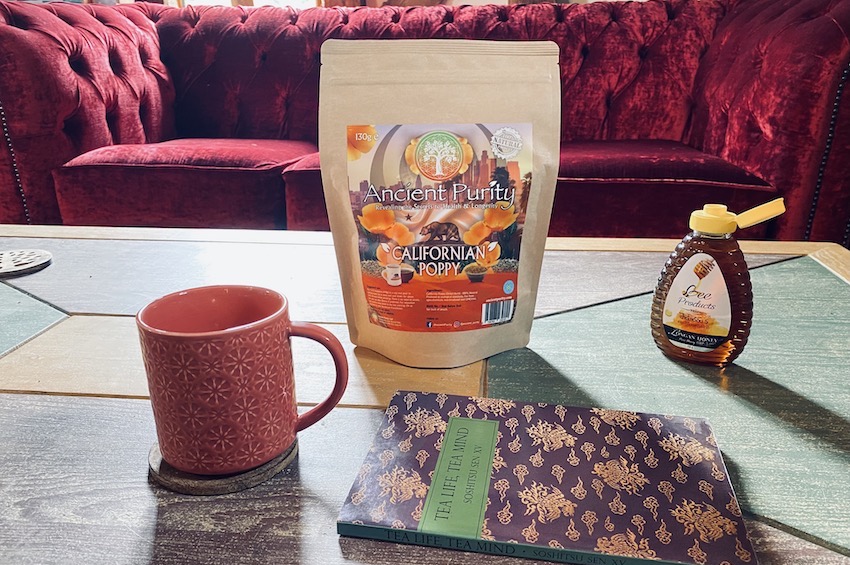 California Poppy Dried Herb (100% Natural).
Produced to ecological standards, free from agro-chemicals, non-irradiated and GMO-free.
Put 1 to 2 teaspoons in a cup and pour boiling water into the cup.
Let it steep and cool down for about 10 minutes before drinking.
There is no need to strain but you can after 10 minutes.
Warning:
Pregnancy and breast-feeding: Not enough is known about the use of California poppy during pregnancy and breast-feeding. Stay on the safe side and avoid use.
Surgery: California Poppy can slow down the central nervous system, causing sleepiness and other effects. There is some concern that California Poppy might slow down the central nervous system too much when combined with anaesthetics and other medications used during and after surgery. Stop using California poppy at least 2 weeks before a scheduled surgery.
Brand: Ancient Purity.
Origin: USA.
Size: 130g (4.58 oz.).
Container: Kraft Paper Pouch.
Storage: Store in a cool dry place out of reach of children.
Estimated shelf life from purchase: 1-2 years.
Q - Can I still work after having used California Poppy?
A – Absolutely! This is not the opium poppy most people think of. 
Q – Is it addictive?
A – No, California Poppy is not addictive. It is not an illegal drug. Just use it as you can read in our 'Suggested Use' section.
Q - Is it illegal to step on California Poppies?
A – It is illegal to pick the flowers and it is illegal to remove or damage plants from properties that a person doesn't own. Without written permission from the landowner, such actions may constitute trespassing and/or petty theft.
Q – What are better fresh or dried parts of the plant?
A – Most experience users we know don't notice different effects.
Q – Can I grow them myself?
A - California Poppies like rich, fast-draining soil, ample water and plenty of sunshine! You can grow them if you can you provide all this.
Q – Does it help with mood disorders?
A – The tea of Californian Poppy has a calming, tranquilising and relaxing effect on most people that have used it. Being tranquil and calm usually leads to better mental health.
Q – Yes it really helps me but didn't know the taste could be that bitter. Should I add sugar to the tea?
A – Glad to hear it works for you! If you want to go all-natural, add one teaspoon of honey to your cup of tea. This will take the bitterness away.
Scientific Articles
California Native Grassland Foundation - Celebrating and conserving the ecological richness of California's grasslands
Master Gardener – The California Poppy
Irish Examiner - The orange California poppy is a true narcotic
Supporting Scientific Research
Rolland A., Fleurentin J., Lanhers M.-C., et al. Behavioural effects of the American traditional plant Eschscholzia californica: sedative and anxiolytic properties. Planta Medica. 1991;57(3):212–216. doi: 10.1055/s-2006-960076.
Häberlein H., Tschiersch K.-P., Boonen G., Hiller K.-O. Chelidonium majus L.: components with in vitro Affinity for the GABAA Receptor. Positive Cooperation of Alkaloids. Planta Medica. 1996;62(3):227–231. doi: 10.1055/s-2006-957865.
Suchomelová J., Bochořáková H., Paulová H., Musil P., Táborská E. HPLC quantification of seven quaternary benzo[c]phenanthridine alkaloids in six species of the family Papaveraceae . Journal of Pharmaceutical and Biomedical Analysis. 2007;44(1):283–287. doi: 10.1016/j.jpba.2007.02.005.
Schafer H. L., Schafer H., Schneider W., Elstner E. F. Sedative action of extract combinations of Eschscholtzia californica and Corydalis cava . Arzneimittel-Forschung. 1995;45(2):124–126.
Nikolaev V. O., Boettcher C., Dees C., Bünemann M., Lohse M. J., Zenk M. H. Live cell monitoring of μ-opioid receptor-mediated G-protein activation reveals strong biological activity of close morphine biosynthetic precursors. Journal of Biological Chemistry. 2007;282(37):27126–27132.
Zhu W., Ma Y., Cadet P., et al. Presence of reticuline in rat brain: a pathway for morphine biosynthesis. Molecular Brain Research. 2003;117(1):83–90. doi: 10.1016/s0169-328x(03)00323-1.
Rey J.-P., Levesque J., Pousset J.-L., Roblot F. Analytical and quantitative studies of californin and protopin in aerial part extracts of Eschscholtzia californica Cham. with high-performance liquid chromatography. Journal of Chromatography A. 1991;587(2):314–317. doi: 10.1016/0021-9673(91)85174-e.
Disclaimer:
The products and the claims made about specific products, articles and claims made in the articles and information written on or through this site have not been evaluated by Ancient Purity, the MHRA, the FSA or the United States FDA and are not approved to diagnose, treat, cure or prevent disease. The information provided on this site is for informational purposes only and is not intended as a substitute for advice from your physician or other health care professional or any information contained on or in any product label or packaging. You should not use the information on this site for diagnosis or treatment of any health problem or for prescription of any medication or other treatment. You should consult with a healthcare professional before starting any diet, exercise or supplementation program, before taking any medication, or if you have or suspect you might have a health problem. Providing a product for sale does not imply Ancient Purity recommendation of that product, its suitability or its efficacy. Ancient Purity cannot give medical opinions. No comment or entry in this site or in any communication from Ancient Purity may be taken as such.
Prices and promotions are subject to change without notice. Customers should always carefully check all the details printed on the package before opening the product. Whilst all efforts are made to ensure accuracy of description, specifications and pricing there may be occasions where errors arise. Should such a situation occur the company cannot accept your order. In the event of a mistake you will be contacted with a full explanation and a corrected offer. The information displayed is considered as an invitation to treat not as a confirmed offer for sale. The contract is confirmed upon supply of goods, Prices and promotions are subject to change without notice.
Please read the Terms and Conditions of using this site, by using the site you are accepting the terms and conditions.
All Material on this site © 2014 Ancient Purity Ltd Registered in England & Wales 07801142 VAT Reg 168 335 488