(Prickly Pear) Raw Ground Powder Nutrient Dense Super Fruit
250-500g (8.81-17.63 oz.) Powder
Native to Mexico, the Nopal Cactus, is better known as the Prickly Pear cactus. This juicy cactus is renowned for offering a range of health-improving benefits because it is jam-packed with antioxidants, minerals and vitamins. Nopal Cactus may also be a pivotal source of certain organic compounds like phytochemicals and certain polysaccharides that may contribute to this cacti health-boosting power. This tasty ripe fruit has a unique sweet flavour that continues to be a staple in the American Southwest and Mexican diet. Its historical uses as a medicine include being taken as a cardiac tonic. Using this extraordinary cactus as a food and medicine dates back to the Aztec period, 900-1521 AD. Nopal Cactus Powder mixes well making super healthy exotic mouth-watering smoothies, herbal teas, and other refreshing beverages.
Ancient Purity presents Nopal Cactus (Opuntia ficus indica). Nopal Cactus or Prickly Pear have so many health benefits that it is difficult where to start. Regarding the fresh cactus, after the spines have been removed, this tasty ripe fruit has a unique sweet flavour that continues to be a staple in the American Southwest and Mexican diet. Its historical uses as a medicine include being taken as a cardiac tonic. The peeled stems of the cactus were also applied directly to wounds in order to facilitate the healing process and promote a speedy recovery.
We at Ancient Purity always do plenty of research if we think we've discovered one of Mother Earth's (new) health-boosting treasures. Besides our own research, we try to keep records of all the performed scientific research, studies, and medical reports done by other sources.  Nopal Cactus has so many benefits and even seems to be the best answer to a hangover. It certainly helps the Mexicans after having washed away a bottle of Tequila!  But that's way down on the list of all its incredible health benefits. We also can highly-recommend the Prickly Pear Powder as an ingredient for one of your health-boosting exotic smoothies. We offer kraft paper pouches that come in 250 grams and 500 grams. Using this extraordinary cactus as a food and medicine dates back to the Aztec period, 900-1521 AD. Nopal Cactus Powder mixes well making super healthy exotic mouth-watering smoothies, herbal teas, and other refreshing beverages. Several scientific studies have indicated that the plant can help to prevent illness. A 2019 research proved that Nopal Cactus has potent anti-inflammatory properties.
Nopal Cactus (Prickly Pear) - Information & Points to Research
Nutrient-Dense Desert Super-Fruit.
Supports Energy, Stamina & Vitality.
Urinary Tract Bowel Function.
Prostate Health.
Studied Extensively for Effects on Weight-Loss.
Historically Used for Health over Ulcers.
Natural Anti-Inflammatory.
Supports Good Mood.
Cholesterol Health.
Promotes Mental Awareness.
Betalains, Fibre, Pectin & Potent Phytonutrients.
Minerals: Calcium, Copper, Iron, Zinc, Magnesium, Manganese, Selenium, Phosphorus, Potassium and Sodium.
Vitamins: Vitamin A, Vitamins (B1, B2, B3, B6), Ascorbic Acid (C), Vitamin E & Folate.
Amino Acids: Alanine, Arginine, Aspartic Acid, Cystine, Glutamic Acid, Glycine, Histidine, Leucine, Isoleucine, Lysine, Methionine, Phenylalanine, Proline, Serine, Threonine, Tryptophan, Tyrosine and Valine.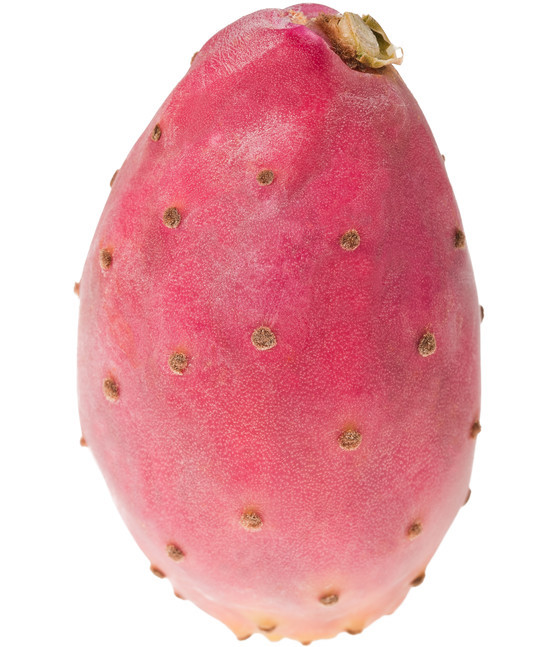 Nopal Cactus Native to Mexico, Baja & Southern California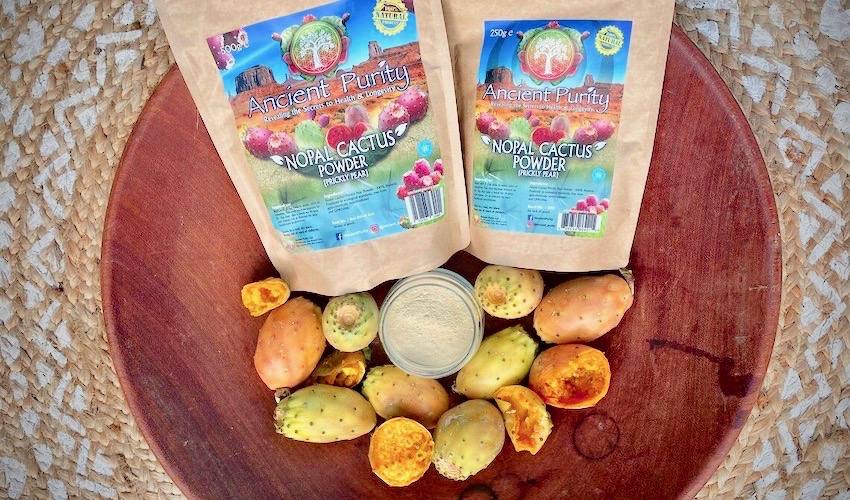 Nopal Cactus (Prickly Pear) Gives
Energy, Stamina, Vitality and Mental Awareness... There's nothing better than feeling refreshed and energised all day long. Many people have the misconception that being tired at the end of the day is a natural, normal part of life. Well, it's not! Nopal Cactus' potent nutrients and betalains (Class of red and yellow tyrosine (an amino acid)-derived pigments) may promote increased energy.
Cholesterol Health... In studies led by Dr Maria L. Fernandez in California and published in the "Journal of Nutrition," prickly pear pectin decreased LDL concentrations and led to a 28% drop in total cholesterol levels. Furthermore, Mexican researchers found that animals fed raw Nopal Cactus had lower weight gains and a 34% reduction in LDL cholesterol levels.
Blood Sugar Health... Nopal Cactus has been studied for its effects on blood sugar levels, with one study published in the "Journal of Ethnopharmacology" in 1995 finding the cactus extracts caused a significant decrease in blood glucose values by almost 18%. The Calzada Tecnologico in Baja California also discovered that adding Nopal Cactus to traditional high-carbohydrate Mexican meals among patients with Type 2 diabetes induced a reduction in glucose concentration after the meal.
Ulcers... The Nopal Cactus has been used on the Italian Island of Sicily as a folk medicine for years to treat gastric ulcers. Italian scientists pre-treated laboratory animals with Nopal Cactus Powder before inducing gastric ulcers and found that the pre-treatment provided a protective action against the ulcers, most likely from the mucilage (Thick, gluey substance produced by nearly all plants) present in the plant.
Nopal Cactus (Prickly Pear) Super-Food of the Desert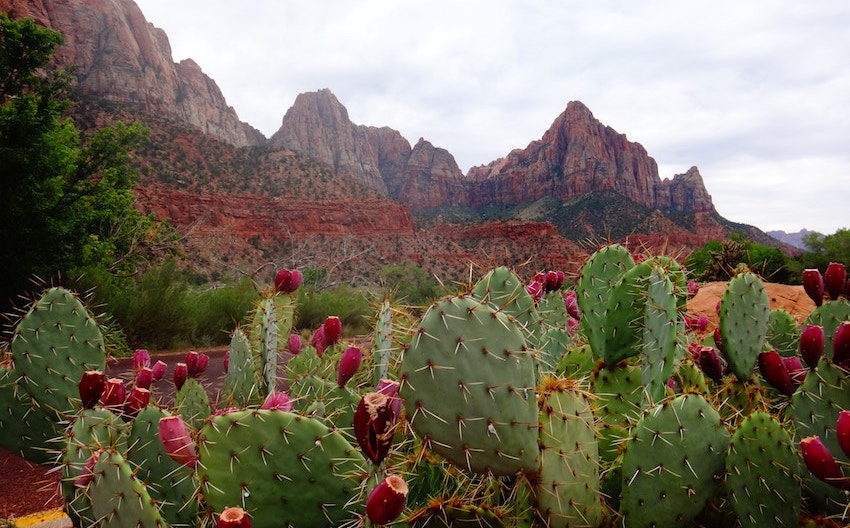 Nopal Cactus & Good Mood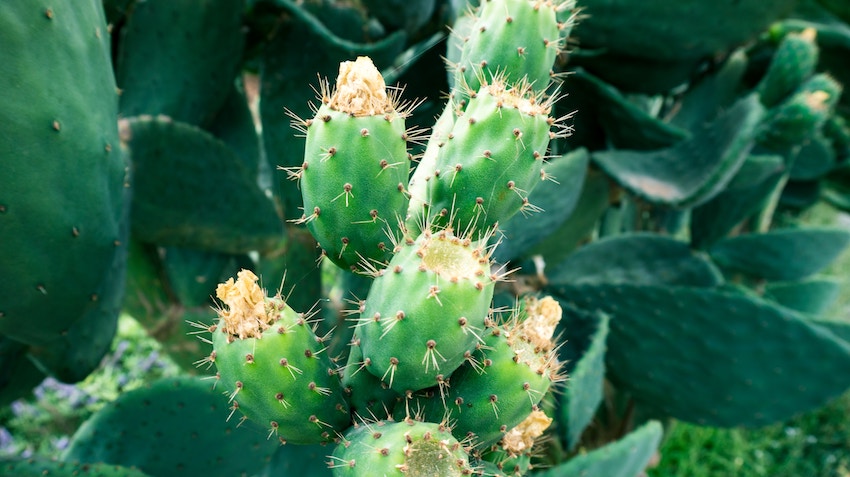 Nopal Cactus Powder may provide you with that boost of energy so you're more apt to get up off the couch and go exercise. Exercise creates endorphins and endorphins are what make you feel amazing after a good session at the gym. They're also responsible for the famous 'runners high' that many endurance athletes feel. 
Nopal Cactus Powder might help to increase the production of tryptophan which is a precursor to serotonin ('The Feel Good Hormone' that effects mood and sleep patterns) as well as niacin (A key vitamin for vitality and nutrient absorption).
Chronic low mood can sneak into your mind and put a hold on your life like no other issue. So adding foods that support balance, exercise and positive focus are wise moves.
This wonderful plant also contains magnesium that is useful in promoting sleep and improving sleep quality for those suffering from poor sleep. Magnesium deficiency is linked to reduced serotonin levels which is a precursor to melatonin that helps improve sleep. Melatonin may have a slightly sedative effect, which calms the body and helps in falling asleep. 
Clean, Native Sourced Nopal Cactus (Prickly Pear) Ground Powder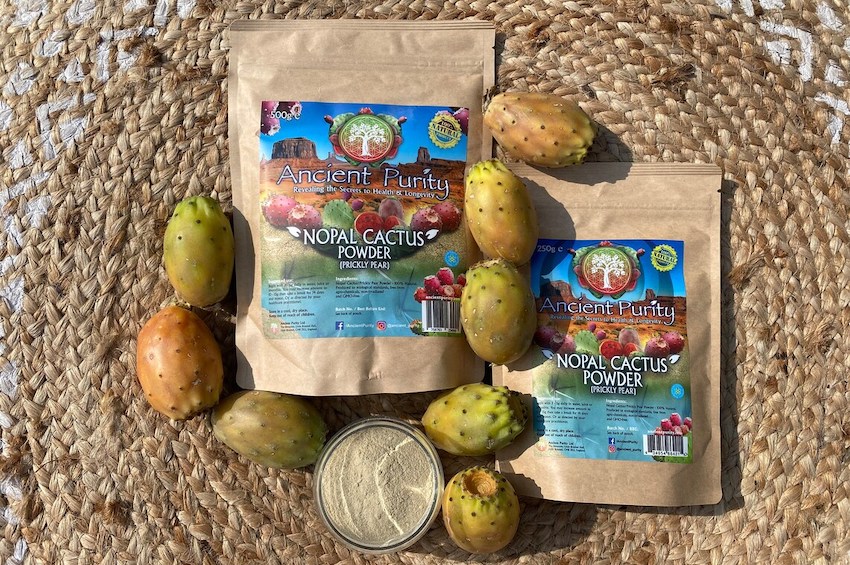 Nopal Cactus (Prickly Pear) Keeps Giving
Urinary Tract Bowel Function and Prostate Health... Incontinence happens in both men and women but for different reasons. In men, the prostate can enlarge (Benign hypertrophy) resulting in irregular urination. In women, a decrease in muscle tone causes the muscles that control the bladder to become weak. Both of these conditions result in urine being 'left behind', so to speak, which can lead to bladder infections. Although urine is itself a sterile fluid there's nothing stopping bacteria from using it as a breeding ground. Our Freeze Dried Nopal Cactus Powder has natural antimicrobial and antibacterial properties that may help to keep your bladder infection-free and much more comfortable.
Promote Active Menstrual Cycles... The Nopal Cactus Powder contains 8 vitamins, 10 minerals and 18 essential amino acids. Amino acids are what your body uses to synthesise neurotransmitters. Through those neurotransmitters, everything else in the body (Including hormone levels) are controlled. Minerals are those elements on our planet and in food which our bodies need to function and develop normally. Vitamins are a group of organic compounds that are needed for normal growth and nutrition and are required in tiny quantities in our diet because they cannot be synthesised by our body.
Hangover solution...Nopal Cactus may actually aid reducing the symptoms of inconvenient hangovers. There's a catch, it works best when you take the Cactus Powder Drink before you start your pub crawl, preventing the issue instead of treating it later. A 2004 research found convincing evidence that Nopal Cactus Extract drastically decreases hangovers' severity when taken before having all those pints. Cheers!
Nopal Cactus / Prickly Pear - Supporting a Clean, Healthy Lifestyle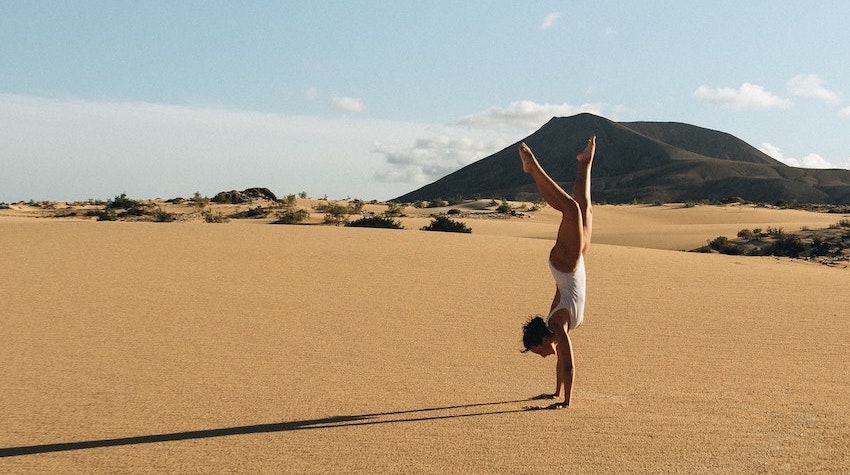 Nopal Cactus & Weight Management
Studies show that being overweight plays a major role in health risks such as heart disease, respiratory problems, and hormonal imbalances. Over 66% of Americans are overweight by at least 20 pounds. Obesity is at an all-time high as America becomes the fattest nation on the face of the earth. Most of us could stand to lose a few pounds or at the very least start down the road to a healthier lifestyle. We have become a nation dependent on fast food and quick-fix pre-packaged foods in order to accommodate our busy lifestyles. Nopal Cactus may help to ramp-up your metabolism, turning you into a fat-burning machine. Combined with exercise and a proper diet plan you may be able to shed off those unwanted pounds.
The soluble fibres found in the Nopal Cactus are hemicellulose, pectins polysaccharides, mucilages and gums and are used to delay the intestine's glucose absorption. The Nopal Cactus fibres, lignin and pectin also decrease one's appetite or satiety which is a significant factor in controlling obesity (weight management). If a patient is allergic or sensitive to psyllium (which is a well-known fibre supplement taken orally for the cleansing of the colon), Nopal Cactus Powder is a fantastic and gentler alternative.
Nopal Cactus - A Superfood that Brightens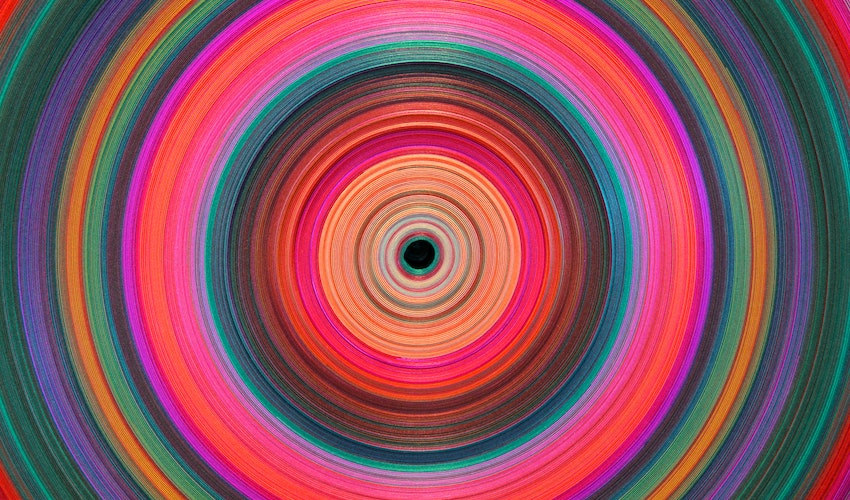 Proven by Science, Nopal Cactus has Anti-Inflammatory Properties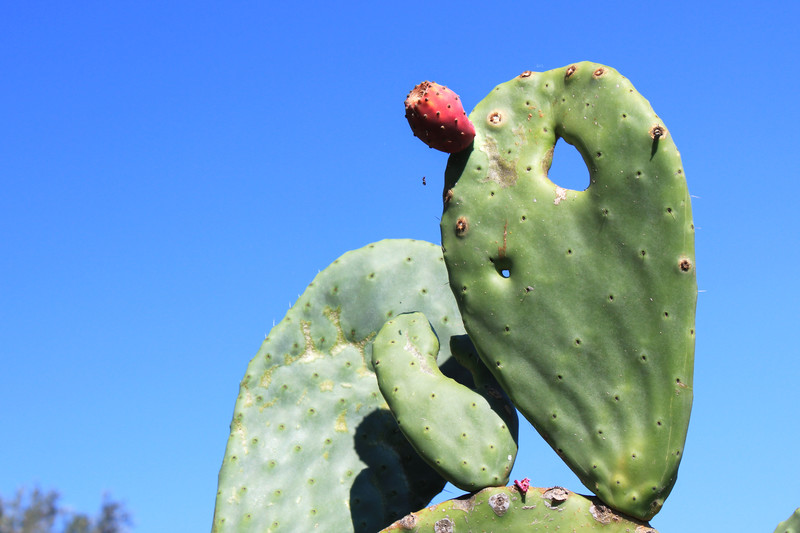 Ethanol extracts from Nopal Cactus fruit and stems were prepared and used to evaluate the pharmacological activities of the plant. A study from Korea, published in the "Archives of Pharmacal Research," found that both extracts suppressed paw oedema in laboratory animals and had a potent inhibitory effect against leukocyte migration, which is an important mechanism in the development of inflammatory diseases. 
Betalains are one of nature's most potent weapons in the war against pain and inflammation. These compounds are super-charged anti-inflammatories that may work to keep your body in shape and healthy, the way nature intended! Nopal Cactus Powder is super high in antioxidants, minerals and vitamins. They are a healthful addition to a well-balanced diet and might assist reduce blood sugar, lower inflammation, and reduce cholesterol.
In a 2006 study published in Frontiers in Bioscience, researchers showed that consumption of Nopal Cactus fruit juice significantly reduced markers of inflammation in the body, namely C-reactive protein (or CRP). This protein is produced when inflammation is present in the body. Elevated CRP is associated with many different health conditions, therefore Nopal Cactus may help lower inflammation and serum CRP levels and aid in improving health for people suffering from inflammation-related conditions.
Feel Easy, Happy and Healthy with Nopal Cactus (Prickly Pear)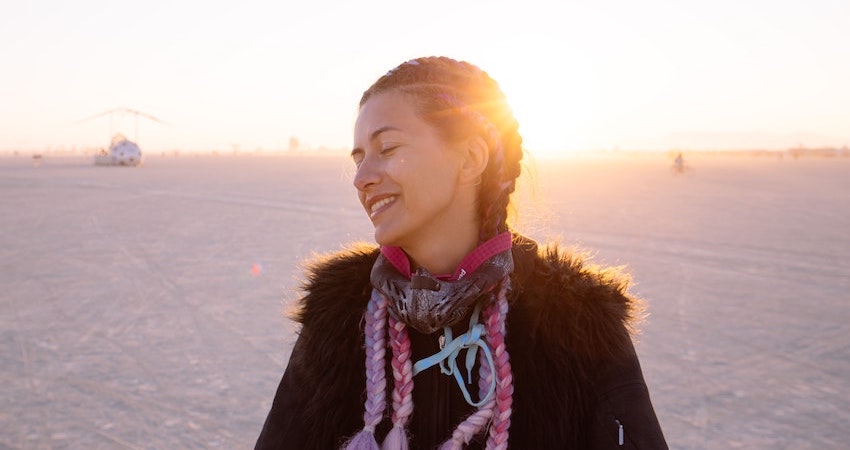 Origins of Nopal Cactus / Prickly Pear
Since the Pre-Columbian period, the native people of the Americas, Aztecs, Zacatecans, Tepehuanes, Chichimecs and Coras have utilised the fruits and green stems of the Nopal Cactus as food. Archaeological researchers found human coprolites (preserved faeces) containing the remains of Nopal Cactus dating back as far as 65 B.C. Other sources of information about Nopal's many uses in the ancient times can be found in the journals of the missionaries who worked in the region and documents the survived destruction during the cultural cleanse ordered by Mexico's Spanish archbishop.
The Aztecs used Nopal Cactus for building materials, food, making glue, firewood, strengthening mortar, stiffening cloth and for religious rituals. The tuna or the Nopal Cactus fruit was boiled then combined with honey, which is known to help in curing respiratory tract infections. The fruit of the Nopal Cactus was eaten to help with such conditions as arteriosclerosis, diarrhoea and a sore throat. The Nopal Cactus pads would be used as heating pads to reduce swelling, muscle pains, muscle aches and were also utilised for dressing wounds and, or cuts. The pads' gel or sap would be applied to bruises, burns and cuts. Grounded young Nopal Cactus was used as a laxative. A paste was used to treat toothaches. The Nopal Cactus juice was and is known to alleviate pain and to soften the skin.
Nopal Cactus... Ancient Purity
The Appreciation of Cactus
Take the rose—most people think it very beautiful: I don't care for it at all. I prefer the cactus, for the simple reason that it has a more interesting personality. It has wonderfully adapted itself to its surroundings! It is the best illustration of the theory of evolution in plant life.-Charles Proteus Steinmetz
"If one can see beauty in the strength of how a cactus blooms in the desert. They would see beauty in the thorns it displays." - Reena Sharma
"A cactus doesn't live in the desert because it likes the desert; it lives there because the desert hasn't killed it yet." - Hope Jahren
The Peace of Nopal Cactus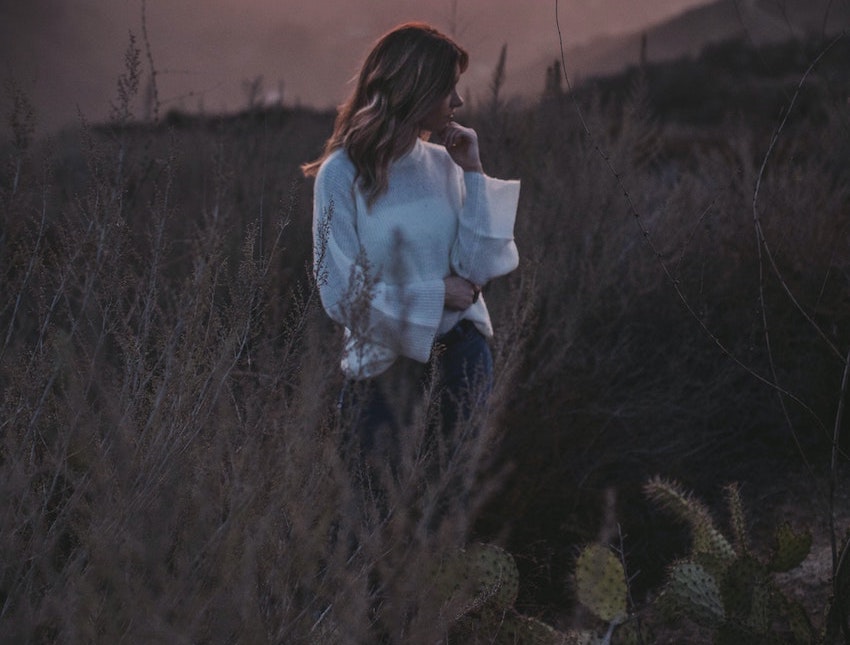 Nopal Cactus… Closing Thoughts
Coastal Nopal Cactus or Prickly Pear is native to Mexico, Baja California and Southern California, where it grows in chaparral habitats and coastal sage scrub. The plant normally grows in lush clumps that spread several feet wide. The edible fruit has a purplish red colour, reaching up to 2 inches long. For wildlife, this is a significant plant. In June and July the fruits are harvested and brushed, rolled, or shaken in an agave fibre carrying net to get rid of the spines and then consumed dried or fresh. When still green, the fruit is cooked just like pumpkins. The green young pads are fried or boiled. The seeds and blossom are eaten as well. Once all the seeds are winnowed out, they are stored to be produced into flour. The spine of the cactus is used in tattooing!
In terms of health, the Prickly Pear Cactus is promoted for helping with diabetes, high cholesterol, hangovers and obesity. Nopal Cactus is also touted for its anti-inflammatory and antiviral properties. There is some preliminary evidence showing that Nopal Cactus might reduce blood sugar levels in patients with type 2 diabetes. Other research suggests that a Nopal Cactus Powder drink may lessen the horrible hangover effects, perhaps due to the cactus' anti-inflammatory properties. We at Ancient Purity think the time is right to call Prickly Cactus a superfood and that it can be part of a healthy diet. Our Nopal Cactus Powder is high in fibre, carotenoids and antioxidants. Indeed, this fabulous cactus is extremely popular in numerous areas of the world, especially Mexico and Latin America, where it's a native species.
Experience the Deserts Super Fruit - Order Today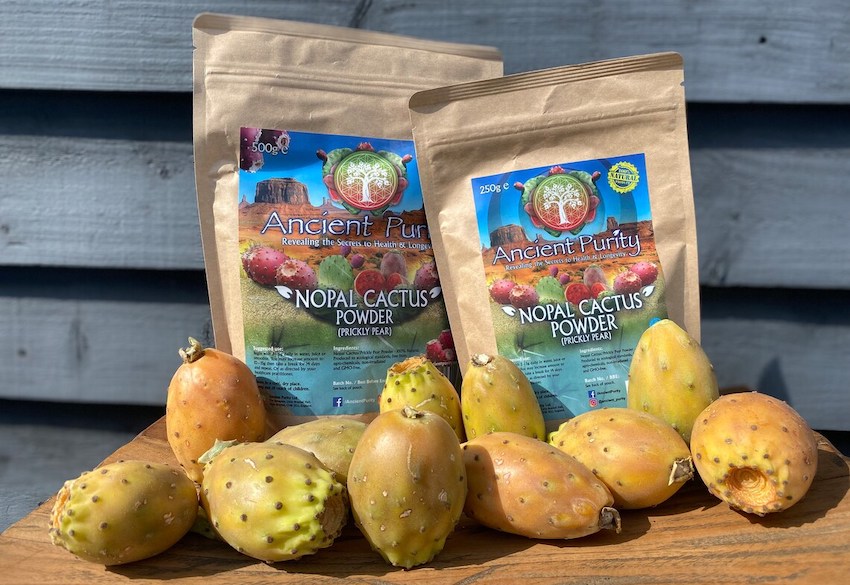 Nopal Cactus/Prickly Pear Powder - 100% Natural.
Produced to ecological standards, free from agro-chemicals, non-irradiated and GMO-free.
Begin with 3 - 5 grams daily in water / juice / smoothie or as directed by your healthcare practitioner. Do not exceed the recommended daily dose.
For greater therapeutic use: Take 1 - 2 tablespoon daily. Consider taking daily for 2 weeks then take a one-week break and repeat.
NOTEs / WARNING: Side effects for some people include: mild diarrhoea, nausea, increased stool volume, increased stool frequency and abdominal fullness. However, these are rare. 
Pregnancy and Breast-Feeding: There is not enough reliable information about the safety of taking Nopal Cactus if you are pregnant or breast-feeding. Stay on the safe side and avoid use.
Diabetes: Prickly Pear Cactus might lower blood sugar levels in people with diabetes. Watch for signs of low blood sugar (hypoglycemia) and monitor your blood sugar carefully if you have diabetes and use Prickly Pear Cactus.
Surgery: Nopal Cactus might affect blood sugar levels, making blood sugar control difficult during and after surgery. Stop using prickly pear cactus at least 2 weeks before a scheduled surgery.
Brand: Ancient Purity.
Size: 250/500g (8.81-17.63 oz.).
Origin: Mexico.

Container:

Kraft Paper Pouch.
Estimated shelf life from purchase: 1-2 years.
Storage: Keep in a cool dry place, keep out of reach of children.
Scientific Articles
National Institutions of Health - Nopal Cactus (Opuntia ficus-indica) as a Source of Bioactive Compounds for Nutrition, Health and Disease
Research Gate - Opuntia ficus-indica as a Source of Bioactive and Nutritional Phytochemicals
MDPA - Opuntia ficus-indica (L.) Mill.: A Multi-Benefit Potential to Be Exploited
Supporting Scientific Research
Allegra M., Ianaro A., Tersigni M., Panza E., Tesoriere L., Livrea M.A. Indicaxanthin from cactus pear fruit exerts anti-inflammatory effects in carrageenin-induced rat pleurisy. J. Nutr. 2014;144:185–192.
Butterweck V., Semlin L., Feistel B., Pischel I., Bauer K., Verspohl E.J. Comparative evaluation of two different Opuntia ficus-indica extracts for blood sugar lowering effects in rats. Phytother. Res. 2011;25:370–375.
Gentile C., Tesoriere L., Allegra M., Livrea M.A., D'Alessio P. Antioxidant betalains from cactus pear (Opuntia ficus-indica) inhibit endothelial ICAM-1 expression. Ann. N. Y. Acad. Sci. 2004;1028:481–486.
Wiese J., McPherson S., Odden M.C., Shlipak M.G. Effect of Opuntia ficus indica on symptoms of the alcohol hangover. Arch. Intern. Med. 2004;164:1334–1340.
Strack D., Vogt T., Schliemann W. Recent advances in betalain research. Phytochemistry. 2003;62:247–269.
Godard M.P., Ewing B.A., Pischel I., Ziegler A., Benedek B., Feistel B. Acute blood glucose lowering effects and long-term safety of Opuntia Nopal Cactus supplementation in pre-diabetic males and females. J. Ethnopharmacol. 2010;130:631–634.
Sreekanth D., Arunasree M.K., Roy K.R., Chandramohan Reddy T., Reddy G.V., Reddanna P. Betanin a betacyanin pigment purified from fruits of Opuntia ficus-indica induces apoptosis in human chronic myeloid leukemia Cell line-K562. Phytomedicine. 2007;14:739–746.
Kuti J.O. Antioxidant compounds from four Opuntia nopal cactus pear fruit varieties. Food Chem. 2004;85:527–533.
Stintzing F.C., Schieber A., Carle R. Phytochemical and nutritional significance of nopal cactus prickly pear. Eur. Food Res. Technol. 2001;212:396–407.
Disclaimer:
The products and the claims made about specific products, articles and claims made in the articles and information written on or through this site have not been evaluated by Ancient Purity, the MHRA, the FSA or the United States FDA and are not approved to diagnose, treat, cure or prevent disease. The information provided on this site is for informational purposes only and is not intended as a substitute for advice from your physician or other health care professional or any information contained on or in any product label or packaging. You should not use the information on this site for diagnosis or treatment of any health problem or for prescription of any medication or other treatment. You should consult with a healthcare professional before starting any diet, exercise or supplementation program, before taking any medication, or if you have or suspect you might have a health problem. Providing a product for sale does not imply Ancient Purity recommendation of that product, its suitability or its efficacy. Ancient Purity cannot give medical opinions. No comment or entry in this site or in any communication from Ancient Purity may be taken as such.
Prices and promotions are subject to change without notice. Customers should always carefully check all the details printed on the package before opening the product. Whilst all efforts are made to ensure accuracy of description, specifications and pricing there may be occasions where errors arise. Should such a situation occur the company cannot accept your order. In the event of a mistake you will be contacted with a full explanation and a corrected offer. The information displayed is considered as an invitation to treat not as a confirmed offer for sale. The contract is confirmed upon supply of goods, Prices and promotions are subject to change without notice.
Please read the Terms and Conditions of using this site, by using the site you are accepting the terms and conditions.
All Material on this site © 2014 Ancient Purity Ltd Registered in England & Wales 07801142 VAT Reg 168 335 488