Premium Thai Eco Wild Forest Honey Fermented with Lemon Peel (Rare)
100g (3.38 fl. oz.) Honey
This Tropical Forest Honey is truly a cut above the rest, it should be respected and thoroughly enjoyed, not spread on white toast but allowed to dissolve in your mouth and into your body enriching your senses and feels and giving an all over body benefit. Thai Forest Honey is incredibly special and seasonal harvested once a year. According to Honey regulation in Thailand, the Thai government allows local farmers to collect forest honey only from April to July, which is the period that Honey has the most delicious taste and full of nutrition in the whole year. It's made in small batches we can't get much. It's Expensive, Rare and Extremely Special! 
Ancient Purity presents Tropical Forest Honey. We are over-excited to present an organic forest honey from the deep equatorial jungle, extracted directly from the "real" beehives without any heating process by the trained hill tribe people. This is real Authentic Forest Honey! Every bottle of honey contains flecks of 100% natural organic ingredients. Our Honey is completely unrefined and unheated in order to keep this golden liquid's "crown jewels" such as enzymes that are valuable to your health. As we said above we can't get much of this, it is sought after and it's also totally ethically sourced and trusted.
The Honey is certified by ACT, the Organic Agriculture Certification Thailand, and proudly accredited by IFOAM (The International Federation of Organic Agriculture Movements). To qualify for this accreditation, our Forest Honey must be produced under the highest and most stringent of conditions so as to retain its complete purity and benefits. Pesticides are not used as the honey is obtained from the bees' wild and natural habitat during the flowering season. As a result, the taste, quality and benefits of the product remain unsurpassed. Created by registered Honey farmers are using a non-crucial method. With no bees harmed in harvesting, supporting a sustainable environment. You only need a small amount of this honey to feel a lot it's rich, delicious and giving benefits.
Wild Forest Honey from Eco Farm – Information & Points to Research
Premium Quality.
Nutritious Superfood.
Clean, Effective, Rare.
Fermented with Lemon Peel.
Collected from Bees in Wild Tropical Forests.
Small Batch Created, Uniquely Effective.
Rich in Fatty Acids & Enzymes.
Potent Anti-Allergenic.
Vital Micronutrients & Carotenoids.
Natural Source of Pure Energy.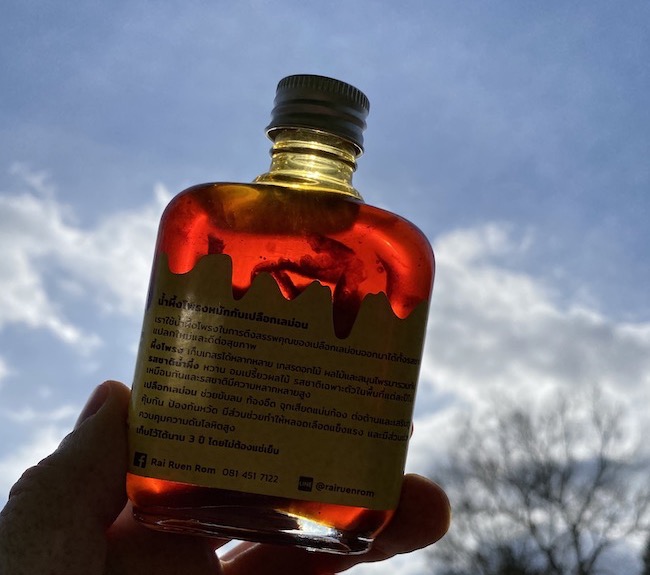 Truly Natural & Wild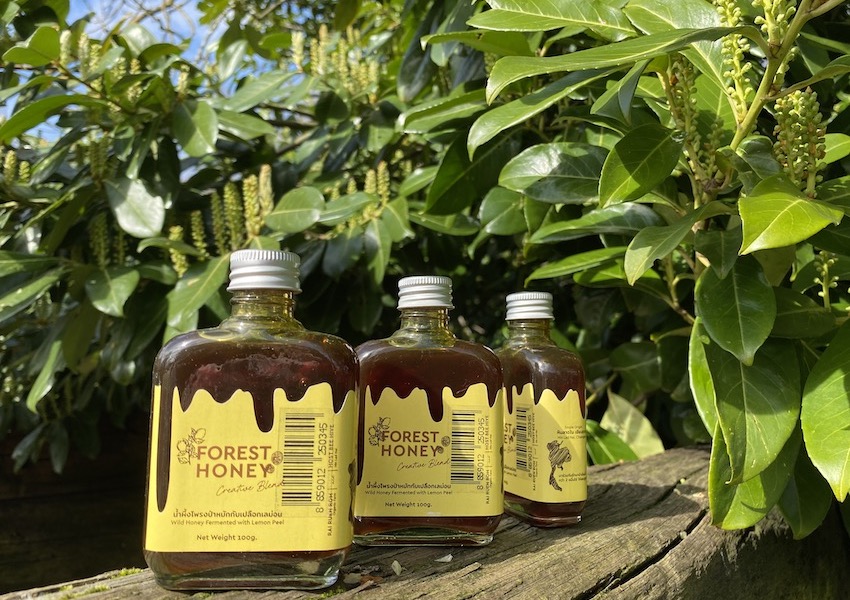 Forest Honey Gives
This lush golden nectar offers an alluring taste and a natural source of natural energy without any jitters or toxic ingredients. This enticing Honey is sustainably collected from wild flora in one of Northern Thailand's lush Tropical Forests, which is free from pesticides, insecticides or other toxic substances. Wild Forest Honey is an effective antioxidant as it comprises of the significant antioxidant compounds such as glucose oxidase, catalase, ascorbic acid, flavonoids and selenium. These prominent compounds contribute their wholesome antioxidant properties to the Honey and thus it is proven to be beneficial in natural health.
Wild Forest Honey is rich in Niacin, Thiamine, Riboflavin, Pantothenic Acid, copper, calcium, iron, manganese, magnesium, potassium, phosphorous and zinc. Our Forest Honey is power packed with 22 amino acids. Nutritional profile and taste may vary depending on the seasonal flower nectar. It is a delicious home ingredient that synchronises taste and medicinal values with its anti-inflammatory, antibacterial and antifungal properties. Recent studies also have shown that Wild Forest Honey has phenomenal impact in reducing bad cholesterol. 
Promotes Healing of Cuts & Wounds… Tropical forest honey is a good healing remedy due to its superb antibacterial properties. It can rapidly assist in the healing of ulcers, bedsores, abrasions and other wounds. The honey can also acts as an antiseptic, helping to prevent the growth of hazardous microorganisms.
From Pristine Natural Lands - This is the Farm
Forest Honey Keeps Giving
Might Help Relieving Skin Disorders… The direct use of tropical wild forest honey on your face might reduce pimples, dead skin cells and black patches due to its potent antibacterial and antifungal effects. Organic Forest Honey can function as an immunisation agent and aids to mitigate the skin's ailments.
Supports Healthy Weight… Wild forest honey is an ideal replacement for sugar, especially for those attempting to maintain their healthy weight. The GI (Glycemic Index) aids determine how rapidly blood sugar can increase. Great news! Wild forest honey's GI is well below sugar, ranging from 54 to 59, while other sugar's GI forms is as high as 105.
Helps to Alleviate Kids' Cough & Throat Infection… It has been proven scientifically that Wild Organic Forest Honey might heal sore throats and coughs. This has been demonstrated in many researches to be particularly helpful in reducing and calming cough in children. Using Forest Honey is a better option for kids over one year of age, as there are numerous of over the counter cough syrups not healthy for infants. 
Might Help with Mild Diarrhoea… Raw Forest Honey might have a soothing effect on digestion, aiding with diarrhoea symptoms. A research of 150 kids with acute gastroenteritis revealed that those children who took honey with an oral rehydration solution experienced a greater recovery from diarrhoea than those who didn't take honey. The children who received honey had fewer bowel movements and recovered faster from the illness. To help getting rid of mild diarrhoea, try taking a teaspoon of forest honey or mix it into a drink. 
Premium Honey with Life-Force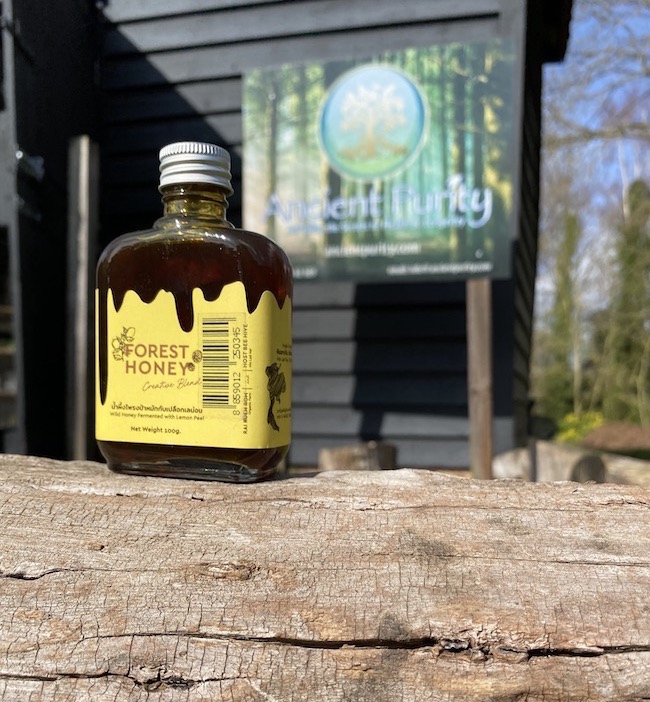 Sourced from an Ethical, Sustainable Farm with conscious practices
The farm we source this from is a place that seeks to embody the principle of 'Harmony with the Land' in everything they do. They are passionate to share this way of living with the world. Helping people to understand and apply life-changing principles to their life. They are active in their community, encouraging people to get involved. As well as this incredible Forest Honey they plant rice in the fields, processed the old-fashioned way, dye cloths organically, feed sheep and goats, have a community forest restoration project, and till the soil at the co-op village garden. They are following an ethic of sustainability, in their own words... "Our highest aspiration is maintain tight-knit relationships to local villagers, and see their lives prosper".
Their beautiful idyllic plot of land is green, virgin, and organic and they have over 80 acres. Everything they do is completely friendly towards the environment and the energy sources are all natural. The agriculture techniques are all chemical and pesticide free. The approach to living and planting is governed by local wisdom, diligence, moderation, prudence and justice - the five principle tenets of their beloved King, Bhumipol Adulyadej. As the sun peaks over the hills, the fields flood with light. At dusk, the sun nestles back into its place. Then, at night you can see throngs of stars and constellations in the sky. See the nature of Thailand in its prime and watch the diligent workers planting and harvesting, as far as the eye can see. Maybe one day, Ancient Purity will be taking people on eco tours here.
Collected Consciously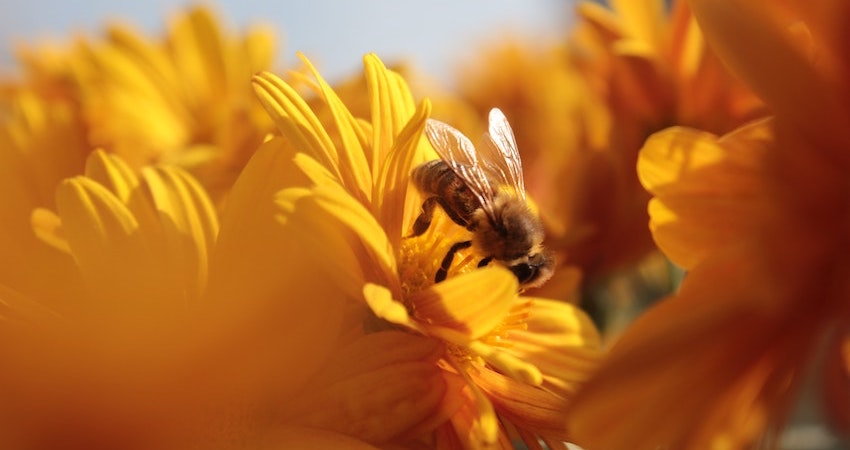 The Wisdom of Honey
"I have a huge belief in the importance of bees, not just for their honey, which is a healing and delicious food, but the necessity of bee colonies that are vital to the health of the planet." -Trudie Styler.
"Kind words are like honey, sweet to the soul and healthy for the body." - Proverbs 16:24
"The bee collects honey from flowers in such a way as to do the least damage or destruction to them, and he leaves them whole, undamaged and fresh, just as he found them."  -Saint Francis de Sales.
"Now it's the bee... Gees! Bees are now endangered species... Without them life won't be sweet!" -Ana Claudia Antunes.
Small Batch, Ethical, Organic and Wild
Tropical Forest Honey… Closing Thoughts
Ancient Purity brings you raw wild Forest Honey collected by tribal honey hunters from the deep, tropical, lush forests of Northern Thailand. This honey is produced by the wild bees from the nectar of herbs and medicinal flowers. This unprocessed and natural Forest Honey, far away from civilisation, is free of pollution and adulteration. It provides you all of organic honey's nutritional goodness from the wildflowers. It is well known that this wild Forest Honey obtained from these natural sources is jam-packed with health benefits, and it is a main ingredient in Ayurveda. 
This Forest Honey is fermented with lemon peel making it even more potent for combatting cold and flu symptoms and it is a tasty addition to meals, beverages and dressing.  The combination of honey and lemon is a favourite of mine (Particularly for its immune-enhancing properties, like in these lemon and honey immunity shots). Not solely does it taste fantastic, but it makes for an excellent cold, flu and sore throat-busting tonic. In addition, the pollen present in this raw Forest Honey might be beneficial for those experiencing certain allergies. The fermentation aids to increase those health benefits further too and it has years of shelf-life! 
The Eco Farm where the Honey is Harvested
100% Pure Organic Forest Honey.
Fermented Lemon Peel.
Take 1-3 teaspoons daily neat.
Add to Tea / Desserts / Dressings/ Coffee / Smoothies.
Brand: Forest Honey.
Size: 100ml (3.38 fl. oz.).
Container: Glass Bottle.
Estimated shelf life from purchase: 2-4 years - But Honey does in fact last forever, yet use by dates are required..
Storage: Keep in dry place once opened and keep sealed.
Scientific Articles
Pharmacognosy Research - Honey and Health: A Review of Recent Clinical Research
Scientific World Journal - Honey for wound healing, ulcers, and burns; data supporting its use in clinical practice
The Malaysian Journal of Medical Sciences - Novel Insights into the Health Importance of Natural Honey
Springer Nature - Nutraceutical values of natural honey and its contribution to human health and wealth
Supporting Scientific Research
Use of ovine acellular peritoneal matrix combined with honey and ovine fetal skin extract in the healing of full-thickness infected burn wounds in a rat model. Nikahval B, Oryan A, Memarian P, Kamali A. Vet Res Forum. 2020 Fall;11(4):355-363. Doi 10.30466/vrf.2018.92422.2235. Epub 2020 Dec 15.
Molan PC. The potential of honey to promote oral wellness. Gen Dent. 2001;49:584–9.
Mijanur Rahman M, Gan SH, Khalil MI. Neurological effects of honey: Current and future prospects. Evid Based Complement Alternat Med. 2014;2014:958721.
Betts J. The clinical application of honey in wound care. Nurs Times. 2008;104:43–4.

 

Estevinho L, Pereira AP, Moreira L, Dias LG, Pereira E. Antioxidant and antimicrobial effects of phenolic compounds extracts of Northeast Portugal honey. Food Chem Toxicol. 2008;46:3774–9.
Badawy OF, Shafii SS, Tharwat EE, Kamal AM. Antibacterial activity of bee honey and its therapeutic usefulness against Escherichia coli O157:H7 and Salmonella typhimurium infection. Rev Sci Tech. 2004;23:1011–22.
Tomasin R, Gomes-Marcondes MC. Oral administration of Aloe vera and honey reduces Walker tumour growth by decreasing cell proliferation and increasing apoptosis in tumour tissue. Phytother Res. 2011;25:619–23.
Yaghoobi R, Kazerouni A, Kazerouni O. Evidence for clinical use of honey in wound healing as an anti-bacterial, anti-inflammatory anti-oxidant and anti-viral agent: A review. Jundishapur J Nat Pharm Prod. 2013;8:100–4.
Yapucu Günes U, Eser I. Effectiveness of a honey dressing for healing pressure ulcers. J Wound Ostomy Continence Nurs. 2007;34:184–90.
Eteraf-Oskouei T, Najafi M. Traditional and modern uses of natural honey in human diseases: A review. Iran J Basic Med Sci. 2013;16(6):731–742.
Schramm DD, Karim M, Schrader HR, Holt RR, Cardetti M, Keen CL. Honey with high levels of antioxidants can provide protection to healthy human subjects. J Agric Food Chem. 2003;51(6):1732–1735. doi: 10.1021/jf025928k.
Emarah MH. A clinical study of the topical use of bee honey in the treatment of some occular diseases. Bull Islamic Med. 1982;2:422–425.
Aluko EO, Olubobokun TH, Enobong IB, Atang DE. Comparative study of effect of honey on blood pressure and heart rate in healthy male and female subjects. Br J Med Med Res.
Yaacob NS, Nengsih A, Norazmi MN. Tualang honey promotes apoptotic cell death induced by tamoxifen in breast cancer cell lines. Evid Based Compl Altern Med. 2013;2013:9. doi: 10.1155/2013/989841.
Baltuskevicius A, Laiskonis A, Vysniauskiene D, Ceksteryte V, Racys J: Use of different kinds of honey for hepatitis A treatment and for reduction of increased acidity of gastric juice. Zemdirbyste Mokslo Darbai. 2001, 76: 173-180.
Gheldof N, Engeseth NJ: Antioxidant capacity of honeys from various floral sources based on the determination of oxygen radical absorbance capacity and inhibition of in vitro lipoprotein oxidation in human serum samples. J Agric Food Chem. 2002, 50: 3050-3055. 10.1021/jf0114637.
Bergman A, Yanai J, Weiss J, Bell D, David P: Acceleration of wound healing by topical application of honey. An animal model. Am J Surg. 1983, 145: 374-376. 10.1016/0002-9610(83)90204-0.
Disclaimer:
The products and the claims made about specific products, articles and claims made in the articles and information written on or through this site have not been evaluated by Ancient Purity, the MHRA, the FSA or the United States FDA and are not approved to diagnose, treat, cure or prevent disease. The information provided on this site is for informational purposes only and is not intended as a substitute for advice from your physician or other health care professional or any information contained on or in any product label or packaging. You should not use the information on this site for diagnosis or treatment of any health problem or for prescription of any medication or other treatment. You should consult with a healthcare professional before starting any diet, exercise or supplementation program, before taking any medication, or if you have or suspect you might have a health problem. Providing a product for sale does not imply Ancient Purity recommendation of that product, its suitability or its efficacy. Ancient Purity cannot give medical opinions. No comment or entry in this site or in any communication from Ancient Purity may be taken as such.
Prices and promotions are subject to change without notice. Customers should always carefully check all the details printed on the package before opening the product. Whilst all efforts are made to ensure accuracy of description, specifications and pricing there may be occasions where errors arise. Should such a situation occur the company cannot accept your order. In the event of a mistake you will be contacted with a full explanation and a corrected offer. The information displayed is considered as an invitation to treat not as a confirmed offer for sale. The contract is confirmed upon supply of goods, Prices and promotions are subject to change without notice.
Please read the Terms and Conditions of using this site, by using the site you are accepting the terms and conditions.
All Material on this site © 2014 Ancient Purity Ltd Registered in England & Wales 07801142 VAT Reg 168 335 488