(Potent C Guard) Pure Buffered Vitamin C as L-Ascorbate (Perque) Dr Jaffe
454g (16.01 oz) Powder
Perque's Potent C Guard... Created by Dr Russell Jaffe. Backed up by numerous scientific studies, it is one of the most potent Vitamin C supplements available! This is a powerful and personalised antioxidant protection supplement. You can significantly reduce tissue damage with this fully buffered and reduced 100% L-ascorbate. Potent C Guard is a pH-balanced' allergen-free' vegetarian and completely buffered mineral ascorbate (Vitamin C). Triple recrystallised under nitrogen to enhance potency! L-ascorbate was shown most effective form of Vitamin C in 6 peer reviewed outcome studies. There have been over 300 Peer-Reviewed Studies. The roots of Perque are embedded in the hard works and history of the scientist and founder of the company. Dr. Russell M. Jaffe, with the support of his loyal and dedicated staff members, has stayed at its helm for more than 3 decades. He has worked at the National Institutes of Health (NIH) from 1973 to 1979 where his vision's seeds commenced. On having 'completed' his work at NIH, Dr Jaffe started a voyage which sought to promote new technologies of Integrative and Regenerative Medicine. 
Ancient Purity Present a premier quality Vitamin C powder, scientifically formulated by Perque. Many scientific research and medical studies have confirmed Vitamin C's key role in collagen formation and repair' immunity function' joint health' enhanced hormone production, antioxidant protection' production of energy' detoxification, reduce high blood pressure levels and more. Being Vitamin C's pure form' Potent C Guard helps to improve our production of hormones and bodily functions whenever necessary' and it aids our bodies to adapt better to several conditions. Due to Vitamin C being water-soluble' this vital nutrient isn't stored in our bodies for later use. This can be seen both as a negative and positive fact. Because our bodies do not store huge amounts of Vitamin C' it would be quite hard for us to overdose. But this also means we have to make sure receiving a steady flow of this crucial vitamin in our diets in order to stay energised and healthy.
Everybody is different and therefore also needs different Vitamin C amounts. The levels we need depend on our stress levels' exposure to alkaline reserve and poisons. The most accurate estimate of our Vitamin C demands can be figured out by looking at our diets and exposure to stress. Obviously, our health care practitioners can also recommend the amounts we might need. The L-ascorbate form Ancient Purity offers here has been revealed being the most effective Vitamin C form, backed up by countless peer-reviewed outcome researches. Please see our 'References' section for abundant scientific evidence! So let's try and explain as much as we can in a single web page.
Perque Potent C Guard - Information & Points to Research
Scientifically Formulated by Perque.
Created by Dr Russell Jaffe.
Buffered, Reduced & pH-Balanced 100% L-Ascorbate.
Safe for Daily & Ongoing Use.
Over 300 Peer-Reviewed Studies.
Triple Recrystallised under Nitrogen to Enhance Potency.
Immune System Function.
Collagen Repair and Formation.
Supports Joint Function.
Natural Energy Production.
Antioxidant Protection and Function.
Enhances Hormone Production.
Increases Nitrous Oxide.
Detoxification, Lowers our Bodies' Amounts of Harmful Toxic Minerals (mercury' arsenic' nickel' lead & cadmium)
Perque Potent C is Unique
Perque's Potent C Guard assists preventing free radicals from damaging the Ascorbate. Potent C Guard's metabolites, transporters and cofactors' metabolites function to improve our bodies' absorption rates and tissue actions. Potent C Guard also gives us some much welcome piece of mind as there's no need for us worrying about certain side effects often encountered when taking low-quality Vitamin C dietary supplements. (Believe me, there are many!) This superior supplement boasts a carefully-created balance of the vital minerals: zinc, calcium, potassium and magnesium. Recent scientific studies have shown that millions of Americans are deficient in one or more of these essential nutrients due to the consumption of junk food' toxins' stress or poor health due to other issues. 
Potent C Guard isn't solely a brilliant supplement for your overall well-being and good health' it tastes great as well! This might be a good reason we more likely stick with this in our daily routines. When mixing this majestic powder with clean water or fruit juice it becomes a tasty and slightly fizzing powerhouse drink. This special Vitamin C Powder is manufactured using an exclusive triple re-crystallisation method creating an end product with unmatched purity and bioactivity. It also increases nitrous oxide (nature's small vessel relaxation molecule) thus lowering high blood pressure through enhanced biopterin action.
Vitamin C Will Take You Further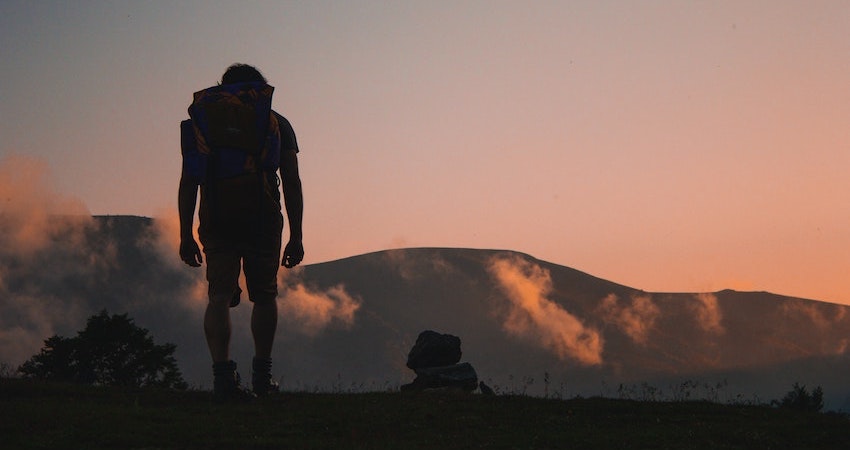 Benefits of Buffered Ascorbate
A wide range of conditions can be responsible for high blood pressure levels. The main culprits for causing this 'slow killer' illness include: excessive alcohol consumption' overweightness, a high-fat diet and no physical exercise. However, quality research has revealed that buffered Ascorbate can aid mediate the harmful effects of these issues by protecting our blood vessels' endothelial walls' boosting levels of nitrous oxide' and enhancing collagen production. Potent C Guard's buffered form of Ascorbate has also indicated to reduce our bodies' burden of toxic minerals. Some of these main toxic minerals include: cadmium, mercury' arsenic' lead and nickel.
L-Ascorbate' Fully Reduced & Buffered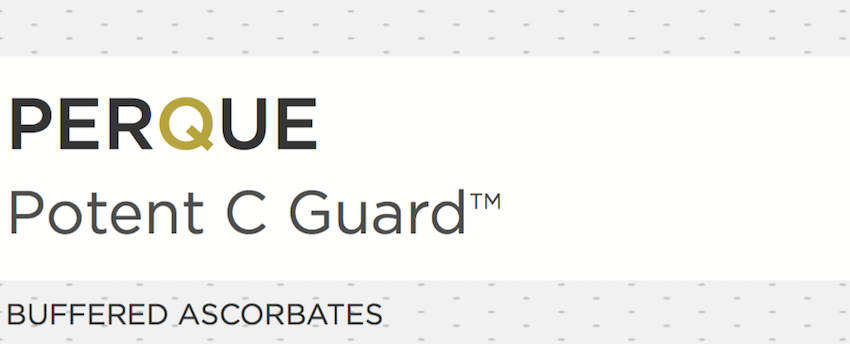 The Health-Improving Power of Potent C
This is the ideal mix of minerals and vitamins. What makes this wellness supplement so much more effective is that it's not just Vitamin C. Perque's Potent C Guard is a powerful mixture of vitamins and minerals providing our bodies with a range of health benefits. Its blend of potassium, zinc, magnesium and Vitamin C assist strengthen our immune systems as well as our bones among other benefits. Moreover, this Vitamin C Powder supplement is also amazingly pure and totally free from allergens being present in most other dietary food supplements.
Might Reduce Inflammation…magnesium is a vital mineral featuring enormous anti-inflammatory properties that might possibly decrease the chances of prolonged inflammatory conditions. In addition, by now we know that most of the components in Potent C Guard have very powerful anti-oxidant properties, they also might aid with oxidative stress. Severe inflammation is often a result of oxidative stress and can be easily avoided.
Bone Health Enhancer…with the addition of minerals such as calcium, magnesium and potassium, it should be clear that this terrific supplement might be able to enhance joint and bone health. Calcium is a crucial mineral in bone formation as well as being vital for keeping our bones strong and healthy. And then there's magnesium and potassium significantly enhancing calcium's overall absorption. 
Can Help Improve Cognitive Health…zinc is one of our bodies' essential minerals which can improve our learning capabilities and improve our memory. Furthermore, magnesium greatly decreases the risk of severe headaches, and can assist us dealing with low mood symptoms. Vitamin C assists protecting our memory and clear thinking as we age.
Supports Cardiovascular Health…adequate amounts of Vitamin C might decrease the risk of several heart health issues. There are also several scientific studies showing that a certain daily magnesium intake can reduce high blood pressure.
Promotes our Immune Systems…combining potassium, zinc, and Vitamin C, this supplement might improve our immune systems. Various researches hint at zinc's importance in our bodies' immunity. These studies indicate that our bodies require zinc to activate T lymphocytes that in turn regulate immunity responses and fight foreign cells. Additionally, Vitamin C in this powdered supplement boosts our bodies' white blood cells' function.
Supporting an Active Lifestyle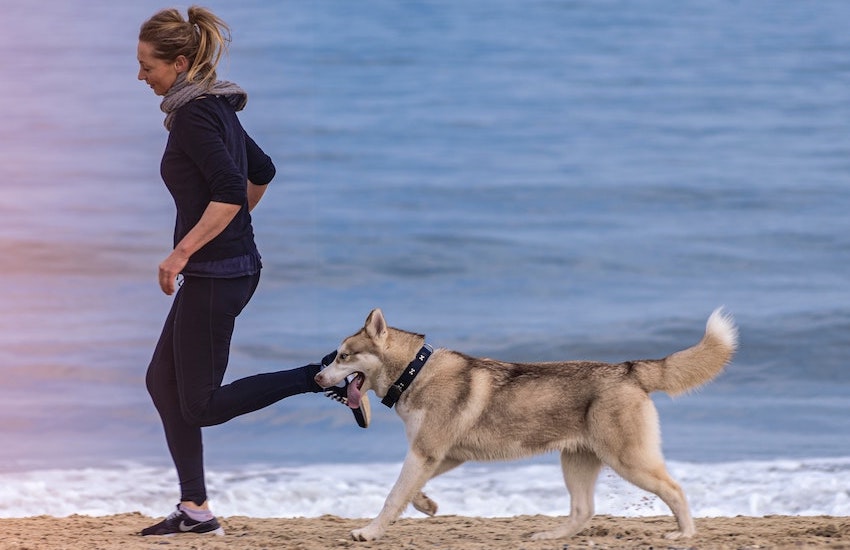 L-Ascorbate Fully Reduced, Fully Buffered
OVER 300 PEER-REVIEWED STUDIES
PERQUE Potent C Guard is produced with an exclusive, triple recrystallisation process. This innovative technique creates a product with unprecedented purity and bioactivity.
ASCORBATE AND BLOOD PRESSURE... Buffered Ascorbate (vitamin C): Blood pressure reduction:
PERQUE Potent C Guard is your safer, more effective choice. Obesity, alcohol consumption, physical inactivity, and a high-fat/ protein/sugar diet can induce high blood pressure, in part through insulin resistance (Syndrome X). The greatest bene t comes from full tissue saturation of fully reduced and fully buffered ascorbate.*
Perque Potent C Benefits are Based On
Perque Potent C Guard protects delicate endothelial cells (Endothelial cells form a single cell layer that lines all blood vessels and regulates exchanges between the bloodstream and the surrounding tissues. Signals from endothelial cells organise the growth and development of connective tissue cells that form the surrounding layers of the blood-vessel wall) that line blood vessels from toxic damage and free radical.
Potent C Guard might increase nitrous oxide (Nature's tiny vessel relaxation molecule) thus reducing high blood pressure levels via an enhanced and unique method called, biopterin action.
Potent C Guard induces collagen production. Collagen is a fibrous, hard, and insoluble protein that makes up about 33% protein in our body. In most collagens, the molecules are packed together to form long, thin fibrils. These act as supporting structures and anchor cells to each other. They give the skin strength and elasticity.
We mentioned it a few times already but it is so extremely important. Perque Potent C Guard is effective at reducing the body's burden of toxic minerals such as lead, mercury, cadmium, arsenic, and nickel. This action occurs both by decreasing uptake of toxic minerals from the intestine and by increasing renal and stool excretion of toxic minerals.
Potent C is a Natural Solution

About Dr Jaffe, Founder of Perque Integrative Health (PIH)
PIH's roots of Perque are embedded in the hard works and history of the scientist and founder of the company. Dr. Russell M. Jaffe, with the support of his loyal and dedicated staff members, has stayed at its helm for more than 3 decades. He has worked at the National Institutes of Health (NIH) from 1973 to 1979 where his vision's seeds commenced. On having 'completed' his work at NIH, Dr Jaffe started a voyage which sought to promote new technologies of Integrative and Regenerative Medicine. Jaffe's dedication to primary prevention's application and his commitment to providing advanced autoimmune and nutraceuticals testing with clinical proof of superior accuracy has made the doctor a well-known speaker and leader in his chosen work field. Dr Jaffe and his dedicated team have continuously moved forward and manufactured a volume of evidence-based work which has greatly improved functional nutrition for humans, proactive preventive healthcare models and integrative medicine. Scientifically, every part of the company is backed by an incredible level of scientific efficacy and superiority. Every innovative idea's foundation is exceptional evidence-based science, technology, and theory that Jaffe's company uses to design and create its first-class products, services and programs. Today, the company creates integrated systems that implement assessment protocols and tools that combine information technology with advanced products for enhanced understanding, compliance and monitoring outcomes. 
Dr. Jaffe is continuously expanding and seeking new ways to improve his existing operations while maintaining his production lab, ELISA/ACT Biotechnologies, his Perque nutraceutical plant, and an R&D facility, RMJ Holdings Rx. Dr Jaffe and his team of highly trained professionals continually look for new ways to help speed the transition from our current healthcare system's symptom reactive model to a more functionally integrated, effective and compassionate system. PIH is the turnkey outcome of years of Dr Jaffe's scientific research. It brings to market two decades of rethinking safer more effective, novel and proprietary dietary supplements, supplement delivery systems, diagnostic testing, and validation studies. In pilot clinical outcomes studies The Alkaline Way Program, utilising LRA by ELISA/ACT tests for delayed hypersensitivities along with Perque supplementation to remove repair deficits, has been confirmed to achieve improvements in common conditions such as diabetes, fibromyalgia muscle pain, and chronic fatigue syndrome. From his humble beginnings in 1984 to today, Dr Jaffe and his team have steadily moved forward and produced a volume of evidence-based work that has profoundly enhanced functional human nutrition, integrative medicine and proactive preventive healthcare models.
Potent C - Triple Re-crystallisation Process - For Purity & Bioactivity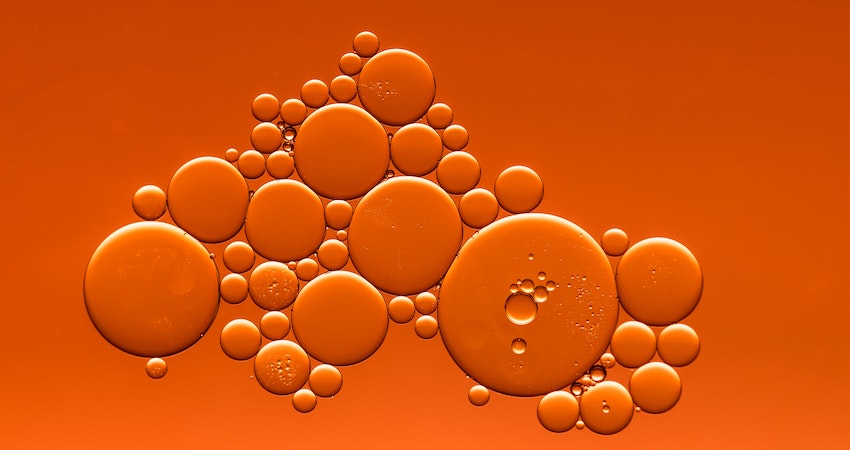 Potent C Guard Vitamin C… Closing Thoughts
There is not a single doubt, our bodies need Vitamin C! Most of us can get enough of this vital mineral from the food we consume, but supplementing your healthy diet may also have great health benefits. Every serving of Perque Potent C Guard boasts 3.2 grams of fully-buffered Ascorbate (Another term for Vitamin C) as well as a perfect balance of the most important minerals including: calcium, potassium, magnesium and zinc. There's plenty of research revealing that millions of Americans, Australians and Europeans (mainly adults) may be lacking in one or even more of these significant minerals. This is often because of our fast modern life's stress, illness, inferior foods and environmental poisons. 
Perque Potent C Guard improves hormone production and function as necessary, and it aids the body adapting better. In addition, it is important to take the amount of Ascorbate needed to keep a sufficient supply in the cells. This varies based on levels of distress, toxins, acute and delayed allergy reactions, and cell buffering and alkaline reserve. Plenty of scientific and medical literature has confirmed Potent C Guard's key part in immune system function, collagen repair and formation, joint and bone function, energy production, antioxidant protection and function, and detoxification. Please visit our 'References' section for scientific evidence.
"Vitamin C is the world's best natural antibiotic, antiviral, antitoxin and antihistamine. This book's recurring emphasis on vitamin C might suggest that I am offering a song with only one verse. Not so. As English literature concentrates on Shakespeare, so orthomolecular (megavitamin) therapy concentrates on vitamin C. Let the greats be given their due. The importance of vitamin C cannot be overemphasised." ― Andrew Saul, Fire Your Doctor!: How to Be Independently Healthy
Experience Perque's unique L - Ascorbate Vitamin C - Order Today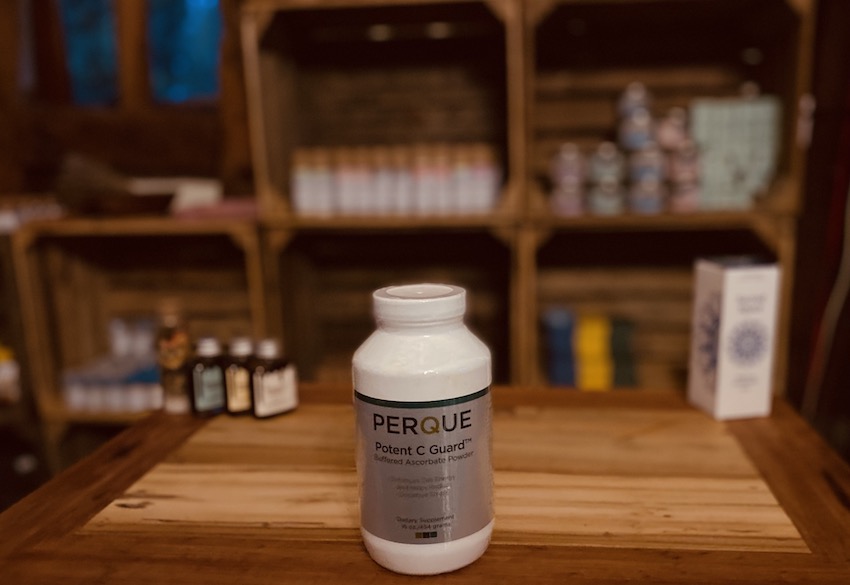 Energised Nutrients / Amount per Serving / % Daily Value
Vitamin C (100% l-ascorbate' fully reduced and buffered) 1'584 mg / 2'640
Potassium (as ascorbate) 99 mg / 3
Calcium (as ascorbate) 40 mg / 5
Magnesium (as ascorbate) 16 mg / 4
Zinc (as ascorbate) 600 mcg / 4
Full disclosure label (no hidden or inactive ingredients).
Take one (1) rounded half-teaspoon mixed with two (2) to four (4) ounces of liquid or as directed by your health professional.
Use only dry transfer spoons to remove powder from bottle.
Keep tightly capped and moisture free.
Please take a few deep' relaxing breaths while the natural effervescence subsides (~1 min.).
May be kept on the counter' in refrigerator or freezer to maintain dryness.
Brand:

Perque.
Size: 454g (16 oz).
Container: BPA Free plastic tub.
Storage: Keep in a cool dry place, keep out of reach of children, Store below 70° F.
Estimated shelf life from purchase: 1 - 2 years.
Q- What is the difference between vitamin C and buffered Vitamin C?
A - Buffered Vitamin C combines a highly absorbable form of vitamin C together with the buffering minerals magnesium, potassium and calcium to allow higher doses without stomach upset, and for supporting proper muscle relaxation and contraction.
Q - Which one works better ascorbate or ascorbic?
A - Ascorbate is the superior form of vitamin C for several reasons: Ascorbate is the physiological form of Vitamin C used by the body. Ascorbate is the form of Vitamin C that serves as the most powerful water-soluble antioxidant.
Q - Is ascorbate the same as Vitamin C?
A - Ascorbate calcium is a form of vitamin C that is used to prevent or treat low levels of vitamin C in people who do not get enough of the vitamin from their diets. This product also contains calcium.
Scientific Articles
National Institutes of Health - Vitamin C and Immune Function
NCBI Resources - Vitamin C in human health and disease is still a mystery? An overview
Science Direct - The antioxidant role of vitamin C
Supporting Scientific Research
Appel LJ, Moore TJ, Obarzanek E, et al: A clinical trial of the effects of dietary patterns on blood pressure: DASH Collaborative Research Group. NEJM 1997; 336: 1117-1124.
Taddei S, Virdis A, Ghiadoni L, et al: Vitamin C improves endothelium-dependent vasodilation by restoring nitric oxide activity in essential hypertension. Circulation 1998; 97: 2222-2229.
Heller R, Unbehaun A, Schellenberg B, Mayer B, Werner-felmayer G, Werner ER. L-Ascorbic Acid Potentiates Endothelial Nitric Oxide Synthesis via a Chemical Stabilization of Tetrahydrobiopterin. J Biol Chem 2001; 276: 40-47.
Dawson EB, Evans DR, Harris WA,Teter MC, McGanity WJ.The effect of ascorbic acid supplementation on the blood lead levels of smokers. JACN. 1999: 18: 166-170. Potent protection from atherosclerosis / ASHD: Lower your coronary and stroke risk by an improved antioxidant, vessel health, and toxin reduction actions of PERQUE Potent C Guard. Homocysteine levels and risk are reduced; and aging is slowed by reduced free radical damage.
Carr AC, Zhu BZ, Frei B.Potential antiatherogenic mechanisms of ascorbate (vitamin C) and alpha-tocopherol (vitamin E).Circ Res 2000; 87(5): 349-54.
Ames BN, Shigenaga MK, Hagen TM. Oxidants, antioxidants, and the degenerative diseases of aging. Proc Natl Acad Sci USA. 1993;90(17): 7915-22.
Ja e R. How to do an ascorbate (vitamin C) calibration ('C Flush') to determine personal need. HSC, January 2001.
McCully K. Chemical pathology of homocysteine. III. Cellular function and aging. Ann Clin Lab Sci. 1994; 24(2): 134-52. Raise cell energy and boost immune defense and repair competence with PERQUE Potent C Guard.
Anderson R, Smit MJ, Joone GK, Van Staden AM. Vitamin C and cellular immune functions. Protection against hypochlorous acid-mediated inactivation of glyceraldehyde-3-phosphate dehydrogenase and ATP generation in human leukocytes as a possible mechanism of ascorbate-mediated immunostimulation. Ann N Y Acad Sci. 1990; 587: 34-48.
Naidu KA, Tang JL, Naidu KA, Prockop LD, Nicosia SV, Coppola D. Antiproliferative and apoptotic effect of ascorbyl stearate in human glioblastoma multiforme cell: Modulation of insulin-like growth factor-I receptor (IGF-IR) expression. J Neuro-Oncol. 2001;54:15–22. doi: 10.1023/A:1012545311054.
Eckert-Maksic M, Kovacek I, Maksic ZB, Osmak M, Paveli K. Effect of ascorbic acid and its derivatives on different tumors in vivo and in vitro. In: Maksic ZB, Eckert-Maksic M, editor. Molecules in Natural Science and Medicine. An Encomium for Linus Pauling. Ellis Horwood, New York; 1991. pp. 509–524.
Herbert V, Shaw S, Jayatileke E. Vitamin C driven free radicals generation from iron. J Nutr. 1996;126:1213–1220.
Manson JE, Stampfer MJ, Willett WC, et al. A prospective study of vitamin C and incidence of coronary heart disease in women. Circulation. 1982;85:865–875.
Disclaimer:
The products and the claims made about specific products, articles and claims made in the articles and information written on or through this site have not been evaluated by Ancient Purity, the MHRA, the FSA or the United States FDA and are not approved to diagnose, treat, cure or prevent disease. The information provided on this site is for informational purposes only and is not intended as a substitute for advice from your physician or other health care professional or any information contained on or in any product label or packaging. You should not use the information on this site for diagnosis or treatment of any health problem or for prescription of any medication or other treatment. You should consult with a healthcare professional before starting any diet, exercise or supplementation program, before taking any medication, or if you have or suspect you might have a health problem. Providing a product for sale does not imply Ancient Purity recommendation of that product, its suitability or its efficacy. Ancient Purity cannot give medical opinions. No comment or entry in this site or in any communication from Ancient Purity may be taken as such.
Prices and promotions are subject to change without notice. Customers should always carefully check all the details printed on the package before opening the product. Whilst all efforts are made to ensure accuracy of description, specifications and pricing there may be occasions where errors arise. Should such a situation occur the company cannot accept your order. In the event of a mistake you will be contacted with a full explanation and a corrected offer. The information displayed is considered as an invitation to treat not as a confirmed offer for sale. The contract is confirmed upon supply of goods, Prices and promotions are subject to change without notice.
Please read the Terms and Conditions of using this site, by using the site you are accepting the terms and conditions.
All Material on this site © 2014 Ancient Purity Ltd Registered in England & Wales 07801142 VAT Reg 168 335 488