Ceremonial Blends Original



Blend for Ceremonial Cacao - Cayenne Vanilla / Cinnamon / Panela
265g (9.34 oz.) Ground Powder
Ceremonial Blends - Original was created to help you craft the perfect cup of Cacao with minimal effort. People often ask in Ceremony for a recipe, or how to get the ratios of the ingredients just right to avoid over-sweetening or too much bitterness. Here is the solution from Ceremonial Blends. This original blend was design for use preferably with Keith's Ceremonial Cacao. Ceremonial blends is ideal for making your home Ceremonial Cacao, as in the best in Cacao. Also Cacao Practitioners, can give their clients the ultimate, delicious cup of Sacred Chocolate. Making your Ceremonial Cacao as a luxurious long drink with a creamy plant milk (rather than just water) and adding the blend means the effects of the Cacao are gentler, slower and assimilation is spread out throughout the day, which not only makes it super nourishing, sumptuous and comforting but is also great for sitting at your desk and working on your creative projects for several hours. Contains Ground Vanilla, True Ceylon Cinammon, Columbian Panela (Pure Cane Sugar) and Cayenne Pepper, with no fillers, or anything just 100% natural, stored in a Miron Glass Jar.
At Ancient Purity we are thrilled to have this mix for the Ceremonial Cacao. Personally I haven't drank Ceremonial Cacao as much as i wanted to because of all the things needed and measured to make the real drink. So over the moon to have this, just 2 teaspoons of this go into a mug of the Cacao and you're literally transported back to the ancient world and got the Original Blend. This blend is also ideal for those new to Cacao who are just finding their way in creating their own recipes and adjusting their palette and exploring the taste of real chocolate. Ceremonial blends is ideal for Cacao Practitioners, allowing you to travel a bit lighter to Ceremonies, creating ease in crafting Cacao for larger numbers with just the right ratios of sweet and spice and resulting in a delicious cup of Sacred Chocolate. 
Ceremonial Cacao can be drunk just as it is, chopped and weighed and stirred or blended into hot water. But making your Ceremonial Cacao as a luxurious long drink with a creamy plant milk (rather than just water) means the effects of the medicine are gentler, slower and assimilation is spread out throughout the day, which not only makes it super nourishing, sumptuous and comforting but is also great for sitting at your desk and working on your creative projects for several hours.
Ceremonial Blends (Original Blend) - Information & Points to Research
The Highest Quality in the World.
For Ceremonial Cacao Drinks.
Enhance the Ultimate Well-Being Drink.
Synergistic with Cacao Plant Medicine.
Full Spectrum Ancient Benefits.
Follows Thousands of Years of Shamanic Practices.
Supports Consciousness & Spirituality.
Use in Workplace Productivity.
Promote Creativity & Artistic Talent.
Happiness & Daily Well-Being.
Small Batch Created.
Delicious, Luxurious & Authentic Taste.
Stored in Miron Cannister (Re-useable).
Enhance Meditation.
Pure Natural & Herbal Ingredients.
Boosts Inspiration.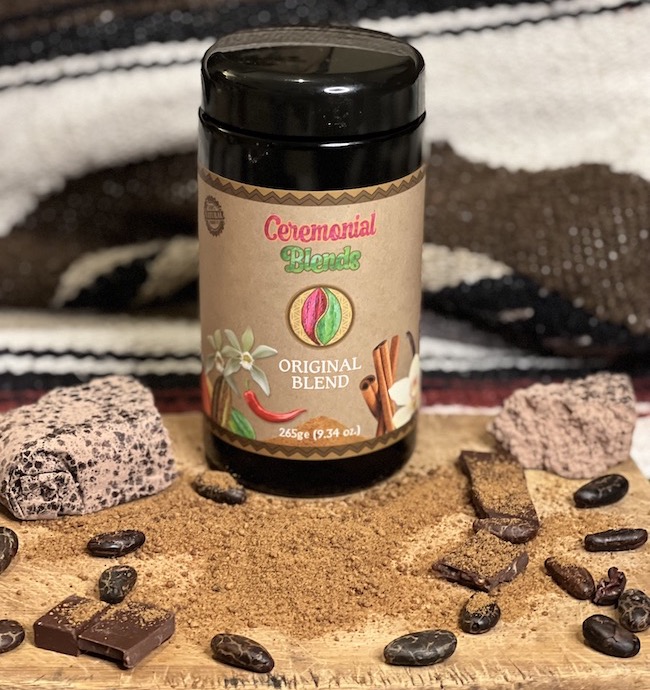 The Finest Blend for Ceremonial Cacao
The Original Blend is the essential partner for consuming Pure Ceremonial Grade Cacao. Together these ancient ingredients will facilitate bodily comfort, enhance our experiences bringing forth creativity. Gentle euphoria is a simple benefit of the Cacao , Blend Drink, things seem brighter and more fun. So lets explore the ingredients within "The Original Blend" and how bring out the real power of Cacao.
This extraordinary plant medicine simply needs to warmed gently on the pan with a splash of filtered water, being careful not to let it over heat and keep stirring until you create a smooth paste that resembles melted chocolate. Add your plant milk or water, stirring well, keeping on a low heat. Stir in 1-2tsp of Ceremonial Blends - Original Blend. Blend or Whisk if you like it frothy, or stir well for a smooth and silky elixir. Set your intention, sip mindfully and receive this beautiful heart opening medicine.
The Ancient Ingredients for a Ceremonial Ritual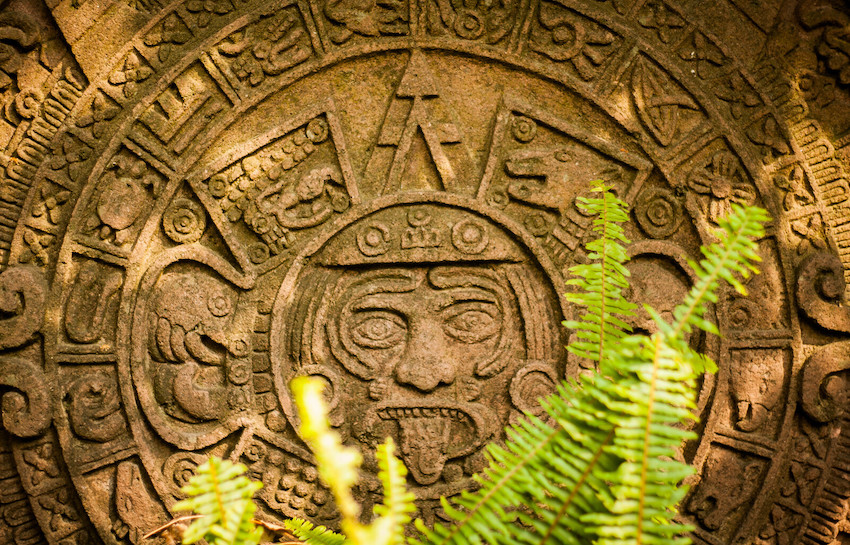 Ground Vanilla
Vanilla is an orchid, a breatharian plant, surviving on air and moisture alone and can actually grow on the Cacao tree. In ancient plant mythologies Cacao and vanilla were divine lovers, manifested into plant form. Vanilla is the fruit of this incredible plant and another beautiful plant ally with aphrodisiac qualities. Vanilla comes from the sex organs of the exotic female vine orchid. The Aztecs called her 'black flower'. Vanilla is a deeply feminine and sensual partner for Cacao. Vanilla can support a calm nervous system and aids restlessness.
Vanilla is one of the earliest chocolate flavorings and was mentioned in early Yucatec Maya dictionaries. The versatility of this exotic bean has spread globally and is known everywhere, yet its origins are deeply set in the ancient world working synergistically with Cacao for what was one of the earliest "Health Potions" on earth. We source our Vanilla from South America keeping it within the native regions of Cacao Ceremony.
Vanilla... The Black Flower

Harnessing the Heat of Cayenne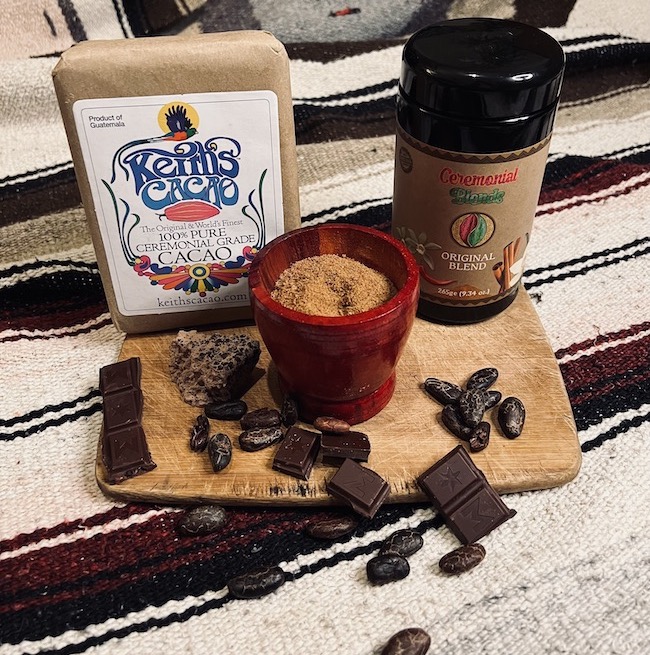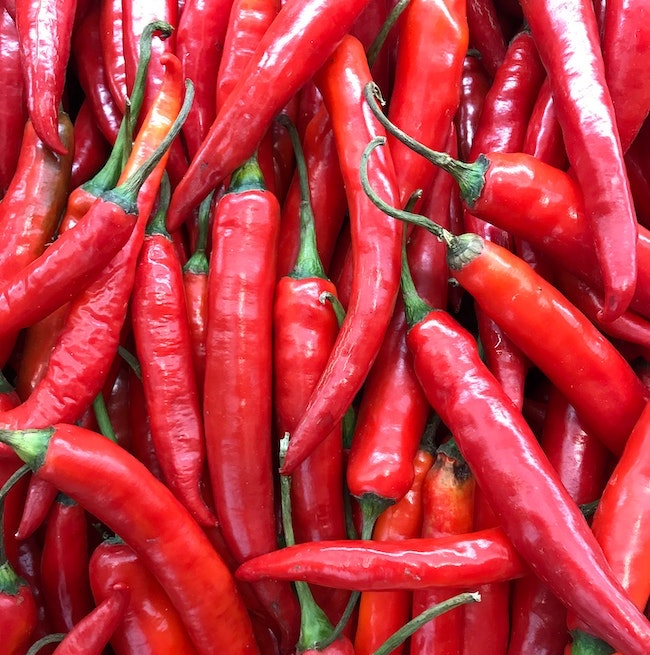 Cayenne Pepper the Spice of the Ceremony
Chilli Peppers; dried and ground were part of the way the Mayan's and the Aztecs consumed Cacao as a sacred drink. Cayenne like Cacao is a vasodilator, dilating capillaries, helping increase the level of oxygen in the blood and nourishing the brain and primary organs.
It can help the Cacao and other plant ingredients assimilate into your blood and cells quickly and easily meaning faster biochemical responses; resulting in you feeling good for longer. Cayenne adds a richness and depth to the taste of Cacao, adding a little kick and bringing heat and the element of fire. 
Real Cinnamon Takes you Deep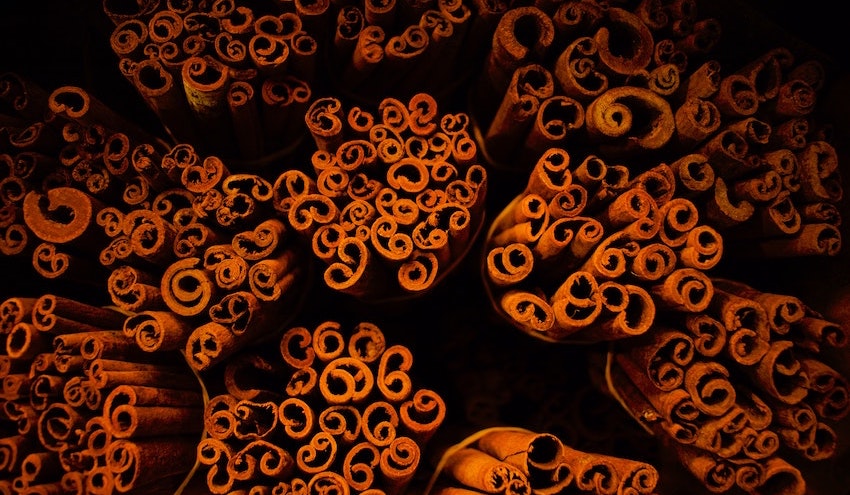 True Ceylon Cinnamon
Cinnamon is a tree bark and ancient ally to Cacao. Some of the earliest recordings of Mayan use of Cacao include partnering with the activating and warming ingredient Cinnamon. Cinnamon supports the movement and releasing of energy in perfect synergy with Cacao. Cinnamon; just like Cacao, has aphrodisiac qualities, supports the blood, digestion and women's health. The mineral Chromium present in Cinnamon may help balance blood sugar levels which is particularly useful with the addition of Panela in the blend. The flavour of Cinnamon also adds a gentle sweetness, balancing the bitter of the Cacao.
The type of Cinnamon in "The Original Blend" is Ceylon (True Cinnamon). Ceylon originates from the island of Ceylon, now known as Sri Lanka. Yet it has been used in the Americas for centuries, Ceylon spice is even known as "Mexican Cinnamon". Cinnamon has anti-inflammatory properties and is a heart supportive spice. Opening us up to good feelings and pleasure when working with Cacao.
The Sweet Synergy of Columbian Panela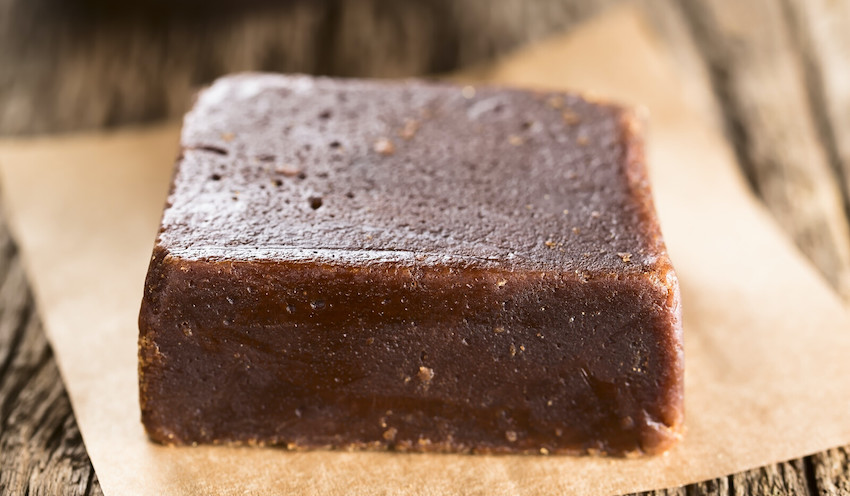 Ground Panela (Raw Cane Sugar)
Panela is an unrefined, sugar cane, high in minerals and typically used in Latin and South American where Theobroma Cacao is native. It contains both Vitamin A and C, uniquely it has a decent iron content, a single teaspoon of Panela has approximately 11% of our RDA (Recommended Daily Allowance) of iron, this is significantly more than standard refined sugar.
Panela composition is 83% sucrose and 6% of other sugars, such as glucose and fructose. It is popular in the world of natural health simply because it has no chemical additives as it has not undergone a refinement process. It works synergistically in the Ceremonial Cacao drink and you don't have to worry about its content as the Cinnamon helps balance the blood sugar.
Tune into an Ancient Magic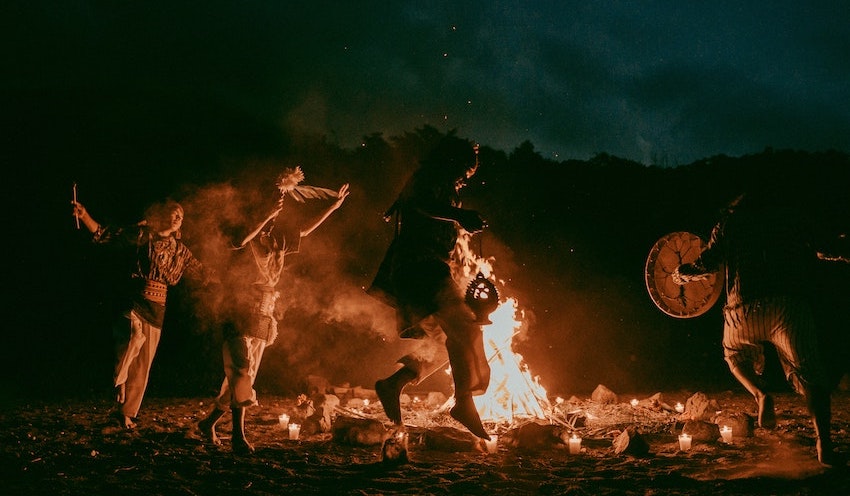 Ceremonial Blend Original… Closing Thoughts
As a Cacao Practitioner, Ceremonial Blends has made my life so much easier. I no longer have to pack jars of various ingredients for a Ceremony or make the time to get to the local wholefoods for Organic Cinnamon or Vanilla pods. Ceremonial Blends contains everything I need to make a perfect cup of Cacao with a recipe I know is loved by the participants in my ceremonies. It makes crafting Cacao easy and it's really convenient to measure out amounts of sweetner and spices for serving to larger groups. Even better, when the participants ask me for the recipe, I no longer have to share a list of ingredients and quantities, instead I just recommend Ceremonial Blends and makes starting a personal practice so accessible. I feel reassured in the integrity of Ancient Purity's sourcing, and trust these ingredients are of the highest quality and will not compromise the energy of the Cacao. I also love that Ceremonial Blends uses traditional ingredients that have always been a part of the way Cacao has been drunk. This basic root recipe not only adds a gentle sweetness and subtle spice; just enough to enhance the flavor and bring out the richness and depth of the Cacao but is also simple and subtle enough to allow for some personal exploration with recipes; for example adding other ingredients like Orange oil, Rose Water of Star Anise. Personally my Cacao cupboard would not be complete without a jar of Ceremonial Blends and I am super excited to continue sharing this as part of my Ceremony recipe and Cacao Practitioner tool kit. - Louise Marie (Cacao Practioner and Practitoner Trainer).
''Oh WOW, this is the one!'', I think that's what I said at the start. Until having this blend, I was never really a Ceremonial Cacao drinker. Getting all the ingredients together seemed not that easy. As you probably can imagine, due to running Ancient Purity I have all my kitchen closets filled with a wide range of health foods and sometimes I buy stuff that for some reason we don't sell. I was really thrilled finding this unique product where all the ingredients come together in one Miron Glass jar. Can it be easier? All you have to do is shake it well and mix a couple of teaspoons of the Ceremonial Blend into your cacao drink. It creates a rich and delicious flavour. Now, I can't imagine a Cacao drink without some of this magical stuff in it. However, there's so much more than just the convenience and flavour. It's ancient magic, ancient ceremony, ageless ingredients and a recipe that goes all the way back to the ancient world. The great news is that you don't need to time-travel back to ancient times as all these ingredients are alive and present today. Drinking this potent potion in the true Ceremonial Style is an incredible culinary experience. The drink brings creative thoughts out faster, wakes parts of my brain up and deepens my experience with the world. You just should not over-do it. I have a couple of these ceremonial cacao beverages a week. In my opinion it is best to take breaks but there's nothing wrong with doing it daily for a while and going to another level. Oh! This fantastic blend really must be used with Keith's Cacao because he supplies the only real Ceremonial Cacao - Tom Stavely (Ancient Purity) 
Experience The Worlds Finest Ceremonial Cacao - Order Today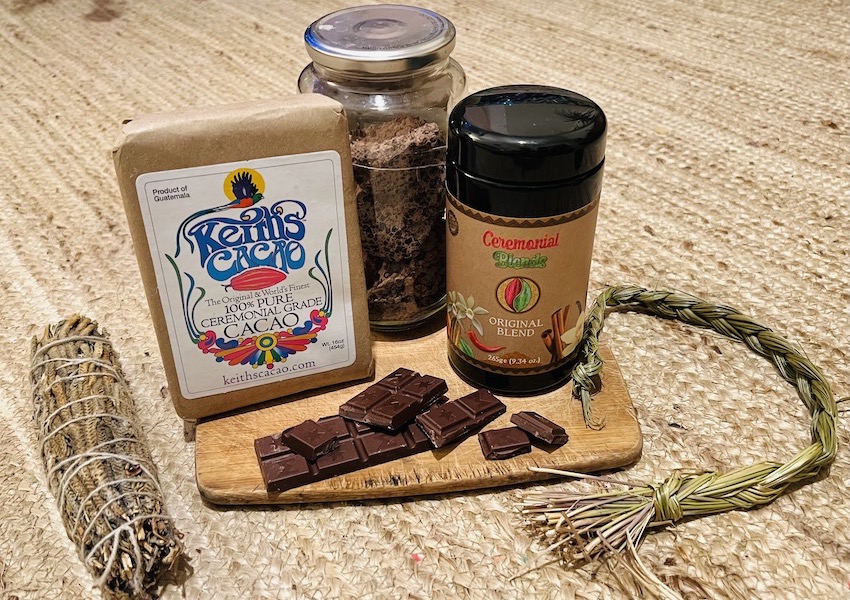 Ground Vanilla.
True Ceylon Cinammon - Ground.
Columbian Panela (Pure Cane Sugar).
Cayenne Pepper - Ground.
No additions, No chemicals.
Add 2 teaspoons to your Ceremonial Cacao Drink, Stir well and enjoy.
To make a Cermonial Cacao:
Use a sharp knife, potato peeler, or chocolate peeler to take some small shaving from your Cacao block.
If a food scale is unavailable, measure 1 heaping tablespoons of well ground Cacao for each .5 oz. serving
Boiling water is not necessary or recommended, try water just warm enough to barely keep a finger in it.
For a smoother concoction, mix in a blender.
After this you then add 2 teaspoons of this Original Blend.
Brand: Ceremonial Blends.
Size:
265g (9.34 oz.).
Container: Miron Glass Jar.
Estimated shelf life from purchase: 1yr to 18 months.
Storage: Keep in a cool dry place, keep out of reach of children.
Scientific Articles
Life Style - The physical and spiritual benefits of cacao
The West Australian - Ceremonial cacao is the new 'it' drink in the health world - with many swapping coffee for the chocolaty brew
US National Library of Medicine - Chocolate, "Food of the Gods": History, Science, and Human Health
Supporting Scientific Research
Pereira T., Bergqvist J., Vieira C., Gruner Svealv B., Castanheira J., Conde J. Randomized study of the effects of cocoa-rich chocolate on the ventricle-arterial coupling and vascular function of young, healthy adults. Nutrition. 2019;63–64:175–183. doi: 10.1016/j.nut.2019.02.017.
Grassi D., Lippi C., Necozione S., Desideri G., Ferri C. Short-term administration of dark chocolate is followed by a significant increase in insulin sensitivity and a decrease in blood pressure in healthy persons. Am. J. Clin. Nutr. 2005;81:611–614. doi: 10.1093/ajcn/81.3.611.
Desch S., Schmidt J., Kobler D., Sonnabend M., Eitel I., Sareban M., Rahimi K., Schuler G., Thiele H. Effect of cocoa products on blood pressure: Systematic review and meta-analysis. Am. J. Hypertens. 2010;23:97–103. doi: 10.1038/ajh.2009.213.
Vecchie A., Dallegri F., Carbone F., Bonaventura A., Liberale L., Portincasa P., Fruhbeck G., Montecucco F. Obesity phenotypes and their paradoxical association with cardiovascular diseases. Eur. J. Intern. Med. 2018;48:6–17. doi: 10.1016/j.ejim.2017.10.020.
Taparia S., Khanna A. Effect of procyanidin-rich extract from natural cocoa powder on cellular viability, cell cycle progression, and chemoresistance in human epithelial ovarian carcinoma cell lines. Pharmacogn. Mag. 2016;12(Suppl. 2):S109–S115.
Clarke S.F., Murphy E.F., Nilaweera K., Ross P.R., Shanahan F., O'Toole P.W., Cotter P.D. The gut microbiota and its relationship to diet and obesity: New insights. Gut Microbes. 2012;3:186–202. doi: 10.4161/gmic.20168.
Salonia A., Fabbri F., Zanni G., Scavini M., Fantini G.V., Briganti A., Naspro R., Parazzini F., Gori E., Rigatti P., et al. Chocolate and women's sexual health: An intriguing correlation. J. Sex Med. 2006;3:476–482. doi: 10.1111/j.1743-6109.2006.00236.x.
Crichton G.E., Elias M.F., Alkerwi A. Chocolate intake is associated with better Crichton G.E., Elias M.F., Alkerwi A. Chocolate intake is associated with better cognitive function: The Maine-Syracuse Longitudinal Study. Appetite. 2016;100:126–132. doi: 10.1016/j.appet.2016.02.010.: The Maine-Syracuse Longitudinal Study. Appetite. 2016;100:126–132. doi: 10.1016/j.appet.2016.02.010.
Disclaimer:
The products and the claims made about specific products, articles and claims made in the articles and information written on or through this site have not been evaluated by Ancient Purity, the MHRA, the FSA or the United States FDA and are not approved to diagnose, treat, cure or prevent disease. The information provided on this site is for informational purposes only and is not intended as a substitute for advice from your physician or other health care professional or any information contained on or in any product label or packaging. You should not use the information on this site for diagnosis or treatment of any health problem or for prescription of any medication or other treatment. You should consult with a healthcare professional before starting any diet, exercise or supplementation program, before taking any medication, or if you have or suspect you might have a health problem. Providing a product for sale does not imply Ancient Purity recommendation of that product, its suitability or its efficacy. Ancient Purity cannot give medical opinions. No comment or entry in this site or in any communication from Ancient Purity may be taken as such.
Prices and promotions are subject to change without notice. Customers should always carefully check all the details printed on the package before opening the product. Whilst all efforts are made to ensure accuracy of description, specifications and pricing there may be occasions where errors arise. Should such a situation occur the company cannot accept your order. In the event of a mistake you will be contacted with a full explanation and a corrected offer. The information displayed is considered as an invitation to treat not as a confirmed offer for sale. The contract is confirmed upon supply of goods, Prices and promotions are subject to change without notice.
Please read the Terms and Conditions of using this site, by using the site you are accepting the terms and conditions.
All Material on this site © 2014 Ancient Purity Ltd Registered in England & Wales 07801142 VAT Reg 168 335 488