(Pink Pitaya) Betalains / Carotenoids Iron (Balanced Vitamins & Minerals)
200-400g (7.05-14.10 oz.) Powder
Ancient Purity presents Dragon Fruit, also known as Pink Pitaya and Strawberry Pear. It is an Exotic Fruit known for its vibrant look and sweet, seed-speckled pulp and of course its supernatural growth. Dragon Fruit blossoms under moonlight and relies on nocturnal pollinators to continue its warm progress under the stars, fruiting 5-6 times annually. It's low in calories and contains antioxidants, vitamins, minerals and substantial amount of dietary fibre. Get creative with this Dragon Fruit Powder, you can make beautiful looking smoothies and smoothie bowls with it. We have all sorts of companies that use our Dragon Fruit Powder Bubble Tea, Fruit Cider, Ice Cream makers. This stuff is delicious neat also, so give this Exotic Superfruit a try. Our Dragon Fruit Powder is safe for daily use with all your healthy creations.
Dragon Fruit comes from a plant that is actually a cactus, the skin of the fruit being either Pink or Yellow with the fruit inside being a Pink (from which this powder comes from) or White, see related products. Dragon Fruit blossoms under moonlight and relies on nocturnal pollinators to continue its warm progress under the stars, fruiting 5-6 times annually. The fresh SuperFruit is freeze dried when fresh and delicious and this supernatural powder is created, fresh, nutrient dense fruit powder, no capsule, no binders, no fillers, just clean, absorbable Dragon Fruit Powder, through this process it maintains its amazing colour and living benefits.
This Tropical SuperFruit Powder contains several types of potent antioxidants like Vitamin C, B and Vitamin E with Omega 3 essential fatty acids but more uniquely its a source of Betalains. Test-tube studies have indicated Betalains can combat oxidative stress and may have the ability to suppress negative cells. Rich in Carotenoids, Beta-carotene and lycopene, these pigments give Dragon Fruit its vibrant colour. Dragon Fruit Powder is the perfect, vibrant ingredient for a super healthy, supernatural smoothie, but theres so much more you can do, add it to a healthy ice cream or desert and use in baked treats. It can be sprinkled on foods lightly or add a whole tablespoon to a drink, desert dish or to be used as a natural, safe food colouring. Remember though above all else, this is an Ancient Superfood, that promotes the growth of the healthy bacteria, lactic acid bacteria and bifidobacteria.
Red Dragon Fruit Powder - Information & Points to Research
Clean, Fresh & Delicious.
Trusted Source.
100% Pure Absorbable Pink Dragon Fruit Powder.
Thailand Origin.
Rich in Betalains & Carotenoids.
Loaded with Dietary Fibre & Prebiotics.
Balanced Vitamins & Minerals.
Delicious Smoothie & Dessert Ingredient.
Supports a Healthy Gut.
Tropical Skin Health Support.
High in Bio-Available Calcium.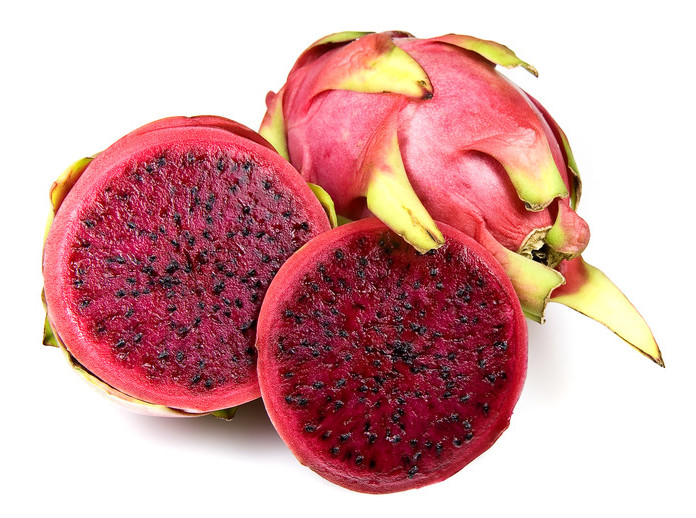 Dragon Fruit - SuperNatural Nutrition
Research has proven Betalains can fight oxidative stress and may have the ability to suppress negative cells. High in Carotenoids, Beta-carotene and lycopene, these pigments give Dragon Fruit its vibrant colour. Dragon Fruit Powder is the perfect, vibrant ingredient for a super healthy, supernatural smoothie, but there's so much more you can do. Just add it to a healthy ice cream or desert or use it in baked treats. It can be sprinkled on foods lightly or add a whole tablespoon to a drink, desert dish or to be used as a natural, safe food colouring. Dragon Fruit is low in calories and rich in antioxidants, making it a good addition to any weight-loss diet. It contains good amounts of fibre, lycopene, and carbohydrates as well as water-soluble vitamins such as Carotene, Vitamin C and B vitamins Niacin and Riboflavin. The mineral wealth of this fruit is also high and includes Magnesium, Calcium, Phosphorus, Iron, and Sodium. Red Dragon Fruit Powder is also rich in phytonutrients, polyunsaturated fatty acids (linoleic acid and linolenic acid), and Omega 3 and Omega 6 Fatty Acids. The health benefits are mostly attributed to its antioxidant, antibacterial, and nutritional properties.
Skin... The antioxidants in Dragon Fruit may help fight the signs of ageing by reducing the harmful effects of free radicals in the body. They also aid in treating sunburn, acne, and dry skin. Vitamin C, contained in many fruits but particularly Dragon Fruit helps brighten the skin. Try adding dried Dragon Fruit Powder to your smoothies and watch your skin glow radiantly. 
Digestion/Obstipation... Research published in Food Chemistry shows that Dragon Fruits is rich in Oligosaccharides that help promote the growth of gut bacteria like Lactobacilli and Bifidobacteria. A 2015 study on natural prebiotics in Thailand showed that the fruit helped increase healthy gut flora, which is important for smooth digestion. Dragon Fruits has a high amount of fibres, this means that they can help bulk up bowel movements, facilitating smooth passage through the digestive tract, stimulating peristaltic motion, and inducing a release of digestive juices. By regulating bowel function with dietary fibre, this fruit helps in preventing conditions like constipation and perhaps even more serious digestive and stomach issues. 
Dragon Fruit Aka... Pink Pitaya & Strawberry Pear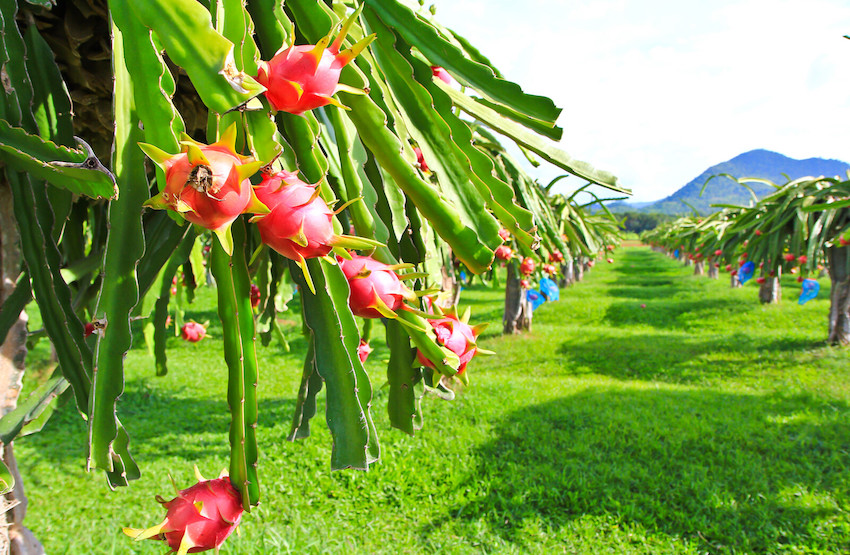 Dragon Fruit... The Super-Fruit that Gives
Immunity... The high level of Vitamin C present in Dragon Fruit helps boost immunity and it stimulates the activity of other antioxidants in the body as well. A research study in 2011 showed the flesh and the peel of the White and Red Dragon Fruit (Pitayas) have a rich polyphenol and flavonoid content which fights free radicals.
Heart Health... Dragon Fruit contains only healthy saturated fats, which leads to higher levels of HDL ("good" cholesterol) and lower levels of LDL ("bad" cholesterol) in the body. The chances of developing plaque in the arteries and veins are less, thereby reducing your chances of suffering from heart issues.
Beautiful Hair... Supplementing natural Dragon Fruit Powder in your daily healthy diet helps in keep hair nourished and strong. Its high amounts of nutrients help to reduce the damage done to hair by the chemicals present in artificial hair colour. It also helps improve the texture and bring back the shine to your hair.
Dragon Fruit Makes the Best Desserts Ever!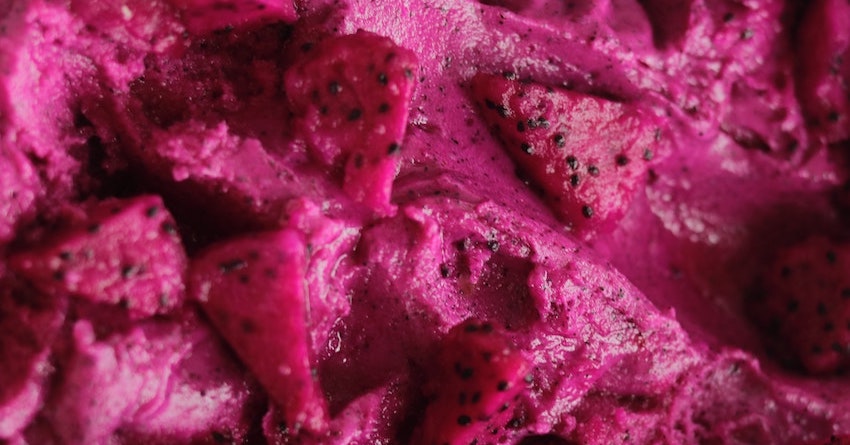 Dragon Fruit and Betalains
The name "betalain" comes from the Latin word of the common beet (Beta vulgaris), from which betalains were first extracted. Also known as, betanin, betanidin, phyllocactin,and  indicaxanthin, the Betalins in our Dragon Fruit Powder play an significant part in human health due to their pharmacological and biological activities such as antioxidant, suppress negative cells, anti-lipidemic (Support reduction of our blood's lipid levels), antimicrobial and more. Betalains are a class of red and yellow indole-derived pigments present in Caryophyllales plants where anthocyanin (A type of flavonoid that give red, purple, and blue plants their rich colouring) pigments are reinstated by them. It occurs in some higher order fungi. Mostly they're apparent in flowers' petals but may colour the fruits, leaves, stems and roots of plants which they are present in. It comprises of pigments such aspresent in beets. And they are present in our Freeze-Dried Red Dragon Fruit Powder. 
With more consciousness to natural options the demand for natural pigments like Betalains as an alternative colourant in food products has grown. Betalains from red beetroot are one of the most widely used food colourants. Betalains aren't well-studied yes as compared to other natural pigments such as anthocyanins, carotenoids and chlorophylls. However, recent scientific research indicates that Betalains are important nutrients and antioxidant that are beneficial for lowering inflammatory conditions, detoxifying our bodies and reduce the signs of premature ageing. Another Study in August 2017 showed that a Betalain-rich doncentrate Improved exercise performance. Jacob Schor from the National University of Naturopathic Medicine, Portland, Oregon stated, ''Betalains have a wide range of biological activities with potential health benefits: they counter inflammation, protect the liver, and have anticancer and antioxidant activity.'' There are paper reviews on the pharmacological properties, such as anti-lipidemic and antimicrobial activity of Betalains derived from sources such as Red Beets, Amaranth, Nopal Cactus (Prickly Pear) and our current subject Red Dragon Fruit for potential application as functional foods.
Super-Natural Dragon Fruit Smoothie
For a Tropical SuperFruit Drink that's jam-packed with nutrients, a simple delicious smoothie is an easy way to get the health-boosting effects from this exotic SuperFruit. Get your blender out and make sure you have ice cubes from clean fresh water. We at Ancient Purity like and recommend Gravity Fed Filtered.
1 Tablespoon of Dragon Fruit Powder.
1 Teaspoon of Coconut Oil
5 Ice Cubes (From Filtered Water).
Add a Banana to Thicken up.
For a Sweeter Flavour, add a Little Natural Sweetener.
Our Dried Dragon Fruit Powder is an easy way to add a boost of body-boosting nutrition to your diet. This powder has a high nutrient density, with fibre plus essential vitamins & minerals. Also use it in desserts or for Dragon Fruit syrup.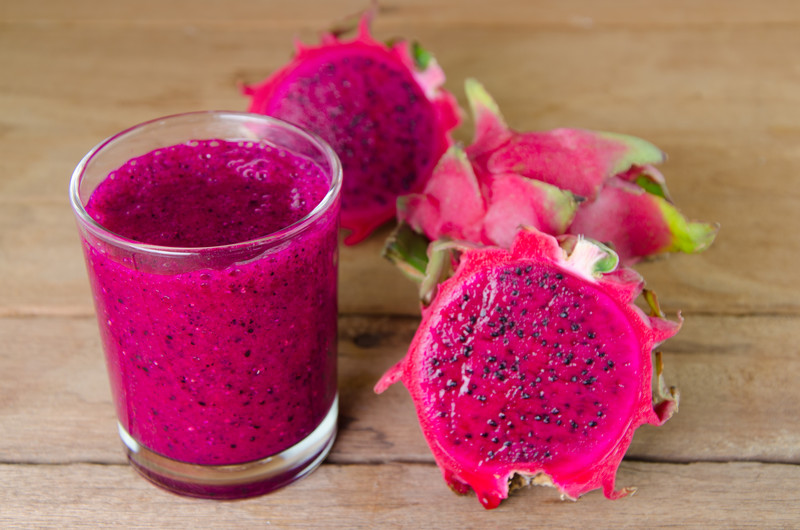 Delicious Smoothies from SuperFruit

Dragon Fruit - Hylocereus Costaricensis
You can drink these tasty smoothies regularly in summer to benefit from their amazing health-properties, in winter you can drink it once a week to enjoy a bit of light as well as a tropical feeling in the cold season. Smoothies in Ancient Purity's opinion should be lessened in the cold months. Is Fresh Fruit Preferable over Powder? Well, it probably is, but like we've mentioned before, the freeze-drying process guarantees you'll get all the same goodness present in the fresh Dragon Fruit. Unless you are living or staying in one of the tropical regions where these fruits grow, you're unlikely to have access to fresh Dragon Fruits. Importing whole Dragon Fruit has issues with ripeness as well as the carbon foot-print.
Ancient Purity's Powder comes from fresh and ripe Dragon Fruits cultivated Thailand. After the careful selection by the passionate farmers, the fruit goes though the freeze-dry process and finally they're ground. This beautifully coloured Dragon Fruit Powder has a long shelf life so you can enjoy a massive health kick from fresh ground powder year-round. Having walked around a Dragon Fruit farm, and that is really not what we call a farm in the west. Walking around that was like walking on another planet, the plants are crazy, all sorts of clever apparatus holding the sprawing vines up. Clean, fresh air, what a place to work. Anyway they're expensive to import and I personally feel the powder works as well as the fruit, it's called hacking. It may not be as cool as picking fresh, ripe fruit but nutritionally and even taste wise, the powder is on the level.
Dragon Fruit - Pink or White Pitaya (Theres also a smaller Yellow one)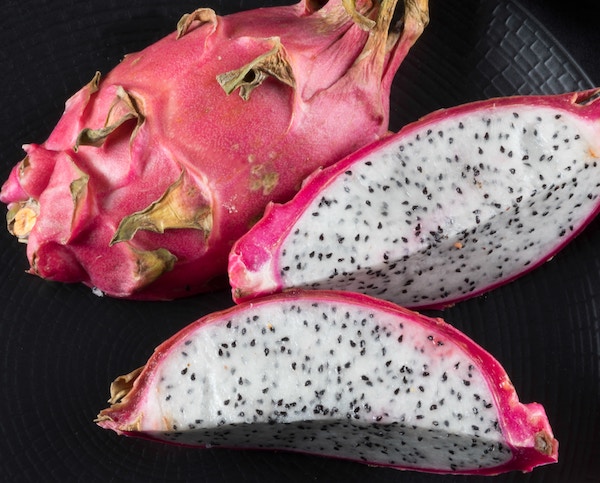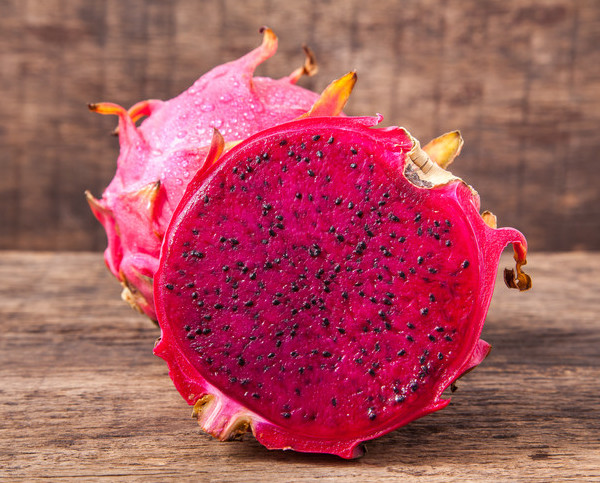 Dragon Fruit is Otherworldly!
Dragon Fruit's Supernatural side is very interesting to us at Ancient Purity, we love to look into all aspects of food and Herbs, all the magic subtances and their background. Dragon Fruit has many unusual and fascinating facts, the Drago Fruit Flowers bloom over night, then they wilt at the start of the new day. An occult, hidden beauty that is rarely seen by people. Yet it is there. Dragon Fruit in its name is fierce yet its nutrition enriches our inner warrior. Dragon Fruits magic is said to teach us to have faith in higher power. 
The colours of the fruit give some great chakra balance and healing. The ground powder can actually treat coloured hair. Why not rub some in when next in the shower. Anyway with its name, nocturnal magic, amazing taste and supernatural appearance Dragon Fruit reminds us that the world can express magic in such incredible ways. This has crossed boarders to be here and it can take you across many in your Mind, Body and Spirit. So try this out today.
Supernatural on Another Level - Dragon Fruit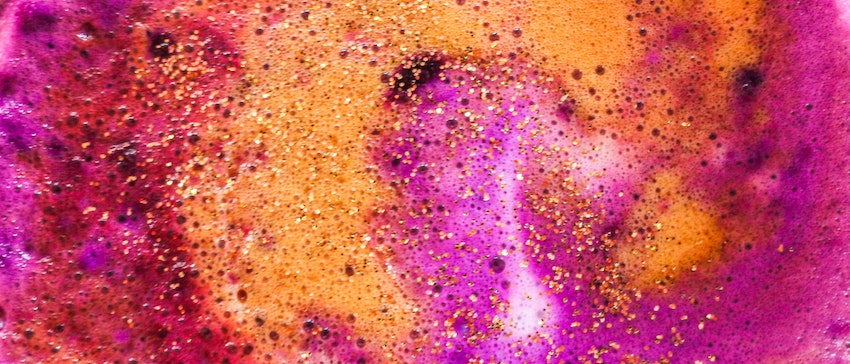 Dragon Fruit Nutrition
The actual Dragon Fruit (Not Dried / Ground) per 100g contains 87g of Water, 1.1g of Protein. It has practically no fat, it's a good source of dietary fibre then it has some good Vitamins. Vitamin B1 (Thiamine) Vitamin B2 (Riboflavin) Vitamin B3 (Niacin) Vitamin C (Ascorbic Acid). Whilst mentioning Vitamin C there, Dragon Fruit actually provides over 3 times the Vitamin C that carrots do. Then it has Calcium, Phosphorus and is a good source of iron, containing 1.9 mg per 100g.
Myristic acid 0.2%  Palmitic acid 17.9%  Stearic acid 5.49%.
Palmitoleic acid 0.91%  Oleic acid 21.6%  Cis-vaccenic acid 3.14%.
Linoleic acid 49.6%  Linolenic acid 1.21%.
Photo of the Farm where the Actual Dragon Fruit Grows

Dragon Fruit Powder… Closing Thoughts
In tropical and subtropical regions in South America and Asia, the Dragon Fruit flourishes and grows in abundance. Appropriately named, the Dragon Fruit's outer skin is cactus-like, resembling that of the scales of a mythical dragon. Dragon Fruit is the fruit from various cactus types. The fruit's appearance is unique. It has a crunchy texture and sweet taste. Red Dragon Fruit as well as the powdered form contain several potent antioxidants that are beneficial for good health. Also present in Ancient Purity's Red Dragon Fruit Powder are numerous vitamins and minerals that are essential for healthy bodies. According scientific research published in the African Journal of Biotechnology, Especially Red Dragon Fruit features the powerful antioxidants betacyanins and betaxanthins. Both these compounds neutralise our bodies' free radicals. Free radicals are bodily compounds which can cause cell damage. Betaxanthins' and betacyanins' actions might help to prevent free radicals from causing farther harm. According to a scientific report in the World Journal of Pharmacy and Pharmaceutical Sciences, Dragon Fruit's antioxidant properties might be helpful in fighting inflammatory conditions in our bodies. These include gout and other forms of joint stiffness and aches. According to a study that was published in the World Journal of Pharmacy and Pharmaceutical Sciences, Dragon Fruit Powder's nutrients include: Vitamin A, Vitamin C, Magnesium, Phosphorus, Potassium and Zinc. This weirdly looking exotic delicacy also contains tinier amounts of Copper and Calcium, which our bodies require for decent health as well. Combined with a delicious flavour, Dragon Fruit as well as the powder, can offer a nutritionally valuable food source. 
I encourage you to be creative with this Dragon Fruit Powder. We have all sorts of companies that use our Dragon Fruit Powder, Bubble Tea, Fruit Cider, Ice Cream makers. This stuff is delicious neat, one friend said it's like amazing tasty space dust. But this is just ground fruit powder. I'm personally a big Dragon Fruit fan, the actual fruit I think is closest to Kiwi Fruit in common fruits. So get some of this delicious, clean, Dragon Fruit Powder and make some cool smoothies, add it to your morning cereal, put it in yoghurt or get even more creative. You'll enjoy some health benefits, unique nutrition and most of all it tastes good.
''Dragon Fruit is very subtle, very delicate. So you want to be careful not to kill it with things that have very strong flavor.'' - Author: Jose Andres
Experience the Joy & Nutrition of Dragon Fruit - Order Today
Pink Dragon Fruit (Freeze-dried Powder).
Add 1 - 2 teaspoons (4-8g) in smoothies or juices. The powder can be mixed into desserts, yogurts or healthy ice creams.
Can be used as a natural food colouring.
Brand: Ancient Purity.
Origin: Thailand.
Size:

200-400g (8.81-14.10 oz.)

Package: Kraft Paper Pouch.

Storage:

Keep in sealed. Store in a cool dry place, out of sunlight. Must be kept dry, not allowing moisture in.
Estimated shelf life from purchase: 1-2 years.
Scientific Articles
US National Library of Medicine - Effect of dragon fruit extract on oxidative stress and aortic stiffness in streptozotocin-induced diabetes in rats
CAB Direct - Proximate analysis of dragon fruit
Dragon fruit: An exotic super future fruit of India
Supporting Scientific Research
Stafford HA (1994) Anthocyanins and betalains: evolution of the mutually exclusive pathways. Plant Sci 101:91–98.

 

Gengatharan A, Dykes GA, Choo WS (2015) Betalains: natural plant pigments with potential application in functional foods. LWT Food Sci Technol 64:645–649.
Calixto J.B., Campos M.M., Otuki M.F., Santos A.R. Anti-inflammatory compounds of plant origin. Part II. Modulation of pro-inflammatory cytokines, chemokines and adhesion molecules. Planta Med. 2004;70:93–103. doi: 10.1055/s-2004-815483.
Wang YX, Halks-Miller M, Vergona R, Sullivan ME, Fitch R, Mallari C, et al. Increased aortic stiffness assessed by pulse wave velocity in apolipoprotein E-deficient mice. Am J Physiol Heart Circ Physiol. 2000;278:H428–34.
Dragsted LO, Strube M, Larsen JC. Cancer-protective factors in fruits and vegetables: biochemical and biological background. Pharmacol Toxicol. 1993;72:116–35.
Laight DW, Carrier MJ, Anggård EE. Antioxidants, diabetes and endothelial dysfunction. Cardiovasc Res. 2000;47:457–64.
Disclaimer:
The products and the claims made about specific products, articles and claims made in the articles and information written on or through this site have not been evaluated by Ancient Purity, the MHRA, the FSA or the United States FDA and are not approved to diagnose, treat, cure or prevent disease. The information provided on this site is for informational purposes only and is not intended as a substitute for advice from your physician or other health care professional or any information contained on or in any product label or packaging. You should not use the information on this site for diagnosis or treatment of any health problem or for prescription of any medication or other treatment. You should consult with a healthcare professional before starting any diet, exercise or supplementation program, before taking any medication, or if you have or suspect you might have a health problem. Providing a product for sale does not imply Ancient Purity recommendation of that product, its suitability or its efficacy. Ancient Purity cannot give medical opinions. No comment or entry in this site or in any communication from Ancient Purity may be taken as such.
Prices and promotions are subject to change without notice. Customers should always carefully check all the details printed on the package before opening the product. Whilst all efforts are made to ensure accuracy of description, specifications and pricing there may be occasions where errors arise. Should such a situation occur the company cannot accept your order. In the event of a mistake you will be contacted with a full explanation and a corrected offer. The information displayed is considered as an invitation to treat not as a confirmed offer for sale. The contract is confirmed upon supply of goods, Prices and promotions are subject to change without notice.
Please read the Terms and Conditions of using this site, by using the site you are accepting the terms and conditions.
All Material on this site © 2014 Ancient Purity Ltd Registered in England & Wales 07801142 VAT Reg 168 335 488