Curcuminoids extract from Turmeric in 3 forms (Liposomal Curcumin)
250ml (8.45 fl. oz.)
Lipolife® TurmerEase formulated with Cureit™… this is the globe's first and only Curcumin supplement that provides Complete Natural Turmeric Matrix. Due to the advanced and unique formulation, Turmeric's natural matrix is perfectly preserved. On top of that, there's loads of Curcumin in it. In addition, the scientifically proven Liposomal Encapsulation technology makes sure that all the nutritional goodness in this bottle will be fully absorbed by your body. TurmerEase is backed by numerous scientific studies and clinical trials. You simply have to experience it! The newspaper, The Hindu, called it: ''Curcumin, a wonder drug in waiting.''
Ancient Purity Presents TurmerEase powered by Cureit (The only Curcumin extract which has the full Turmeric matrix). This is the planet's first and currently only Curcumin product which offers the Complete Natural Turmeric Matrix. This means that for the first time someone can experience a whole new level of benefit having the full spectrum of the Power of one of the most amazing substances discovered. TurmerEase can be justifiably called a powerful anti-inflammatory supplement. It is 100% bioavailable (nearly all Curcumin products aren't effectively absorbed) and it also is able to give beyond all the incredible Curcumin/Turmeric benefits. At Ancient Purity we have a number of Turmeric products and this is another super powdered one.
Lipolife is one of very few brands of liposomal supplements to prove significantly higher absorption than standard oral supplements. Lipolife has proven the presence of uniform, nanosized liposomes. Lipolife is the only brand of liposomal supplements to publish a full, independent study of its Liposomal Vitamin C. The only Curcumin extract which has the full Turmeric matrix. Lipolife continues innovating new formulations, collaborating with doctors and leading academics in the field of nanotechnology to remain at the forefront of the food supplement industry. Lipolife represent the very best in Liposomal Encapsulation Technology This is why Ancient Purity has a large collection of Liposomal Supplements. We are fully dedicated delivering high quality food supplements to our valuable customers. 
TurmerEase (Cureit) Liposomal – Information & Points to Research
Multi Turmeric & Curcumin.
An effective anti-inflammatory agent.
Encourages healthy and flexible joints.
Might Encourage healthy eyes and normal vision.
Helps keep a healthy pancreas and blood sugar balance.
Supports a healthy liver & kidney.
Can assist gallbladder function.
May help aid in minimising oxidative stress.
Neuroprotective nutrition (healthy brain function).
Promotes intestinal and bowel health.
Encourages healthy skin and complexion.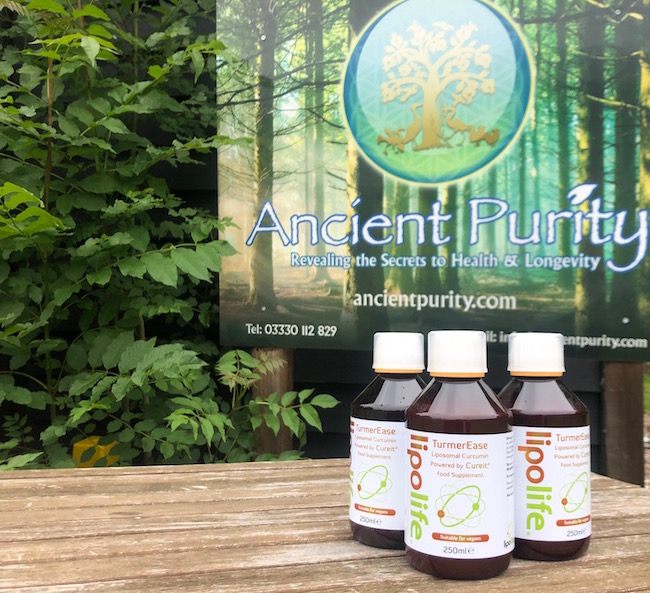 A New Way to Experience the Power of Curcumin / Turmeric
Ancient Purity is proud to provide the superpower extract of this Ancient Spice Turmeric, Curcumin is a powerhouse of an extract, but if you have tried it before to no effect you probably didn't absorb enough, and it's a tough one to absorb, this liposomal version is the most effective way to take this powerful supplement. Curcumin is a biologically active polyphenolic substance present in Turmeric, a spice derived from the rhizomes of the plant Curcuma longa Linn. Commonly consumed in Asian countries, turmeric has been used for medicinal purposes since ancient times. Mounting evidence from preclinical studies shows that Curcumin modulates numerous molecular targets and exerts. It has antioxidant, anti-inflammatory, anti-malignant cells, and neuroprotective activities. In humans, Curcumin taken orally is poorly absorbed and rapidly metabolised and eliminated. Therefore, the potential of Curcumin as a therapeutic agent is limited by its poor bioavailability. However, the solution might be using a high-quality bioavailable Curcumin supplement. 
Curcumin, the principal curcuminoid found in turmeric, is generally considered its most active constituent. Other Curcuminoids found in turmeric include demethoxycurcumin and bisdemethoxycurcumin. In addition to its use as a spice and pigment, Turmeric has been used in India for medicinal purposes for centuries. More recently, evidence that Curcumin may have anti-inflammatory conditions and might work against the condition where cells in a specific part of the body grow and reproduce uncontrollably has renewed scientific interest in its potential to prevent and treat disease. 
An Ancient Spice for the Modern World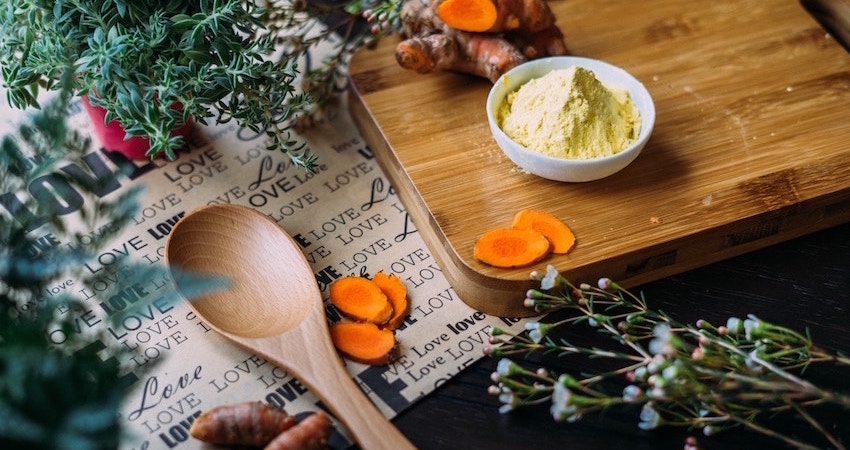 Curcumin (as Cureit)
Let's look at what makes up "Cureit"...
Constituent I: Curcuminoids extract from Turmeric in three forms Curcumin I (Curcumin); Curcumin II (DemethoxyCurcumin); Curcumin III (Bisdemethoxy Curcumin)
Constituent II: Turmerin, Proteins, Fibre, Minerals and Carbohydrates - water extraction from Turmeric.
Constituent III: Essential Oil of Turmeric; composition of essential oils of Curcuma longa.
The other ingredients are all-natural effective substances. The Phosphatidylcholine is derived from organic, non-GMO sunflower lecithin. You will notice that all others are mostly from Soy Lecithin. 
There's filtered Water, Vitamin E (antioxidant), Potassium Sorbate (preservative), Xanthum Gum, Xylitol (stabiliser), Stevia (sweetener) and traces of Ethanol and Glycerol.
'Lipos' meaning fat & 'Soma' meaning body in Greek
A liposome is a closed, spherical lipid bilayer, which forms an internal cavity capable of carrying aqueous solutions. A lipid bilayer is composed of two sheets of tightly arranged phospholipids. These molecules have a hydrophobic tail and a hydrophilic head region. When two single membranes come together, the hydrophobic tails attract toward each other, while the heads of both membranes are attracted to the surrounding water. This forms a double layer of phospholipid molecules, which exclude the internal solution from the outside. The solution can then be transported with the liposome where it is needed.
Liposome can be generated naturally when tissues are disturbed. When tissue is damaged, small pieces of the cell membrane may become detached. The exposed pieces of lipid bilayer folds back on itself, encapsulating a small packet of whatever solution it forms in. This happens because of the hydrophobic and hydrophilic interactions between the pieces of lipid bilayer and the surrounding aqueous solution. It forces the ends of the pieces, where the hydrophobic core is exposed, to come together and create a sealed internal pouch. This process can be replicated in the lab.
Turmeric & Curcumin in all Forms... Assimilated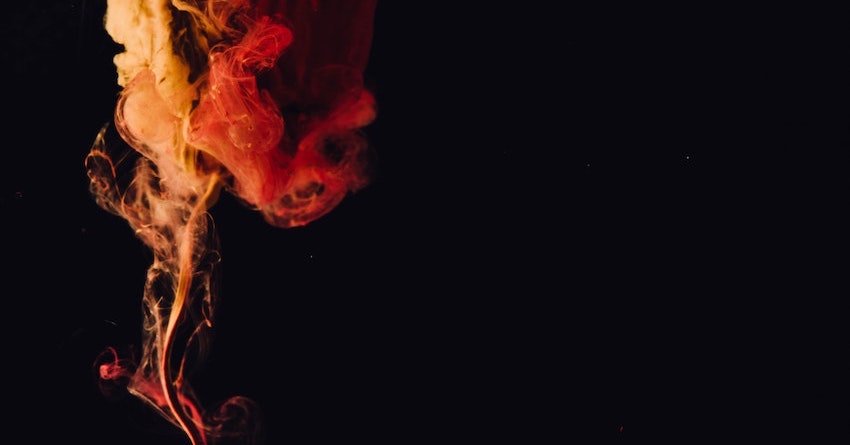 Liposomal Encapsulation Technology – The right Nutrient at the right Place
Liposomes have been used as models, to study cell membranes and organelles. By embedding various proteins into the lipid bilayer, scientists can test the function of those proteins by testing the internal solution compared to the external solution. Studies like this helped establish modern cell theory. In fact, liposomes were named after lysosomes because of their similarity to the organelle. By studying non-living, easy-to-watch actions in liposomes, scientists were able to predict and identify the methods cells used to move and transport various chemicals. The action of the endoplasmic reticulum and Golgi apparatus in packaging and processing cell products is directly related to how liposomes interact. Cells simply add various proteins to the surface of their organelles, which direct and control the interactions of various organelles. These processes are now being studied, so that the targeted effect it gives organelles can be extended to artificially created liposomes. On this front, drugs are being developed which have a liposome delivery method. For instance, certain C drugs are packaged in liposomes to be delivered specifically to cancer cells. The theory behind this method is simple. The liposomes are embedded with special proteins, which attach to receptor proteins on the target cell. Once this happens, a process is initiated and the liposome bonds with the target cell, depositing its contents into the cell.
Research into liposome delivery systems is expanding into different areas including vitamins, minerals, and even gene therapy. By using targeted liposomes, even DNA can be delivered to specific tissues. If the DNA is functional, it can be read and the protein it encodes for can be produces. The cell can then begin to produce the protein and reverse the deficiency. This process may soon be used to alleviate various genetic diseases. Other industries are developing liposomes for different uses. Because a liposome is essentially a small cell, it is biodegradable over time but can still carry an aqueous solution in a protected manner. Scientists are working on using this feature to develop liposomes which can carry out complicated tasks. Some of these applications include delivering nutrients to crops using liposomes as small machines. If the right "machinery", or DNA and related proteins, are placed in a liposome it essentially becomes a small living cell which can be programmed to perform various actions. While commercial versions of this are not in effect, much research is being done on this front.
A Natural Herb... Scientifically Delivered

Liposomal TurmerEase powered by Cureit… Closing Thoughts
There is one example of a miracle Herb, acknowledged as such globally for its potential, which India and its scientists have deliberated on extensively, but failed to make an impact in the world of practicing modern medicine. The herbal drug is Curcumin, the active principle from the spice Turmeric. This spice is a native of Asia, in particular India. It is grown almost entirely in India. Its use can be traced to Vedic culture, some 4,000 years ago in India. Turmeric is extensively used in Indian cooking and also finds uses as a dye, cosmetic and medical applications. In Ayurveda, Turmeric has wide uses. It is used to treat flatulence, dyspepsia, liver disorders (jaundice in particular), common colds, eye and ear infections, small-pox, chicken pox and above all a variety of skinissues and inflammatory conditions. And all the modern research with Curcumin has shown it to be beneficial in a wider set of ailments. Perhaps, there is no ailment against which Curcumin has not been tested in some laboratory or other globally.
Although, a large segment of the studies is devoted to the use of Curcumin to treat a variety of the serious condition where cells in a specific part of the body grow and reproduce uncontrollably , its beneficial use has been demonstrated with a wide range of diseases including Alzheimer's, cystic fibrosis, arthritis, other systemic disorders and infectious sicknesses. It is equally intriguing that the molecular targets for Curcumin are very diverse, ranging from genes to membranes. This defies the very concept of a modern drug, discovered using a variety of computational tools, animal and human trials to ensure specificity and safety. This is the stage we have reached and remained after decades of research; Curcumin was discovered in 1815! A molecule that is beneficial for a variety of ailments, based on a science that cannot explain its diverse drug targets, an action that defies pharmacological parameters and above all a drug that is cheap and not easily patentable as such, will never make the grade in the eyes of multinational pharmaceutical companies. Fortunately there is Lipolife's TurmerEase!
Experience the power of Curcumin - CNTM (Complete Natural Turmeric Matrix) - Order Today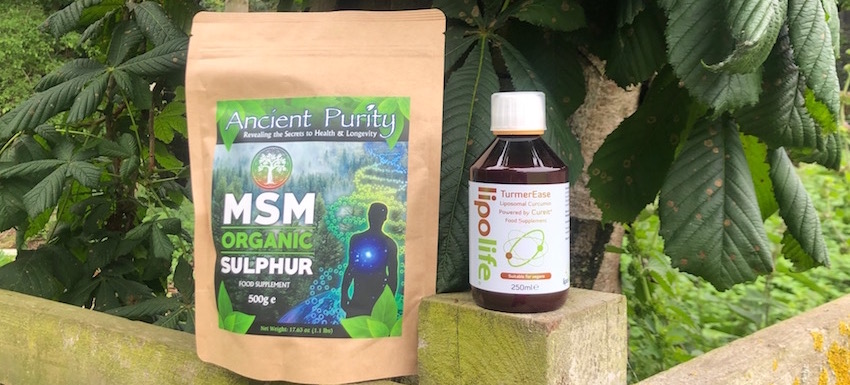 Constituent I : Curcuminoids extract from Turmeric in three forms 
Curcumin I (Curcumin); Curcumin II (DemethoxyCurcumin); Curcumin III (Bisdemethoxy Curcumin)
Constituent II : Turmerin, Proteins, Fibre, Minerals and Carbohydrates - water extraction from Turmeric
Constituent III : Essential Oil of Turmeric; composition of essential oils of Curcuma longa

100mg
Other Ingredients: Phosphatidylcholine derived from organic, non GMO sunflower lecithin, Water, Vitamin E (antioxidant), Potassium Sorbate (preservative), Xanthum Gum, Xylitol (stabiliser), Stevia (sweetener), traces of Ethanol and Glycerol.
Shake before use. You can take 1 teaspoon or more daily. Or take it as recommended by your health care professional. Do not exceed the recommended daily intake.
Keep refrigerated after opening.
This TurmerEase Supplement can be mixed with water or juice to dilute.
Brand: Lipolife.
Size: 250ml (8.45 fl. oz.).
Container: Darkened plastic bottle (BPA free)
Storage: Refrigerate once opened. Keep out of reach of children.
Estimated shelf life from purchase: 1 year (Unopened).
Scientific Articles
Science Direct - Curcumin: An age-old anti-inflammatory and anti-neoplastic agent
Insider - 6 science-backed benefits of turmeric, including reduced inflammation and depression
Bangkok Post - The Golden Spice - Curcumin in Turmeric
Nutrition Today – Turmeric Potential Health Benefits
Supporting Scientific Research
Nelson K, Dahlin J, Bisson J, et al. The essential medicinal chemistry of curcumin. J Med Chem. 2017;60:1620–1637.
Eke-Okoro U, Raffa R, Pergolizzi J, et al. Curcumin in turmeric: basic and clinical evidence for a potential role in analgesia. J Clin Pharm Ther. 2018;43:460–466.
Aggarwal B, Yuan W, Li S, Gupta S. Curcumin-free turmeric exhibits anti-inflammatory and anticancer activities: identification of novel components of turmeric. Mol Nutr Food Res. 2013;57:1529–1542.
Kawasaki K, Okuda-Hanafusa C, Aoyagi M, et al. Inhibitory effect of the compounds from the water extract of Curcuma longa pn the production of PGE2 and NO in a macrophage cell line stimulated by LPS. Biosci Biotechnol Biochem. 2018;82:2109–2117.
Garcea G, Jones D, Singh R, et al. Detection of curcumin and its metabolites in hepatic tissue and portal blood of patients following oral administration. Br J Cancer. 2004;90:1011–1015.
Antony B, Merina B, Iyer V, et al. A pilot cross-over study to evaluate human oral bioavailability of BCM-95®CG (Biocurcumax™), a novel bioenhanced preparation of curcumin. Ind J Pharm Sci. 2008;70:445–449.
Gopi S, Jacob J, Varma K, et al. Comparative oral absorption of curcumin in a natural turmeric matrix with two other curcumin formulations: an open-label parallel-arm study. Phytother Res. 2017;31:1883–1891.
Belcaro G, Cesarone MR, Dugall M, et al. Efficacy and safety of Meriva®, a curcumin-phosphatidylcholine complex, during extended administration in osteoarthritis patients. Altern Med Rev. 2010;15:337–344.
Illuri R, Bethapudi B, Anandakumar S, et al. Anti-inflammatory activity of polysaccharide fraction of Curcuma longa extract (NR-INF-02). Antiinflamm Antiallergy Agents Med Chem. 2015;14:53–62.
Campos-Cervantes A, Murillo-Ortiz B, Alvarado-Caudillo Y, et al. Curcumin decreases the oxidative damage indexes and increases the adiponectin levels in serum of obese subjects. Free Radical Biol Med. 2011;S95.
Campbell M, Ouyang A, Krishnakumar I, et al. Influence of enhanced bioavailable curcumin on obesity-associated cardiovascular disease risk factors an arterial function: a double-blinded, randomized, controlled trial. Nutrition. 2019;62:135–139.
Jiminez-Osorio A, Garcia-Nino W, Gonzalez-Reyes S, et al. The effect of dietary supplementation with curcumin on redox status and Nrf2 activation in patients with nondiabetic or diabetic proteinuric chronic kidney disease: a pilot study. J Ren Nutr. 2016;26:237–244.
Disclaimer:
The products and the claims made about specific products, articles and claims made in the articles and information written on or through this site have not been evaluated by Ancient Purity, the MHRA, the FSA or the United States FDA and are not approved to diagnose, treat, cure or prevent disease. The information provided on this site is for informational purposes only and is not intended as a substitute for advice from your physician or other health care professional or any information contained on or in any product label or packaging. You should not use the information on this site for diagnosis or treatment of any health problem or for prescription of any medication or other treatment. You should consult with a healthcare professional before starting any diet, exercise or supplementation program, before taking any medication, or if you have or suspect you might have a health problem. Providing a product for sale does not imply Ancient Purity recommendation of that product, its suitability or its efficacy. Ancient Purity cannot give medical opinions. No comment or entry in this site or in any communication from Ancient Purity may be taken as such.
Prices and promotions are subject to change without notice. Customers should always carefully check all the details printed on the package before opening the product. Whilst all efforts are made to ensure accuracy of description, specifications and pricing there may be occasions where errors arise. Should such a situation occur the company cannot accept your order. In the event of a mistake you will be contacted with a full explanation and a corrected offer. The information displayed is considered as an invitation to treat not as a confirmed offer for sale. The contract is confirmed upon supply of goods, Prices and promotions are subject to change without notice.
Please read the Terms and Conditions of using this site, by using the site you are accepting the terms and conditions.
All Material on this site © 2014 Ancient Purity Ltd Registered in England & Wales 07801142 VAT Reg 168 335 488