Clinacanthus Nutans - Medicated Balm Headache / Vertigo / Scar treatment
50ml (1.69 fl. oz.) Blue Balm
A truly unique and rare medicated balm, created from the supernatural Clinacanthus Nutans Leaves, also known as Snake Grass or Sabah Snake Grass in Thai. It was given this name because its incredible ability as an anti-snake serum used by traditional healers. Clinacanthus Nutans (from the Acanthaceae family) is often used to heal skin irritation across Asia. It works on insect bites, burns, eczema, psoriasis, zoster infection and herpes rash.
A cooling, aromatic medicated balm of Clinacanthus Nutans Leaves, Peppermint Oil, Camphor, Borneol, Menthol, Wintergreen Oil, Eucalyptus Oil. Also known as Snake Grass Balm this magical invigorating Herbal Medicine is outstanding in its power in the fight against skin irritations. It has been used for generations and remains ever popular in Thai healing culture.
The Clinacanthus Nutans plant has diverse and potential medicinal uses with a long history of use in Malaysia, Indonesia, Thailand and China. Phytochemical investigations documented the varied contents of bioactive compounds from this plant namely flavonoids, glycosides, glycoglycerolipids, cerebrosides and monoacylmonogalatosylglycerol. Pharmacological experiments have proved that various types of extracts and pure compounds from this species exhibited a broad range of biological properties such as anti-inflammatory, antiviral, antioxidant, and anti-diabetic activities. Get ready to learn about all the elements that make this balm so powerful.
Clinacanthus Nutans (Snake Grass) Balm
Authentic original blend.
Created using Clinacanthus Nutans Leaves.
Trusted for Generations.
100% Natural, Clean Ingredients.
Clear Vertigo, Dizziness and headaches.
Supernatural Deep Effect.
Massage for Muscle and Joint, Relaxation.
Fights insect bites, burns, eczema, psoriasis.
Anti-snake serum (For wild explorers).
Healing Scars and minor burns.
Inhalation Benefits... Clear stuffed nose and fight common colds, awaken senses and experience supernatural scent.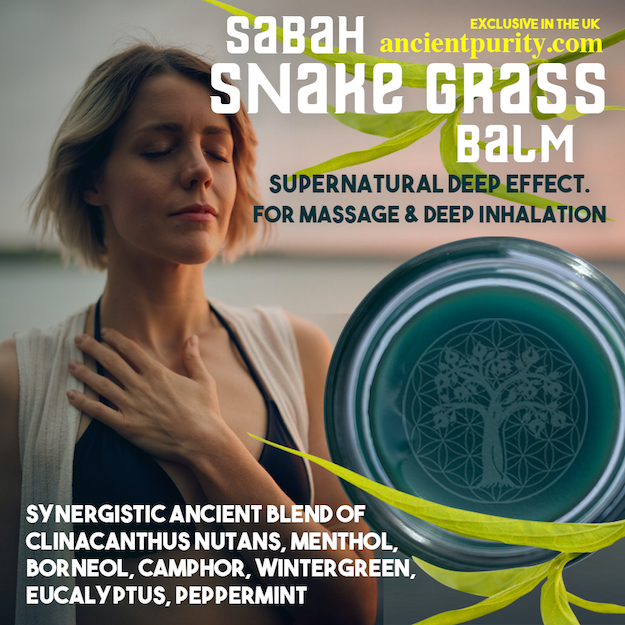 Living Ingredients from the Thai countryside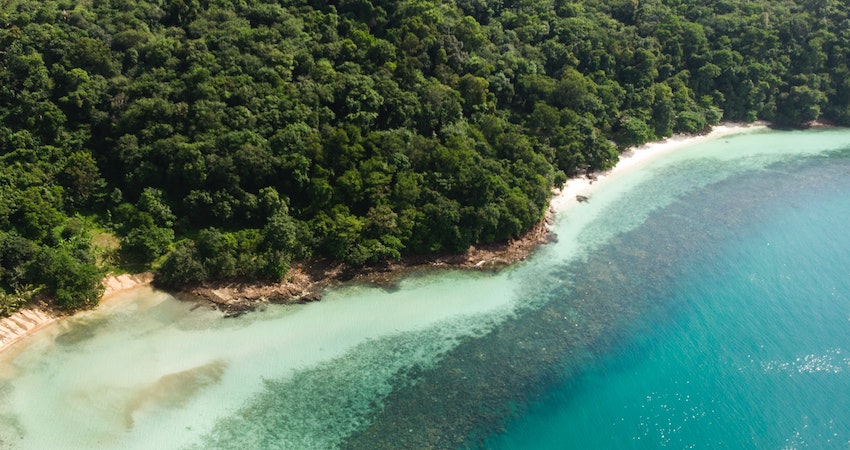 Clinacanthus Nutans (Sabah Snake Grass)
Snake Grass has been used to reduce inflammation from insect bites, lesions from Herpes Simplex Virus and common allergic symptoms in traditional medicine. In the study, The anti-inflammatory effects and the inhibition of neutrophil responsiveness by Barleria lupulina and Clinacanthus nutans extracts, it concluded that both extracts induced powerful dose-dependent inhibitory effects in edema-induced rats. This was found to be mediated by inhibition of neutrophil responsiveness. (Wanikiat et al. 2008) Another study was done in 2014 (Tu et al.), Chemical Constituents and Bioactivities of Clinacanthus Nutans Aerial Plants, the authors were able to provide data on the inhibition of elastase by 4 sulfur-containing bioactive compounds. Clinamides A-C and 2-cis-entadamide A were isolated and extracts were found to inhibit 68.33% of elastase release from human neutrophils at 10 μg/ml. If you are in the reading/research mood why not look up all the other benefits for non topical use of Sabah Snake Grass, you might be amazed at what you discover.
Another notable study (Mai et al. 2016), demonstrated the anti-inflammatory activity of flavonoids from extracts of the Sabah snake grass. Snake grass contains many essential minerals such as calcium, phosphorus, iron, magnesium, zinc, copper manganese, nickel, and 17 amino acids which are needed by our bodies. Moreover, it has a rich content of Vitamin C, protein, and dietary fiber. Consumption of dietary fiber aids in digestion, plays a role in regulating blood sugar level, and helps prevent atherosclerosis, reducing the risk of coronary heart disease and stroke. Because of its nutritional content alone, Sabah snake grass is effective for high blood pressure, anemia, diabetes, and high cholesterol and is effective as an antioxidant due to the scavenging ability of Vitamin C. Remeber all this is massaged in and deeply absorbed when you use this regenerative blue balm.  As its names implies, Sabah snake grass is a well-known plant used for snake bites by traditional Thai healers. It is also used for scorpion bites and nettle rash. Some make use of Sabah snake grass to treat fever. It has also been used to treat the following health problems: a sore throat, gout, uric acid, uterine fibroids, kidney problems, prostate inflammation, as well as known skin problems such as shingles, eczema, and psoriasis. Moreover, traditional Indonesian and Thai healers use Sabah Snake grass to treat dysentery. Remember Clinacanthus Nutans (Sabah Snake Grass) is just one of the ingredients in this super powerful Healing Balm.
Named as Snake Grass for its Snake Serum Properties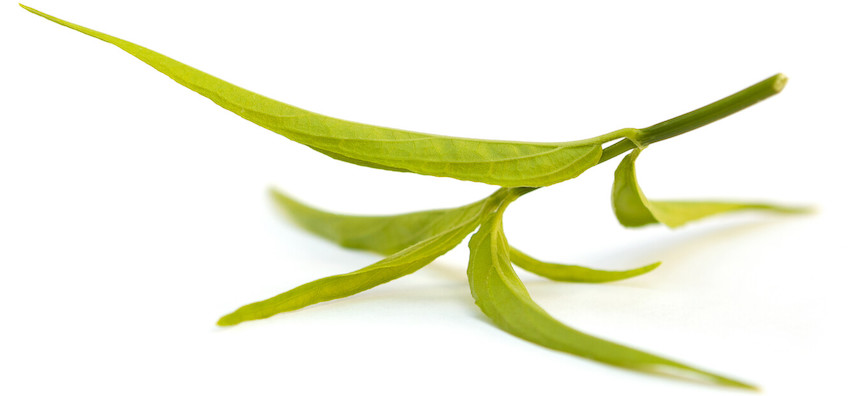 Super Natural Ingredients
Borneol... is a terpene in cannabis that plays a major role in traditional Chinese medicine. Commonly referred to as moxa, this terpenoid was used in China as early as the 1600's to relieve pain, reduce inflammation, lower anxiety, and fight heart disease. To this day, researchers continue to learn more about the medical promise that borneol has to offer. It would be easy to dismiss borneol's medicinal capabilities as "too good to be true", considering that it can be used to treat multiple different ailments, but research continues to confirm that this terpenoid has powerful healing abilities. Borneol has the unique ability to reduce both pain and inflammation. A study completed in 2013 showed that this terpene produces a significant reduction of nociceptive pain while also displaying anti-inflammatory activity in mice. Unlike other medications used to treat pain and inflammation, borneol did not impair motor coordination. Another study from 2003 confirmed that borneol can be used as a topical to numb pain. Results were so promising researchers suggested it could be a more effective topical anesthetic than popularly-used lidocaine. In addition to reducing pain and inflammation. A 2004 study found that Borneol has the ability to positively modulate GABA receptors, which work to reduce stress. Borneol possess anti-coagulative properties that can reduce the risk of heart disease. One study in particular shows that it has the potential to prevent rats from having a stroke.
Camphor... A terpene (an organic compound) a potent and effective element of high quality lotions, Balms, Creams and Ointments. Traditionally it has been used topically to relieve pain, irritation, and itching. It creates numbness of sensory nerve endings of skin, thereby reliving pain and inflammation, and preventing skin redness. On our skin it acts as a counter irritant and is therefore used topically to relieve pain and swelling. It helps in relieving the pain and inflammation, which is a symptom of eczema. Also the fragrance of Camphor oil has a calming effect on the mind and when used at night can promote a good night's sleep.
Eucalyptus... Well researched eucalyptus oil relieves pain and reduces inflammation. It can help to reduce muscle pain, soreness and swelling. A randomised clinical trial investigated the effects of inhaling eucalyptus oil on pain and inflammatory responses after total knee replacement surgery. Patients inhaled the Eucalyptus oil for 30 minutes during rehabilitation on 3 consecutive days. Then pain, blood pressure and heart rate scores were reported. Researchers found that pain scores on all 3 days, and systolic and diastolic blood pressure levels on the second day were significantly lower. Eucalyptus oil inhalation can be used as "a nursing intervention for pain relief." So breathe in this balm when you rub it in. Alone it relieves insect bites, relieves skin irritations and is one of the best essential oils for headaches.
The Deep Blue Balm of
More SuperNatural Ingredients
Wintergreen oil... Wintergreen has been used as an active ingredient in many topical pain relievers for decades to help ease muscle joint and bone pain. It can reduce other painful conditions like chronic nerve pain, PMS symptoms and arthritis. This is because wintergreen naturally contains active constituents that work similarly to aspirin. It can be used as a natural headache remedy, this balm can be applied to the corner of the eyebrows and gently massaged in. Massaged into the skin Wintergreen is great for relieving achy joints from arthritis or rheumatism. It's also helpful for treating sore muscles and chronic neck pain, as well as relieving lower back pain. Is this Balm getting a wow yet on the ingredients? wait till you massage it in.
Menthol... Menthol is an organic compound extracted from the oils of Mentha, a genus of plants in the mint family. Menthol can be used in numerous ways - whether it's a cooling patch for headaches or a soothing skin lotion to treat overexposure from the sun, itching and inflammation. Along with pain relieving and anti-inflammatory capabilities, Menthol acts as a carminative. It helps relax the intestinal muscles and treat gastrointestinal ailments. Present in this Snake Grass Balm it can be inhaled or applied topically to the skin for benefits along with the other potent elements. Topically Menthol has a long history for its ability and is still popular to be used for relief of minor arthritis pain, backache, muscles or joint pain, painful bruises and inflammation.
Peppermint Oil... A very effective natural painkiller and muscle relaxant. It also has cooling, invigorating and antispasmodic properties. Peppermint oil is especially helpful in alleviating a tension headache, in one clinical trial performing as well as acetaminophen. A study shows that peppermint oil applied topically has pain relief benefits associated with fibromyalgia and myofascial pain syndrome. Researchers found that peppermint and eucalyptus oils may be helpful because they work as topical analgesics. Guess what... they're in this.
A Soothing, Relaxing Balm from Thailand (Koh Chang 2019)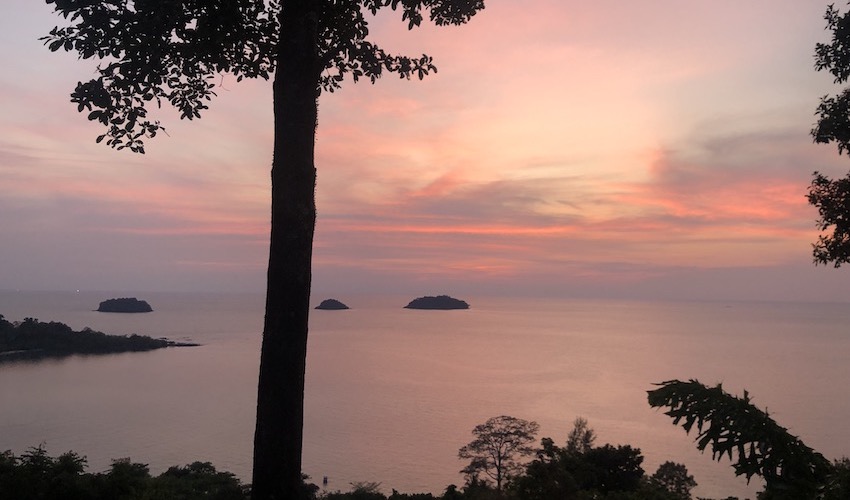 Using the Medicated Balm
Rub the Balm in gently but fimly to the affected area .i.e. knee ,back, shoulder, elbow or other area exhibiting pain or stress, cause by work, exercise or normal daily routine.
The balm can be massaged into muscles and to relieve cramp.
Dab a little drop of the balm on the base of each nostril and inhale in order to combat nasal congestion.
Apply the balm at the distal end of each eyebrow to relieve headaches, dizziness and possible faintness.
Rub the balm well in to relieve itchy skin or insect bites.
Clinacanthus Nutans's camphor & menthol base, helps soothe cough & discomfort caused by nasopharyngitis... before bed time, apply a small amount of balm on the upper chest. Spread well until the green colour disappears. Cover with a cloth to keep in place and leave on so it acts overnight.
The Colour Therapy of the Healing Balms
Colour Therapy Blue
Blue is the colour of purity and those enjoying it, carry with them a feel of beauty, tranquility, calmness, and peace. Blue's energy is soothing and peaceful. Relaxing tired nerves, alleviating agony and ache we feel from physical stress. Blue has a pacifying influence over our nervous system and gives us relaxation. When using the colour blue, it brings us closer to a spiritual and higher ground. Blue energy's nature is to connect humans with the Cosmic Universe, from the cellular to the interstellar. The colour is associated with communication and flow on all levels and it is the colour most connected to sky and water. Next to the green's balancing power, blue is our planet's most healing colour. It is people's emotional connection, which aids us on levels of understanding, empathy, creativity, appreciation and acceptance. The colour blue is also associated with relaxed, cool, cleansed, calm, hopeful, protected, trusting, reassuring, and accepting feelings. Blue inspires emotional control, clarity and creativity. Blue colour has a direct positive influence on our autonomic nervous system. We associate blue water with stable and soothing emotions. It is the communication's flow, the colour calming the nervous system and the unwinding sense of serenity that we can experience when enveloped by the colour blue. The sky and the sea give us the sense that life is an ongoing never-ending process.  The blue sky is unique to our planet and connects to our spiritual soul. 
Gazing into a bright blue sky or floating on the waters of the blue ocean, gives us the sense that our possibilities can be boundless, free-wheeling and open. Blue is the colour of spirituality, inner peace, spiritual growth, intuition, and inspiration. Within light's healing spectrum, blue is used for calming and cooling, both the mental and physical. The ray or blue coloured flame is a premier energy source, presented in the power of intent, cause, direction, centralisation, unity and Divine will. It is through our spiritual sources and shining a light into the darkest corners of our world in order to develop our capacity for compassion. Having the "blues" is a feeling of sadness and depression. This is sometimes associated with SAD (seasonal affective disorder) or the "winter blues", starting in the Fall and continuing into winter season, draining our energy and making people feel weak and moody. When there is too much blue energy, emotional detachment, cold emotions or aloofness can occur. The colour blue is not recommended if depression has already occurred, feeling blocked, or a lack of communication. Blue's complementing colour is orange. The remedy to "excessive blue" in our lives is balanced by adding orange colour in the manner of orange light, clothes, food or meditation. The colour orange is anti-depressant lifting spirits by providing feelings of security, warmth, joy, creativity, fun, humour and independence.  Balancing blue with orange, gives us a sense of stability. It creates a feeling of calmness with a promise of hope. This equilibrium of warm and cool offers an embracing hug.
Experience the Deep Blue Benefits of Snake Grass Balm - Order Today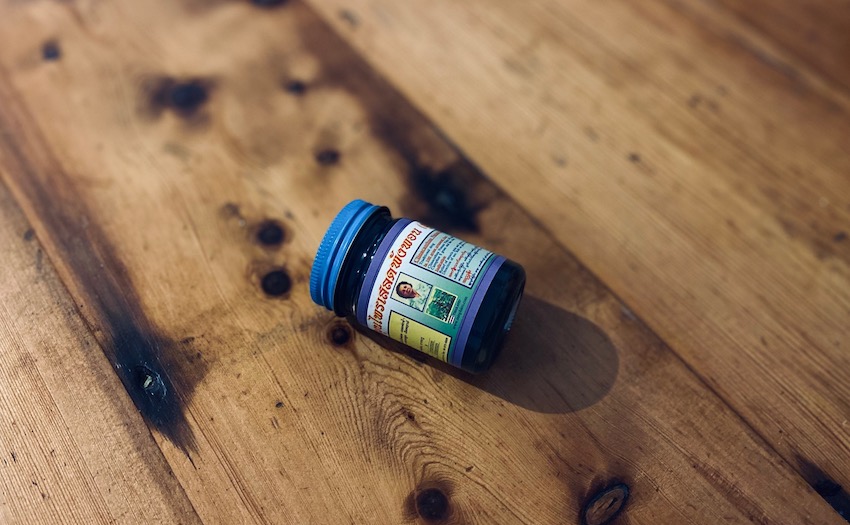 Clinacanthus Nutans Leaves.
Borneol.
Peppermint Oil.
Camphor.  
Menthol.
Wintergreen Oil.
Eucalyptus Oil.
Can massaged into affected areas if needed or for general use across body.
Spread well until the green colour disappears.
Brand: Wat Po Temple.
Size: 50ml.
Origin: Thailand.
Container: Glass jar.
Estimated shelf life from purchase: 2 - 4 years.
Storage: Keep out of reach of children.
Disclaimer:
The products and the claims made about specific products, articles and claims made in the articles and information written on or through this site have not been evaluated by Ancient Purity, the MHRA, the FSA or the United States FDA and are not approved to diagnose, treat, cure or prevent disease. The information provided on this site is for informational purposes only and is not intended as a substitute for advice from your physician or other health care professional or any information contained on or in any product label or packaging. You should not use the information on this site for diagnosis or treatment of any health problem or for prescription of any medication or other treatment. You should consult with a healthcare professional before starting any diet, exercise or supplementation program, before taking any medication, or if you have or suspect you might have a health problem. Providing a product for sale does not imply Ancient Purity recommendation of that product, its suitability or its efficacy. Ancient Purity cannot give medical opinions. No comment or entry in this site or in any communication from Ancient Purity may be taken as such.
Prices and promotions are subject to change without notice. Customers should always carefully check all the details printed on the package before opening the product. Whilst all efforts are made to ensure accuracy of description, specifications and pricing there may be occasions where errors arise. Should such a situation occur the company cannot accept your order. In the event of a mistake you will be contacted with a full explanation and a corrected offer. The information displayed is considered as an invitation to treat not as a confirmed offer for sale. The contract is confirmed upon supply of goods, Prices and promotions are subject to change without notice.
Please read the Terms and Conditions of using this site, by using the site you are accepting the terms and conditions.
All Material on this site © 2014 Ancient Purity Ltd Registered in England & Wales 07801142 VAT Reg 168 335 488