Pineapple-C Liposomal Vitamin C



"Quali C" Vitamin C High Dose Natural Pineapple Flavour (Great Tasting)
250ml (8.45 fl. oz.)
This superior supplement features Quali-C, which is the first and only Western produced brand of Vitamin C. This Lipolife product is one of very few brands of liposomal supplements which have scientifically proven to provide a much higher absorption rate than regular oral supplements. Liposomal Vitamin C is the easiest and most effective way to take Vitamin C. Blood plasma testing is currently on-going but the first results are jaw-dropping, the increasing absorption levels that have been achieved were previously only possible by injecting vitamin C! Clinically proven, microscopically confirmed, laboratory tested, this UK-sourced Vitamin C is simply the best!
Ancient Purity presents a tasty experience to enjoy Liposomal Pineapple Vitamin C. The delicious Pineapple flavour makes it easy and pleasurable way to consume high doses of Vitamin C. Just 5ml of Pineapple-C contains 500mg of Vitamin C. One bottle provides 50 tasty doses. This Liposomal Vitamin C by Lipolife uses Quali C, which is the sole Vitamin C made in the West (Scotland). Almost all other Vitamin C supplements are Chinese-made. In addition, recently nitrogen was added to this product eliminating oxygen to avoid oxidation. The highly-advanced DSM facility in Scotland is the sole manufacturer to produce Vitamin C in the Western world. Over the years, DSM has continuously expanded and modernised its production process meeting the high-quality demands of its worldwide customers.
Ancient Purity only stocks Liposomal supplements that have been proven to have significantly higher absorption than standard oral supplements. This Pineapple-flavoured Vitamin C supplement provides an easy way to increase your Vitamin C uptake. But there is way more to this Pineapple Powered, Liposomal Vitamin C than just a good flavour. This essential water-soluble nutrient plays significant roles in your body, such as promoting normal function of your immune system, and antioxidant activities, as well as helping everything from the absorption of iron to boost collagen formation for the proper function of heart, blood vessels, skin, gums, teeth and bones. Vitamin C is one of our absolute essentials, and this is a tasty and easy way to take it. So let's explain what Liposomal Pineapple - Vitamin C could do for you.
Pineapple-C Liposomal Vitamin C - Information & Points to Research
Instant High Dose of UK-Made Vitamin C.
Delicious Natural Pineapple Flavour.
Formulated with Sunflower Lecithin (Soy FREE).
Easy Use for Adults & Kids.
Backed-Up by Clinical Studies.
Clean, Absorbable, Highly Effective.
Rich in Antioxidant Properties.
Supports Collagen Formation.
Promotes a Healthy Immune System.
Encourages Cellular Health.
Promotes Longevity & Youthfulness.
Helps Fight Colds & Allergies.
Promotes an Antiviral & Antibacterial Environment.
Supports good Stamina & Alertness.
Proven Presence of Uniform, Nano-Sized Liposomes.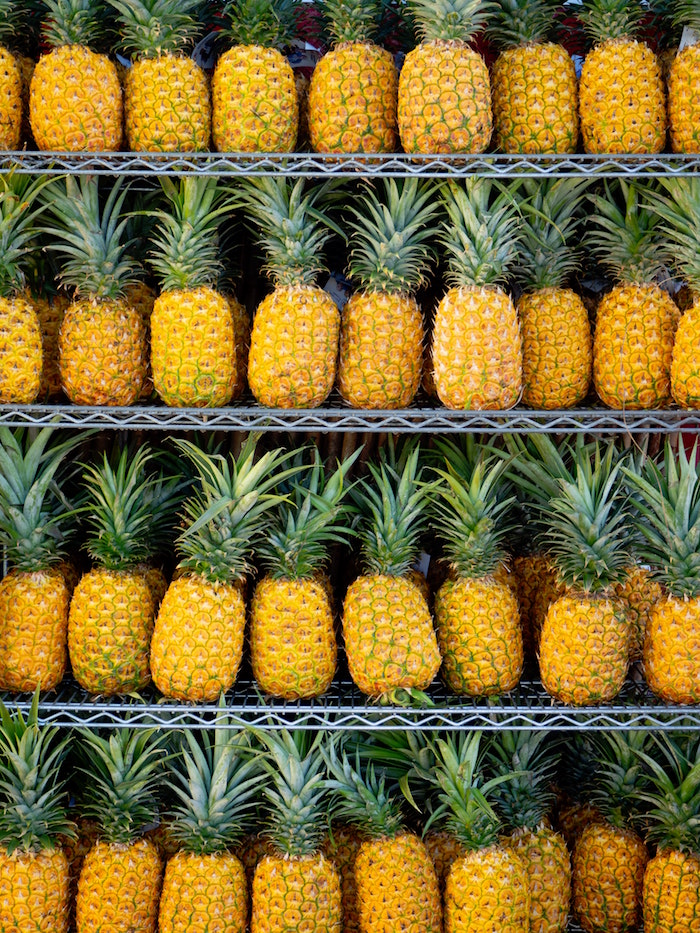 The Method of Liposomal's Encapsulation Technology - Delivering the Vital Nutrients
Liposomal encapsulation is a smart process where fats are utilised to aid deliver essential vitamins or drugs to certain areas of the body in tiny bubbles without impacting other bodily parts. This method to encapsulate nutrients is very popular as it delivers those vitamins that we're typically deficient in, such as Vitamin C and Vitamin D. These important vitamins aid to retain our bodies strong and healthy. When a standard capsule, pill, powder or capsule is swallowed it first must pass from the mouth via your digestive system. Finally, in your small intestine, it will be absorbed. During this process, the nutrients will be degraded due to digestive enzymes in your stomach and mouth, bile salts, digestive acids and several gut flora before the liver finally metabolises them making them available to your body. The nutrients' bioavailability is decreased and slowed down by this entire process.
Phospholipids are water-repellent to a number of digestive juices. Due to this fact, Liposomes are the most ideal delivery method for acid and enzyme-reactive substances. In a nutshell, a Liposome allows the nutrient or drug to be delivered instantly to precisely where it is needed, inside the cell. This supplement has been formulated and produced in a HACCP (Hazard Analysis and Critical Control Points) registered European laboratory making use of solely European sourced ingredients. Special techniques have been used to ensure the efficacy and stability of the product. You can find more information written on Vitamin C on the other Liposomal Vitamin C Pages. "Liposomes are better absorbed because they bond to your tissue membranes first, facilitating delivery of nutrients."- Amy Shah, M.D.
Ancient Purity Chose Pineapple-C for Taste & Better Absorption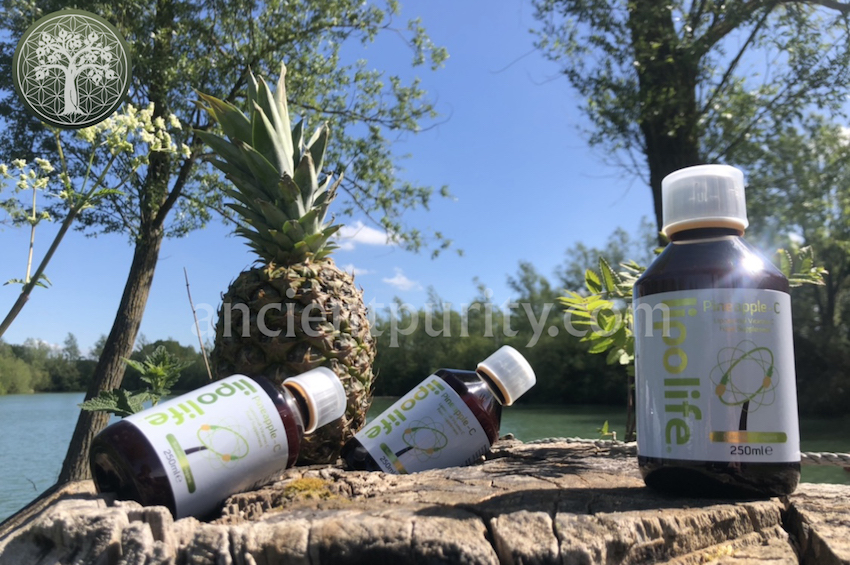 Pineapple-C Liposomal Vitamin C Gives
Below we mention some of the main health benefits provided by Liposomal Pineapple Vitamin C. Might Decrease Risk of Chronic Illness…Vitamin C is a potent antioxidant which can make your body's natural defences stronger. Antioxidants are molecules boosting your immune system. They do this by protecting body cells from damaging molecules known as free radicals. When the amount of free radicals increases, they might support a state known as oxidative stress that has been connected to a wide range of chronic health issues. Research reveals that taking more Vitamin C can increase your blood antioxidant levels by up to 30%. This aids your body's natural defence combat inflammation.
Immunity Booster… One of the principal reasons persons take Vitamin C supplements is to enhance their immunity, as this nutrient is involved in numerous parts of the human immune system. First, Liposomal Vitamin C helps boosts white blood cells production which aid protect your body against infections. Second, Vitamin C helps these white blood cells work more properly while protecting them from harm by potentially damaging molecules, such as free radicals. Third, Liposomal Vitamin C is an essential part of your skin's defence system. It is actively delivered to your skin, where it can act as an antioxidant helping to strengthen your skin's barriers. Studies have revealed that taking Vitamin C also might speed-up wound healing time.
Might Help Retain Healthy Blood Pressure… About 30% of Americans have hypertension. This condition puts you at risk of heart issues, the Number 1 cause of death worldwide. Scientific studies have shown that Vitamin C might assist lower blood pressure levels in both those with and without hypertension. An animal researched indicated that taking a Liposomal Vitamin C supplement aided relaxing the blood vessels that transport blood from the heart, which helped reduce high blood pressure. You can read the research about Vitamin C and High Blood Pressure here. Moreover, an analysis of 29 human researched discovered  that taking Liposomal Vitamin C decreased systolic blood pressure (the upper value) by 3.8mmHg and diastolic blood pressure (the lower value) by 1.5mmHg, on average, in healthy adults. In adults with hypertension, Vitamin C reduced systolic blood pressure levels by 4.9mmHg and diastolic blood pressure levels by 1.7mmHg, on average.  
Liposomal Vitamin C from UK-Made Quali-C (The only Non-Chinese Vitamin C)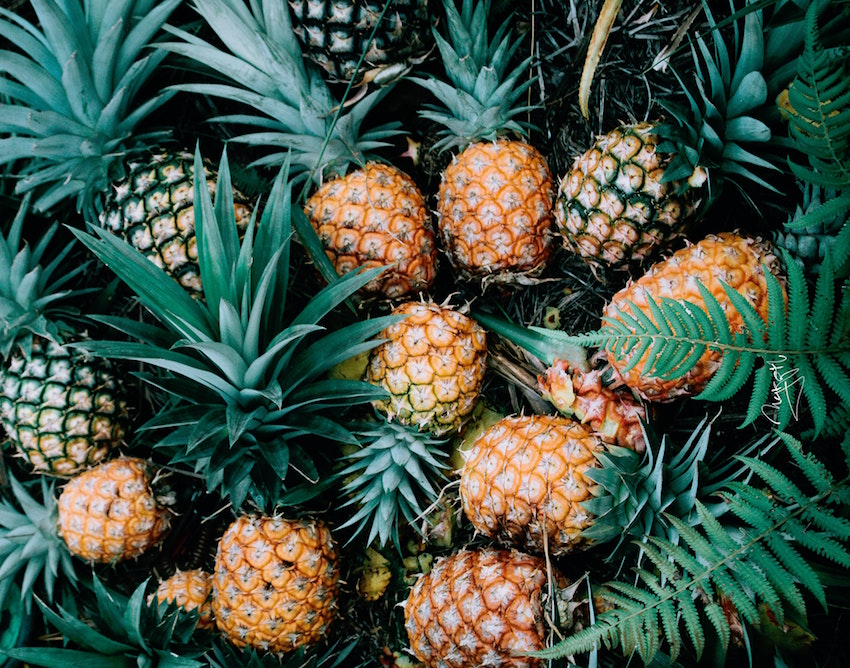 Pineapple-C Liposomal Vitamin C Keeps Giving
Might Protect Memory As We Age… Dementia is a general term used to describe the symptoms of poor or declining cognitive function. This condition affects more than 35 million men and women worldwide and usually occurs among older adults. Studies indicate that inflammation and oxidative stress near the spine, nerves and brain, spine (Altogether known as the central nervous system) can increase the risk of developing dementia. Vitamin C is a potent antioxidant. Low levels of this nutrient have been associated to an impaired ability to remember and clear thinking. You can read scientific details on Vitamin C and Cognitive Function here.  Liposomal Vitamin C supplements might help against cognitive conditions should you not obtain enough Vitamin C from your food. 
Aids Prevent Iron Deficiency… Iron is a highly- important nutrient which has a number of different functions in your body. This nutrient is needed for the production of red blood cells and transporting oxygen across your entire body. Liposomal Vitamin C can aid enhance iron absorption from your diet. Vitamin C helps in transforming iron that is badly absorbed, such as iron plant-based sources, into a type that is less hard to absorb. This is particularly helpful for those following a meat-free diet, as meats provide a main iron source. If your iron levels are low, taking more Vitamin-C-rich meals or taking a Liposomal Vitamin C supplement might aid improve blood the iron levels in your body.
Powerful Vitamin C... Flavoured with Pineapple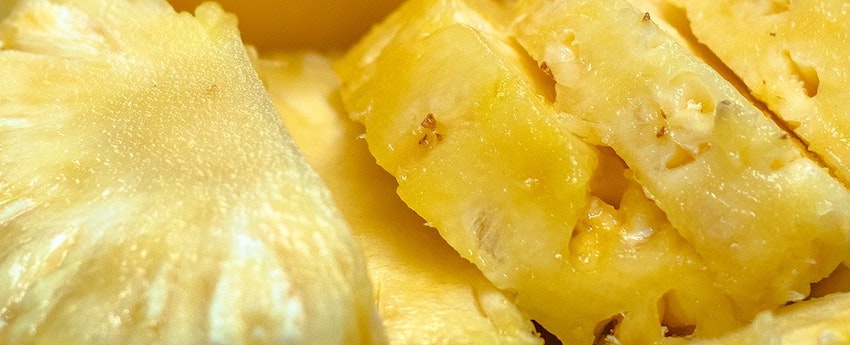 In Greek 'Lipos' translates to Fat and 'Soma' translates to Body
Liposomes Explained: Liposomes are made by putting a molecule of phospholipids into water to separate components of the molecule, in order to help target areas in the body. A Liposome is a spherical-shaped vesicle that is composed of one or more phospholipid bilayers, which closely resembles the structure of cell membranes. The ability of Liposomes to encapsulate hydrophilic or lipophilic drugs allowed these vesicles to become useful drug delivery systems. Liposomes can vary in size from 0.025 micrometres (µm) up to 2.5 µm vesicles. In order to determine the half-life of Liposomes, researchers must consider both the size and number of bilayers present within the Liposome, as both of these properties play a role in determining the drug or nutrient encapsulation volume of Liposomes. Liposomes can be classified as multi-lamellar vesicles or unilamellar vesicles, which can be classified as large unilamellar vesicles (LUV) or small unilamellar vesicles (SUV). Unilamellar vesicles contain a single phospholipid bilayer sphere that encloses the aqueous solution, whereas multi-lamellar Liposomes will exhibit multiple phospholipid bilayers.
Composition: Cell membranes are typically composed of a phospholipid bilayer. This bilayer contains a hydrophilic, or "water loving" head group, and a lipophilic, or "fat loving" tail, which is composed of a long hydrocarbon chain that repels by water. Phospholipids are therefore classified as amphipathic molecules as a result of the presence of both hydrophilic and hydrophobic components. When the phospholipid bilayer cellular membrane is exposed to water, the head group is attracted to water and forms a surface facing the water. At the same time, the lipophilic tails are repelled by water and subsequently form a surface that opposes the water. Within a single cell, one layer of the head groups faces the exterior of the cell, whereas another layer of polar head groups face the internal cellular environment. The hydrocarbon tails that are attached to both layers of polar head groups face each other, thereby forming the bilayer structure of a cell membrane.
Scientifically & Accurately Delivered Nutrition

Clinically Proven Increased Absorption Rates
By now you'll comprehend that Liposomes are specialised transport vehicles that serve various roles in enhancing the capabilities of active pharmaceutical ingredients (APIs). First, Liposomes can shield a medicine from detection by the body's immune system, mimicking biological membranes and giving the drug more time to reach its intended destination. Second, they serve to help solubilise highly lipophilic drug molecules or modulate the pharmacokinetics and bio-distribution of the API, thereby helping to minimise side effects and enhance the product safety profile. Liposomes have a unique vesicular structure. These vesicles are composed of a lipid bilayer that forms in the shape of a hollow sphere encompassing an aqueous phase. As such, any cargo of interest can be encapsulated within Liposomes in either the aqueous compartment (If water-soluble/hydrophilic) or within the lipid bilayer (If fat-soluble/lipophilic).
Some of the primary lipids used to make liposomes are phospholipids and sphingolipids. These two categories of lipids are unique in terms of a head group that is water-loving and a tail group that is water-hating. Due to their amphiphilic nature, these molecules spontaneously self-assemble to form Liposomes and other unique 3D structures when added to aqueous solutions. The shape or morphology of the 3D structures is dependent on a variety of different factors. For example, lipid composition, temperature, pH or the presence of other buffers, salts and sugars in the water. Liposomes possess a unique vesicular structure. These vesicles are composed of a lipid bilayer that forms in the shape of a hollow sphere encompassing an aqueous phase. "Liposomes protect loaded drug molecules from external degradation, and their similarity to biological membranes provides unique opportunities to deliver drug molecules into cells or subcellular compartments ... In addition, various physicochemical properties of liposomes—including their size, charge, and surface functional ligands—can be altered, resulting in functionalities favouring specific drug delivery tasks. These advantages have made liposomes a leading drug delivery platform with a wide range of uses in the clinic." – Dr Gao W
Liposomal Vitamin C Supports a Natural, Healthy Lifestyle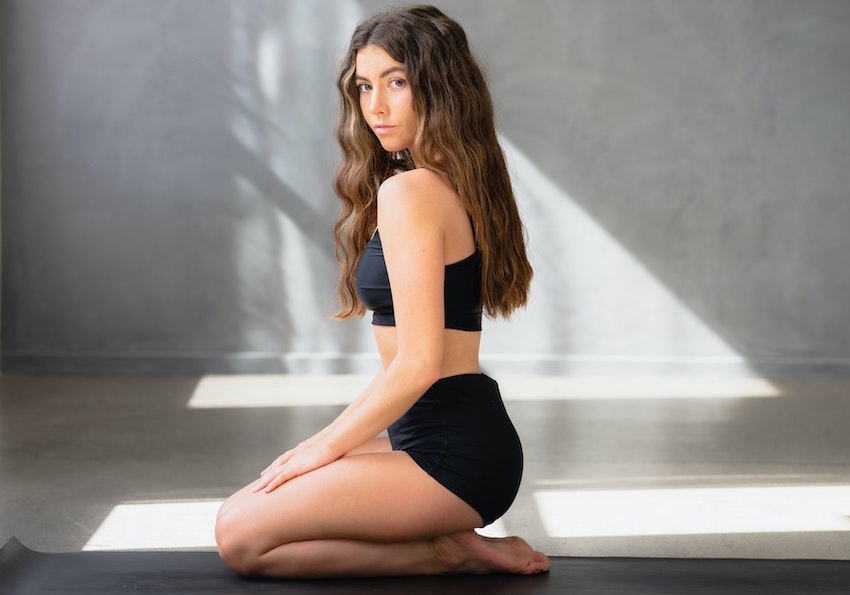 Plasma Levels
Plasma concentration refers to the concentration of an agent in the plasma which is derived from full blood. Plasma concentrations are used to define main PK and PK/PD parameters. In most cases, they are good estimates for the distribution of an antibiotic, nutrient or other drug and there's the added advantage of blood samples being obtained easily. "Drug concentration" is derived by collecting a blood sample at any time after drug administration and measuring the amount of a drug in a given volume of blood plasma of the sample. The measured drug concentration is generally known as "plasma concentration." Plasma levels of Vitamin C are measured as ascorbate (µM/L). Our Liposomal Vitamin C was provided by Lipolife® and non-liposomal oral Vitamin C was provided by Curesupport. Results from figures 1 and 2 show the oral bioavailability of 1g of Liposomal Vitamin C compared to 1g of non-liposomal oral Vitamin C across a 24 and 7 hour period. At 2 hours post-treatment, Liposomal Vitamin C reached plasma concentrations that were two-fold the concentration of non-liposomal oral Vitamin C at 205.1µM/L and 102.6µM/L, respectively.
Cmax was achieved in both groups at four hours post-treatment with Liposomal Vitamin C showing a 2.4-fold greater plasma response than non-liposomal oral Vitamin C with concentrations of 282.3 µM/L and 119 µM/L, respectively. After 24 hours, plasma concentrations of Liposomal Vitamin C remained above baseline, however, plasma concentrations of non-liposomal oral Vitamin C had fallen below baseline measurements. A single oral dose of Liposomal Vitamin C showed greater absorption and peak plasma levels of ascorbate compared to non-liposomal oral Vitamin C. Furthermore, Liposomal Vitamin C resulted in quicker increases in ascorbate concentration and also sustained blood levels of ascorbate over a greater period of time than non-liposomal oral Vitamin C. Oral Liposomal Vitamin C is superior to non-liposomal oral Vitamin C and is able to achieve plasma levels in greater magnitude lending itself for great promise as a therapeutic agent in the targeting of chronic illness.
Vitamin C - Understanding Plasma Levels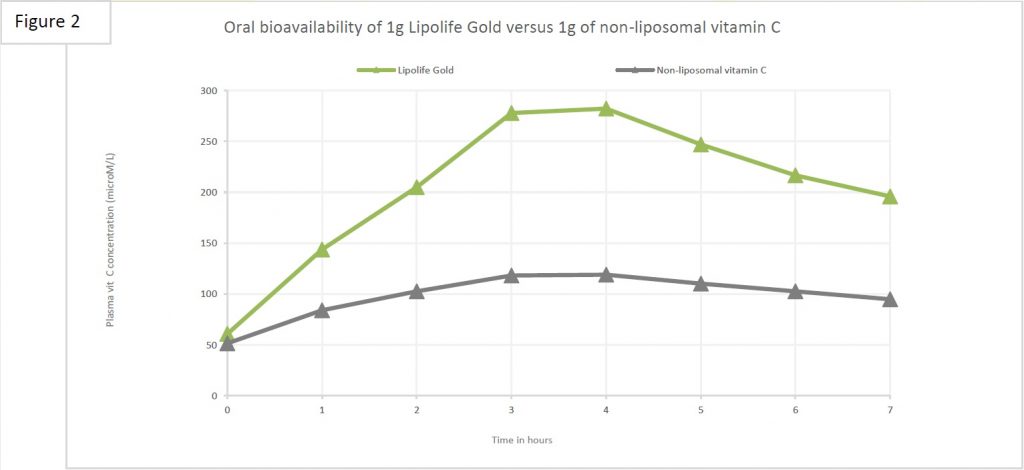 Liposomal Pineapple-C at Ancient Purity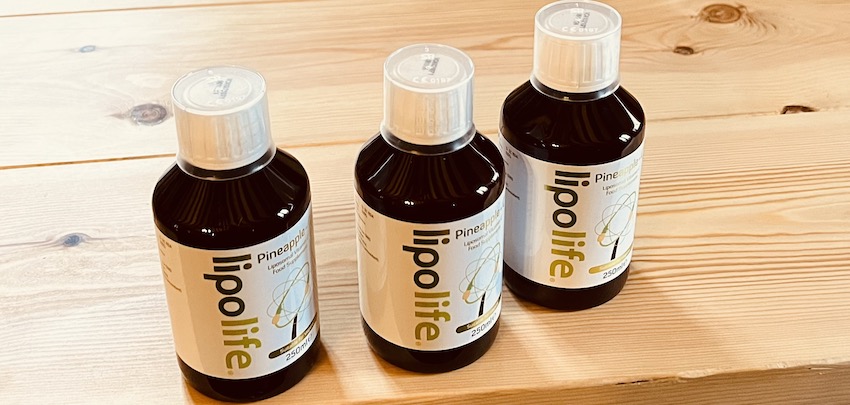 Pineapple-C Liposomal… Closing Thoughts
Ok, first, let us talk about the amazing Liposomes again in straightforward language. These are very tiny lipids (fat particles) that are produced from standard fats such as sunflower oil, and they have been used as a functional way to deliver medicines and nutrients since the 1970s. More specifically, Liposomes are phospholipids, the same kind of fat as those making up our cell membranes.  With Liposomal Vitamin C dietary supplements, the Liposomal encapsulation process traps Vitamin C inside these microscopic phospholipid spheres.  What are the health benefits provided by Liposomal Pineapple Vitamin C? Well, the most important benefit: a much higher absorption rates, due to enhanced uptake into our bloodstream, and reduced degradation by stomach acid. With standard vitamin C, absorption rates aren't really good, in fact, with doses of more than 1,000 mg, the absorption rate is just around 50%. What about the other 50%? We pee it out. But due to Liposomal Vitamin C's structure, absorption rates might be a lot higher. The Liposomes are capable bonding to cell membranes positioned in the intestinal wall and then instantly enter our bloodstream, particularly due to both being made from phospholipids.  
Is it truly that effective? Signs point to yes! In 2 researches, from 2016 and 2019, scientists noted better Vitamin C absorption (As measured by blood plasma concentrations) when it was encapsulated in Liposomes compared to a non-encapsulated type. Another research from 2019 indicated that white blood cells absorbed approximately 50% more of the nutrient from a Liposomal Vitamin C supplement than a non-Liposomal supplement.  We can conclude that because you're absorbing more Vitamin C, it might just aid our bodies perform tasks more efficiently and effectively. "If you take a reasonable amount of vitamin C regularly, the incidence of the common cold goes down. If you get a cold and start immediately, as soon as you start sneezing and sniffling, the cold just doesn't get going."  - Linus Pauling
Experience Natural Pineapple High Dose Vitamin C - ORDER TODAY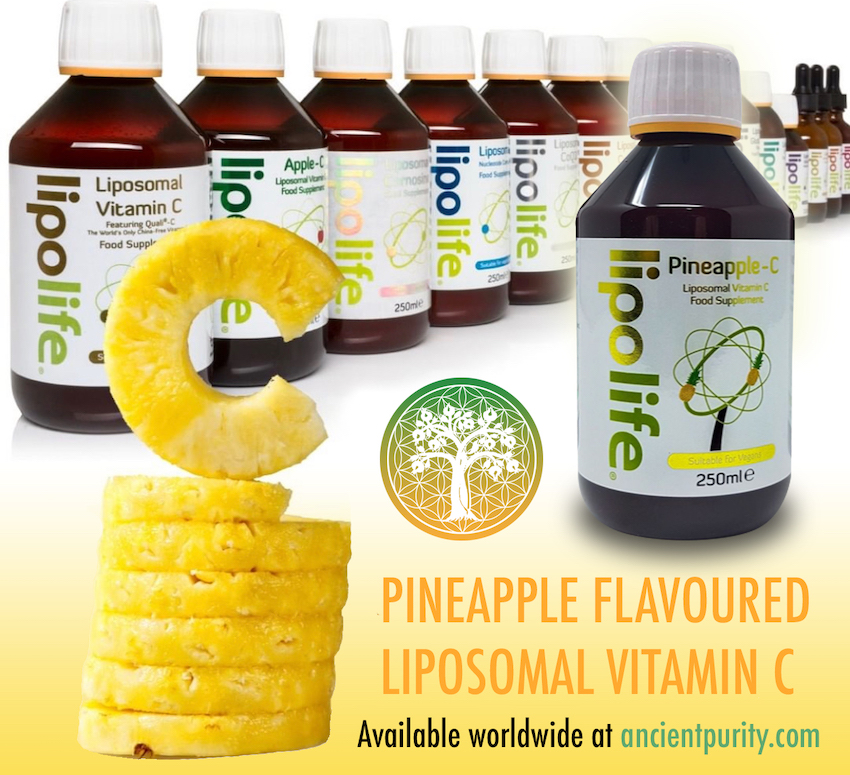 Per 5 ml serving % DV
Vitamin C (as Quali-C)

500mg

625%.
Other Ingredients:
Phosphatidylcholine derived from non GMO sunflower lecithin, Pineapple flavour, Xylitol, Vitamin E (antioxidant), Potassium Sorbate (preservative), Water, Glycerol.
No sugar or sweeteners.
No Soy.
No flavourings
No colourants.
GMO free.
Suitable for vegetarians
This product has been developed and manufactured in a HACCP registered European laboratory using only European sourced components. Special techniques have been used to ensure the stability and efficacy of the product.
Quali-C is the world's first branded Vitamin C, produced in a world-class DSM-owned facility in Scotland
Take one teaspoon daily or as recommended by your health care professional. Do not exceed the recommended daily intake.
Shake before use.
If wishing to build up to higher dose, achieve gradually.
Pineapple C can be mixed with water or juice to dilute it.
Keep refrigerated after opening.
Brand: Lipolife.
Size: 250ml (8.45 fl. oz.).
Container: Darkened Plastic Bottle (BPA Free)
Storage: Keep in a cool dry place, keep out of reach of children. (Once opened refrigerate).
Estimated shelf life from purchase: 2 years.
Q - What type of Vitamin C is in the Liposomal Vitamin C?
A - Quali-C Sodium and Potassium Ascorbate.
Scientific Articles
NCBI Resources - Liposomal-encapsulated Ascorbic Acid: Influence on Vitamin C Bioavailability and Capacity to Protect against Ischemia–Reperfusion Injury
MDPI - Vitamin C and Cardiovascular Disease: An Update
Mind Body Green Health - Liposomal Vitamin C: Why Doctors Recommend It For Immune Health
Supporting Scientific Research
Akbarzadeh, A., Rezaei-Sadabady, R., et al. (2013). Liposome: classification, preparation, and applications. Nanoscale Research Letters 8(1). DOI: 10.1186/1556-276X-8-102.
Li, M., Du, C., Guo, N., Teng, Y., Meng, X., Sun, H., Li, S., Yu, P., & Galons, H. (2019). Composition design and medical application of liposomes. European Journal of Medicinal Chemistry 164; 640-653. DOI: 10.1016/j.ejmech.2019.01.007.
Carr AC, Frei B. Toward a new recommended dietary allowance for vitamin C based on antioxidant and health effects in humans. Am J Clin Nutr 1999;69:1086-107.
Levine M, Rumsey SC, Daruwala R, Park JB, Wang Y. Criteria and recommendations for vitamin C intake. JAMA. 1999;281(15):1415–1423.
Monahan KD, Eskurza I, Seals DR. Ascorbic acid increases cardiovagal baroreflex sensitivity in healthy older men. Am J Physiol Heart Circ Physiol. 2004;286(6):H2113–H2117.
Taddei S, Virdis A, Ghiadoni L, Magagna A, Salvetti A. Vitamin C improves endothelium-dependent vasodilation by restoring nitric oxide activity in essential hypertension. Circulation. 1998;97(22):2222–2229.
Weber P, Bendich A, Schalch W. Vitamin C and human health—a review of recent data relevant to human requirements. Int J Vitam Nutr Res. 1996;66(1):19–30.
Wang ZJ, Hu WK, Liu YY, et al. The effect of intravenous vitamin C infusion on periprocedural myocardial injury for patients undergoing elective percutaneous coronary intervention. Can J Cardiol. 2014;30(1):96–101.
Myint, P.K.; Luben, R.N.; Wareham, N.J.; Khaw, K.T. Association between plasma vitamin C concentrations and blood pressure in the European prospective investigation into cancer-Norfolk population-based study. Hypertension 2011, 58, 372–379.
Davis, J.L.; Paris, H.L.; Beals, J.W.; Binns, S.E.; Giordano, G.R.; Scalzo, R.L.; Schweder, M.M.; Blair, E.; Bell, C. Liposomal-encapsulated Ascorbic Acid: Influence on Vitamin C Bioavailability and Capacity to Protect Against Ischemia-Reperfusion Injury. Nutr. Metab. Insights 2016, 9, 25–30.
Liu, X.; Wang, P.; Zou, Y.X.; Luo, Z.G.; Tamer, T.M. Co-encapsulation of Vitamin C and beta-Carotene in liposomes: Storage stability, antioxidant activity, and in vitro gastrointestinal digestion. Food Res. Int. 2020, 136, 109587.
Cheng, W.; Compton, R.G. Investigation of single-drug-encapsulating liposomes using the nano-impact method. Angew. Chem. Int. Ed. Engl. 2014, 53, 13928–13930.
Garcia, O.P.; Ronquillo, D.; Mdel, C.C.; Camacho, M.; Long, K.Z.; Rosado, J.L. Zinc, vitamin A, and vitamin C status are associated with leptin concentrations and obesity in Mexican women: Results from a cross-sectional study. Nutr. Metab. 2012, 9, 59.
Disclaimer:
The products and the claims made about specific products, articles and claims made in the articles and information written on or through this site have not been evaluated by Ancient Purity, the MHRA, the FSA or the United States FDA and are not approved to diagnose, treat, cure or prevent disease. The information provided on this site is for informational purposes only and is not intended as a substitute for advice from your physician or other health care professional or any information contained on or in any product label or packaging. You should not use the information on this site for diagnosis or treatment of any health problem or for prescription of any medication or other treatment. You should consult with a healthcare professional before starting any diet, exercise or supplementation program, before taking any medication, or if you have or suspect you might have a health problem. Providing a product for sale does not imply Ancient Purity recommendation of that product, its suitability or its efficacy. Ancient Purity cannot give medical opinions. No comment or entry in this site or in any communication from Ancient Purity may be taken as such.
Prices and promotions are subject to change without notice. Customers should always carefully check all the details printed on the package before opening the product. Whilst all efforts are made to ensure accuracy of description, specifications and pricing there may be occasions where errors arise. Should such a situation occur the company cannot accept your order. In the event of a mistake you will be contacted with a full explanation and a corrected offer. The information displayed is considered as an invitation to treat not as a confirmed offer for sale. The contract is confirmed upon supply of goods, Prices and promotions are subject to change without notice.
Please read the Terms and Conditions of using this site, by using the site you are accepting the terms and conditions.
All Material on this site © 2014 Ancient Purity Ltd Registered in England & Wales 07801142 VAT Reg 168 335 488