Pure Raw Noni Juice - Endurance / Heart Weight-loss (South East Asia) Superfruit
500ml (17.59 fl. oz.) Juice
Noni Fruit Juice is a health-boosting drink produced from tropical trees' fruits. The tree (Morinda citrifolia) grows naturally in South East Asian regions, where the fruit and its juice are part of traditional medicine. Also known as Indian Mulberry, Noni Fruit has been favoured around the world in traditional medicine for many years, and many people are convinced and experienced that drinking Noni Fruit Juice helps with a range of ailments. Polynesian peoples have historically used Noni Fruit Juice in traditional folk medicine for more than 2,000 years. If you're looking for rare, incredible healthy juices, Noni Fruit Juice is definitely one of them due to it being so rich in various nutrients. Noni Fruit Juice is high in Vitamin C, Vitamin E, Biotin, Folate, Potassium, Calcium, Plant-Based Flavonoids as well as Antioxidants (Beta Carotene and Iridoids). Noni Fruit Juice is not just another fruit juice. It is herbal medicine. This maximum strength Noni Juice is Free From preservatives and additives, fumigants and flavourings. It has not been diluted with thickening or flavours of any kind. Ancient Purity supplies 100% Pure, Raw Noni Fruit Juice grown and harvested the authentic way.
Ancient Purity Proudly Presents…Pure Noni Fruit Juice, which is a health-boosting beverage originating in the tropics. Traditional Tahitian healers assume the Noni Fruit plant to be useful for numerous maladies, and many Noni Fruit Juice consumers around the globe have similar perceptions. A review of published human intervention studies suggests that Noni Fruit Juice may offer protection against DNA damage caused by tobacco smoke, homocysteine and blood lipid elevation as well as systemic inflammation.
Human intervention studies reveal also that Noni Fruit Juice may enhance joint health, improve physical endurance, boost immune activity, inhibit glycation of proteins, help weight management, aid maintain bone health in females, assist retain normal blood pressure, and enhance gum health. The Potential Health Benefits of Noni Juice: A Review of Human Intervention Studies Noni Fruit Juice helps with a range of ailments such as general pains and aches, constipation, arthritis, and infections.
Noni Juice - Information & Points to Research
Clean & Effective.
100% Pure & Organic Noni Juice.
Made in Thailand.
Rare, Tropical Health Juice.
Superb Medicinal Benefits.
Rich in Vitamins, Minerals & Folate.
Greatly Benefits Smokers.
Plant-Based Flavonoids.
Antioxidant Powerhouse SuperFruit.
Noni Fruit and Leaves have a History of Medicinal Food use among Pacific Islanders as well as in Southern & Southeast Asia.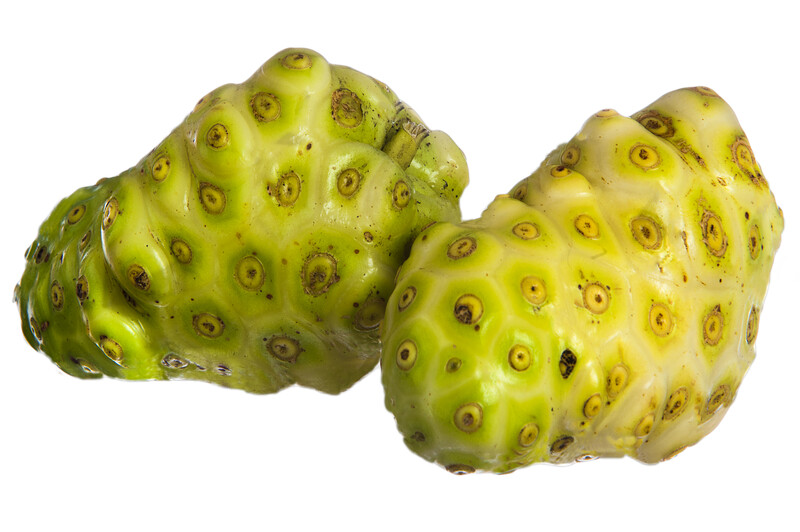 Noni Fruit Juice Gives
Skin Food… Noni Fruit Juice is a powerhouse of antioxidants and Vitamin C. It helps moisturise your skin and reduce the dryness and fine lines from the skin. It naturally replenishes and repairs your skin by hydrating it. Noni Fruit Juice helps fight free radicals, preserve skin elasticity and reverse the adverse effects of ageing.
Mood Booster… Noni Fruit Juice may stimulate serotonin and melatonin in your body. Those two hormones help stabilise mood, emotions, and sleep. It also helps your brain stay healthier, and plaque does not build up in arteries feeding the brain, keeping it properly oxygenated. This healthy blood supply keeps your memory sharp.
Might Help Reduce Bodily Discomfort…Noni Fruit has the nicknames "The Tree for Headaches" or "The Painkiller Tree". It is a traditional folk medicine to reduce pain. It works wonders in alleviating joint issues such as rheumatoid arthritis, gout, and osteoporosis. Noni Fruit Juice has anti-inflammatory properties. It helps increase the flexibility of connective tissues, banishing stiffness in joints and reduce discomfort.
Noni Fruit is a Visual Health Wonder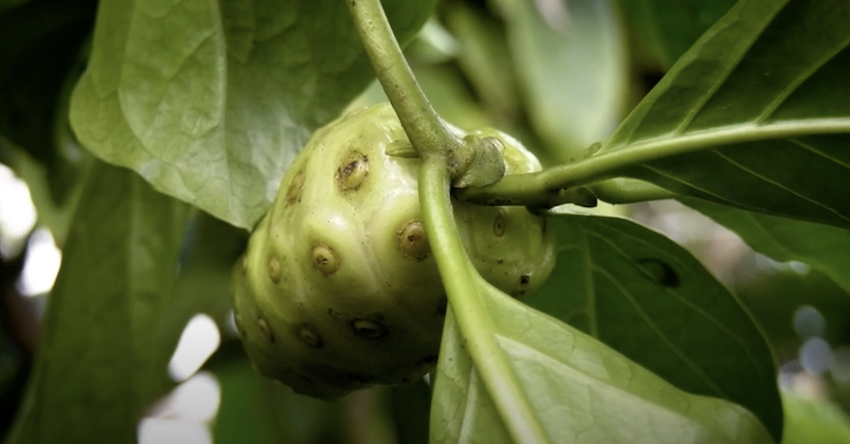 Noni Fruit Juice Gives More
Enhance Energy Level… Organic Noni Juice is rich in various nutrients such as Vitamins, Minerals, and Antioxidants that work as a body tonic. Since ancient times, noni juice is beneficial for general weakness. It helps boost energy and improve the overall physical performance of the body. Apart from high levels of Vitamin C, Noni Fruit Juice contains various other phytochemicals that help modulate the immune system of the body. Regular consumption of Noni Fruit Juice increases antioxidant activity in your body. Noni Fruit Juice provides great endurance during exercise that may reduce the damage to muscle tissue too. Research suggests that Noni Fruit Juice aids the body by increasing oxygen uptake and the time it takes for it to get tired, and decreasing oxidative damage in muscles.
Detox… Noni Fruit Juice is a potent detoxifier, removing the toxic residues from our cell membranes, allowing the cell membrane to be supple and soft for effective cell membrane communication. This incredible tropical juice helps to improve the body's self-healing mechanism. It improves digestion and the quality of blood in the body.
Heart Health... Noni Juice may prove valuable in maintaining cardiovascular health. It exerts dilating effects on the blood vessels by comforting the smooth muscle cells within the cells' walls resulting in a better flow of blood in the arteries. This vasodilating effect of Noni Juice helps to regulate blood pressure and assists in maintaining a healthy heart. Research at the University of Illinois College of Medicine at Rockford, USA has demonstrated that drinking Noni Juice helps in reducing the LDL (bad) cholesterol levels, total cholesterol content, homocysteine, and improves HDL (good) cholesterol levels in the body.
Sip it up... Organic Noni Juice
Noni Fruit Juice Keeps Giving
Weight Management Support… Studies have shown Noni Juice to be helpful in managing weight and treating overweightness. According to researchers, this might be due to the way Noni Fruit Juice preserves active muscle cell mass.
"Organic foods are richer in nutrients. This means they improve satiety and naturally help regulate body weight…Plants produce antioxidants to protect themselves from pests like insects and to withstand harsh weather. When they're treated with chemicals such as pesticides, they don't need to produce as much of their own natural defenses, so the levels are lower." - Cynthia Sass, Cinch! Conquer Cravings, Drop Pounds, and Lose Inches
May Promote Heart Health in Tobacco Smokers…Noni Fruit Juice aids to decrease internal inflammation and cellular damage caused by tobacco smoke. It helps to decrease the inflammation and cholesterol levels that may increase your risk of heart disease.  In non-smokers, Noni Fruit Juice may reduce heart rate and blood pressure. There are clinical studies indicating that the cholesterol-lowering effect of Noni Fruit Juice may only apply to heavy cigarette smokers. A 2012 study from the University of Illinois reported that drinking 29.5ml to 188ml of Noni Fruit Juice (about 1 to just over 6 ounces) per day for 30 days significantly decreased cholesterol levels, triglycerides, and inflammation in smokers compared to placebo. Here you can read the scientific evidence about Noni Fruit Juice and Heavy Smokers.
Noni Juice (Morinda Citrifolia) Thriving in South East Asia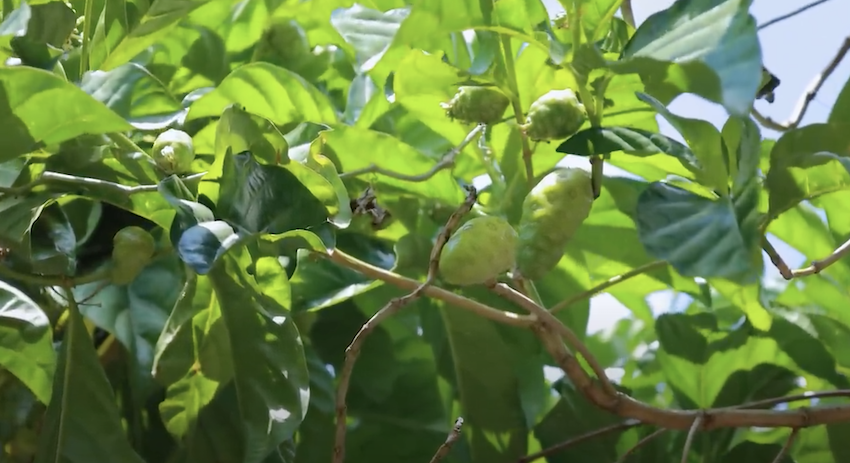 History of Noni Fruit
Noni owes much of its distribution throughout the South Pacific Islands to the ancient Polynesian people who set-out from South East Asia in search of new horizons. These Polynesians journeyed across thousands of miles of open ocean water in gigantic, double-hulled canoes to settle what is now known as the French Polynesian Islands. Along with moving entire villages to new undiscovered islands, these explorers carried with them the most essential items necessary to sustain life during their journey, and for the future generations to come after them. These plants (called "canoe plants") were essential to meet their needs for food, fibre, building materials, and medicine. The Noni plant was one of them.

Noni Fruit was known as the "Queen" of all canoe plants for its healthful properties, and was essential for establishing new villages. These early travellers must have thought Noni to be a precious and sacred cargo, as they had limited space in their canoes, yet made room to include Noni fruit for their journey. In 400 A.D., Hawaii Loa, a Polynesian chief brought Noni as one of the canoe plants on the 2,400 mile journey from Tahiti to a new island chain that eventually took his name, Hawaii. In modern times, the foremost contributor to the taxonomy of the plants of the Far East, Elmer Drew Merrill (1876-1956) included the Noni plant in his published U.S. Military Survival Guide. Recommending Noni Fruit for American Gi's as an emergency food or to give them sustenance. Then in the early 1950s a renowned scientific researcher and biochemist began important research that would lead to the discovery of the healthful properties found in Noni.
Noni is a Natural Wonder
Noni Fruit Juice Nutrition Facts
A one-ounce serving of Noni Fruit Juice has 5 calories, 1 gram of carbohydrates, and 10% of your daily recommended Vitamin C intake. This nutrition information is provided by the USDA.
Calories: 5 / Fat: 0g / Sodium: 5.1mg / Carbohydrates: 0.9g / Fibre: 0g / Sugars: 0.9g / Protein: 0g / Calcium: 209mg
Carbs: Noni Fruit Juice has very few carbohydrates. A one-ounce serving of unsweetened Noni Juice has less than 1 gram of sugar. When purchasing Noni Juice, check for added sweeteners that would increase the sugar (and calorie) content.
Fats: Noni Juice does not contain fat.
Protein: There is no protein in Noni Juice.
Vitamins & Minerals: Noni juice has 9 milligrams of Vitamin C in a one-ounce serving, which provides 10% of your recommended intake for the day. It also contains 209 milligrams of Calcium.
Calories: Noni Fruit Juice is low in calories if your portion is small, with just 5 calories per ounce. An older study published in 2009 found that Noni Juice is safe up to 750ml (or about 25 ounces of juice) per day, which would increase the calorie content to 125 calories. Also if your juice contains added sweeteners, this will also increase the calorie content of Noni Juice. Ancient Purity supplies 100% pure, unsweetened Noni Fruit Juice.
A Fruit from Outer Space or just Natural helping us Find it?
Organic Noni Fruit Juice… Closing Thoughts
Organic and 100% Pure Noni Fruit Juice contains a divine blend of more than 160 neutraceuticals, Vitamins, Minerals, Enzymes, Alkaloids, Amino Acids and Antioxidants, Proxeroxine, Scopoletin, Polysaccharides, Phytonutrients and Bioflavonoids which are all required by our bodies on a daily basis. Purchasing 100% Pure Noni Juice can guarantee to receive the maximum health benefits, without wasting money on additives. The Noni Fruit Juice supplied by Ancient Purity is prepared using the traditional method which protects the live therapeutic compounds found naturally within the fruit. For centuries, Tahitians have used Noni Fruit to boost their health. Many of Noni Fruit Juice's health benefits are backed-up by scientific research.
"Simply switching to a healthy, plant-based diet can lessen stroke risk by reducing cholesterol and blood pressure, flooding your body with antioxidants and improving blood flow." - Michael Greger
Experience the Tropical Wonder Juice that is Noni - Coming Soon
100% Pure, Raw Noni Juice.

Produced to ecological standards, free from agro-chemicals, non irradiated and GMO-Free.
Drink 30-50 ml 2 times daily (Morning & Evening) or as directed by your healthcare practitioner. Do not exceed the recommended daily intake.
Can be added to juices and smoothies.
You can dilute the juice in water or drink. After opening the bottle, the lid should be tightly closed.
Noni Juice should be stored in the refrigerator once opened. Do not expose to sunlight for a long time.
Warning : Pregnant women and patients with kidney disease should not drink Noni Juice (because of high potassium ).
Brand: Ancient Purity.
Size: 500ml (17.59 fl. oz.).
Origin: Thailand.
Container: Amber Glass Bottle.
Estimated shelf life from purchase: 1 - 3 years.
Storage: Keep it in a closed cabinet, dry, room temperature. Close the cap, keep out of reach of children.
Scientific Articles
Addon - Can Intake of Noni Juice help Cure Cancer?
Food Science & Nutrition - Noni juice reduces lipid peroxidation–derived DNA adducts in heavy smokers
Research Gate - Health Benefits of Morinda citrifolia (Noni): A Review:
Supporting Scientific Research
West, B.J.; Deng, S.; Isami, F.; Uwaya, A.; Jensen, C.J. The Potential Health Benefits of Noni Juice: A Review of Human Intervention Studies. Foods 2018, 7, 58. https://doi.org/10.3390/foods7040058
Kamiya K, Tanaka Y, Endang H, Umar M, Satake T: Chemical constituents of Morinda citrifolia fruits inhibit copper-induced low-density lipoprotein oxidation. J Agric Food Chem. 2004, 22;52 (19): 5843-8. 10.1021/jf040114k. 10.1021/jf040114k
Nandhasri P, Pawa KK, Kaewtubtim J, Jeamchanya C, Jansom C, Sattaponpun C: Nutraceutical properties of Thai "Yor" Morinda citrifolia and "Noni" juice extract. Songklanakarin J Sci Technol. 2005, 27 (2): 579-586.
Furusawa E, Hirazumi A, Story S, Jensen J: Antitumour potential of a polysaccharide-rich substance from the fruit juice of Morinda citrifolia (Noni) on sarcoma 180 ascites tumour in mice. Phytother Res. 2003, 17 (10): 1158-64. 10.1002/ptr.1307
Nayak BS, Sandiford S, Maxwell A: Evaluation of the Wound-healing Activity of Ethanolic Extract of Morinda citrifolia L. Leaf. Evid Based Complement Alternat Med. 2009, 6 (3): 351-356. 10.1093/ecam/nem127
Brown A.C. Anticancer activity of Morinda citrifolia (noni) fruit: A review. Phytother. Res. 2012;26:1427–1440. doi: 10.1002/ptr.4595.
Wang M.Y., Peng L., Weidenbacher-Hoper V., Deng S., Anderson G., West B.J. Noni juice improves serum lipid profiles and other risk markers in cigarette smokers. Sci. World J. 2012 doi: 10.1100/2012/594657.
Wang M.Y., Lutfiyya M.N., Weidenbacher-Hoper V., Anderson G., Su C.X., West B.J. Antioxidant activity of noni juice in heavy smokers. Chem. Cent. J. 2009;3 doi: 10.1186/1752-153X-3-13.
Akinbo S.R.A., Noronha C.C., Okanlawon A.O., Denesi M.A. Comparative study of the effect of Morinda citrifolia (Noni) with selected physiotherapy modalities in the management of patients with cervical spondylosis. Niger. J. Health Biomed. Sci. 2006;5:6–11. doi: 10.4314/njhbs.v5i2.11590.
Disclaimer:
The products and the claims made about specific products, articles and claims made in the articles and information written on or through this site have not been evaluated by Ancient Purity, the MHRA, the FSA or the United States FDA and are not approved to diagnose, treat, cure or prevent disease. The information provided on this site is for informational purposes only and is not intended as a substitute for advice from your physician or other health care professional or any information contained on or in any product label or packaging. You should not use the information on this site for diagnosis or treatment of any health problem or for prescription of any medication or other treatment. You should consult with a healthcare professional before starting any diet, exercise or supplementation program, before taking any medication, or if you have or suspect you might have a health problem. Providing a product for sale does not imply Ancient Purity recommendation of that product, its suitability or its efficacy. Ancient Purity cannot give medical opinions. No comment or entry in this site or in any communication from Ancient Purity may be taken as such.
Prices and promotions are subject to change without notice. Customers should always carefully check all the details printed on the package before opening the product. Whilst all efforts are made to ensure accuracy of description, specifications and pricing there may be occasions where errors arise. Should such a situation occur the company cannot accept your order. In the event of a mistake you will be contacted with a full explanation and a corrected offer. The information displayed is considered as an invitation to treat not as a confirmed offer for sale. The contract is confirmed upon supply of goods, Prices and promotions are subject to change without notice.
Please read the Terms and Conditions of using this site, by using the site you are accepting the terms and conditions.
All Material on this site © 2014 Ancient Purity Ltd Registered in England & Wales 07801142 VAT Reg 168 335 488