Cymbiotika - Advanced Longevity (Nicotinamide Mononucleotide)
60 Capsules
NMN (Nicotinamide mononucleotide) is the direct precursor of the crucial molecule NAD+ (Nicotinamide Adenine Dinucleotide) and is a principal element for increasing NAD+ levels within all bodily cells. NAD has a major role in energy, mitochondrial function, metabolism, and maintenance of healthy gene expression. By boosting our bodies' NMN levels, we improve NAD's biosynthesis and aid to restore reducing NAD levels as we get older, creating a powerful anti-ageing effect! Research reveals more about Resveratrol every year. Resveratrol is a powerful antioxidant, commonly known as the active ingredient in red wine, grapes and berries. Studies have shown that moderate drinking of red wine can support a healthy heart and researchers suspect that the Resveratrol in red wine provides these benefits. Resveratrol has been the subject of many major natural health events and life extension events, we recommend looking up the numerous scientific reports that have been published on it. A capsule will give you more than a bottle of red wine. 
Ancient Purity presents…NMN + Trans-Resveratrol. Daily taking NMN plus resveratrol as a booster of NAD could provide revitalisation of energy, fighting the ageing process by retaining healthy DNA levels, assisting with DNA repair, enhancements in cognitive health, a potential reduced risk of cardiovascular issues, as well as better cellular metabolism. This NMN formula combines all of NMN's potential health benefits with added antioxidants and polyphenols creating a potent supplement that can drastically boost NAD levels across our bodies. Resveratrol was originally isolated by Takaoka from the roots of hellebore in 1940, and later, in 1963, from the roots of Japanese knotweed. It attracted wider attention only in 1992, however, when its presence in wine was suggested as the explanation for cardio-protective effects of wine. In grapes, trans-resveratrol is a phytoalexin produced against the growth of fungal pathogens such as Botrytis cinerea (A necrotrophic fungus that affects many plant species, although its most notable hosts may be wine grapes) Its presence in Vitis vinifera grapes can also be constitutive, with accumulation in ripe berries of different levels of bound and free Resveratrol, according to the genotype.
Resveratrol may also help blood flow, similar to the effects of aspirin. In grapes, Resveratrol is found primarily in the skin of muscadine grapes as well as in grapes' seeds. The amount found in grape skins also varies with the cultivar, its geographic origin, and exposure to fungal infection. The amount of fermentation time a wine spends in contact with grape skins is an important determinant of its Resveratrol content. It is also found in Pinus strobus, the eastern white pine. Resveratrol is typically associated with grapes and red wine, and was originally believed to be the reason for the so-called "French Paradox," the tendency for French people to have great cardiovascular health despite a "poor" diet and love for wine. The applications for Resveratrol are potentially limitless, and future research will hopefully guide us to understand where Resveratrol can help us the most.
NMN + Trans-Resveratrol - Information & Points to Research
Clean & Effective (Gluten & Soy-Free, Non GMO).
Made in the USA.
Increased NAD+ Levels.
Required for Life & Cellular Functions.
Energy Production.
Anti-Ageing.
Activate your Body's Longevity Pathways.
Mitochondrial Function.
Metabolism.
Added Antioxidants & Polyphenols.
Help Maintain Healthy NAD.
Green Coffee Bean (10% Caffeine).
Apigenin 98%-Apigenin.
Green Tea Extract (20% L-Theanine).
Backed-Up by Research.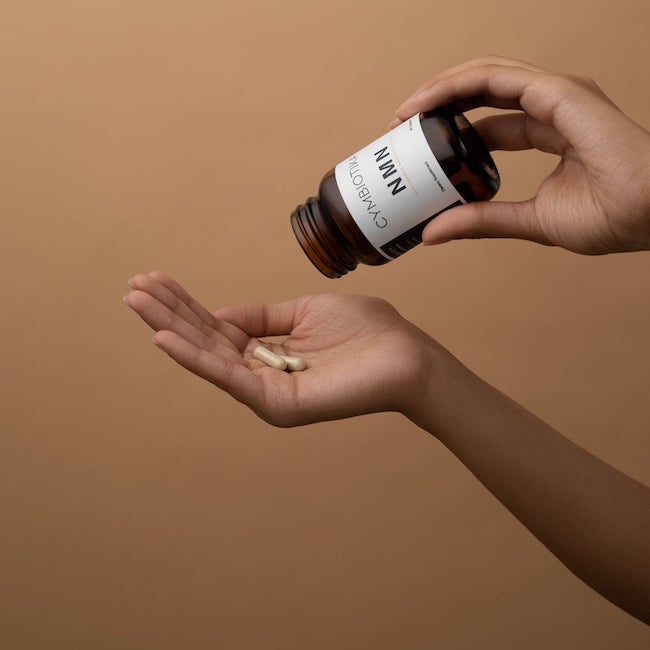 NMN & NAD+
NMN is a molecule naturally occurring in all life forms. At the molecular level, it is a ribo-nucleotide, which is a basic structural unit of the nucleic acid RNA. Structurally, the molecule is composed of a nicotinamide group, a ribose and a phosphate group. NMN is the direct precursor of the essential molecule nicotinamide adenine dinucleotide (NAD+) and is considered a significant element to increase the cells' NAD+ levels. NAD+ is an essential coenzyme essential for cellular functions and life. Biochemical reactions are possible due to the function of enzymes. Coenzymes are 'helper' molecules needed by enzymes in order to work. NAD+ is the most abundant molecule in our bodies besides water, and without it, no life for an organism would be possible. NAD+ is used by a wide range of proteins throughout our bodies, such as the sirtuins, that repair the damage of DNA. It is also pivotal for mitochondria, which are the cell's powerhouses generating the chemical energy used by our bodies.
NAD+ plays a particularly active part in metabolic processes including:  the TCA Cycle, glycolysis, and the electron transport chain, that occurs in our mitochondria and is how we get cellular energy. In its role as a ligand, NAD+ binds to enzymes and transfers electrons between molecules. Electrons are the atomic basis for cellular energy and by transferring them from one molecule to the next, NAD+ acts through a cellular mechanism similar to recharging a battery. A battery is depleted when electrons are expended to provide energy. Those electrons can't return to their starting point without a boost. In cells, NAD+ serves as that booster. In this way, NAD+ can decrease or increase enzyme activity, gene expression and cell signalling. 
The Natural Way with Resveratrol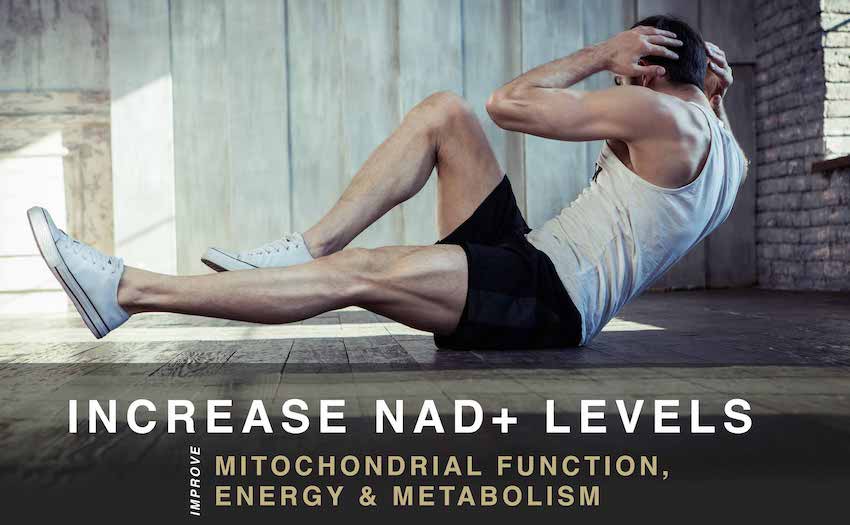 Controls DNA Damage & Affects the Longevity Genes' Activity
As organisms grow older, they accrue DNA damage due to environmental factors such as radiation, pollution, and imprecise DNA replication. According to the current ageing theory, the accumulation of DNA damage is the main cause of ageing. Almost all cells contain the 'molecular machinery' to repair this damage. This machinery consumes NAD+ and energy molecules. Therefore, excessive DNA damage can drain valuable cellular resources. One important DNA repair protein, PARP (Poly (ADP-ribose) polymerase), depends on NAD+ to function. Older individuals experience decreased levels of NAD+. The accumulation of DNA damage as a result of the normal ageing process leads to increased PARP, which causes decreased NAD+ concentration. This depletion is exacerbated by any further DNA damage in the mitochondria.
The newly discovered sirtuins, also nicknamed the "guardian of genes," play a crucial role in maintaining cellular health. Sirtuins are an enzymes family, participating in damage repair and cellular stress responses. They are also involved in the secretion of insulin, and the processes of ageing and ageing-related health issues, such as neurodegenerative illnesses and diabetes. Sirtuins' activation requires NAD+.  As David Sinclair, NAD researcher and Harvard geneticist says we lose NAD+ as we age "and the resulting decline in sirtuin activity, is thought to be a primary reason our bodies develop diseases when we are old but not when we are young."  Sinclair believes that increasing NAD+ levels naturally while ageing may slow or reverse certain ageing processes.
Resveratrol is Longevity Fuel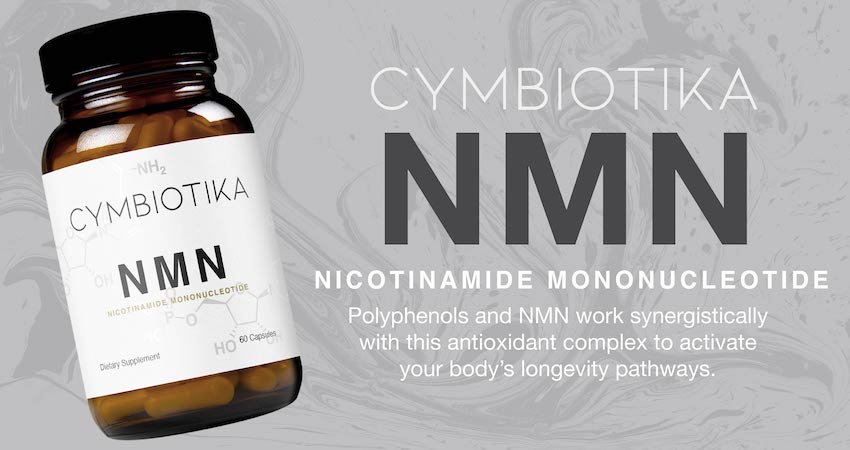 Backed-Up by Research - NMN Gives
Once inside our cells, NMN feeds into the creation of NAD+, which provides cells with required energy and is believed to be crucial for healthy ageing. NAD+ also has a chief role in activating proteins that maintain the integrity of our DNA. Given its central role in numerous cellular processes, NMN's potential benefits extend to nearly all of our bodies' systems. Below I'll mention several of the more-known examples.
Enhances Muscle Endurance & Strength…We rely on our skeletal muscles for stability, strength and movement. To remain strong, healthy and in good shape, these muscles must consume adequate amounts of vital energy molecules, like fatty acids and glucose. Because NAD+ is required to metabolise these molecules, our muscles demand a steady supply of its building blocks, such as NMN.  Studies have revealed that mice that were given NMN for long periods of time experienced improved energy metabolism without obvious side effects. Our muscles' health grows ever more pivotal as we get older and our own supply of NAD+ decreases. 
Promotes Blood Flow & Vascular Health…Studies in mice have shown that NMN protects against numerous aging-related declines in vascular health, such as the stiffening of blood vessels, oxidative stress, our cells' ability to keep dividing, and even changes in how active our genes are, what scientists call gene expression.
Healthy Heart Support…While your skeletal muscles get to take breaks, your heart does not get to rest. This blood-pumping organ can't even slow its pace much without causing serious problems. The heart's energy requirement, therefore, is tremendous. And to keep it ticking, it needs to make all the NAD+ it can. This is why heart cells need a steady supply of NMN. 
Boosts the Maintenance of DNA Repair…The NAD+ made from NMN activates a group of proteins called sirtuins , sometimes thought of as the guardians of our health-span. Sirtuins play a crucial role in maintaining DNA integrity, which is constantly being bombarded by DNA altering substances (mutagens) like UV radiation. Also, each time our cells divide, the DNA at the very ends of our chromosomes grows a tiny bit shorter. At a certain point, this begins to damage our genes. Sirtuins slow this process by stabilising those end bits, known scientifically as telomeres. Since sirtuins rely upon NAD+ to work, there has been an effort to boosting sirtuin activity through methods of NAD+ enhancing. Along these lines, several recent studies have demonstrated that feeding mice NMN activated sirtuins and led to more stable telomeres.
Increases Mitochondrial Function…Simply put, we could not live without our mitochondria. These unique cellular structures, which even have their own DNA, are known as the powerhouses of the cell. Mitochondria are critical for metabolism; that is, they convert molecules from the food we eat into the energy that our cells use. At the very core of metabolism is NAD+. Without NAD+, mitochondria cannot metabolise and cells will be left without energy, resulting in their death. In fact, mitochondrial anomalies caused by the loss of NAD+ may even impact neurological disorders, such as memory disorders.  Studies done in mice have shown that NMN supplementation has rescued some mitochondrial dysfunctions. 
Lowers Risk of Overweightness…Being overweight is linked to numerous unhealthy conditions and can be very challenging to treat. There is no easy remedy for overweightness and related issues such as metabolic syndrome and diabetes. While lifestyle adjustments like consistent exercise and a healthy diet are of extreme importance, every tiny bit helps. In mouse studies, NMN displays an effect that mimics aspects of calorie restriction, which has been shown to provide numerous benefits to ageing and health. However, calorie restriction is a difficult regime to maintain over a long period of time. Mimicking its benefits without adhering to such an extreme diet would be undeniably beneficial.
NMN & Trans Resveratrol at Ancient Purity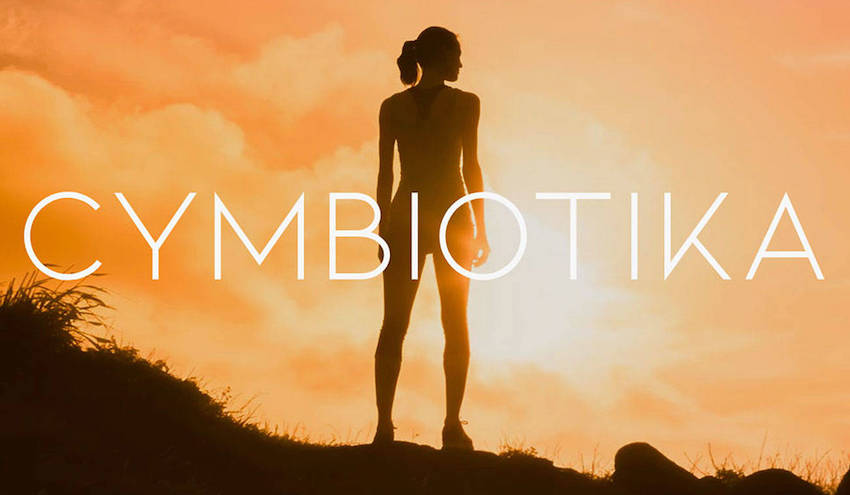 Trans-Resveratrol & Powerful Ingredients
Often nicknamed nature's immune system, Resveratrol is a naturally occurring polyphenol that is made in certain plants. Resveratrol's unusually potent therapeutic and health benefits are due to being a phytoalexin. Its function is to protect plants from illness. It protects the plant against bacterium and fungal pathogens. Actually, it's this response in grapes that has made most persons indirectly aware of Resveratrol's, specifically, Trans-Resveratrol's health benefits. The myriad of clinically proven health-improving properties from moderate wine consumption, especially through red wine, is because Resveratrol's presence. Trans-Resveratrol is simply the active ingredient in Resveratrol. This is an important distinction to know when seeking supplements with the greatest efficacy. You may be thinking that if Trans-Resveratrol is so readily available through wine, fruits and berries why the need for a supplement? Well, that all comes down to the dosage levels. Nearly every clinical trial starts with dosages of 250mg +. To put that into context, one glass of red wine just contains 1mg of Trans-Resveratrol. Obviously, for most people daily washing away 250 glasses of red wine is not a long-term or advised solution! A high quality supplement, such as Cymbiotika's NMN + Trans-Resveratrol is far more achievable. Numerous health benefits are associated with Trans-Resveratrol.  Some of these health benefits include: cardio-protective effects, anti-inflammatory activity, neuro-protective effects, and antioxidant effects on free radicals. Research shows that Trans-Resveratrol plays a role in protecting ovarian health, and in relieving poor pulmonary function. Trans-Resveratrol notably enhances glucose homeostasis, providing insulin resistance by activating sirtuin, which regulates metabolism in insulin-target organs. In addition, Trans-Resveratrol may serve as a therapeutic agent for rheumatoid arthritis, as well as for male infertility and testicular malfunction.
Apigenin 98%-Apigenin…Is a naturally occurring plant flavonoid, found abundantly in common vegetables and fruits. It is recognised as a bioactive flavonoid believed to provide potential longevity and immune-stimulating properties.
Green Coffee Bean (10% Caffeine): Green coffee can provide potential protection against neurological issues, could assist boost heart health, and provides other potential anti-ageing effects associated with longevity.
Green Tea Extract (20% L-Theanine)…Many studies have revealed it aids to enhance cognitive function and immunity.
A New Horizon in Natural Health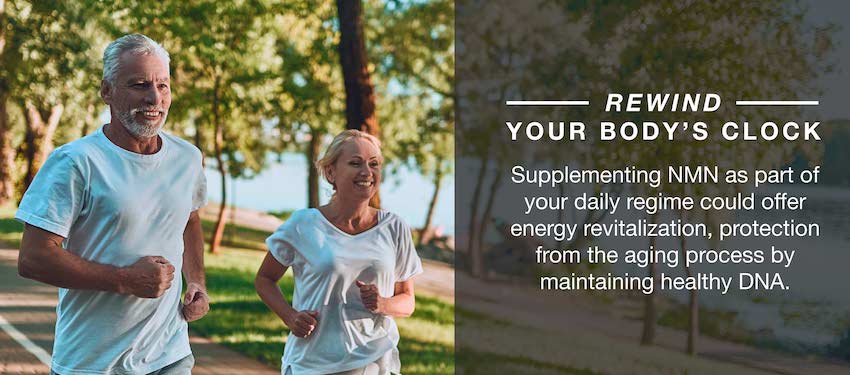 NMN + Resveratrol… Closing Thoughts
Obviously, by protecting against degenerative and end of life conditions, Resveratrol consumption has a marked effect on life expectancy, but protection is not the only factor in Resveratrol's life lengthening properties. In a long-term study, Dr Richard A. Miller of the University of Michigan concluded that Resveratrol's ability to mimic caloric restriction and offset the dangers of a high-calorie diet holds the key to extending our life span.
Trans-Resveratrol is simply the active ingredient in Resveratrol – a significant difference to know when looking for a supplement with the best efficacy. Studies have shown that Resveratrol can reduce the risk of heart issues, cancer and neuro-degeneration. David Sinclair believes that resveratrol works synergistically with NMN. Resveratrol is required to activate the sirtuin genes (which protect our DNA and epigenome), while NMN is required to fuel the sirtuins. In a nutshell, Ancient Purity supplies a Potent Antioxidant & Anti-Ageing Supplement for Heart, Immune & Skin Health. Longevity now!
Experience NMN & Trans-Resveratrol in Cymbiotik Power - Order Today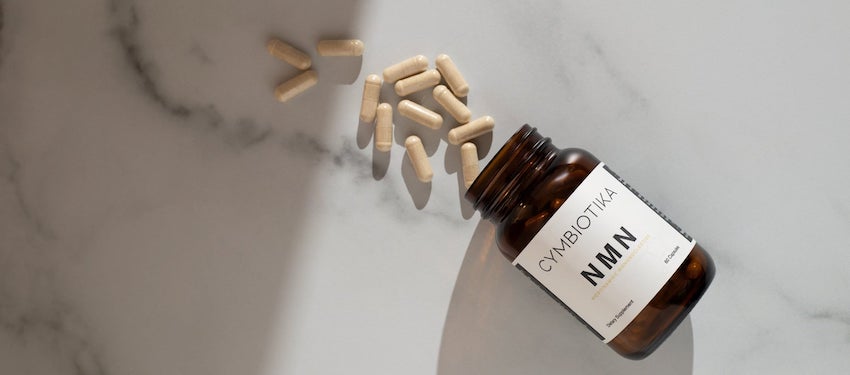 NMN (Nicotinamide Mononucleotide).
Apigenin 98%-Apigenin.
Green Tea Extract (20% L-Theanine).
Resveratrol (98% Transresveratrol).
Green Coffee Bean (10% Caffeine).
Other Ingredients:  Veggie Capsule, Rice Flour.
Take two capsules daily or as directed by your health care practitioner. Do not exceed the daily recommended intake.
Brand: Cymbiotika.
Size: 60 Capsules.
Container: Glass Jar.
Estimated shelf life from purchase: 1 - 2 years.
Storage: Refrigerate after opening. Keep out of reach of children.
Scientific Articles
Nutrients MDPI - Health Effects of Resveratrol: Results from Human Intervention Trials
Taylor & Francis Online - Immunotoxicity studies of trans-resveratrol in male B6C3F1/N mice
Nature Portfolia - Recent research into nicotinamide mononucleotide and ageing
IMCJ - The Science Behind NMN–A Stable, Reliable NAD+Activator and Anti-Aging Molecule
Supporting Scientific Research
Yiu E.M., Tai G., Peverill R.E., Lee K.J., Croft K.D., Mori T.A., Scheiber-Mojdehkar B., Sturm B., Praschberger M., Vogel A.P., et al. An open-label trial in Friedreich ataxia suggests clinical benefit with high-dose resveratrol, without effect on frataxin levels. J. Neurol. 2015;262:1344–1353. doi: 10.1007/s00415-015-7719-2.
Wong R.H.X., Howe P.R.C., Buckley J.D., Coates A.M., Kunz I., Berry N.M. Acute resveratrol supplementation improves flow-mediated dilatation in overweight/obese individuals with mildly elevated blood pressure. Nutr. Metab. Cardiovasc. Dis. 2011;21:851–856. doi: 10.1016/j.numecd.2010.03.003.
Poulsen M.M., Vestergaard P.F., Clasen B.F., Radko Y., Christensen L.P., Stødkilde-Jørgensen H., Møller N., Jessen N., Pedersen S.B., Jørgensen J.O.L. High-dose resveratrol supplementation in obese men: An investigator-initiated, randomized, placebo-controlled clinical trial of substrate metabolism, insulin sensitivity, and body composition. Diabetes. 2013;62:1186–1195. doi: 10.2337/db12-0975.
Rotches-Ribalta M., Urpi-Sarda M., Llorach R., Boto-Ordoñez M., Jauregui O., Chiva-Blanch G., Perez-Garcia L., Jaeger W., Guillen M., Corella D., et al. Gut and microbial resveratrol metabolite profiling after moderate long-term consumption of red wine versus dealcoholized red wine in humans by an optimized ultra-high-pressure liquid chromatography tandem mass spectrometry method. J. Chromatogr. A. 2012;1265:105–113. doi: 10.1016/j.chroma.2012.09.093.
Gualdoni G, Kovarik J, Hofer J, Dose F, Pignitter M, Doberer D, Steinberger P, Somoza V, Wolzt M, Zlabinger G. 2014. Resveratrol enhances TNF-α production in human monocytes upon bacterial stimulation. Biochim Biophys Acta. 1840:95–105.
Jeon B, Jeong E, Shin H, Lee Y, Lee D, Kim H, Kang S, Cho G, Choi W, Roh G. 2012. Resveratrol attenuates obesity-associated peripheral and central inflammation and improves memory deficit in mice fed a high-fat diet. Diabetes. 61:1444–1454.
Yoshida M. Extracellular vesicle-contained eNAMPT delays aging and extends lifespan in mice. Cell Metab. 2019. August 6;30(2):329-342.e5.
Imai S. Diagnostic and therapeutic applications of a novel plasma metabolite, Nicotinamide Mononucleotide (NMN), for age-associated metabolic complications in humans. Longer Life Foundation 2011.
Imai S. The NAD World 2.0: the importance of the inter-tissue communication mediated by NAMPT/NAD+/SIRT1 in mammalian aging and longevity control. NPJ Syst Biol Appl. 2016. August 18;2:16018.
Disclaimer:
The products and the claims made about specific products, articles and claims made in the articles and information written on or through this site have not been evaluated by Ancient Purity, the MHRA, the FSA or the United States FDA and are not approved to diagnose, treat, cure or prevent disease. The information provided on this site is for informational purposes only and is not intended as a substitute for advice from your physician or other health care professional or any information contained on or in any product label or packaging. You should not use the information on this site for diagnosis or treatment of any health problem or for prescription of any medication or other treatment. You should consult with a healthcare professional before starting any diet, exercise or supplementation program, before taking any medication, or if you have or suspect you might have a health problem. Providing a product for sale does not imply Ancient Purity recommendation of that product, its suitability or its efficacy. Ancient Purity cannot give medical opinions. No comment or entry in this site or in any communication from Ancient Purity may be taken as such.
Prices and promotions are subject to change without notice. Customers should always carefully check all the details printed on the package before opening the product. Whilst all efforts are made to ensure accuracy of description, specifications and pricing there may be occasions where errors arise. Should such a situation occur the company cannot accept your order. In the event of a mistake you will be contacted with a full explanation and a corrected offer. The information displayed is considered as an invitation to treat not as a confirmed offer for sale. The contract is confirmed upon supply of goods, Prices and promotions are subject to change without notice.
Please read the Terms and Conditions of using this site, by using the site you are accepting the terms and conditions.
All Material on this site © 2014 Ancient Purity Ltd Registered in England & Wales 07801142 VAT Reg 168 335 488