Cold Pressed - European Black Elderberry (Sambucus Nigra)
100 - 200ml (3.51 - 7.03 fl. oz.) Oil
This Cold-Pressed Elderberry Seed Oil is the highest quality European sourced Nutritional Oil... In 400 BC, Hippocrates, referred to Elderberry as "nature's medicine chest." The low-calorie fruit of the Elderberry contains unique polyphenol compounds known as Anthocyananins. These compounds give broad immunity benefits and have extremely high-antioxidant activity properties.
Ancient Purity presents premium quality Cold-Pressed, Unrefined, Black Elderberry Seed Oil that is proudly made in the UK. This luscious deep purple-black Elderberry Seed Oil contains compounds and substances that can help to support a healthy immune and respiratory system. The oil is often used to combat allergies and skin issues, because it also has anti-inflammatory effects as well as compounds which enhance the immune functions of the skin. But it can also enhance already healthy skin, and boost your mind, body and spirit. This precious Elderberry Seed Oil is produced in and sourced from the UK. It is high in rare compounds, which encourages smoothness and elasticity of the skin tissues, while stabilising the skin-lipid contents of the skin layers, encouraging long-term moisturising. As you will see, it's pretty unique, ultra clean, and powerfully effective and has been used as far back as Ancient Egypt. 
It contains a high ratio of unsaturated fatty acids and alpha linolenic acid, tannin, amino acids, carotenoids, flavonoids, rutin, and is rich in Vitamins B, C and E. Elderberry Oil's flavonoids include anthocyanins, which are powerful antioxidants that protect cells against damage. In addition, Elderberry Seed Oil is a top choice for colds, flu (historically thought to decrease the length of the flu virus), fevers, coughs, nasal and chest congestion, advanced respiratory issues, and hay fever. It does this by stimulating the body's immune system, via its rare compounds such as valeric acid and plant lectins. It is considered one of the top antiviral herbs on the planet. People have used Elderberry Oil for its health-improving properties for many centuries. Many health-conscious are convinced it can combat colds and the flu, as well as boosting the immune system. In addition, this cold-pressed oil contains glycoside bonds, plant sterols, carotenoids, flavonoids and vitamin E.  In a nutshell, a healthy oil for your wellbeing! Elderberry Seed Oil can be used, Internally, Topically and Culinary.
Elderberry Seed Oil – Information & Points to Research
Cold-Pressed from Organically Grown European Black Elderberries (Clean, Traceable, Effective).
Anthocyanins, Flavonoids, Tannin, Amino acids, Carotenoids, Rutin, & Vitamins B, C, E.

 

Premier Immunity Oil.
Skin Health & Beauty.
Hippocrates'... "Nature's Medicine Chest".
Supports sinus, mouth and throat health.

 

Healthy Cellular Ageing & Cell Growth.
Helps to Support Cardiovascular Health.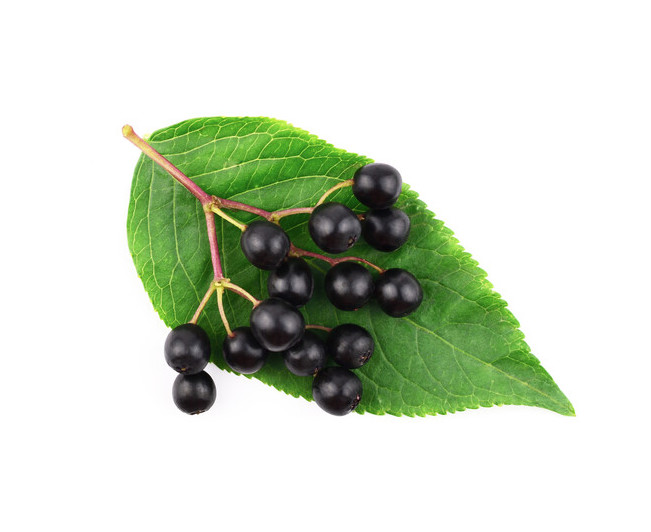 Elderberry Natural Health Powerhouse
Elderberry is best known for supporting respiratory and immune health, especially during seasonal challenges. A study of patients experiencing symptoms, like sniffling, coughing and acute headache for 48 hours or less, received a dose of elderberry multiple times a day for five days. Compared to the control group, symptoms were relieved, on average, four days earlier. However, research suggests these purple-black berries may be valuable for far more than just immune and respiratory health. Elderberry is also known to: promote a normal, healthy stress response; assist supporting performance, enabling longer and harder workouts. It also aids to support cardiovascular health. Promote healthy cellular ageing. Support an already healthy inflammatory response. Researchers believe Elderberry supports levels of cytokines or proteins that act as messengers in your immune system. Cytokines promote a sufficient and timely response to everyday threats, seasonal or otherwise. Because much of your immune system is located in your gut, elderberry may support immune function by nourishing your gut's microbiome. A new concept, known as the "gut-lung axis," suggests that the bacteria in our gut may also directly impact lung health. Evidence supporting this connection comes from studies showing that those with the highest intake of anthocyanins had lower rates of declining lung function, compared to individuals with the lowest intake of anthocyanins. 
Elderberry's anthocyanins are well known for their ability to eliminate reactive oxygen species (ROS) that can damage your cells' mitochondria. By incorporating themselves into the outer membranes of your cells, these antioxidants protect your cells against the damaging effects of oxidative stress. Anthocyanins have a profound effect on your cardiovascular health. The endothelial cells that line your vascular system play a crucial role in blood flow regulation and overall vascular tone. With healthy, normal blood flow to your organs and skin, anthocyanins support healthy organ function and help prevent premature cellular ageing. Researchers also believe the anthocyanins in Elderberry supports healthy HDL and LDL cholesterol levels already in the normal range. Anthocyanins are easily absorbed, too, and can cross your blood-brain barrier to benefit your eyes and brain. One study with elderly women detected anthocyanins in both plasma and urine after just a single dose of Elderberry. They also contain magnesium, which plays a role in nerve, muscle and immune function, supporting heart health.
Delicious, Clean, Organic, Effective... All the things Ancient Purity stands for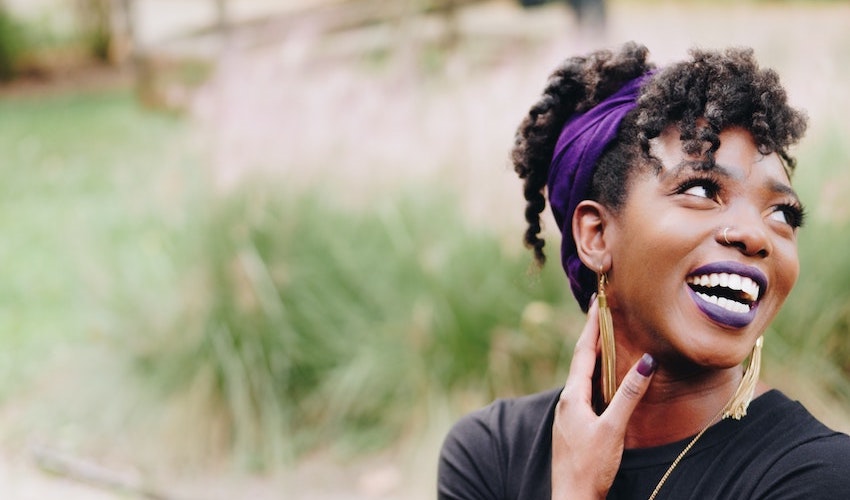 The Perfect Skin Berry with nourishment for your Hair
Elderberry Seed Oil consists of the key fatty acids which support our skins health, also it contains elevated levels of natural lipid soluble antioxidants, making it an excellent oil for the skin or if a great choice for your own natural skin care formulations. Elderberry Seed Oil is able to leave your skin feeling rich and silky, whilst being readily absorbed and not too greasy. Clinical studies demonstrate that Elderberry oil provides excellent natural emollience; it increases skin smoothness and elasticity whilst improving skin barrier function by reducing trans-epidermal water loss (TEWL). The functionality of the oil has been shown to be superior to some other novel oils which could be attributed to its rich content of EFA's (essential fatty acids) and these are present in an ideal ratio for skin care, in conjunction with micronutrients. Elderberry Oil helps your skin balance out excess oils. This helps to prevent breakouts and keeps your skin healthy and clear. These antimicrobial and antifungal properties also help reduce swelling and calm the skin. Elderberry Oil is a powerhouse for oily skin types or persons prone to breakouts.
"Life is too short to have boring hair." - Unknown
Elderberries are literally infused with innate anti-ageing and free radical fighting properties. They keep your skin radiant for longer periods. Furthermore, they also act as a natural detoxifying agent and help prevent distressing skin conditions like breakouts, boils, and scars. The anthocyanins in Elderberries (the compounds that give them their characteristic red colour) were found to give a natural boost to your skin's health. This compound also protects against skin damage. In fact, distilled Elderberry flower water is known to restore skin health and lighten the freckles. The berries and oil work great for your hair as well. You can take some Elderberry oil and mix it with some of your other favourite oils. Apply the oil gently on the problem areas of your scalp. The serum can treat split ends, problematic hairlines, and might even encourage hair growth. We think that all these health benefits show how versatile and powerful this natural health all-rounder is.
Natural, Powerful, Seasonally Protective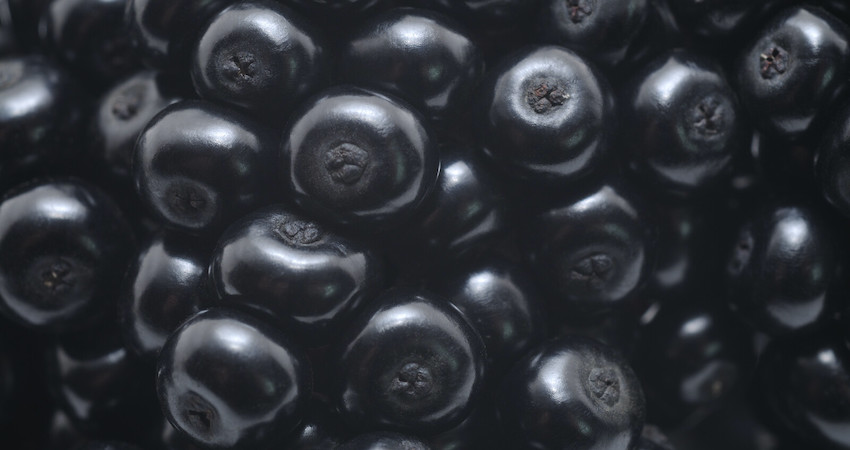 Elderberry according to Hippocrates – "Nature's Medicine Chest"
Native Americans and European herbalists have long respected Elderberries for their unique health-promoting qualities. Records of their use date back to medieval times. In 400 BC, Hippocrates, the father of medicine, referred to elderberry as "nature's medicine chest." Research shows the European black Elderberry offers broad immune support benefits along with extremely high antioxidant activity properties. The berries and flowers of the elderberry are loaded with antioxidants, or anthocyanins, as well as flavonoids like quercetin, delphinidin and catechins. Elderberries contain nearly four times the anthocyanins as other commonly consumed berries.
Anthocyanins are a type of flavonoid, or the natural pigments that give fruits and vegetables their purple and dark red colours. These pigments contain high concentrations of antioxidants. The brighter or deeper the colour of the berries, the higher the flavonoid concentration will be. Because of its deep, almost black colour, Elderberry is considered the "King." Research suggests that a higher consumption of anthocyanins is linked to an already healthy inflammatory response, optimal cardiovascular and cellular health, restored glucose tolerance and lower body weight. The anthocyanins in Elderberry support not only immune health but also cardiovascular and cellular health. And when consumed with meals, they can help maintain healthy blood glucose levels.
Elderberry, Nature Gives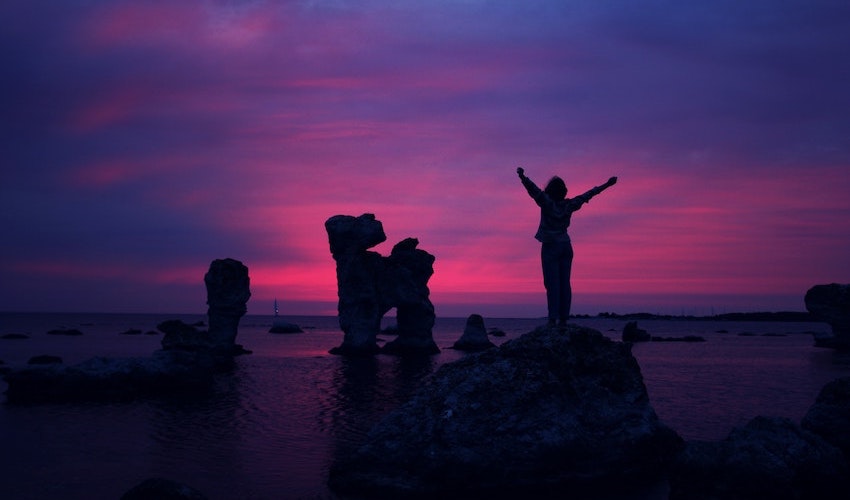 Full Body Nourishment - Elderberry
Elderberry Seed Oil contains glycoside bonds, plant sterols, carotenoids, flavenoids, and tocopherols (Vitamin E). The structure of the plant sterols is similar to the skin's own cholesterols counted among the most important fats in the lipid layer of the stratum corneum (corneal layer), meaning that these cholesterols, in their function of forming an intact barrier layer, can be supported by the plant sterols. 
"Miss Parkinson lived alone in a big bay-windowed house of Edwardian brick with a vast garden of decaying fruit trees and untidy hedges of gigantic size. She was great at making elderberry wine and bottling fruit and preserves and lemon curd and drying flowers for winter. She felt, like Halibut, that things were not as they used to be. The synthetic curse of modern times lay thick on everything. There was everywhere a sad drift from Nature."  — H.E. Bates
Elderberry Seed Oil furthermore has a stimulating effect upon the cell membranes and blood vessels, and is supposed to be able to strengthen resistance toward infections, allergies, and carcinogens. Elderberry Seed Oil is gentle and safe and provides a good measure of both unsaturated and saturated fats, making it a great choice for both skin and hair. This luscious oil absorbs quickly and is deeply penetrating. It nourishes thoroughly, softening dry, rough skin. It can smooth out wrinkles for a more delicate appearance, and reduces inflammation, pigmentation and the appearance of blemishes such as dark spots or fine lines by stimulating a healthy collagen production to counteract signs of ageing and damage from free radicals.
Ancient Purity present UK-Produced Elderberry Seed Oil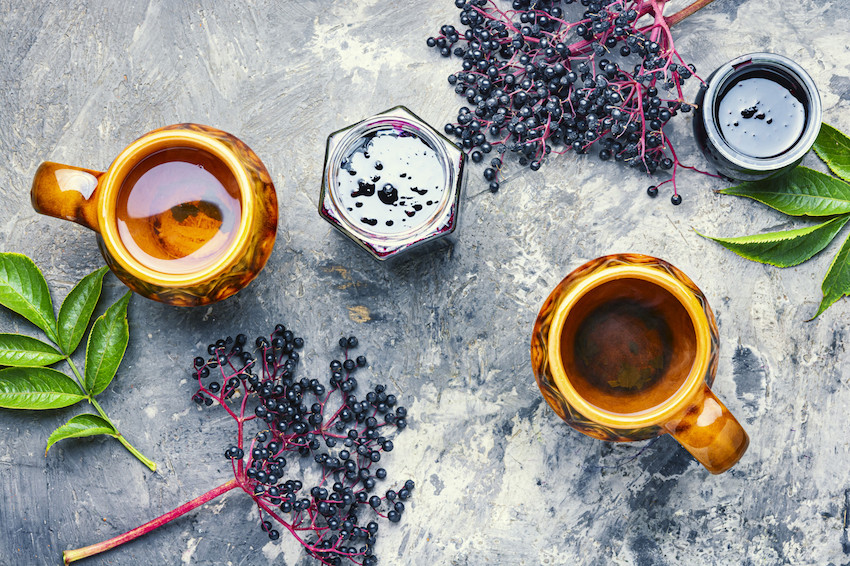 Elderberries and Immunity
A surprising amount of research has actually been carried out on Elderberries... Several studies speak of the ability of Elderberries to boost the immune system. One report published by the University of Maryland Medical Center revealed the powerful immune-boosting effects of Elderberries. The same is true with Elderberry syrup as well, which increases antioxidant levels in the body and helps fight disease. The vitamins A and C in the fruit help maintain optimal health. Elderberries also offer protection against viruses that might damage cell walls. The fruit also decreases mucus production during cold and flu, easing the symptoms. And it is one excellent remedy for the debilitating symptoms of influenza, as per a Japanese study.
Elderberries boost immunity by increasing the production of inflammatory cytokines. And this way, they also help treat upper respiratory tract infections and other respiratory ailments. We can conclude that this powerful natural oil is effective throughout the seasons and an essential for your home because of its multiple uses. The relationship between elderberry and immune system health is primarily related to the reduction of oxidative stress on internal tissues by the antioxidants and anthocyanins found in elderberry fruit and flowers. Oxidative stress is caused by the release of free radicals in the body and the damage these particles do to muscle and organ tissue. In one study of 15 different berry types, Elderberries were shown to be some of the most potent sources of antioxidants.   
A Skin Essential in your Bathroom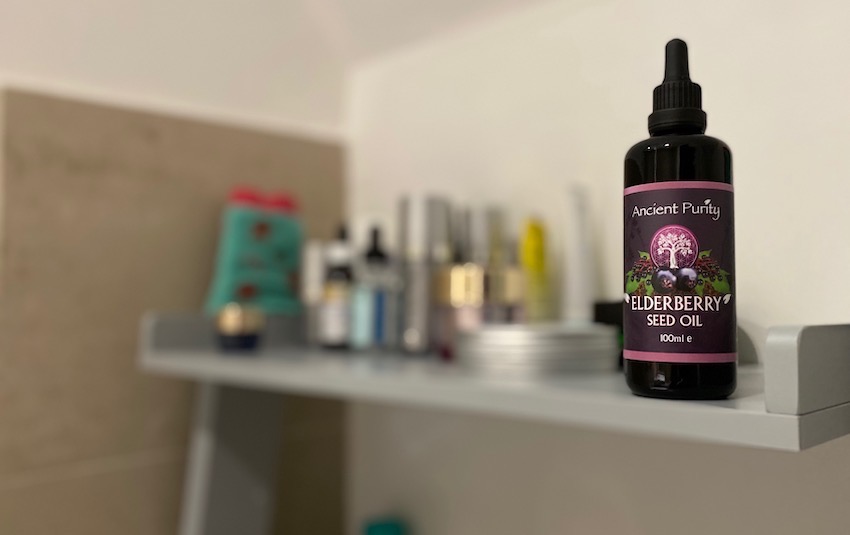 Elderberry Oil Promotes Good Bacteria
When consuming Elderberry Oil's anthocyanins, only a small amount of these compounds are absorbed in the small intestine. Instead, the bulk of these flavonoids enter the large intestine where they are broken down by gut bacteria. During this process, gut bacteria "modify" the structure of anthocyanins into an array of molecules that slows the growth of "bad bacteria". In addition, anthocyanins provide beneficial bacteria with substances that promote their growth. Modified anthocyanins are then rapidly absorbed through the colon and enter the bloodstream. Once these vital compounds reach the blood circulation, they provide support for the organs such as the lungs, heart, skin, and brain.
"I record my radio show, and my staff makes me a nice lunch in the kitchen, usually fish - whatever's freshest and line-caught - and a salad. I drink water and herbal tea, a blend of catnip, elderberry, and horehound."
-  Martha Stewart
"Listen, if you were with me on a plane? I'm embarrassed for the people who sit next to me. I have such a regimen! I, like, pound on the face cream because your face will dry out, I get the stuff you put in your nose so no nose germs come in, I take elderberry for immunity, I wear a scarf."
- Author: Lea Michele

A Multi use Multi Vitamin, Antioxidant, Amino acid Oil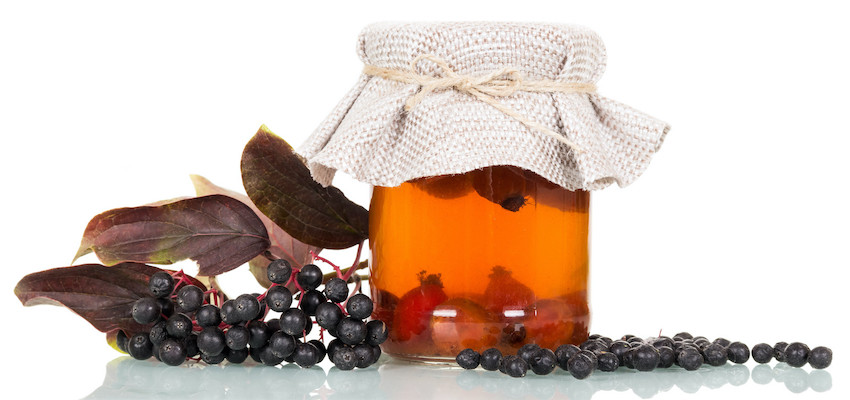 Elderberry Seed Oil... Closing Thoughts
Elderberry is a medicinal plant that has been used for thousands of years. Several species of the elderberry plant grow throughout the world, with the European elder plant (Sambucus nigra) being the most common type. Historically, many different parts of the elderberry plant have been used to address infection, cough, congestion, joint pain, and skin irritation. The fruits (elderberries) are now the most commonly used part of the plant for supporting respiratory and immune health. Elderberries are the violet-black berries that contain significant amounts of anthocyanins which are vital molecules known for their powerful antioxidant and immune-supportive properties.
Elderberry Oil's anthocyanins are highly bioavailable flavonoids that promote the health of several body systems. Consumption of a colourful diet abundant in anthocyanins is associated with good cardiovascular health, proper respiratory performance, glucose control, and cognitive health. New research suggests that anthocyanins contained in Elderberry Oil promote a healthy balance of gut bacteria. Including Elderberry Oil with other supplements such as vitamin D, zinc, omega-3, curcumin, and probiotics are likely to act synergistically in supporting immune and respiratory health.
Experience Super Power through the Seasons with Elderberry - Order Today
Organic European Black Elderberry (

Sambucus Nigra

).
Produced to ecological standards, free from agro-chemicals, non irradiated and GMO-Free.
Internally: Take up to 1 teaspoon (5ml) daily, neat or added to smoothies. You can also take it as directed by your health care practitioner. Do not exceed the recommended daily intake.
Topically: Apply a small amount to face / neck or desired area and massage in gently.
Bath: Add 2 tablespoons for an enriching, relaxing bath.
Brand: Ancient Purity.
Size: 100-200ml (3.51-7.03 fl. oz.).
Container: Miron Glass Bottle.
Storage: Keep in a cool dry place, keep out of reach of children.
Estimated shelf life from purchase: 1 - 2 years.
Q: Is Organic Elderberry Oil safe for long-term use?
A: Yes, it is safe for long-term use.
Q: Is this product safe for those pregnant, nursing or taking certain medications?
A: As with all of Ancient Purity Foods and products, we recommend you consult with your health care practitioner before taking. We do not recommend this product for individuals taking immunosuppressive medications.
Q: How much Elderberry Seed Oil should I give my child?
A: Children can be given 1/2 a teaspoon (2.5ml) daily as and when required.
Scientific Articles
Research Gate - Advanced research on the antioxidant and health benefit of elderberry (Sambucus nigra) in food – a review
Nature Public Health Emergency Collection - Sambucus nigra (black elder) as alternative treatment for cold and flu
MDPI - Sambucus Nigra Extracts–Natural Antioxidants and Antimicrobial Compounds
Supporting Scientific Research
Ho GTT. Bioactive compounds in flowers and fruits of Sambucus nigra L. Norway: University of Oslo; 2017.
Girard MP, Cherian T, Pervikov Y, Kieny MP. A review of vaccine research and development: human acute respiratory infections. Vaccine. 2005;23(50):5708–5724. doi: 10.1016/j.vaccine.2005.07.046.
Badescu M, Badulescu O, Badescu L, Ciocoiu M. Effects of Sambucus nigra and Aronia melanocarpa extracts on immune system disorders within diabetes mellitus. Pharmaceut Biol. 2015;53(4):533–539. doi: 10.3109/13880209.2014.931441.
Haslam, E.; Lilley, T.H.; Warminski, E.; Liao, H.; Cai, Y.; Martin, R.; Goudling, P.N.; Luck, G. Polyphenol complexation. A study in molecular recognition. ACS Symp. Ser. 1992, 506, 8–50.
Waage, S.K.; Hedin, P.A. Quercetin 3-O-galactosyl-(1Æ6)-glucoside, a compound from narrowleaf vetch with antibacterial activity. Phytochemistry 1985, 24, 243–245.
Prior R.L. Fruits and vegetables in the prevention of cellular oxidative damage. American Journal of Clinical Nutrition. 2003;78(Suppl.):570S–578S.
Salvador A.C., Król E., Lemos V.C., Santos S.A.O., Bento F.P.M.S., Costa C.P. Effect of elderberry (Sambucus nigra L.) extract supplementation in STZ-induced diabetic rats fed with a high-fat diet. International Journal of Molecular Sciences. 2017;18:13. doi: 10.3390/ijms18010013.
The ABC Clinical Guide to Elder Berry (2003) The American Botanical Council.
Youdim K.A., Martin A., Joseph J.A. Incorporation of the elderberry anthocyanins by endothelial cells increases protection against oxidative stress. Free Radical Biology & Medicine. 2000;29:51–60.
Disclaimer:
The products and the claims made about specific products, articles and claims made in the articles and information written on or through this site have not been evaluated by Ancient Purity, the MHRA, the FSA or the United States FDA and are not approved to diagnose, treat, cure or prevent disease. The information provided on this site is for informational purposes only and is not intended as a substitute for advice from your physician or other health care professional or any information contained on or in any product label or packaging. You should not use the information on this site for diagnosis or treatment of any health problem or for prescription of any medication or other treatment. You should consult with a healthcare professional before starting any diet, exercise or supplementation program, before taking any medication, or if you have or suspect you might have a health problem. Providing a product for sale does not imply Ancient Purity recommendation of that product, its suitability or its efficacy. Ancient Purity cannot give medical opinions. No comment or entry in this site or in any communication from Ancient Purity may be taken as such.
Prices and promotions are subject to change without notice. Customers should always carefully check all the details printed on the package before opening the product. Whilst all efforts are made to ensure accuracy of description, specifications and pricing there may be occasions where errors arise. Should such a situation occur the company cannot accept your order. In the event of a mistake you will be contacted with a full explanation and a corrected offer. The information displayed is considered as an invitation to treat not as a confirmed offer for sale. The contract is confirmed upon supply of goods, Prices and promotions are subject to change without notice.
Please read the Terms and Conditions of using this site, by using the site you are accepting the terms and conditions.
All Material on this site © 2014 Ancient Purity Ltd Registered in England & Wales 07801142 VAT Reg 168 335 488