(Pink Pitaya) Betalains / Carotenoids Iron (Balanced Vitamins & Minerals)
70g (2.46 oz.) Dried Fruit
Dragon Fruit, (Pink Pitaya / Strawberry Pear, is an Exotic Fruit known for its vibrant look and sweet, seed-speckled pulp and of course its supernatural superfood powers. Its low in calories whilst loaded with antioxidants, vitamins, minerals and substantial amount of dietary fibre. It also promotes the growth of the healthy bacterias, lactic acid bacteria and bifidobacteria.
Dragon Fruit definitely deserves to be called a SuperFood, being high in Fibre but low in Calories. Due to Ancient Purity's dried Dragon Fruit being prepared properly, all the fruit's health benefits are unchanged from the fresh fruit. Dried Dragon Fruit's nutritional benefits are even magnified in the dried version on a gram for gram basis. In fact, Dried Dragon Fruit usually has about 10x the punch of the fresh fruit in Vitamin C, Fibres and Micro Nutrients! Based on the drying process' moisture loss, you can expect that if you consume 40 grams of Dried Dragon Fruit, you'll be eating more than 450 grams of the fresh fruit! Due to being dried and having to chew the fruit it improves your body's ability to absorb the fruit's nutrition factors as nutrients are released more slowly into your body. 
This dried super fruit is packed with Minerals, Antioxidants, Vitamins and Phytonutrients. In addition, it contains Probiotics and healthy Fatty Acids. Antioxidants play an essential role protecting cells from free radical damage that can lead to ageing and chronic health issues. Some of the main antioxidants present in Dried Dragon Fruit are Flavonoids, Betacyanins, Hydroxycinnamates and Betaxanthins. According to a scientific report published in 2018 in the World Journal of Pharmacy and Pharmaceutical Sciences, the fruit's antioxidant activity can be helpful in combatting inflammatory conditions. Flavonoids are linked to reduced risks of heart issues and better brain health.
Dragon Fruit - Information & Points to Research
Clean, Fresh, Absorbable, Trusted Source.
Thailand Origin.
Rich in Antioxidants like Betacyanin, Flavonoids and Phenolic Acid.
Loaded with dietary Fibre and Prebiotics.
Balanced Vitamins & Minerals.
Delicious Smoothie & Desert Ingredient.
Supports a Healthy Gut.
Tropical Skin Health Support.
Rich in bio-available Calcium.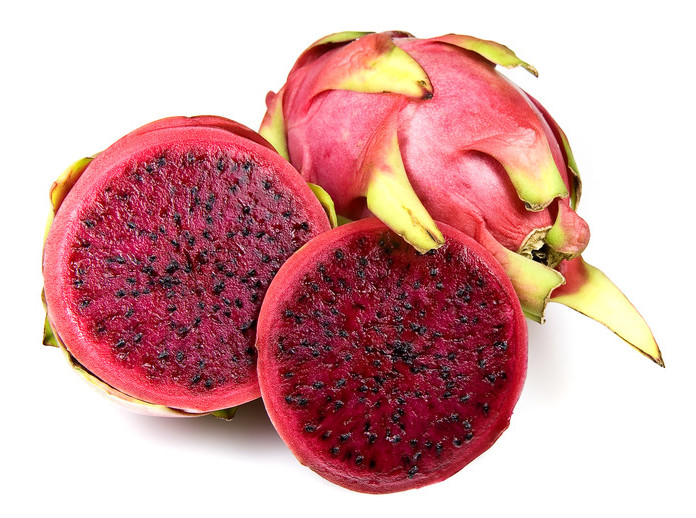 Dragon Fruit - SuperNatural Nutrition
Dragon Fruit is low in calories and rich in antioxidants, making it a good addition to any weight loss diet. It contains good amounts of fibre, lycopene, and carbohydrates as well as water-soluble Vitamins such as Carotene, Vitamin C and B vitamins Niacin and Riboflavin. The mineral wealth of this fruit is also high and includes Magnesium, Calcium, Phosphorus, Iron, and Sodium. Rich in phytonutrients, polyunsaturated fatty acids (linoleic acid and linolenic acid), and omega 3 and omega 6 fatty acids. The health benefits are mostly attributed to its antioxidant, antibacterial, and nutritional properties.
Skin... The antioxidants in Dragon Fruit may help fight the signs of ageing by reducing the harmful effects of free radicals in the body. They also aid in treating sunburn, acne, and dry skin. Vitamin C, contained in many fruits but particularly Dragon Fruit helps brighten the skin. Try adding dried Dragon Fruit Powder to your smoothies and watch your skin glow radiantly.
Digestion... Research published in Food Chemistry shows that Dragon Fruits is rich in Oligosaccharides that help promote the growth of gut bacteria like Lactobacilli and Bifidobacteria. A 2015 study on natural prebiotics in Thailand showed that the fruit helped increase healthy gut flora, which is important for smooth digestion. Dragon Fruits has a high amount of Fibre, this means that they can help bulk up bowel movements, facilitating smooth passage through the digestive tract, stimulating peristaltic motion, and inducing a release of digestive juices. By regulating bowel function with dietary fibre, this fruit helps in preventing conditions like constipation and perhaps even more serious digestive and stomach issues.

Dragon Fruit... Dried SuperFruit Slices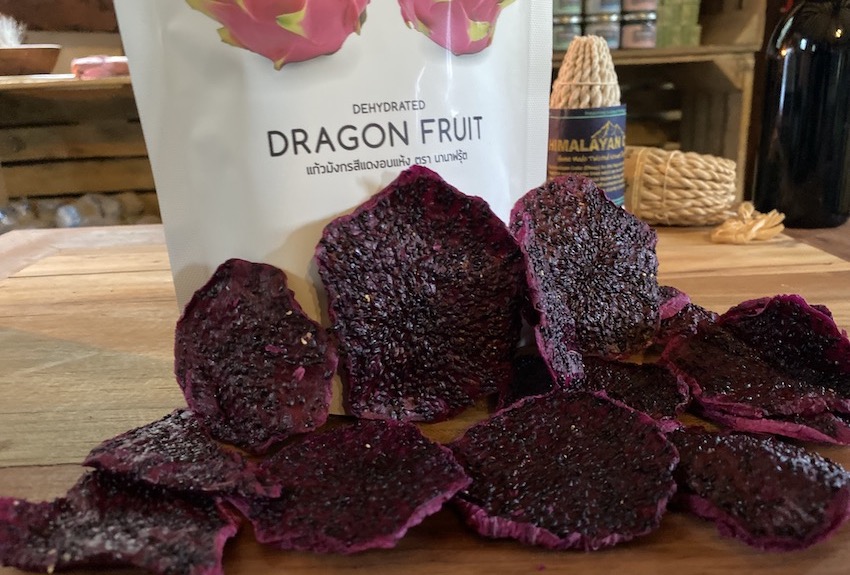 The SuperFruit that Gives
Immunity... The high level of Vitamin C present in Dragon Fruit helps boost immunity and it stimulates the activity of other antioxidants in the body as well. In a 2011 research study, the flesh and the peel of the White and Red Dragon Fruit (Pitayas) have a rich polyphenol and flavonoid content which fights free radicals.
Heart Health... Dragon Fruit contains only healthy saturated fats, which leads to higher levels of HDL ("good" cholesterol) and lower levels of LDL ("bad" cholesterol) in the body. The chances of developing plaque in the arteries and veins are less, thereby reducing your chances of suffering from heart issues.

Beautiful Hair... Supplementing natural Dragon Fruit Powder in your daily healthy diet helps in keep hair nourished and healthy. Its high amounts of nutrients help to reduce the damage done to hair by the chemicals present in artificial hair colour. It also helps improve the texture and bring back the shine to your hair.
Dragon Fruit (Pink Pitaya) A Tropical SuperFruit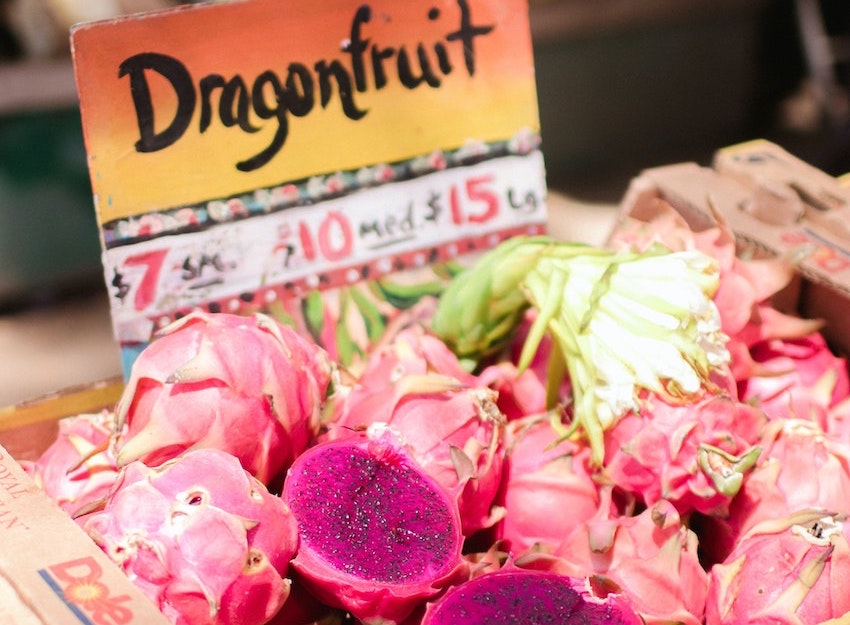 Dried Dragon Fruit - Evidence-Based Health Benefits
Dried Dragon Fruit has a huge amount of Carotene, which might help to improve eyesight, Vitamin C (10% of the recommended daily value), to boost the immune system, Vitamin B to assist carbohydrate metabolism, Calcium to develop strong teeth and bones, Iron for producing healthy red blood cells, and Phosphorus that promotes cell and tissue growth. Animal researches have shown several positive effects on the way our bodies regulate and use sugar (glucose) as a fuel.  Scientific studies also revealed that Dragon Fruit might improve insulin resistance and decrease liver fat. Feeding rats with fruit juice resulted in improved blood glucose response and reduction in some liver enzyme markers, while significantly increasing other liver enzyme markers.
Dragon Fruit's tiny seeds are an outstanding source of Omega-3 and Omega-9 Fatty Acids. These are known to support a healthy heart.  According to a study done in 2014, published in the Electronic Journal of Biotechnology, Dried Dragon Fruit nourishes Gut Bacteria which might have a probiotic effect on our bodies. A specific Carbohydrate type known as Oligosaccharide is present in the fruit. This Carbohydrate also stimulates the development of healthy bacteria in the intestines and stomach. Probiotics are great helping to improve digestion and immunity as well as for fighting intestinal infections. In a nutshell, the growing popularity of Dragon Fruit is not solely due to its aesthetic appeal, but to the fruit's immense health properties supported by scientific research.
Dragon Fruit... A Vibrant Addition to a Healthy Lifestyle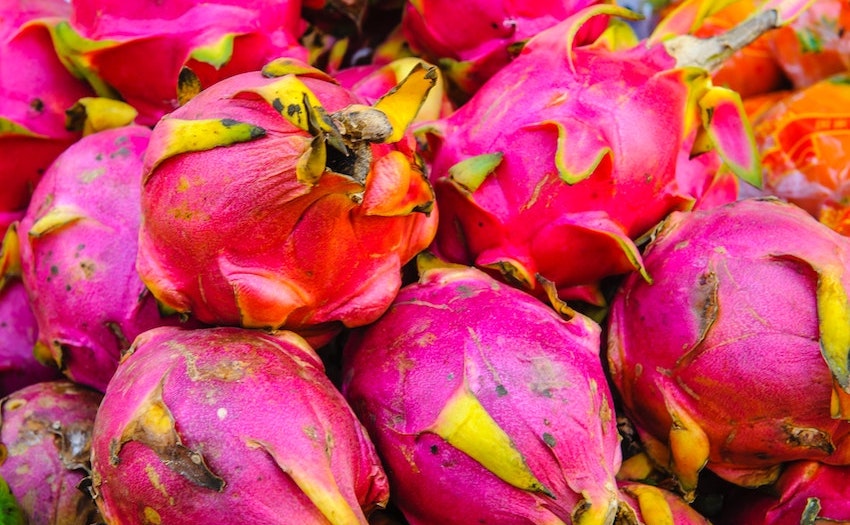 Dragon Fruit is a Nutrient Dense Fruit that includes Betalains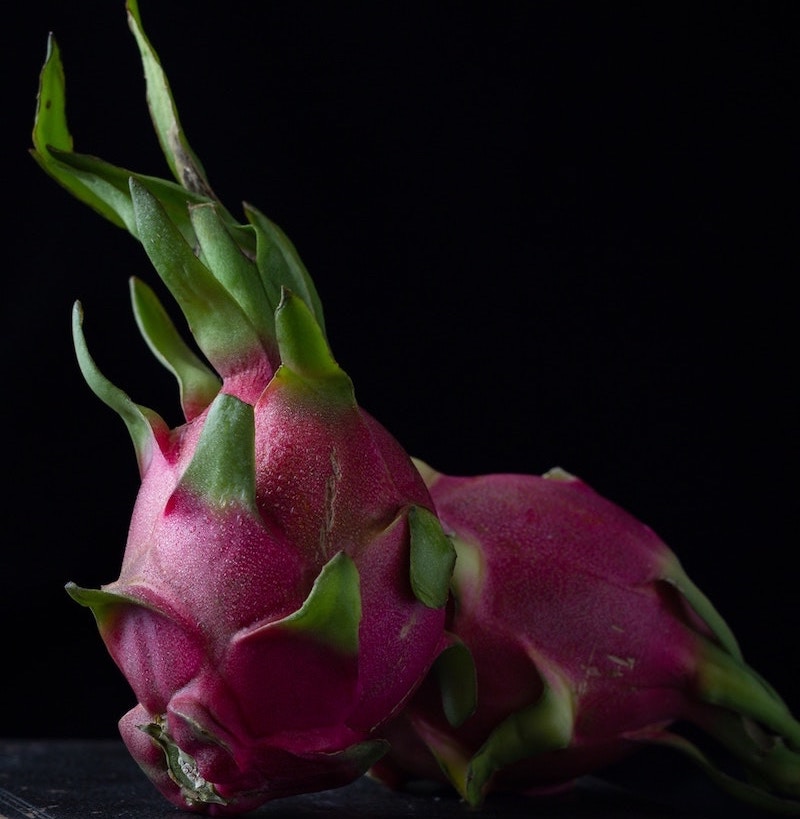 You can see that Dragon Fruit is a Superfood or i should say SuperFruit, but one of its unique features is the prevalence of Betalains, so let me tell you what they are. Betalains also known as Betalain, betanin, Betanidin, Phyllocactin, Indicaxanthin, Hylocerenin, 2', O-Apiosylphyllocactin and Beet pigments, are natural plant derived pigments, people are drawn to them for their aesthetic and nutritional aspects. With more conciousness to natural options the demand for a natural pigments like betalains as an alternative colorant in food products has grown. 

Betalains from red beetroot are one of the most widely used food colorant, betalains are not as well studied as compared to other natural pigments such as anthocyanins, carotenoids or chlorophylls. There are paper reviews on the pharmacological properties, such as anti-lipidemic and antimicrobial activity of Betalains derived from sources such as Red Beets, Amaranth, Nopal Cactus (Prickly Pear) and our current subject Pink Dragon Fruit for potential application as functional foods.
For a Tropical SuperFruit Drink thats packed nutrients, then a simple delicious smoothie with a couple of these slices thrown in is an easy way to get the health boosting effects from this SuperFruit. I personally just like to snack on these, they're so delicious.
Dragon Fruit Pieces or Ground Powder both available at Ancient Purity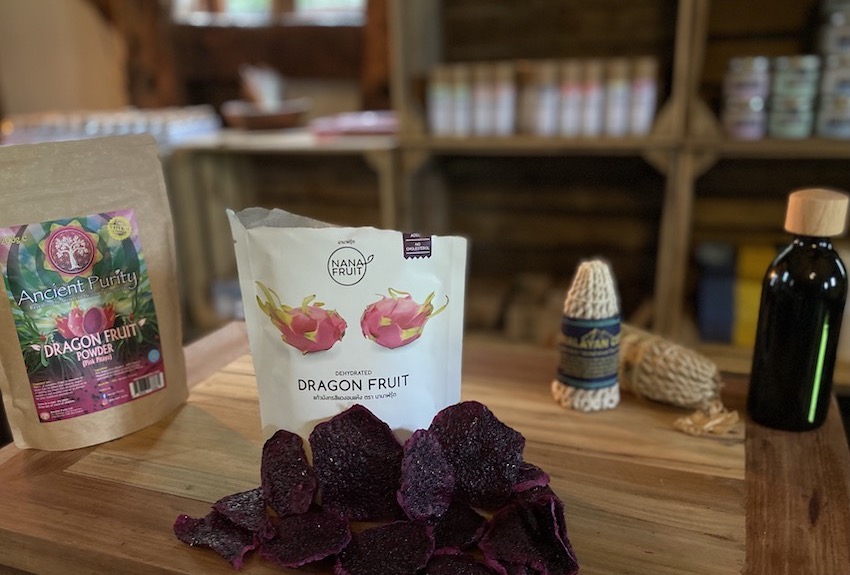 Dried Dragon Fruit – Nutritional Value & Culinary Tips
A serving size of Dried Dragon Fruit is roughly 30 grams this contains... Calories: 60. Protein: 1.2 grams. Fat: 0 grams. Carbs: 13 grams. Fibre: 3 grams. Vitamin C: 3% of the RDI. Iron: 4% of the RDI. Magnesium: 10% of the RDI. Given the high amount of Magnesium and Fibre as well as the very low calorie content, Dried Dragon Fruit can be rightfully called a Super Food. 
Dried Dragon Fruit is also an outstanding food for making healthy drinking water. Just drop some pieces into your drinking bottle and within 2 hours you'll have your own dragon fruit Vitamin Water. The same principle can be applied for preparing Dragon Fruit Tea. Another idea is tossing some Dried Dragon Fruit in a bowl with blueberries, banana, strawberries, or pineapple for a super healthy summer salad. Well, perhaps such a tropical salad tastes even better in the winter! You can also blend the dried fruit with other fruits into a smoothie or add it to yogurts or ice-cream. Easiest is to simply snack on it by itself. The fruit is packed with Prebiotics to support a healthy gut. Prebiotics boost digestion as well as our immune systems lowering the risk of intestinal infections and to keep us more regular. Perfect for regularity, too!
Add the Dragon Fruit Pieces to a Smoothie or Eat Whole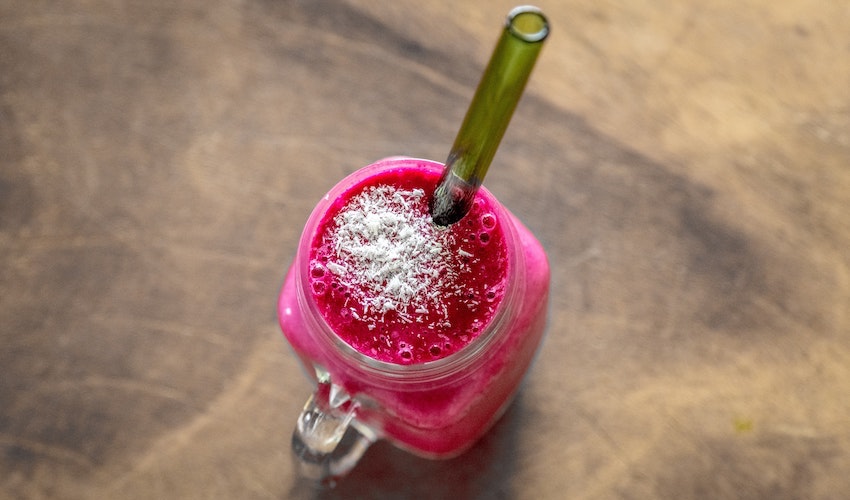 Dried Dragon Fruit… Closing Thoughts
Also known as pitaya or strawberry pear, Dragon Fruit (Selenicereus undatus) is native to Central America and Mexico but was introduced to South Eastern Asia, first late 19th century by the French in Vietnam. Today, Cambodia, Sri Lanka, Myanmar, Taiwan and Thailand have an emerging fruit production and distribution market. The unique appearance gave Dragon Fruit its name as the scales resemble that of a dragon and the spikes resemble fire, as depicted in Chinese mythology. Dragon Fruit comes in 4 varieties; 3 varieties are pink-skinned, one with red flesh, one with pink flesh, and the 3rd with purple flesh (This is Ancient Purity's Dried Dragon Fruit variety). The 4th variety has yellow skin and white flesh. All have tiny edible black seeds, just like kiwifruit. Depending on where it was harvested and the variety.
Dragon Fruit can be a bit expensive. By buying our Dried Dragon Fruit you'll help Thai local farmers getting a decent income as well! Dragon fruit has numerous potential health-improving properties, including: helps to Lower Blood Sugar, contains Prebiotics, boosts Iron levels, rich in Antioxidants, naturally Fat-Free and high in Fibre, rich in Vitamin C, and helps to Digest food. Ancient Purity's Dried Dragon Fruit is of the highest quality, nutritious to both body and mind.  All organically grown Dragon Fruits were carefully selected and harvested in Northern Thailand.  During the production process, all health benefits and freshness of the Dragon Fruit have been retained. Dehydration is the process of draining water from the fruit, reducing humidity, allowing it to be stored for a longer period of time and still as fresh as real fruit. Ancient Purity's Dried Dragon Fruit can be a healthy and yummy addition to your diet!
Experience the Magic of Dragon Fruit - Order Today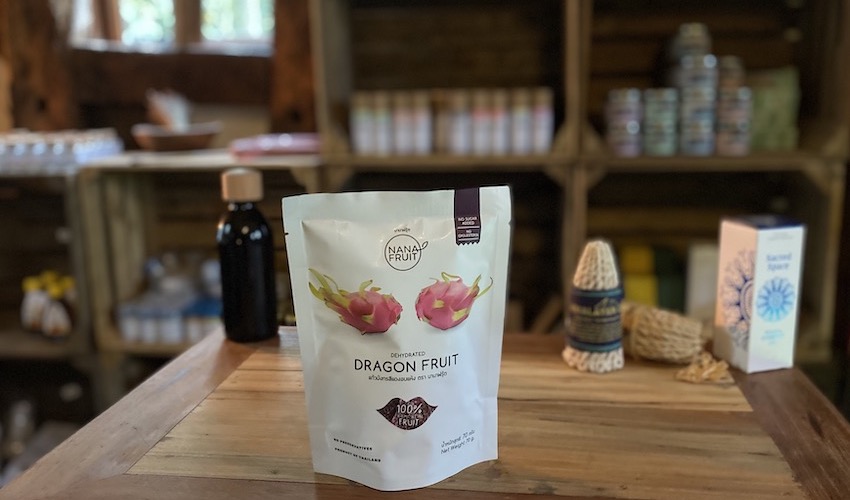 Pink Dragon Fruit Slices (Air-dried).
100% Natural no other ingredients.
FREE FROM: Preservatives, added sugar, sulphites, gluten.
You can snack on it by itself. In addition, Dried Dragon Fruit can be added to desserts, yoghurt, ice-cream, salads, cocktails, and sorbets. It also tastes fabulous when blended into a smoothie. Add some pieces to clean water to make your own Vitamin drink.

 
NOTE: There has been limited research into whether or not Dried Dragon Fruit interacts with medications.  Researchers recommend patients to talk to their healthcare practitioners to get the most personalised information with regards to their medication and possible interactions. Do not exceed the recommended dose. 
Brand: Nana Fruit.
Origin: Thailand.
Size: 70g (2.46 oz.)
Package: Foil Pouch. 
Storage:  Keep sealed and store in a cool dry place.
Estimated shelf life from purchase: 1-2 years.
Health Line - 7 Great Reasons to Add Dragon Fruit to Your Diet
Cleveland Clinic Health Essentials - All about Dragon Fruit: 3 Health Benefits + How to Eat It
Kor Shots - THE QUIRKY-LOOKING PINK DRAGON FRUIT IS FULL OF HEALTH BENEFITS
Supporting Scientific Research
riffin AA, Bakar J, Tan CP, Rahman RA, Karim R, Loi CC (2008). "Essential fatty acids of pitaya (dragon fruit) seed oil" (PDF). Food Chemistry. 114 (2): 561–64. doi:10.1016/j.foodchem.2008.09.108.
Bazzano LA, Serdula MK, Liu S. Dietary intake of fruits and vegetables and risk of cardiovascular disease. Curr Atheroscler Rep. 2003;5:492–9.
Bloomgarden ZT. The epidemiology of complications. Diabetes Care. 2002;25:924–32.
Gunasena HP, Pushpakumara DKNG, Kariawasam M. Dragon fruit. In: Pushpakumara DKNG, Gunasena HPM, Singh VP, editors. Underutilized fruit trees in Sri Lanka. I. New Delhi India: World agroforestry centre ICRAF; 2007. pp. 110–40.
Wybraniec S, Mizrahi Y. Fruit flesh betacyanin pigments in Hylocereus Cacti. J Agric Food Chem. 2002;50:6086–9.
Nerd, A. , Y. Sitrit, R. A. Kaushik, and Y. Misrahi. 2002. High summer temperatures inhibit flowering in vine pitaya crops (Hylocereus spp.). Scientia Horticulturae 96: 343-350.
Nerd, A. , Y. Sitrit, R. A. Kaushik, and Y. Misrahi. 2002. High summer temperatures inhibit flowering in vine pitaya crops (Hylocereus spp.). Scientia Horticulturae 96: 343-350.
Rodríguez C. 2000. Pitahayas. Estado Mundial de su Cultivo y Comercialización. Fundación Yucatán Produce, A. C., Universidad Autónoma de Chapingo. Maxcanú, Yucatán, México. 153 p.
Disclaimer:
The products and the claims made about specific products, articles and claims made in the articles and information written on or through this site have not been evaluated by Ancient Purity, the MHRA, the FSA or the United States FDA and are not approved to diagnose, treat, cure or prevent disease. The information provided on this site is for informational purposes only and is not intended as a substitute for advice from your physician or other health care professional or any information contained on or in any product label or packaging. You should not use the information on this site for diagnosis or treatment of any health problem or for prescription of any medication or other treatment. You should consult with a healthcare professional before starting any diet, exercise or supplementation program, before taking any medication, or if you have or suspect you might have a health problem. Providing a product for sale does not imply Ancient Purity recommendation of that product, its suitability or its efficacy. Ancient Purity cannot give medical opinions. No comment or entry in this site or in any communication from Ancient Purity may be taken as such.
Prices and promotions are subject to change without notice. Customers should always carefully check all the details printed on the package before opening the product. Whilst all efforts are made to ensure accuracy of description, specifications and pricing there may be occasions where errors arise. Should such a situation occur the company cannot accept your order. In the event of a mistake you will be contacted with a full explanation and a corrected offer. The information displayed is considered as an invitation to treat not as a confirmed offer for sale. The contract is confirmed upon supply of goods, Prices and promotions are subject to change without notice.
Please read the Terms and Conditions of using this site, by using the site you are accepting the terms and conditions.
All Material on this site © 2014 Ancient Purity Ltd Registered in England & Wales 07801142 VAT Reg 168 335 488