Details22
Dr Mercola Products UK, Premium Multi Vitamin & Mineral Wholefood Supplment. 240 Tablets
At Ancient Purity we have provided a high quality affordable Multi Vitamin & Mineral Complex, it doesn't make a big profit and we try to encourage people to take 4 caps a day but we have to always think what can people afford or how much are they willing to spend. Its effective and people regularly repeat their purchase to take it. We think it only fair to offer an affordable Multi and to offer the absolute top end, which is why we've chosen Dr Mercola's Multi Vitamin.
While we will never endorse the practice of sloppy eating and a sedentary lifestyle while taking a supplement to cover for reckless lifestyle choices…
It is true that a good multivitamin benefits your optimal health by helping promote your strong immune system, providing support for defense against a growing number of health concerns.* Taking pro-active steps, including taking a good multivitamin to help maintain and boost good health and wellness is still one of the best things you can do for yourself and your health...*
Especially if you're already adhering to a smart lifestyle with a healthy diet, exercise, adequate sunshine, and good sleep, taking a good multivitamin benefits you in so many ways than you can imagine.*
Let's take a closer look at some key nutrients in Multivitamin + Plus Vital Minerals that are often missing from other multivitamins (or found in such low amounts that their effectiveness is highly limited). Remember, one of the top criteria for providing you with a high-potency multivitamin was that it must contain essential minerals. It appears many so-called high-potency multivitamins are seriously lacking in mineral content.

Dr Mercola's Multivitamin + Plus formula Contains specially selected minerals
Calcium - To provide a high-level of support for your skeletal system, I chose to include a high amount of calcium in the Multivitamin +Plus Vital Minerals formula.* My main reason for doing this was that, as you age, your need for calcium becomes more and more important to promote healthy bones.* A recent study published in The American Journal of Clinical Nutritionreported that people should consume 741mg per day of calcium to maintain neutral calcium balance. Realising the importance of eating as much unprocessed whole foods as possible to get the minerals you need, my Multivitamin +Plus Vital Minerals formula provides 250 mg of calcium to complement your healthy diet.

Magnesium - Scientific studies have reported that magnesium is helpful in supporting your lungs and overall pulmonary system.* But some lower-potency multivitamins don't include this ingredient. Other research shows that magnesium intake promotes bone density health.* It also helps maintain your muscular and nervous systems.* And helps support a healthy heart, and your energy needs.* So you can see why magnesium is such a key mineral in my Multivitamin +Plus Vital Minerals formula.

Potassium - This important mineral helps regulate your circulatory system and promotes your heart health.* In addition, research has shown that potassium is another important element in your bone density health.* As you age, bone density becomes an important element in your overall health.* Once again, please realize the importance of eating a healthy diet rich in unprocessed whole foods. Many processed foods lose valuable potassium content prior to ever reaching your table.
These minerals may be worth their weight in gold. They provide you with significant health-supporting value in complementing your diet.* They're part of the added bonus that clearly makes Multivitamin +Plus Vital Minerals stand apart from the rest.
High-Potency Antioxidant Formula to Help You Balance Out Free Radicals
Dr Mercola made every effort working with the award-winning lab to ensure that as many nutrients as possible ended up directly linked to their whole food source. This became crucial in providing you a premium supplement.

Multivitamin + Plus provides you with a highly concentrated daily supplement containing more than 50 nutritional ingredients... all in a special herbal food base.

One of the challenges your body faces every day is combating free radicals.

Free radicals are highly reactive molecules and fragments of molecules that may impact your body at your cellular level.

Free radicals constantly attack your body proteins, carbohydrates, fats, and DNA, and can cause potentially serious health concerns unless they are kept in check. Every cell in your body suffers an estimated 10,000 free radical hits each day. Your body does its best to fight back -- in what is an actual battlefield at the cellular level.

To help balance the effects of free radicals, Multivitamin +Plus Vital Minerals provides you with...
High-potency Exclusive Antioxidants
Beta-carotene -- healthy vision and immune system support / Vitamin C -- promotes tissue growth and repair, and healthy gums
Vitamin D3 -- supports heart, bone, vascular, and immune system health / Vitamin E -- helps support your muscular system.
Selenium -- bolsters your healthy immune system / L-cysteine -- supports your immune and respiratory systems.
Lutein -- helps promote your healthy vision / Lycopene -- supports your immune system.
Red wine proanthocyanidins -- provides cardiovascular support.
There is select extracts and powders from over 25 fruits, vegetables, and herbs... Multivitamin +Plus Vital Minerals Provides You an Incredible Formula Based on Vegetables, Fruits, Herbs, and Green Foods In addition to the outstanding nutrients already discussed, the Multivitamin +Plus Vital Minerals formula includes a health-promoting blend of vegetables, fruits, herbs, and green foods...
When this was impractical with certain nutrients, a highly bioavailable form was used to ensure you could take full advantage of these nutrients.*
Now you can see for yourself the remarkable ingredients included in the total Multivitamin +Plus Vital Minerals formula.
Over 2000 mg of nutrients based on vegetables, fruits, herbs and green foods are intentionally included in the Multivitamin +Plus Vital Minerals formula... nutrients that promote your optimal health in the following ways:*
Red wine proanthocyanidins Cardiovascular / Blueberry Urinary tract and immune.
Garlic Digestive and immune / Green tea extract Immune.
Sprouted barley juice Cardiovascular/heart / Wheatgrass juice Immune and anti-ageing.
Broccoli Prostate and immune / Cauliflower Circulation and immune.
Spirulina Nervous and tissue / ChlorellaCardiovascular and immune.
Green papaya extract Digestive and skin / Beet extractImmune.
Apple pectin Immune and lungs / Bromelain Respiratory and digestive.
Rose hips Skeletal / Lemon bioflavonoidsImmune.
Rutin Circulatory and immune / Hesperidin Vascular and immune.
There's an additional 700 mg of a proprietary vegetable and fruit base, further promoting your optimal health, including:
Kale -- provides healthy prostate support / Spinach -- helps support your cardiovascular and immune systems.
Carrot -- assists optimal vision and cholesterol level / Radish -- supports your digestive, respiratory, and nervous systems.
Celery -- provides you with skeletal and nervous system support / Apricot -- promotes your respiratory and immune systems.
Blackberry -- helps support your digestive and immune systems / Cranberry -- supports your urinary tract and cardiovascular system.
Grape -- promotes healthy circulation and cholesterol level / Pineapple -- provides healthy respiratory and digestive support.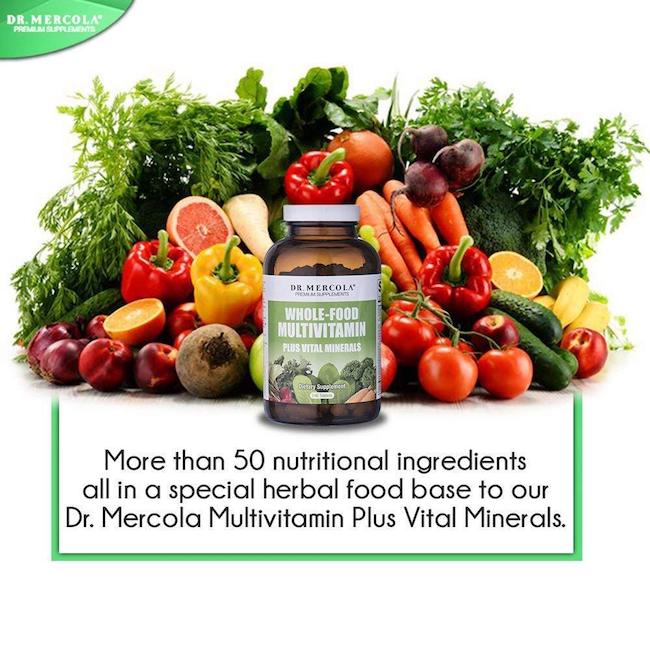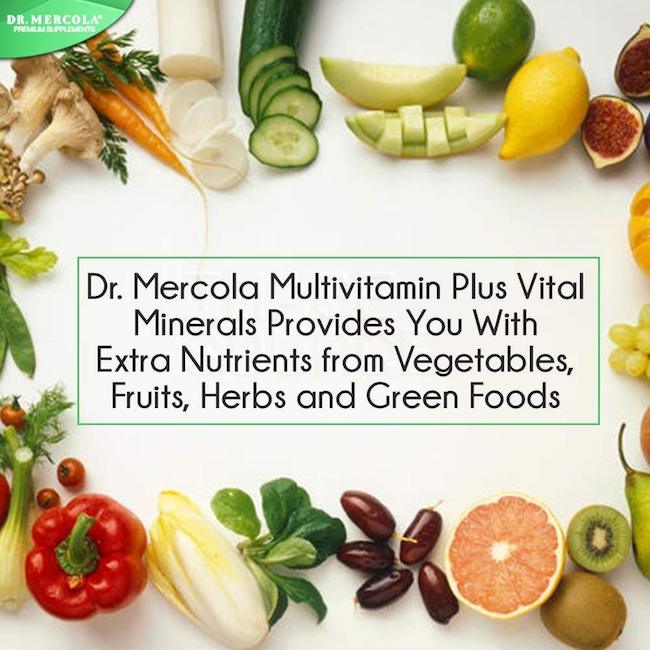 Metafolin®, a patented form of 5-MTHF
Dr Mercola has added a superior form of Folic Acid to help ensure you don't get cheated with standard Folic acid, or folate, an important member of the B-vitamin family, plays many important roles in your body. Folic acid:
Helps maintain normal blood homocysteine levels / Helps nourish the brain and supports mood.
Supports protein metabolism / Supports energy production.
Promotes normal formation and functioning of red and white blood cells.
For Folic Acid to perform all of these crucial duties in your body, it must first be activated into the biologically active form – L-5-MTHF. This is the form that's most usable by your body and the form that's able to cross the blood-brain barrier to carry out important brain functions.*

However, the form most commonly added to nutritional supplements is folic acid. And here's the problem: nearly half of the population has difficulty converting folic acid to the bioactive 5-MTHF form because of a genetic reduction in enzyme activity.

So if you have a reduced ability to metabolize folic acid, you may have less-than-optimal cardiovascular health. Using a 5-MTHF form of folic acid may help.*

Metafolin®, a patented form of 5-MTHF, is:
The form of folate that's preferred by your body
More reliably bioavailable and biologically active than folic acid
The only folate that can cross the blood-brain barrier.
And now you'll find Metafolin® -- instead of folic acid – in Multivitamin +Plus Vital Minerals.
Dr Mercola's Researched and tested High-Quality Multi-Vitamin/Minerals+
Multivitamin +Plus Vital Minerals has been carefully evaluated and selected, each ingredient has been chosen for its...
Proper nutrient balance -- just like too little of a nutrient does not provide you any real benefits, too much can potentially do you more harm than good
Absorbability -- the key to promoting your health is absorbing as much of the nutrient as possible
Competitive relationship with other nutrients -- a complex evaluation is performed by the scientists to make sure the amounts and types of nutrients work well together to benefit you
Allergenic potential -- careful selection and measurement of the nutrient to investigate potential allergy issues
Long-term safety -- any potential toxic buildup balanced out
To maximise your multivitamin's benefits, you should take a few tablets first thing in the morning and with lunch, or with an early dinner to help optimize your nutrient absorption, the better chance you'll have of truly fortifying your diet.
Details44
Supplement Facts:
Serving Size: 8 Tablets
Servings Per Container: 30
Amount Per Serving:
Vitamin A (from natural beta carotene): 5,000 IU 100%
Vitamin C (as Calcium, Magnesium, Niacinamide Ascorbates and Ascorbyl Palmitate): 500mg 833%
Vitamin D-3 (as cholecalciferol): 5,000 IU 1,250%
Vitamin E (natural, as d-alpha tocopheryl plus mixed tocopherols): 400 IU 1,333%
Thiamine (as Thiamine Pyrophosphate) 3 mg 200% Riboflavin (as Riboflavin-5-Phosphate): 3.4mg 200%
Niacin/Niacinamide (as Niacinamide Ascorbate): 40mg 200%
Vitamin B-6 (as Pyridoxal-5-Phosphate): 4mg 200%
Folate (as L-methylfolate, Metafolin): 400mcg 100%
Vitamin B-12 (as methylcobalamin): 100mcg 1,667%
Biotin: 900mcg 300%
Pantothenic Acid (as d-Calcium Pantothenate): 30mg 300%
Calcium (as Calcium Ascorbate, Citrate/Malate Complex): 250mg 25%
Iodine (from Kelp): 200mcg 133%
Magnesium (as Magnesium Ascorbate/Amino Acid Chelate Complex): 500mg 125%
Zinc (as Zinc Amino Acid Chelate): 15mg 100%
Selenium (as Amino Acid Chelate Complex): 200mcg 286%
Copper (as Copper Amino Acid Chelate): 50mcg 3%
Manganese (as Manganese Amino Acid Chelate): 2mg 100%
Chromium (as Amino Acid Chelate): 200mcg 167%
Molybdenum (as Amino Acid Chelate): 100mcg 133%
Potassium (as Potassium Krebs† and Amino Acid Chelate Complex): 99mg 2%
Lutein (natural): 6mg
Lycopene (natural): 6mg
Zeaxanthin: 1mg
Other Mineral, Nutrients and Trace Elements
Inositol: 100mg approx
Trace Elements (from Sea Vegetation): 100mcg
Strontium (from 0.5mg strontium carbonate): 297mcg
Silica: 100mg
Choline (from 150mg Choline Citrate/Bitartrate): 60mg
PABA (para-aminobenzoic acid): 50mg
Boron (as Amino Acid Chelate Complex): 1.5mg
Vanadium (as Amino Acid Chelate): 50mcg
Amino Acids and Enzymes
L-Cysteine/N-Acetyl L-Cysteine: 150mg
Betaine (from 150mg Betaine HCl): 114mg
Bromelain (2,000 GDU/g): 50mg
Glutamic Acid (from 25mg Glutamic Acid HCl): 20mg
L-Methionine:12.5mg
Bioflavonoids and Proanthocyanidins
Rose Hips: 100mg
Lemon Bioflavonoids: 100mg
Red Wine Proanthocyanidins/Pine Bark Extract: 50mg
Hesperidin: 35mg
Rutin: 25mg
Vegetable Fruits and Herbs Proprietary Blend: 700mg
Kale (leaf), Spinach (leaf), Carrot (root), Radish (root), Celery (leaf and stalk), Apricot (fruit), Blackberry (fruit), Cranberry (fruit), Grape (fruit) and Pineapple (fruit)
Blueberry (fruit): 100mg
Garlic (bulb, Pure-Gar, odourless): 100mg
Broccoli (entire plant): 100mg
Cauliflower (entire plant): 100mg
Spirulina: 100mg
Chlorella (broken cell wall): 100mg
Green Papaya Extract (fruit): 100mg
Green Tea Extract (leaf): 50mg
Sprouted Barley Juice (entire plant): 50mg
Wheat Grass Juice (entire plant): 50mg
Beet Extract (root): 50mg
Apple Pectin (fruit): 50mg
*Daily Value not established.
†Krebs = Citrate, Fumarate, Malate, Glutarate and Succinate Complex
Other Ingredients:
Cellulose.
This product contains No yeast, soy, protein, milk/dairy, corn, sodium, sugar, starch, artificial colouring, preservatives or flavouring.
Details44
Adults - take 8 (eight) tablets daily. Take 1 - 2 Tablets across the day, best to start in the morning and then finish in the late evening. You should total 8 in the day to achieve the full benefits of the premium Whole-Food MultiVitamin plus Vital Minerals.
Details44
Brand:

Mercola
Form: Tablets
Quantity: 240
Dosage: 1-2 tablets per serving reaching 8 tablets daily best with meals.
Container: BPA FREE Plastic tub
Storage: Keep in a cool dry place, keep out of reach of children.
Estimated shelf life from purchase: 1 - 2 years.
Disclaimer:
The products and the claims made about specific products, articles and claims made in the articles and information written on or through this site have not been evaluated by Ancient Purity, the MHRA, the FSA or the United States FDA and are not approved to diagnose, treat, cure or prevent disease. The information provided on this site is for informational purposes only and is not intended as a substitute for advice from your physician or other health care professional or any information contained on or in any product label or packaging. You should not use the information on this site for diagnosis or treatment of any health problem or for prescription of any medication or other treatment. You should consult with a healthcare professional before starting any diet, exercise or supplementation program, before taking any medication, or if you have or suspect you might have a health problem. Providing a product for sale does not imply Ancient Purity recommendation of that product, its suitability or its efficacy. Ancient Purity cannot give medical opinions. No comment or entry in this site or in any communication from Ancient Purity may be taken as such.
Prices and promotions are subject to change without notice. Customers should always carefully check all the details printed on the package before opening the product. Whilst all efforts are made to ensure accuracy of description, specifications and pricing there may be occasions where errors arise. Should such a situation occur the company cannot accept your order. In the event of a mistake you will be contacted with a full explanation and a corrected offer. The information displayed is considered as an invitation to treat not as a confirmed offer for sale. The contract is confirmed upon supply of goods, Prices and promotions are subject to change without notice.
Please read the Terms and Conditions of using this site, by using the site you are accepting the terms and conditions.
All Material on this site © 2014 Ancient Purity Ltd Registered in England & Wales 07801142 VAT Reg 168 335 488