Sacred Indigenous Fruit (Non-Hybrid) Superfood - Vitamin C / Anthocyanins
50g (1.76 oz.) Dried Fruit
Davidson Plum is one of the most nutritious native powerhouse fruits from Australia, the strikingly sumptuous Davidson Plum provides a load of Antioxidants along with Potassium, Calcium, Vitamin E, Zinc and Lutein. Initially cultivated as decorative plants, today these fruits are considered as one of the endangered plant species and solely can be seen grown in restricted areas in Australia. Davidson Plum has an antioxidants capacity higher than the better known Blueberry. Davidson Plums have a sour, tart and astringent flavour that is by most culinary buffs considered unpalatable when raw. Australia's indigenous populations would consume the fruits fresh, out of hand. The fruits can be used in recipes similar to rhubarb, cranberries, or other naturally acidic fruits. In addition to savoury preparations, Davidson Plums are popularly used to flavour baked goods, including cakes, pies, biscuits, tarts, and muffins, and the fruits are also pickled or pressed to make juices, wine, liqueurs, and cordials. It's a Superfood of the "Outback".
Ancient Purity presents the Superfood of the "Outback" used for centruries as a medicine this dried superfuit is a game changer in whole natural health.The brilliantly coloured Davidson Plum grows in several varieties in Queensland's and New South Wales' tropical rainforest and traditionally they were eaten raw as "bush tucker" food for Australia's indigenous Aboriginal people. Different species of fruit can be found in rainforest pockets from the northern tropics through NSW, Victoria and down to Tasmania. Some other native fruits found outside these areas, like the Kakadu Plum, have also been found to be high in Antioxidants and Vitamin C. So this Superfruit is rich in nutrients to combat ageing, cardiovascular issues, high blood sugar whilst supporting Healthy Skin and more.
For those wishing to get in shape getting rid of a few pounds can easily become Davidson Plum enthusiasts as 100 grams of this extraordinary fruit has just 63 calories. The fruit's freeze-dried powder is an outstanding source of potassium as well. Potassium is vital for muscle movement, heartbeat, kidney function and nerve health. Vitamin E and Zinc are essential for glowing and youthful skin. The presence of Lutein in Davidson Plum fruit powder is more in comparison to avocado which helps to maintain good eye health. It possesses Antidiabetic properties as well and has the ability to support healthy weight and healthy blood pressure levels.  
Davidson Plum - Information & Points to Research
Clean, Traceable & Effective.
Whole Dried Fruit.
Native Australian Origin - 100% Natural.
Helps Maintaining Youthful Skin - Boosts Collagen Production.
Supports Eye Health (Lutein).
Digestion Support.
Healthy Weight-Management.
Promotes Hearth Health.
Blood Sugar Health Supportive.
Aids Healthy Blood Pressure.
Great Source of Vitamin C & Potassium.
Contains Folate, Calcium & Magnesium.
Culinary Delight.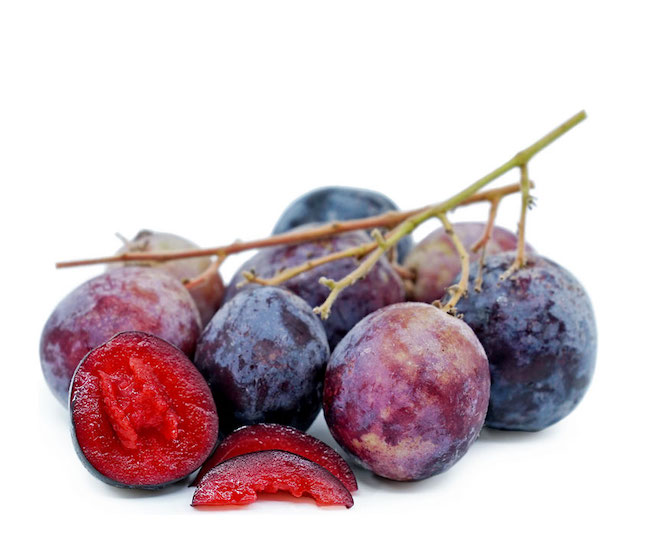 Davidson Plum - Superfruit of Outback
Skin Food - Davidson Plum - Collagen Boost & Anti-Ageing
Ancient Purity's 100% Natural Whole Dried Davidson Plum is brimming with powerful bio-active phytonutrients including: Quercetin, Flavonone, Tartaric Acid, Gallic Acid, Anthocyanin and Glycoside. While some people probably never heard of these naturally occurring nutrients, their natural ability for providing skin health benefits is quite amazing. Davidson Plum Powder Extract is a powerful regenerative and anti-ageing 'food' for the skin.  This fruit (powder) support skin elasticity through encouraging elastin and collagen production, to decrease the appearance of wrinkles and fine lines making your skin appear firm and youthful.
Davidsons Plum belongs to the select group of native Australian fruits attracting worldwide attention for its incredible healing effect on skin. It's no surprise that Davidson Plum takes a starring role in several renowned organic skin care products five as it's an impressing source of natural compounds which have powerful regenerative and anti-aging effects on every type of skin. Your skin will recognise these compounds as familiar friends and say ''come on in'', rather than treating them like foreign bodies. By now you can hopefully imagine how beneficial our Davidson Plum fruit powder could be for you. 
Davidson Plum... An Ancient SuperFruit of Australia
Davidson Plum a Culinary Treasure
Davidson Plums have a sour, tart and astringent flavour that is by most culinary buffs considered unpalatable when raw. Australia's indigenous populations would consume the fruits fresh, out of hand, but nowadays, the fruits are primarily eaten with added sweeteners or cooked to decrease the mouth-puckering flavour.  Davidson Plums can be sliced thinly and sprinkled with some sugar, chilli powder or Celtic Sea Salt as a healthy snack. The fruits can also be macerated or pressed to make marinades, glazes, and dressings, cooked into jams, jellies and syrups, or pureed into sauces to serve with roasted meat. Davidson Plums have a versatile flavour that can be incorporated into sweet or savoury or dishes, and the fruit's ruby-coloured flesh imparts a dramatic hue to sauces. 
The fruits can be used in recipes similar to rhubarb, cranberries, or other naturally acidic fruits. In addition to savoury preparations, Davidson Plums are popularly used to flavour baked goods, including cakes, pies, biscuits, tarts, and muffins, and the fruits are also pickled or pressed to make juices, wine, liqueurs, and cordials. In Australia, Davidson Plums are commercially sold in dehydrated, powdered, pureed, or frozen forms.  Ancient Purity's Whole Dried Davidson Plums can be used as a nutritional supplement. Chopped into yogurt,mixed in with chia seed puddings, thrown into the blender for Super Smoothies, or baked goods. Davidson Plums pair well with spices such as cinnamon, nutmeg, and star anise, vanilla, quince, rhubarb, strawberries, coconut, raspberries, pomegranate, and meats such as beef, poultry, pork, and kangaroo, a delicacy in Australia. 
Create the Most Incredible Health-Boosting Desserts with Davidson Plum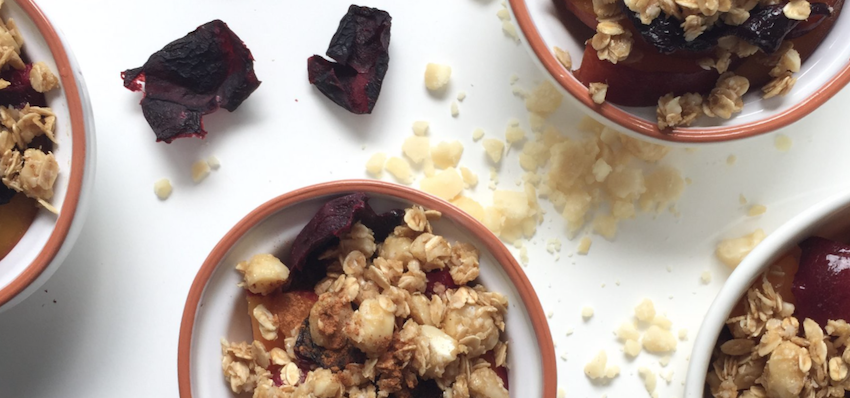 Creating with Davidson Plum
Davidson Plums are really tart and sour in taste, there are some great dishes you could make. Create a healthy Cake, Spiced Plum Paste, mix with Raspberry for some tasty healthy tarts. People make sorbet, protein balls, truffles, lamingtons, the list goes on. But this incredible, unique superfood will really be distinctive in your healthy, natural desserts. You can throw them in a smoothie, or be brave like the beautiful girl below in the picture and eat them as a superfood snack. You will not run out of ideas with this incredible fruit, they enhance and invigorate so many dishes. Anyway here is our personal favourite, Sandalwood Nut and Davidson Plum Crumble. With the smooth, rich blend of our Sandalwood Nuts and Coconut Oil, then the Superfood Powerhouse... tangy Davidson Plum. Sweetened with Vanilla and any of our healthy syrups (Try Bush Apple or Desert Lime). You get total nourishment and nutrition together in a delicious, tangy treat. You'll love the aromas too.
6 Air Dried Davidson Plums / ½ cup crushed Sandalwood Nuts  / ½ cup Water / 6 Sliced Nectarines / ¾ cup Raspberries / 1 tbs Lemon Juice / 1 cup Organic Oats / ½ cup flaked Quinoa / 2 tsp Vanilla bean paste / 3 tbs Coconut Oil / 6 tbs Syrup (Choose Bush Apple, Desert Lime or be boring and use Maple Syrup) / a pinch of Celtic Sea Salt / ½ tsp Cinnamon / 1 tbs Shredded Coconut. 
Preheat oven to 180°C. Boil ½ cup water in a small pot, add Davidson Plums, 1 tsp vanilla bean paste and 2 tbs syrup.
Lower to a gentle simmer and stir occasionally until liquid is absorbed.
Place nectarines and raspberries into a greased baking dish (or ramekins) Add Davidson Plum mixture and lemon juice, Stir.
Heat a small skillet over a low flame and add coconut oil, 1 tsp vanilla bean paste, 4 tbs Syrup and Celtic Sea Salt. Stir to combine.
In a mixing bowl, combine oats, quinoa and Sandalwood Nuts. Pour the coconut oil and maple syrup mixture over the top and mix.
Spread the oat mixture, on top of the fruit and sprinkle with shredded coconut and cinnamon.
Bake for 20 minutes or until nectarines are tender and crumble is golden.
Now you can serve with a side of natural yoghurt, or vegan alternative, or like me just some chilled Almond Milk.
Davidson Plum... Growing Wild... Organic & Clean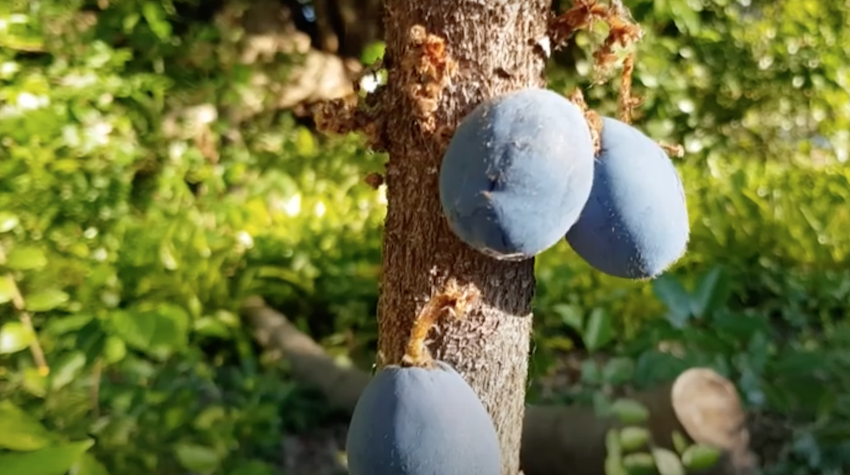 Davidson Plum... Closing Thoughts
Belonging to the Cunoniaceae family, Davidson Plums (Davidsonia jerseyana) are ancient Australian fruits. The sour and tart fruits grow along the trunk or at the top of tropical trees, depending on the cultivar, and traditionally they have been a nutritional food source for Indigenous Peoples across the Australian continent. Historically, Davidson Plum is a wild, foraged fruit. The fruits can be collected easily as the ripe plums naturally fall off the tree. Due to the rise of industrialisation, the majority of Davidson Plum's habitat was destroyed (on the brink of extinction). During the 1990s, the fruits were selected for commercial production. Davidsonia pruriens and jerseyana are the 2 major species commercially grown in Australia, recently the fruits have experienced increasing popularity due to the rise of bush foods in culinary dishes. 
Davidson Plums provide a rich source of anthocyanins that are mostly found in the fruit's pigmented skin. Like Antioxidants, Anthocyanins decrease inflammatory conditions and protect the cells from free radical damage. They have 100 times the Vitamin C found in oranges which strengthen the immune system. They contain potassium to balance the fluid levels within our body, and provide Zinc, Calcium, Iron, Vitamin E and Copper. In addition to minerals and vitamins, there's Lutein present in Davidson Plum, a carotenoid that helps in maintaining eye health. During Australia's summer season, Davidson Plums are only available for a few weeks. In general, Davidson Plums appear between December and January. Ancient Purity is proud to import the fruit's freeze-dried powder making it possible for health enthusiasts to enjoy Davidson Plum year-round. The fruit powder contains all the above-mentioned vitamins and minerals. Powdered Davidson Plums can be mixed into vigorous smoothies, yogurt, puddings, or baked goods. Their robust spectrum of antioxidants makes Davidson Plum a superfood that should be in everybody's diet. We make sure you can enjoy the benefits of adding Davidson Plum Powder to your daily routines!
"Dad reckons food is medicine and bush tucker is the best thing for Aboriginal people. For all people!" - Jared Thomas, Songs That Sound Like Blood 
Experience the Sacred Superfruit of The Australian Outback - Order Today
Davidson Plum - Pure Dried - 100% Natural.
Produced to ecological standards, free from agro-chemicals, non-irradiated and GMO-free. 
Mixed: Add whole or chop up / break apart pieces of Davidson Plum and add to cereals, desserts, smoothies or baked goods.
Neat: With intense acidic flavour, the Davidson Plum is not for the faint hearted, it is however nutritionally bountiful so some people may like to do this.
For Healthy Balanced Drinking: Davidson Plum lifts the profile of alcoholic beverages such as gin, vodka, white rum, Cointreau and tequila. It adds a refreshing sour taste to soda, tonic and mineral waters, and lemonade.
Brand: Ancient Purity.
Size: 50g.
Origin: Australia.
Container:

Kraft Paper Pouch.

Estimated shelf life from purchase: 1 - 2 years.
Storage: Keep in a cool dry place, keep out of reach of children.
Q – How does Davidson Plum taste?
A – The taste is sour with some astringency and slight bitterness.
Q – Did the Aboriginals know Davidson Plum's health benefits?
A - These fruits provided plenty of healthy meals for the Australian people's ancestors. However, they had no idea about the immune-boosting effects that this plant brought their lives. Now, science has confirmed there are many health benefits to Davidson Plums.
Q – Can this help me to lose weight?
A - Research shows that anthocyanins promote the metabolism of fatty lipids. They also lower the risk of type 2 diabetes and reduce the incidence of high blood pressure. All of these factors make it easier to maintain a healthy weight.
Australian Native Food & Botanicals – Davidson Plum
The Guardian - Bush food: Davidson plums
Slow Food Foundation for Biodiversity - Smooth Davidson Plum
ScienceDirect - Antioxidant and anti-proliferative properties of Davidson's plum
Supporting Scientific Research
John O.D., Mouatt P., Prasadam I., Xiao Y., Panchal S.K., Brown L. The edible native Australian fruit, Davidson's plum (Davidsonia pruriens), reduces symptoms in rats with diet-induced metabolic syndrome. J. Funct. Foods. 2019;56:204–215. doi: 10.1016/j.jff.2019.03.018.
Science F. Potential Health Properties of Selected Commercially Grown Native Australian Herbs and Fruits. The University of New South Wales; Sydney, Australia: 2012.
Ahmed AK & Johnson KA (2000) Horticultural development of Australian native edible plants. Turner review No. 3. Aust. J. Bot. 48: 41-426.
Sakulnarmrat, K & Konczak, I 2012, 'Composition of native Australian herbs polyphenolic-fractions and in vitro inhibitory activities against key enzymes relevant to metabolic syndrome', Food Chemistry, vol. 134, pp. 1011–1019.
Southwell, I, Russel, M, Birmingham, E & Brophy, J 1996, 'Aniseed myrtle – leaf quality', Australian
Rainforest Bushfood Industry Association Newsletter, vol. 4, pp. 13–15.
Disclaimer:
The products and the claims made about specific products, articles and claims made in the articles and information written on or through this site have not been evaluated by Ancient Purity, the MHRA, the FSA or the United States FDA and are not approved to diagnose, treat, cure or prevent disease. The information provided on this site is for informational purposes only and is not intended as a substitute for advice from your physician or other health care professional or any information contained on or in any product label or packaging. You should not use the information on this site for diagnosis or treatment of any health problem or for prescription of any medication or other treatment. You should consult with a healthcare professional before starting any diet, exercise or supplementation program, before taking any medication, or if you have or suspect you might have a health problem. Providing a product for sale does not imply Ancient Purity recommendation of that product, its suitability or its efficacy. Ancient Purity cannot give medical opinions. No comment or entry in this site or in any communication from Ancient Purity may be taken as such.
Prices and promotions are subject to change without notice. Customers should always carefully check all the details printed on the package before opening the product. Whilst all efforts are made to ensure accuracy of description, specifications and pricing there may be occasions where errors arise. Should such a situation occur the company cannot accept your order. In the event of a mistake you will be contacted with a full explanation and a corrected offer. The information displayed is considered as an invitation to treat not as a confirmed offer for sale. The contract is confirmed upon supply of goods, Prices and promotions are subject to change without notice.
Please read the Terms and Conditions of using this site, by using the site you are accepting the terms and conditions.
All Material on this site © 2014 Ancient Purity Ltd Registered in England & Wales 07801142 VAT Reg 168 335 488