Community .... COMING SOON
A place for independent Natural health shops and practioners we've actually visited and spoken with, we at Ancient Purity aim to promote natural health shops and practitioners who get results and offer great serivces, so you can find trusted and qualified help if ever needed.
Our cummnity will also help people and practioners retain their freedom in practicing and promoting natural health.
Ancient Purity donate to a number of good causes to help protect freedom in natural health.
The drug industry spends about $15 billion a year manipulating and distorting your perceptions about the proper solutions for your health challenges. And, the food industry spends TWICE that much to brainwash you and your children to choose highly processed convenience foods that will accelerate your path toward death and disease -- and your need to use drugs to control your symptoms. It's a vicious cycle of deceit and misinformation - Dr Joseph Mercola
A number of very safe and highly effective medicinal herbs have been banned under EU laws, with the threat of more to follow. It is vital that we all join to protect our freedom to choose what we treat our body with and have the right to buy the products we want. We will keep the safe natural powerful supplements for ourselves and the generations to come. Help by doing your part to protect freedom....
Please do also read The Hippocratic Oath, then think about how many medical professionals are following this.

http://en.wikipedia.org/wiki/Hippocratic_Oath
Quackwatch
An organisation called Quackwatch is dedicated to ruin the natural health industry Quackwatch says of the health freedom movement: "Quacks use the concept of "health freedom" to divert attention away from themselves and toward victims of disease with whom we are naturally sympathetic." We only wish Quackwatch would turn their attention to the hundreds of thousands who die at the hands of prescription drugs, or the unnecessary operations performed. The suppression of information and the huge profit being made by drug companies. The manipulation of what is taught in medical schools. We could go on, we just find it very sad that a group decides to attack companies and people promoting the idea of eating foods for health and taking non-chemical supplements with no side-effects to improve their health. For those reading this who volunteer or work for quackwatch, we'd like to say. There are some true horrors going on in this world, we need not list them. Please if you want to make a contribution to the planet look into volunteering for something that helps your fellow brothers and sisters and try juicing organic veg 3 days a week taking a couple of supplements and see if you don't feel and look better. Now Health Freedom......
What to do NOW!
Research natural solutions to optimise your health, longevity, vitality and restore health. The information is documented and available online and in books. The way the laws restrict us is - you can say what you like about natural health and how to reverse disease and promote health and what things to use, but you cannot sell anything. Or - You can sell the products but have to be very careful about what you say, making no medical claims.
Shop in your local farm shop, buying organic, if you only have a supermarket buy organic, it is not much more and if the demand for the pesticide laden possible GMO veg is not there then they will only be selling organic.
Grow your own food, If you have a garden grow something, no matter how little just grow something, keep some bees have some chickens.
Buy supplements and superfoods from an independent health company like Ancient Purity or your local independent shop. Be aware many "Natural Health" Companies are run by accounts they use the cheapest and often GMO ingredients.
If you do eat meat buy organic only and free range local eggs, driving around your local countryside you are sure to find someone selling eggs from chickens running around on their grounds.
Boycott major supermarkets and restaurants , if you eat out find an independent restaurant and pay cash (Always pay cash where possible)
Tell people about natural health go easy on them with small parts of information at first , hold group discussions in your area share information.
Sign petitions to keep our freedoms safe, start social network pages and share info. Make your own website, learn about all things health and share.
Consider being a wholesaler with Ancient Purity, give people high quality health/life changing supplements and earn money doing helping people.
Watch documentaries on health alternative options for disease burn them to DVD give them out, make flyer's keep talking to strangers they will be your new friends.
Find out what is in your water, petition to remove the bad things, use your local resources and start with your own village or town once people know they will want to help. Put up posters in your local area.
Please email us any more suggestions you have we will add as many as we can.
Or if you have an organisation no matter how small and would like us to put your link in please get in touch.
Please come and find us on Facebook and network there with other people you might find some of our many friends live on your doorstep http://www.facebook.com/AncientPurity
Alliance for Natural Health
Human health is suffering worldwide. The primary cause? Disconnection from nature and all things natural.
The ANH is working to reconnect us. Play your part in the international campaign to regain and maintain our health naturally.
Save Our Supplements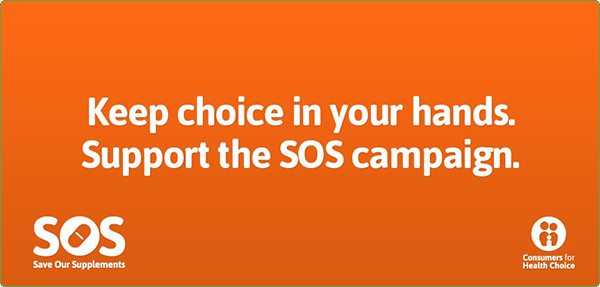 Consumers for Health Choice is an independent consumer organisation dedicated to fighting for individual rights and freedom of choice in health matters. We believe consumers have the right to access a wide range of natural health care products including vitamin and mineral supplements, herbal remedies, fish oils and other health foods. Much of our work is in challenging inappropriate regulation to encourage consistency, common sense and good judgement in law making, so that consumers can make informed choices for themselves, without EU interference.